The vehicle may pull to one side unexpectedly, increasing the risk of a crash
11/05/2019
|
ConsumerAffairs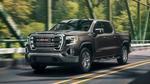 General Motors is recalling 638,068 model year 2015-2020 Chevrolet Suburbans, Tahoes, & Yukons, and model year 2014-2018 Chevrolet Silverado 1500s and GMC Sierra 1500s vehicles equipped with a 5.3-liter engine, a 3.08-ratio rear axle and four-wheel drive.
If a wheel-speed sensor fails, the Electronic-Brake Control Module (EBCM) software may activate the driveline-protection system.
Unintended activation of the driveline-protection system will cause unintended braking on t...
More
The tire pressure monitoring system sensors do not function properly
11/01/2019
|
ConsumerAffairs


General Motors is recalling 81 model year 2020 Cadillac CT6s equipped with dealer-installed accessory 20" x 8.50" wheels (RPO 5JO or SHH).
The tire pressure monitoring system (TPMS) sensors use the incorrect wireless radio frequency and cannot illuminate the low pressure warning light when the tire pressure drops below the recommended level.
Drivers may drive the vehicle with low tire pressure without a low tire pressure warning, negatively affecting the vehicle handling ...
More
Sort By