Consumer Complaints and Reviews

My Sealy Posturepedic queen mattress & box spring, paid almost $1,000.00 for the set. This is the "no flip" mattress style which I would never, never buy again. It has been sagging in the middle for 2 years, I called Sealy Company to file complaint, the mattress has to sag 1.5 inches to be covered under warranty. Visibly you can see it has sagged in the middle but it's not 1.5"...however when you lay on this mattress it has sagged more than 1.5" and very uncomfortable. I try to sleep as close to the edge of the mattress to keep from rolling into the sag, it's like sleeping on an slant. I've always bought Sealy mattress and in my spare bedroom is one I purchased in the 90's that is in good shape.
I just saw a commercial for Sealy mattress and THEY HAVE ADDED EXTRA SUPPORT IN THE MIDDLE SECTION of the mattress. This redesign seems to confirm they had a MANUFACTURE DEFECT and qualifies a CLASS ACTION LAWSUIT to be filed so us affected consumers can get compensated. Sealy's lack of concern/denial/cover-up may have cost them to lose their loyal customers. By the numerous complaint reviews (I should have researched) many new customers.

I just had my 3rd Sealy Mattress delivered in 2 years! The 1st North Hampton sagged within a few months, after 10 months of back breaking sleep I call the store where purchased. They were very helpful taking my information and then had the "Bed Check" Company call me and set up an inspection. The Mattress Marshall was out in a few days to find my sagging "pit" was 5 1/2 inch deep!! He told me "a full replacement would happen, next time don't suffer, after 1 1/2 inch sag, call the store" he said.
My 2nd mattress lasted 6 months, my back was killing me. Again a very pleasant visit by the Mattress Marshall to my home, this sag was 2 3/4 inch. #3 Sealy has arrived... if it sags again and I will demand my full money back and never, ever buy a Sealy product again. I was warned by a friend who had already gone through The Sealy Sag Saga, I just thought they were finicky... they were spot on. Sealy is a junk mattress and the folks at the Sealy facility should be ashamed at what they are producing and then bragging it's made in the USA. Build a better product so you can be proud to label "made in the USA!"

I have the same story as quite a few others. I always have looked up to Sealy to manufacture a top quality and dependable product. February 23, 2013, I purchased what I expected to be the answer to a good night sleep. Having back problems this was the reason I had bought this mattress in the first place because of my trust in your products. After 1 1/2 years my back started to bother me and I waited until I had slept in other beds before I made any rash decisions about the mattress. I called to have Levin's where I bought the mattress come examine the mattress which was exacting 2 years old. It had sunk by over 1". I got the usually reply call back in 6 months. 9/23/2016 I again called Levin's. The inspector said it was more than 1 1/4" but not quite 1 1/2". And you know the story. It doesn't seem to matter that I have to roll out of bed each morning from being stiff with a mattress that is not supporting my back properly.
I am 77 years old and on a fixed income so the supposedly $1,300 mattress which was on sale for $699 in my opinion is only worth the sales price. I think this is bad business practice on the part of Sealy Mattress Company and would hope that any mattress would last more than 2 years when it has a 10 year warranty if you can even count on that. I sure would not recommend Sealy to anyone. You take your money right away but are slow in servicing your customers.

My story is almost the same as Eve from New York. Back surgeries, wanted to spend money on a QUALITY mattress. Still felt bad spending so much money, but needed something good to sleep on. Just past the 120 days for a return, I noticed the sagging in the center of the mattress. Contacted the store and found out I had to contact Sealy, which I did. The "terms" for getting them to pick up the mattress, having it determined that it was just shy of a 1.5" defect would have cost ME more money and hassle. Being disabled, I am stuck with a mattress that is doing more harm than anything for my back issues. I believe Sealy should be held responsible for a defective product and reimburse everyone who spent hard earned money (or most of 1 month's disability) for a huge piece of junk.

This is the 2nd Sealy Caversham, we bought one and within the first 8 months started to sag and unravel. Mattress Firm replaced it almost 1 year ago, now this one is doing the same thing, sags and causes back discomfort. DO NOT BUY this mattress. As you see in other reviews it is a horrible mattress and it is worse than the one we had for 12 years. I would not recommend this mattress. The warranty sucks!! If you pay $500.00 for a mattress you think it will last, NOPE it starts to sag and bulge after 6-8 months of sleeping on this mattress. We cannot afford another one since we are retired but would never buy another Sealy ever!!! Submitted pictures before and did NO GOOD!
How do I know I can trust these reviews about Sealy Mattress?
765,036 reviews on ConsumerAffairs are verified.
We require contact information to ensure our reviewers are real.
We use intelligent software that helps us maintain the integrity of reviews.
Our moderators read all reviews to verify quality and helpfulness.
For more information about reviews on ConsumerAffairs.com please visit our FAQ.

It was horrible, horrible, horrible. I spent more than %50 of my monthly income on a posturepedic twin size mattress, thinking it was worth it to spend money for quality. I have had 2 failed back procedures and get sciatic nerve pain. My disc has ruptured a couple of times. Within 2 months the mattress started sagging in the middle, right under my lumbar where my disc is at risk of re-rupturing. This was specifically supposed to be great for lumbar support. I now HATE Sealy's for being so evil to produce horrible products marketed to people with injuries and ripping them off. Almost 1,000 for the mattress with tax! (899 without tax, 96 dollars tax). I don't trust them, and I will NEVER buy a Sealy product again. I hate them I hate them I hate them. And I am less than 100 lbs. I am a very tiny person. The mattress even had a box spring underneath! And they won't give a cash refund! I hate them.
NEVER BUY POSTUREPEDIC. IT IS A FARCE!!! I want to sue the company for being so dishonest and swindling people. I was more comfortable on a $50 mattress at a cheap hostel than I was on this supposed luxury mattress. I hate it. I have been waking up in the middle of the night screaming in nerve pain because it sags so much. And I am a poor grad student, and spent 1,000 dollars on it hoping it would be good for my back. I have started sleeping on the floor, couch, air mattresses--all more comfortable than Sealy's Posturepedic. That really should be illegal for false advertising. I feel swindled. NEVER AGAIN. I wrote this review just so that people know and don't make the same mistake I made. SAVE YOUR MONEY!!! BUY something better quality and 1/20th the price. I hate Sealy's for making a crappy posturepedic that does jack. It is sagging SOOOO much--a couple inches down the middle.

I purchased a Sealy mattress in 2013. After 3 months, I noticed the mattress sagging in the torso area on both sides. I contacted the store it was purchased at (Ashley Furniture) and on multiple occasions they came out to measure. The last measurement was over an inch on both sides. Sealy's standard for defectiveness is 1 and 1/2 inches. I don't know about you but an inch of sagging is major and I wake up sore everyday. We paid quite a bit for the mattress and expected more than what we received. I contacted Sealy directly and asked if I could speak with a manager or store representative and was basically told they don't receive or return calls unless the defect is over 1 1/2 inches. After this experience, I would never buy another Sealy product nor recommend. PLEASE BEWARE AND STAY CLEAR OF SEALY.

Purchased and Received our Sealy Posturepedic Mattress in April of 15'. After 2 months we noticed the bed was becoming uncomfortable and didn't know why. We turned it, waited a bit, turned again... eventually just dealt with it. After 1 year we got so sick of it and actually looked at the mattress and noticed how lumpy it looked and decided to research our options. I Measured the bed between 1- 1 1/2 inches throughout the bed so did a warranty claim figuring after a year and with our combined weights (my wife and I) of about 300 lbs, they would probably do the right thing in terms of customer service and help us out. I was way wrong!
The tech measured it at its most at 1 3/8 inches (barely under the 1 1/2 obviously), and said, "There is something going on with this bed for sure but I can't help you since you didn't get to the 1 1/2". It doesn't matter how old, how much you weigh, the fact that when we received it the bed appeared to have a lump in it already (was told it was from sitting on the truck and that would go away). The whole thing seems insane to me that they won't or can't help someone out and do the right thing in the name of customer satisfaction. Very disappointing and the more I review the more I see a lot of people have had similar situations as me!

Never, ever buy a Sealy. They do not stand by their product, yet they will happily take your money and give you the run around when you have legitimate complaint that is "under warranty". Bought a mattress, foundation, protective cover from them initially. Mattress was turned every 6 months as suggested. After 1 year, the mattress develops two deep pits where my husband and I sleep, and a mountain down the middle of the mattress, the space between our sleeping positions. This has created horrible, horrible back pain, neck pain, sleep disturbance, headaches... the whole shebang of things you look to escape from with a quality mattress which Sealy IS NOT. Just read all of these reviews... they become redundant.
Is THERE a LAWYER in the HOUSE? Listen, don't bother with the 10 year warranty-you'll only get the same or similar crappy Sealy mattress. They insist on paperwork and photos. Charge YOU $50 dollars for an inspection fee and then CHARGE YOU to remove it. If there is a stain, forget everything, you're SOL. Our mattress caves in on each side by 1 inch. The mattress is only 3 years old (we just kept rotating it hoping it would become better, never did). It must cave in 1.5 to be considered for replacement. Replacement would be a CRAP SEALY anyway. But, Sealy bigwigs, just so you know, when there is a ditch in your bed without laying on it, the ditch gets considerably bigger when you do lay on it. Simple physics. Ours is like rolling up a hill when trying to move to the middle, or we're hanging on for dear life to not fall off when sleeping more towards the edge.
This is by far the worst mattress we have ever had. Wishing I held onto my old Stearns and Foster 8+ years of the most excellent sleep. Do not buy SEALY, ever. We are getting rid of ours before it steals another day of living from us - Yes, premature death can happen from **LACK OF SLEEP, BODY ACHES and PAINS and it sounds like they have many chemical "smell" complaints as well.** Sinister corporation - buyer be smart!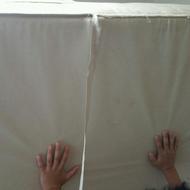 Sealy Mattress offers limited warranty of 10 years. Be careful, the trim/edge is NOT covered. I bought a King size Sealy (S&F Brand) mattress some years ago and after I moved it from one location to another, a long portion of the trim/edge got loosen from one trim end. I contacted Sealy and was told that if the trim/edge got loosen in the first few days after buying, Sealy might offer reparation/exchange. It was claimed that if the trim/edge had defect from manufacturing, the problem would show up in a few days. This claim does not make sense: the mattress was in bag for protection and the trim/edge would not be touched often. At the end of trim/edge, some kind of anti loosening technique should be applied to prevent loosening. If there is no such measure, in future, if the trim/edge somehow is touched/contacted with hand or carpet, the trim/edge will begin loosening from the end.
This is the case I encountered. I bought another Queen size mattress at the same time as the King size one, it has no problem at all. So, my idea is: if you do not want to see similar situation on your mattress, you should try loosening the trim/edge to check whether it is well done or not once it is out of the package. If it gets loosen, contact the retailer or Sealy IMMEDIATELY.

I purchased a Sealy Mattress with a gel top in 2012, and in 2013, it was replaced by the store that I purchased it from as it sunk in the middle. The new one did the same thing. There is no reason why it should sink - I don't weigh more than 130 lbs. Unfortunately, the store I purchased it from is going bankrupt. I have attempted to contact Sealy directly, and they don't care. They will not respond to any message I leave. Sealy has horrible mattresses - I now wake up with excruciating headaches from pain in my neck, as well as pain in my lower back and my legs. I'm done as I now have to go spend another $800 - $1000 on yet my 3rd mattress. I can tell you this - it will not be a Sealy. Shame on them for making substandard mattresses.

We bought the Sealy Posturepedic Hybrid King mattress in November of 2014. It seemed comfortable while at the mattress store. It was comfortable for the first couple of months, then it became almost deformed. Both sides that we sleep on sag. The middle of the bed is fine since neither of us sleep there, but it's majorly indented on both sides where we sleep. It's like trying to climb out of a hole when we turn over or move. It's lost its original shape and form only after a couple months. We both wake up sore and have a hard time getting comfortable at night. This bed is definitely not worth the money we paid for it. I would not recommend it.

We bought a Sealy Mattress from Sears. They can't find record of my purchase. I can't read information on sales receipt because of poor printer quality. The sides are breaking down. There is a dip in the middle. Customer service at Sears not helpful.

Garden Park Collection Candle Glow King Ti2 (IIPL) EPT - This mattress & box spring set was purchased 7/30/2012 from a local Sears Hometown store in Geneseo, NY, and it began to break down within one month. The pillow top does not hold up! There is a big hump in the center. My back was hurting within the month of purchase. There are 13 two and one half inch sturdy wooden boards supporting our solid wood bed which was purchased just prior to the new mattress & box spring set. I am so tired of not getting a good nights sleep.
We saved our money to purchase this new mattress. I have read a bunch of reviews indicating so many customers are disappointed with their Sealy mattresses. The stitching was all crooked right from the start and now it is pulling out. My husband does not care to make trouble, but this seems so unfair. It is extremely inconvenient to organize a claim; most likely what they hope for. I almost feel that the company and its' manufacturing procedures should be investigated.
Model # aka art #51555661 manufactured 7/2012. This mattress was made exclusively for Sears # 14296 at Sealy Mattress Company 60 Veterans Memorial Dr.
Green island, NY 12183-1517. If, according to previous unsatisfied consumers, the mattress has to have a one and half inch recess in order to be replaced, I think that guideline is unjust.

I first tried to swap the box springs for one that was not quite as tall, as we are only about 5'5" tall. It was too high to set on side of bed (This also makes it impossible to use a mattress cover with foam top). We are 75 years old. They said they did not carry the less thick box springs. Another thing I do not like about this set (different from our previous set) you can not flip it over and it does not have handles on the side to help move mattress from top to foot of bed.

I have purchased a big boy Sealy Pillow Top top of the line Posturepedic Mattress from Raymour and Flanigan. The reason for this purchase was I'm on disability and have back issues. I've chosen a Sealy product because of their reputation and their 10 yrs warranty. As time went on I was constantly waking up with worse back problems. We turn the mattress every week but still haven't made a difference. My Dr suggested to have my mattress changed for this mattress was contributing to more back issues.
Well I have a 10 yr warranty on the mattress and called Sealy and told them what has happened. They set up an appt for a tech to come out and inspect to find out that when they measured it had an 1 and a little impression of wear even though I pointed out the hump in the center. Sealy told me unless it's a 1 and a half impression there was nothing they could do and also spoken with the manager at Raymour and Flanigan who recommended to send another tech out to my home to reinspect it to find the same results. Also it was a suggestion of his that I shake the pillow top since it goes flat. LMAO. If I had a better back maybe I could do that but why should I even have to attempt it?
Spoke with Sealy again today and was very disappointed that they would only cover a replacement mattress if the impression was an inch and a half and mine measure an inch and a little but wouldn't take into acct. Also that the middle is humped and that is also what is contributing in my back issues. I feel Sealy just follow their stupid guidelines and not being able to satisfy the consumer. Every situation is different and should not be followed with a guideline. Consumers please be aware don't be fooled by warranty from Sealy because once you pay for your mattress they want nothing to do with you. I would never recommend to anyone to buy from this company. Their customer service is nasty to deal with and is not willing to work with you. I hope my experience helps you to make your best choice possible.

I purchased 2 Sealy twin XL (39 x 80") mattresses to replace my king size mattress. When they arrived, I found that the sheets I had purchased did not fit the mattresses, so I measured them and found them to be 77" long. I called the salesperson to tell them that this was not acceptable. I was told that they would be replaced with the correct size mattresses. The replacement mattresses measured 77" as well. They were refused and a 3rd set of mattresses sent out. They measured 77". I called the Sealy mattress manufacturer and was told that the size variation was 1/2" to 1". So I went back to the sales room and told them that I wanted mattresses made by another manufacturer. They agreed and sent out 2 more Simmons mattresses. When they arrived I measured the first one. It was 74", even though the tag on it said that it was a twin XL which measured 39" X 79 1/2"! They were sent back.

The very first time I talked to them, they failed to tell me the mattress had no springs in it for support. After 2 months it started sagging, and it has just gotten worse. My body aches all over from the lack of support, and my stomach has been aching from the fire retardant chemicals. I tried to work things out with the company, but they said I could buy another one. I did not want the same problem, I asked for my money back. They purposely charged the product on debit, and said they can't credit the money to my Visa. Then they said they could write me a check, and it could take up to a week or two. They have my product and I do not have my money back. Sleep Train is the only business that does not refund money to their customers, so now I have to wait to get my money.

Extremely deceptive business - BEWARE! I purchased queen Florena Fields set in 11-15. I made sure to get the Posturepedic as an upgraded mattress like I purchased decades ago and was so happy with. It immediately had sink hole where I slept. Also had extreme gas offing for over a week; had to leave window wide open in middle of winter. It made me sick and dizzy. I called the factory and was told no chemicals were used for fire retardant; rather the material was fire retardant.
I purchased from The Furniture Mart and actually they were willing to work with me even though I didn't have a guarantee; however they are 1.5 hours from my home and I wasn't able to get up there and also knew there wasn't anything else I saw I liked. Sleeping on this bed is like being in an oven. I have spent over $1000 purchasing different bedding attempting to reduce how hot I now sleep. I haven't had a comfortable night sleep in five months - true story. I finally purchased a new mattress from a local store and decided to cut open this Sealy to see what really it is made of compared with the specs. Not to any surprise, it wasn't as advertised! I had talked with the factory before purchasing it and the rep at the store looked the actual specs up on the computer; I have a copy of the specs including the height of each layer and what each layer is supposed to be.
When I cut it open, I found the foam layers were not as many or as high as advertised. The foam is the cheapest crappiest product imaginable. I cut out about an inch of each layer and when I hold them in between my fingers at one time, and compress, ALL of the layers quickly compress to 1/2 inch!!! Yes that's right. Hmm, wonder why I've been having trouble. This mattress is a cushion firm. So when anywhere I lay or sit compresses down to 1/2 inch, the rest of the layers around my body stay up the a few inches to the sides of me; no wonder why I've been blazing hot. This mattress has always felt like sleeping on a lumpy couch or a futon or a slab of rubber. I was so desperate for a good night sleep the other day, I actually turned it over and slept on the bottom side that is not supposed to be slept on. Sad thing is I did get some better sleep but still super uncomfortable due to that layer feeling like a cot.
I also found for example the top layer which was supposed to be 2" was only 1" and the other layers were all under the measurement they were supposed to be. Apparently, I'm guessing, they are able to call something that is 75% of a measurement the upward measurement such as 3/4 of an inch being called an inch. I pulled from a spot that hasn't had any weight on it. Each of the layers each were 75% of what it was supposed to be. And again I want to be clear it is the cheapest poly foam imaginable. The advertised "core support layer of gel memory foam" consists of just over a 1/4 inch of very light foam; it's all a deception. I got taken. And I actually price matched and paid a lot less than most do for this set, but I still feel completely taken.
I was going to pass it to son and his girlfriend when my new mattress from the local store (different business) arrives, but I just don't think I can do that to them. This is absolute garbage! I attempted a warranty claim last week before cutting into the mattress and didn't get any reply via email after I filled out a warranty claim online; took me over half hour to do so because I included photos of receipt, label, body impressions, etc. I wanted to write and let people know there's more going on here and it's deceptive practices. I'm guessing the floor models may be made a lot better than the ones they pound out when someone purchases. I have suffered horribly for the last five months due to this garbage mattress. I hope my review helps others in their purchasing (or not!).
It seems the company just wants to throw in the cheapest crappiest material possible to meet legal tagging or advertising (although they missed it in this case) and they really don't care about making a quality product for the customer. And The Furniture Mart shouldn't sell items like this. I recommend dealing locally and knowing for sure what is supposed to be in the mattress and avoiding the major known names that we all purchased our mattresses from twenty years ago when they were awesome. I would have given zero stars if I could have.
Please see my photos. The littles piece is what they call the "gel memory foam in the core support layer"!!! The four pieces are all the layers in the bed including the little piece in the 'core center'; I have them all compressed in my fingers in the next photos; without exerting pressure; merely closing my fingers together; atrocious. This has taken away from the quality of my life in many ways including not good sleep and purchasing much bedding attempting to be cooler, for a long time and it continues to take time out of my life such as writing this review; doing photos. etc. Because the practices are so egregious to me, I will continue.

My wife and I also bought a Sealy Mattress at Conn's; Do not let yourselves be fooled... more expensive does not make it a better product. Will never buy another Sealy! Buyers beware! Every morning when I get up... my kidneys are hurting, because of how the mattress has become and it is only a little over year old! And I rotate it every month; since we cannot turn it over.

SEALY mattress, LEON'S customer satisfaction SUCK! This is about serious backache I have been suffering from sealy mattress that I got from Leon's. First sealy mattress gave my husband a backache so we had it inspected and it turned out 1 inch sagging in 6 weeks. Therefore, according to Leon's 1st time free exchange, we got new one (even more money) on 09/12/15.
Now, The second mattress gives me, us a serious backache that we cannot stand it anymore. It is extremely frustrating that we spent a fortune on this mattress with hope we will use it for 10 years. But we only get serious discomfort, pain, frustration on this! After long talking to general manager at Leon's, they sent a technician and had it examined and the result is a half inch sagging.
All they say is "rotate the mattress every month. It should be more than 1.5 inch sagging to replace it. Why don't you talk to sealy about it." Wow. I wish you could take immediate action for us as well as for the people who are going through the same case as us. I believe such renowned companies like leon's, sealy would do something nice to regain their trust.

My wife and I have now bought and returned 10 brand new SEALY beds that all wreak of chemicals!!! We bought a SEALY bed "on sale" for $4500! And thought we were getting middle - upper of the range in a Sealy product. We returned it and the store recommended we swap for another and returned them all as the disgusting chemical smell never went away and made us sick! The world has gone completely mad! What has happened to paying good money for a quality product??? We are all in serious trouble if this is the way consumer expectations are headed.

I purchased a brand new King Sealy Posturepedic Alabaster Caverns Super Pillowtop mattress. Over $1000!!! Within two nights of sleeping my wife and I noticed that it was already sagging where we slept... We are not big people at all. I contacted Sleep Source where we purchased the mattress and was told that the problem was that we needed to purchase their box springs... I thought that was BS, but did it anyway. The problem continued to get worse. Then we had them exchange for a new mattress, went up a step in mattress model (paid more money for it) and got it delivered. Now I have a new mattress on new box springs, all installed by the official store employees. Guess what - same problem! I was told to let it take some time to relax the other springs... But no difference. In fact this mattress absolutely SUCKS! Extremely POOR QUALITY! DON'T BUY ONE - EVER!!!

We purchased a brand new Sealy Sedgebrooke Plush Euro Top King Size mattress from Mattress Firm in November 2015 for $1799. Within 2 months the mattress began to breakdown. There are dips in the mattress where we lay. We have rotated the mattress twice and it didn't help. We aren't big people either, so it makes no sense. Needless to say it's extremely frustrating because we have never spent this much money on anything before and to have it be breaking down already is awful.
Out of frustration of not being able to sleep I tweeted about how I feel like we just got scammed and tagged Sealy. They responded within 12 hours telling me to contact Mattress Firm to have it replaced. I contacted Mattress Firm today and explained what was going on. The lady told me that Sealy is discontinuing the mattress I have and that I can certainly come in and choose a new bed.
I haven't gone in yet, that is on the schedule for tomorrow, but I sure hope it goes as smoothly as she is letting on. Makes me question why Sealy is discontinuing the mattress. Is this a common problem with this mattress? How many others have had this problem? Shouldn't the company be held responsible? A recall or something, anything would be nice. Seems quite shady a large company charges so much for a mattress that is barely worth $25, let alone $1799!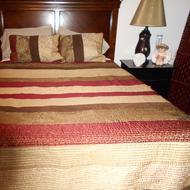 I have a very credible witness to the following: On Feb 6 - I paid in full for a new Sealy mattress. Brian at Calgary Sofa was made very aware that I only required a mattress. After being promised that it would be delivered on Feb 12 I finally called at 7:30 pm to find the store closed and the so-called answering service said they would call me back. I finally called them the next day and was told their employee had not put in the order. It would be delivered the next Friday. On Friday the 19th I had to call them to find out if the Sealy mattress was in. My son picked it up the next day. On the receipt it clearly states it would be delivered. Very poor customer service.
Within a week I noticed the mattress was sagging and contacted the store and left pictures. Next excuse was - "No one gave me your message and our computer was down so he could not view the pictures." Brian (owner) promised to call me back on Monday - no call. Next excuse was he had food poison and was off all weekend. Made an appointment for him to come to my home the next day to take pictures at 10:00 am. No show. I expect the next excuse would have been he had died.
Contacted Sealy - They now claim after many email conversations, that a queen mattress requires THEIR box spring or there is no warranty. I have a DOUBLE. Now they are telling me it states on the booklet that came with the mattress unless I have their box spring and frame there is no warranty. Unreal that you are required to read their booklet after the purchase. Like buying a house and find out on moving day you have to pay extra for the foundation. Really???
One of my friends feels it is a used mattress. I strongly feel this is not the same mattress as I tested in store. VERY SAD that you can no longer trust a name brand or a small business. This give small business a bad name. Take the money as fast as possible and leave the consumer hanging. As for Sealy - the word is spreading and soon like many companies that provide this horrible service and product they will be GONE.

I purchased 2 twin XL beds from a store selling Sealy products. One of the mattresses started falling apart when less than a year old. I contacted Sealy and they informed me there was a lengthy process in fixing this problem. Pictures needed to be taken, a form filled out, a rep sent to our address to see if the warranty covered everything and then to add insult to injury I would have to pay $150 each way for shipping and handling. Needless to say I never filed a claim and will use the bed until it completely fails and then purchase a new bed from a reliable mattress mfr. To others thinking of this company, buyer beware.

Buyer Beware! I purchased a box spring, mattress and frame (Sealy Posturpedic/Lynn Haven model) from Robinson's in Oxford, PA a little over a year ago (it had a 10-year warranty). It has been horrible! The valleys, the sagging and the hills in it caused so much back pain for my husband on top of the back pain he already has. When I called to complain they sent two men out to look at it. They put a level on the mattress and took pictures. When they left they said someone would be calling me.
I rec'd a call today and the man from Robinson's told me there was nothing they could do for me because it was on the wrong frame! What??? I told him it was the frame they sold me and he said it has the wrong legs on it! However, he went on to say the pictures did not show much sagging so there was nothing they could do for me. After spending $900 we are now stuck with a mattress that is killing my husband's back. We found on the web many people complaining about the poor quality of this particular mattress and that the manufacturer refuses to honor the warranty. We purchased the frame at the same time we purchased the Mattress and Box spring.

We originally owned two "old-fashioned" mattresses purchased from The Sleep Factory in Grand Junction, CO in 1997. These lasted in almost perfect shape for nearly 20 years, until the queen set began to show signs of sagging. In July of 2015, we bought a Sealy Dover Place gel coil set from a local branch of a nationally known furniture store. Several problems have arisen with this set, beginning within the first 3 to 4 months.
My husband began having respiratory problems, possibly due to an allergy or sensitivity to something within the mattress. This has continued to this day. There has also been sagging on both sides, even though I can't believe that our weight(s) can be a cause (120# and 165#). In addition, the mattress is uncomfortably hot, even with a bedroom temperature of 68 degrees. We don't believe any of the above would qualify us for a valid claim, so we will take the $1200 loss, and hope that The Sleep Factory (now in Montrose, CO) still has old fashioned, double-sided mattresses for sale!

After less than six months, the mattress has developed an indention of 1 3/4" at the top of both ends. It was delivered 6-6-15. The problem was reported to Bassett Furniture where it was purchased. A technician checked it and I was told that it did not meet the manufacturer's requirements to be replaced. Really! I have other mattresses that are 10 years old that are still in better shape than this. The store would not stand behind their products either. I am mad because I don't want to buy a new mattress this soon, but it feels worn out already!

This mattress was purchased from Levin Furniture. It had a 10 year warranty which was doubled to 20 years with the purchase of a specified mattress pad. The mattress pad was quite nice. There was a special 4 month return policy if I didn't like the mattress. At the store the mattress was firm but didn't weigh anything which was concerning. With all the warranties I bought it anyway. At about 4 months and 1 week, the mattress failed. One side had no support anymore, and the other side wasn't much better. There is a middle support under the bed. The way they decide if the mattress has failed is to run a string across it to see if the middle dips down more than 1.5". Since it looks flat when you are not trying to use it, the company considers it good even though it is nothing like it was when I bought it and I can't use it anymore.

Michael J. Breus, Ph.D.Mattress Contributing Editor
Michael J. Breus, Ph.D., known as The Sleep Doctor, is a Clinical Psychologist and both a Diplomate of the American Board of Sleep Medicine and a Fellow of The American Academy of Sleep Medicine. He is on the clinical advisory board of The Dr. Oz Show and is a regular contributor on the show. He is also the author of several books, including The Sleep Doctor's Diet Plan: Lose Weight Through Better Sleep (Rodale Books; 2011) and Good Night: The Sleep Doctor's 4-Week Program to Better Sleep and Better Health (Dutton/Penguin; 2006). Dr. Breus has been featured on several national media outlets, including The Today Show, The CBS Early Show and Psychology Today. More about Michael J.→

Sealy has been making mattresses for over 130 years. It makes a wide variety of mattresses and is well known for its Sealy Posturepedic beds.​
Cooling gel: Sealy offers beds with a unique cooling gel, which prevents the mattress from absorbing body heat so it stays cool while you are sleeping.
Variety: It offers a wide variety of mattress options, including innerspring, hybrid, gel memory foam and latex foam. Note that motion control is not so great at the lower price points.
Customer support: It offers excellent support during the weekdays and strives to make sure you are happy with your bed over time.
Value: It offers a wide range of options in all different price ranges so customers are generally able to find a good value.
Best for Sealy mattresses are best for young adults, parents and new professionals.
Sealy Mattress Company Profile
Company Name:

Sealy Mattress

Year Founded:

1881

Address:

One Office Parkway at Sealy Dr

City:

Trinity

State/Province:

NC

Postal Code:

27370

Website:

http://www.sealy.com/