Awara
Awara offers one affordably priced hybrid latex mattress model made with organic, eco-friendly materials. It has 4 inches of organic Dunlop latex and 9-inch support coils. The mattress is medium-firm and durable, and it's designed to avoid heat retention. It also comes with a 365-night trial and a forever warranty.
Overall Satisfaction Rating
5 stars

4 stars

3 stars

2 stars

1 stars
Pros
365-night trial
Forever warranty
Affordably priced
Cons
Heavy and difficult to move
Bottom Line
Awara's hybrid latex mattress, made of eco-friendly materials, provides a cool, luxurious sleep at a fair price point.
About Awara mattresses
Awara is a mattress company with straightforward offerings. Its one mattress is a hybrid latex mattress with an organic cotton cover, organic Dunlop latex and a thick layer of support coils. The mattress is available in several sizes, all at a medium-firm level. The company promotes the use of organic and eco-friendly materials for their mattresses. Awara provides a 365-day sleep trial as well as a "forever warranty" that is the strongest in the industry. Awara also sells platform beds and adjustable bed frames.
| | | |
| --- | --- | --- |
| 365-night trial | Free shipping | Forever warranty |
Awara mattresses and products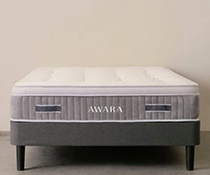 Our top pick for Awara
Awara
Organic Luxury Hybrid Mattress
$1,499 (queen) as of publishing date
Constructed with premium Sri Lanka latex and wrapped coil springs. Features 4 inches of cooling latex foam and a support core with individually-wrapped coils. Plush top cover is made with New Zealand wool and organic cotton. Free shipping and returns.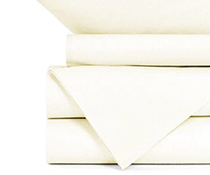 Awara
Awara Organic Cotton Bed Sheets
$189 (queen) as of publishing date
Made from breathable Percale with organic, fair trade, long-staple cotton. Dyes are also low impact and organic. Sheets are machine washable but should not be bleached. Available in off-white or dove gray.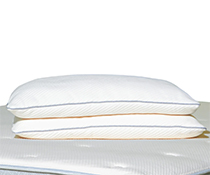 Awara
Awara Latex Pillow
$99 (standard) as of publishing date
Features quilted organic cotton and 100% sustainable chipped latex. Non-GMO and free of persistent or synthetic pesticides. We like that this pillow provides plush support and is machine washable.
Awara mattress construction and materials
The 13-inch Awara mattress is made of mostly organic and eco-friendly materials. Four inches of organic Dunlop latex help make the Awara comfortable. A nine-inch support core with coils adds breathability and its cover is made of organic cotton.
Like other hybrid latex mattresses, the Awara mattress is very durable — you can expect it to serve you well for over 7 years.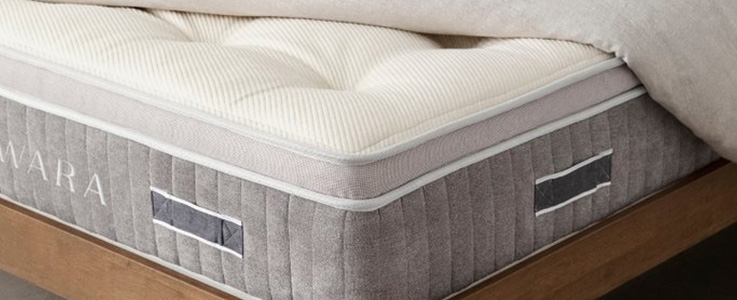 Awara mattress comfort
The mattress is rated as a 6, or medium-firm, on the traditional 1-10 mattress firmness scale. The Awara does not conform to the body, which is a departure from traditional memory foam mattresses. On the other hand, because you sleep on the top of the mattress rather than sinking in, most people experience a cooler sleep. The aerated latex and coils that allow for airflow also aid in making a cool sleep experience.
Firmness: Awara is rated as medium-firm. This makes it a good fit for most sleepers, but especially back and stomach sleepers.
Sleeping position: Back and stomach sleepers will find sleeping on the Awara excellent, especially those with heavier weights. However, if you weigh under 130 pounds and sleep on your side, the quality of sleep will likely just be average.
Motion transfer: The Awara does an above-average job at absorbing motion, but movements made by a partner can still be felt.
Edge support: The edge support for the Awara mattress is excellent. Sleepers can lie near the edges comfortably without upsetting the mattress.
Sleeping hot: This is one of the best features of the Awara mattress. Awara reviews mention a very cool sleep, even for people who usually sleep hot.
Awara mattress prices
When compared to other organic, eco-friendly, hybrid latex mattresses, the Awara comes in at a pretty low price point. You can pay for the mattress all at once or make monthly payments.
| Mattress size | Awara cost |
| --- | --- |
| Twin | $899 |
| Twin XL | $949 |
| Full | $1,149 |
| Queen | $1,299 |
| King | $1,599 |
| California King | $1,599 |
Are Awara mattresses good?
Awara mattresses are a great choice for those looking for a hybrid latex mattress at a good price point. The mattress is durable, sleeps cool and accommodates all sleeping positions. The generous 365-night trial also allows you to take your time making a decision.
A link has directed you to this review. Its location on this page may change next time you visit.
How do I know I can trust these reviews about Awara?
4,188,258 reviews on ConsumerAffairs are verified.
We require contact information to ensure our reviewers are real.
We use intelligent software that helps us maintain the integrity of reviews.
Our moderators read all reviews to verify quality and helpfulness.
For more information about reviews on ConsumerAffairs.com please visit our FAQ.
Page 1 Reviews 0 - 10
Forrest of Las Cruces, NM

Verified Reviewer
Original review: Sept. 18, 2022
I purchased a Queen Hybrid mattress and a matching Adjustable frame- remote controlled along with the Tranquility Bundle. First of all, I find it unfathomable that this heavy frame was dropped off at my front door leaning on its side. When I ordered it online, the young couple testimonial were giggling about how "easy" it is to set up. Well, I was moving to a new city and know very few people. I had to hire two brawny local young men to carry this ridiculously heavy frame up a flight of stairs that turns twice. I wish I had filmed that.
It took all three of us nearly an hour to figure out the instructions and assemble. When I purchased this online, I was not given an option to pay for professional assembly. Completely irresponsible for a company pushing online frame sales. After all that, it doesn't work at all. The plugs are live but the frame doesn't make a sound or react to the remote control. Can't get ahold of anyone in the company and the mattress still hasn't arrived 3 days later so 3 more nights in a hotel needlessly. They also lie about the delivery date which isn't ever correct.
Bottom line: I should have paid more for a better organic mattress company and it was not a good deal as I have incurred multiple extra expense and will end up with a flat mattress on a non- functioning frame. Real nice Awara! Find another organic mattress company!
Be the first one to find this review helpful
John of Bothell, WA

Verified Reviewer
Original review: Aug. 15, 2021
Be very careful doing any business with Awara Mattress. Awarasleep.com. Do not believe on their return policy. It is a marketing strategy and it really doesn't work at all if you wanna return something. Also that reviews you read on their website, they control it. They only put a good reviews not the bad ones. Customer service is very poor. You can't talk to nobody and you have to explain everything from the beginning and the result would be the same, which is Nothing! In closing I would not buy anything from these company. I mean literally Anything. Not even a Yoga mat.
24 people found this review helpful
Thank you, you have successfully subscribed to our newsletter! Enjoy reading our tips and recommendations.

Julie of Claremont, CA

Verified Reviewer
Original review: Nov. 17, 2020
We bought a mattress and bed frame from Awara about 10 months ago. We were pleased with both purchases until the bed frame broke under normal wear- my 200 lb boyfriend sat down on it. The frame broke on one side so it does not hold weight on half of the bed. They have a three year Warranty on the bed frame so we thought we would just exchange it or get a refund. WE contacted Awara- first by phone and found that they had closed their phone line to be able to provide better service during COVID.
Ok, that's understandable, but two emails went unanswered and then I have been on their online chat window typing away for days and no one responds. So now we are at the point where we will probably have to buy another bed frame just so we can get back to sleeping in the same room. So a company is only as good as their customer service, so I advise avoiding this one. I would have been patient due to pandemic issues, but to get no response at all after a week and a half.
30 people found this review helpful
ALLEXX of Saint Paul, MN

Verified Reviewer
Original review: Sept. 13, 2020
I ordered and paid for a full size mattress and bedframe from Awara May 26th, 2020, but I never received the bed frame as of September 13th, 2020. The mattress is uncomfortable, especially when it is on the floor. I only get the runaround from Awara when I ask for what I paid for, so, I asked for a refund and was ignored. I have filed fraud charges with my credit card company and have faxed 6 pages of emails with Awara to them. I left reviews on Awara's website and still no one has contacted me (I suspect they took them down). I will go to the BBB next. Buyer beware, do not do business with this company.
39 people found this review helpful
Roxane of Denton, TX

Verified Reviewer
Original review: Sept. 1, 2020
I have been researching mattresses for quite some time. I narrowed it down to Awara or Avacado and since Awara was having a sale, I was leaning toward them. The salesperson was very responsive as I emailed a couple of times with questions about the mattress. I also asked him WHERE the mattress was made and he told me the USA. Based on this answer, I went with the Awara and purchased it....
Before it arrived I was just doing a little more research only to find that every bit of information that came up about WHERE it was made said that the Awara is made in China. I wanted to purchase a mattress made in the USA and the salesperson deceived me. I emailed him and told him I would be returning the mattress as soon as it arrived (they also said they offered a 365 day return policy). He told me that he could "assure" me that it was made in the US and that if I wanted to return it I would have to wait 30 days. I emailed back and asked him to simply tell me WHERE in the US it was made. He will not respond now.
Next I emailed the company when the mattress arrived because on top of the fact that I don't want the mattress because the salesperson was not honest with me, it arrived in a very damaged box. That email was answered by someone else and she said that the mattress was probably not damaged....I asked her to let me know where their mattresses are made and now she will not respond either. I do not want the mattress and I want to return it but THEY WILL NOT RESPOND TO ME AT ALL NOW THAT THEY HAVE BEEN PAID. I am filing a complaint with the Better Business Bureau and if you have had a similar experience, I suggest you do the same.
40 people found this review helpful
M of Healdsburg, CA

Verified Reviewer
Original review: July 26, 2020
365 day return policy - NOT. Do not buy if you are relying on the liberal return policy. The purchase process was smooth and friendly. The mattress was too soft for us. I got return authorization within the first 30 days but there is no "RETURN PROCESS". It's up to you to donate the mattress and provide documentation! They don't help or coordinate as their website says. This has been a real burden and now they are refusing my refund because I didn't provide photos of the disposal which they never asked me for. Save yourself the headache and buy elsewhere.
42 people found this review helpful
Holly of Los Angeles, CA

Verified Reviewer
Original review: July 21, 2020
DO NOT BUY FROM THIS COMPANY - Awara is 100% unreachable. 0 customer service, no matter how hard you try. We purchased a king size mattress on 5/28/20. 7/3: I emailed about motion transfer issues. 7/5: Customer service rep: Patricia responded by offering to send a complimentary topper as a fix. 7/6: I emailed back accepting and provided the information she requested and I asked when we would receive it. 7/9, 7/13, 7/15: I emailed again and again and again. NO RESPONSE. Today is 7/21 - still no response. Their live chat is inoperative. Their phone lines have been shut down. There are no responses to customer service emails.
32 people found this review helpful
Claire of Wilmington, DE

Verified Reviewer Verified Buyer
Original review: May 26, 2020
I ordered a King sized mattress, which should measure 76 inches x 80 inches. We received a mattress that was 73 inches x 74.5 inches. I have been on hold with the company for over 1.5 hours and can't get through. I've tried their webchat and there is no response. I will try emailing them. Word to the wise - don't order from this company.
32 people found this review helpful
Louanne of Truth Or Consequences, NM

Verified Reviewer
Original review: March 12, 2020
Based on considerable research, I ordered a twin mattress from Awara for $750+. Their website says 365 Sleep Trial, Free Shipping & Returns, and the statement: If you are not 100% satisfied, get a full refund. My mattress arrived in a sturdy box. A friend helped me open it. One end inflated immediately, but the other end never did. It has a permanent dent. I emailed Awara (Resident Home) immediately and sent pics after 24, 48 and 72 hours. No response. I emailed again. They said I needed to send pics of the mattress and tags. I did. I received an email stating that a replacement was ordered. I called and told them I did not want a replacement. I wanted a refund because I had lost confidence in the bed. They said I had to wait 30 days to adjust to the mattress.
I reminded them that they agreed the bed was defective, so it made no sense to have to keep it for a month. They then offered to send me a free 2" bed topper to make it more comfortable! I sent another email, asking them to pick up the mattress and start the refund process. Previously, they responded to my emails promptly. Now it's three days and nothing. I am going to give them until next week and then see if I can contact the CEO or somebody who has some common sense. I contacted my credit card company. They said I was doing the right thing to document the exchange. They suggested that I send a screen shot of the promises on the company web site. I did that. No response yet.
So, don't order from this company unless you can afford to lose your money - or wait 30 days to get it back, even if the product is defective. Very unfair, unethical, illogical approach to business in my opinion. I will never order from this company again. When I do get my money back -- which I am determined to do -- I plan to order a bed from Sunrising Bedding. They don't use chemicals and their customer service folks are responsive and professional.
38 people found this review helpful
Jean of Hernando, MS

Verified Reviewer
Original review: Nov. 22, 2019
I ordered an Awara mattress and foundation. Upon receiving them as soon as we began putting the foundation together we realized they had put one of the two screw holes in backwards on one of the end rail pieces making it impossible to put together. I have called for days trying to reach someone by phone holding for an hour one time and leaving my number for call back many times with no returned calls. I reached out online through chat and explained it was defective and my son was coming home for Thanksgiving Break in a couple days and asked if they could expedite the foundation and they said they do not expedite. Two days later and I'm still trying to get things taken care of even though I sent all the info they asked for and pictures. They are splitting hairs because instead of naming the defective piece by the name on the instructions which is "end rail" I described it as the headboard end with the tag.
If they would have just sent a new foundation instead of the part it would have already shipped but NO nothing has even shipped and I have still not received a call from anyone even though through chat and email I have asked for a supervisor to contact me. AWARA Customer Service is way worse than Comcast/xfinity. BEWARE. I haven't even been able to try the mattress itself out yet and I am seriously considering just sending EVERYTHING back for a refund and buying Avocado Mattress and foundation because I bought a mattress protector from Avocado and they reached out to me a couple time just to make sure I was pleased with my purchase.
63 people found this review helpful
Awara Company Information
Company Name:

Awara

Website:

www.awarasleep.com
You're signed up
We'll start sending you the news you need delivered straight to you. We value your privacy. Unsubscribe easily.