When is the best time to sell a house?
Sale prices are generally highest in spring and summer, and homes sell faster, too



Written by

Edited by
Find Mortgage Lenders near you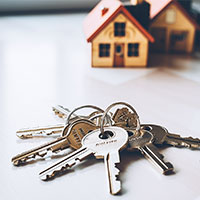 The decision to sell a home is an important one. And you no doubt want to get top dollar for your property without it spending months on the market.
This is why, when it comes to selling a home, data matters. Research shows some months of the year are better for reaching the most potential buyers and getting the highest possible sales price.
---
Key insights
According to the National Association of Realtors, listing a home between April 16 and 22 is best for capitalizing on buyer demand, getting the best price and selling a home as quickly as possible.
Data from ATTOM shows the month of May is best for getting the highest potential offers above the property's fair market value.
The winter months of October through January are typically the worst when it comes to selling a home.
Should I sell my house now?
There are an endless number of decisions to make before you decide to sell your home, including where you'll live next. In fact, one of the biggest problems with trying to sell a home in a hot market is the fact that you'll also be trying to purchase a home in a similar market.
Arizona real estate agent Anthony Kirlew of eXp Realty says one of the first factors homeowners should consider is when they want to move or need to move. For example, if you're starting a new job in September and hope to get your kids settled in their new schools, setting a home sale target for July or August can make sense.
Kirlew recommends you figure out the date you hope to be living in a new place and "work backwards from that date."
The local economy, interest rates, job growth and the season can all impact your ability to sell.
Have a discussion with your listing agent about the local market data as well, which will give you an indication of how long the house will take to sell. Kirlew points out that the weather will be a factor in some parts of the country since "winter months tend to be slower in colder markets."
Real estate agent Rick Gruebele of Visions First Realty in the Washburn, Wisconsin, area says it also makes sense to research other homes listed for sale in an area before putting your own property on the market. This is because listing during a less crowded market can make your property stand out, he said.
Also, keep an eye on local economic conditions, interest rates and job growth, as these factors can impact buyer motivation. Again, these are details you can discuss with an experienced real estate agent who has their finger on the pulse of the local market.
What's the best month to sell a house?
Kirlew says that real estate markets historically peak during spring months. Also, a study by ATTOM shows that sellers earned more money for their properties (compared to market value) by selling during the month of May, specifically.
"In my experience, many people prefer to sell after the school year, which coincides with May," said Kirlew.
The National Association of Realtors (NAR) reports that the best time to list a home is likely in mid-April. Listing in April in any given year can help sellers time their sale with surging market demand.
The chart below shows why the month of May may be the best time to sell a home based on ATTOM data built around the sales of 46.3 million homes and condominiums from 2011 to 2021.
Note that May home sales showed the highest seller premium (percentage of sales price over market value) but not necessarily the highest sales prices overall.
Month

Number of sales

Median sales price

Seller premium

January
2,832,239
$187,000
6.2%
February
2,782,131
$188,500
7.9%
March
3,669,316
$197,500
8.9%
April
3,811,801
$202,000
9.2%
May
4,175,915
$208,273
12.6%
June
4,585,313
$217,703
10.7%
July
4,503,788
$219,900
10.0%
August
4,554,002
$215,700
7.9%
September
4,061,746
$215,000
7.9%
October
4,089,199
$210,375
5.2%
November
3,551,796
$201,000
6.1%
December
3,754,043
$213,564
6.3%
What's the worst month to sell a house?
Based on the real estate data we just shared, you can easily see that selling in the fall and winter months — and particularly October — can lead to the lowest seller premiums overall. There are a plethora of reasons for this seasonal slump, including weather in some parts of the country, as well as holidays such as Thanksgiving and New Year's.
Gruebele adds that school schedules can be a major factor when it comes to the best and worst times to sell. For example, families often prefer to move during the summer months when children are out of school, making spring an attractive time to sell. Since winter is when most children are fully established in their current schools, many families opt to wait to list their home and move, versus uprooting their children in the middle of the school year.
For these reasons and potentially others, selling a home during fall and winter takes longer in general. In fact, data from the Federal Reserve shows that homes stayed on the market longest in November, December, January and February during the 12 months leading up to July 2023.
Month

Median days on market

August 2022
41
September 2022
47
October 2022
50
November 2022
55
December 2022
65
January 2023
72
February 2023
65
March 2023
52
April 2023
46
May 2023
43
June 2023
44
July 2023
45
What's the best day to list a house?
Both Gruebele and Kirlew agree that, in their experience, Thursdays are the best day of the week to list a home. Gruebele explains that listing on a Thursday can help sellers get additional exposure over the weekend, when many buyers are actively searching for homes.
"Listing on a Thursday allows your property to appear fresh and new on real estate websites during the peak search days of Friday, Saturday and Sunday," he said.
» COMPARE: Best real estate websites
Buyer's and seller's markets
You should also consider the type of market you'll be listing your home in before putting your property on the market. Knowing whether it's a buyer's market or seller's market can prepare you for what's to come next, including which side of the sale is likely to have the upper hand when it comes to negotiations.
Buyer's market: According to Kirlew, signs of a buyer's market include a high volume of homes on the market, which gives buyers more options and the ability to negotiate for the best price and terms. Housing prices also "tend to trend lower" in a buyer's market based on sellers wanting to appear the most attractive to buyers, he said.
Seller's market: A seller's market occurs when there is limited housing inventory on the market, and therefore fewer options for buyers. "In these situations we often see multiple offers on homes, with escalating prices, giving the seller the option of choosing the best offer based on price and terms," said Kirlew, adding that sellers frequently accept backup offers in a seller's market, just in case their first accepted offer falls through.
Are you ready to sell your home?
Whether you need to sell your home now or have the flexibility to wait, there are a range of important questions you'll want to ask yourself before you list.
Am I financially prepared?
Before listing a property for sale, make sure you are financially ready for the move. For example, you should know for sure you are financially prepared to cover the costs of selling a home, including real estate agent commissions, closing costs and the potential for expensive repairs.
You will also need to pay for a move and for any costs involved in purchasing or renting a new place. These expenses can include the down payment on a new home or a rental deposit, moving expenses and more.
Is my home actually ready?
Gruebele says to be honest with yourself when it comes to whether necessary repairs and improvements have been made to enhance the property's appeal and value. The time and money spent on renovations or regular maintenance can be well worth the investment.
He adds that you should get the property in its best possible shape for showings and consider staging the home to present it in the best light.
Am I emotionally prepared?
Selling a home can feel like a roller coaster, with ups and downs throughout the process — especially if you are emotionally tied to the home.
Gruebele said it's crucial to make sure you're ready to let go of the property and move forward. In the meantime, you'll need to be ready for potential negotiations with buyers, including pricing, terms and potential contingencies.
» MORE: Moving checklist
FAQ
When do people buy houses?

Consumers purchase homes during every month of the year. However, the number of home sales tends to tick higher during spring and summer months of May through August.
Why is spring the best time to sell a house?

Spring is the best time to market a home for several reasons, according to NAR. For example, the month of April is a good time to list a home due to surging buyer demand, high home prices, shorter average time on the market and less competition from other sellers.
Is selling during a recession a bad idea?

Selling a home during a recession could have some downsides, including less competition for your home and the potential for a lower sales price. However, you could also benefit from these factors if you're looking for a new home to purchase.
Bottom line
You may or may not be able to time your home sale based on market conditions, but that doesn't mean you can't be strategic about when and how you sell. For example, you can always list your home on a Thursday in order to get more attention and traffic, and you can take steps to get your home in the best possible shape before you list.
Whatever happens, make sure you have someone in your corner throughout the process. If you're unsure whether now is the right time to sell, reach out to an experienced real estate agent who is familiar with local market conditions and your neighborhood.
Did you find this article helpful?
|
You're signed up
We'll start sending you the news you need delivered straight to you. We value your privacy. Unsubscribe easily.