What is a listing agent?
A listing agent can help you navigate the process of selling your home



Written by

Edited by
Find Mortgage Lenders near you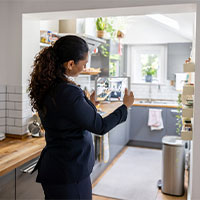 Selling your home can be overwhelming — after all, your home is one of your most valuable assets, and real estate laws can be complicated.
But a listing agent can help ease the process. They can help you sell your home for the best possible price and guide you through all the paperwork.
While you'll pay a fee to use a listing agent, the services you'll receive can include such things as marketing your home online, negotiating with prospective buyers and coordinating with movers and contractors.
---
Key insights
A listing agent helps you list your home for sale and assists with the selling process overall.
The seller typically pays a commission of 5% to 6% of the property's sales price.
Ensure your listing agent is licensed to sell real estate and is knowledgeable about your area.
What does a listing agent do?
Listing agents help their clients sell real estate properties. A listing agent can serve as your real estate advisor, negotiator and resource, says Kristina ODonnell, an associate broker and realtor with Realty ONE Group Restore in Collegeville, Pennsylvania.
"The scope of work a listing agent provides can vary greatly depending on a seller's wants and needs," she said, "and not all listing agents are the same."
You'll hire a listing agent to list your home for sale on the multiple listing service (MLS). The MLS is a tool that real estate brokers and listing agents use to share property listings. It also allows homebuyers to view properties for sale.
Besides listing the home for sale, listing agents offer other services, including "handling the necessary paperwork, working with and coordinating municipal inspections, evaluating the buyer's strength, and negotiating not only the sale contract but the contingencies as well," ODonnell said. Contingencies can include things like home inspections.
Listing agents can also help you take professional photos of your home, create a pricing and marketing strategy to help you sell your home faster and coordinate other activities related to your home sale. For example, ODonnell says listing agents can help you find professional movers or junk haulers.
» MORE: How to sell and buy a house at the same time
Listing agent vs. selling agent
While they sound the same, listing and selling agents sit on opposite sides of the real estate transaction.
A listing agent is responsible for listing homes for sale and marketing them to prospective buyers. They represent the seller during the real estate transaction.
A selling agent represents the buyer during a real estate transaction. A selling agent is sometimes also referred to as a buyer's agent. Selling agents help the buyer find a home to purchase, determine how much house they can afford and close the transaction once the buyer has found a home they want to buy.
Ultimately, the buyer's agent is responsible for selling the property to the buyer, which is why they're referred to as a selling agent (though it sounds counterintuitive).
How much does a listing agent cost?
Real estate commissions usually range from 5% to 6% of the property's sale price. This commission is typically split 50-50 between the listing and selling agents. However, the specifics can vary by region, agent and transaction. So, this is something you'll want to confirm upfront as you're evaluating listing agents.
Real estate commissions are typically 5% to 6% and are paid by the seller.
Let's say you sold your home for $300,000 and the real estate agents involved in the transaction get a 6% commission. The commission would total $18,000 ($300,000 x 6% = $18,000).
In most cases, the seller is responsible for paying the commission to both the listing and selling agents. This fee is typically collected by your title agency or real estate attorney when the transaction closes and is distributed to the agents on your behalf.
This commission compensates the real estate agents for their work listing and selling the home, as well as any other costs they incurred during the process. For example, your agent may have spent money printing flyers, staging your home or taking photographs.
» MORE: How much are closing costs?
Why work with a listing agent?
Although you don't have to work with a listing agent, doing so has many advantages. One of the most significant is having your home publicly listed on the MLS, so that homebuyers and other real estate agents and brokers can see your listing.
In addition to listing your home, your listing agent will also coordinate all the selling details. This includes:
Coordinating showings of your home
Setting up inspection appointments
Working with your title agent or other real estate professional on tasks related to the home sale
Some listing agents provide marketing services, such as sourcing professional photographs and videos of your home, staging your property to make it look as appealing as possible to prospective buyers and helping you determine the best time of year to sell your home. These services might help you sell your home faster.
However, listing services aren't free. Plus, not every agent offers the same services, so you'll need to understand what your agent offers before agreeing to use them.
Pros
Property listings can be publicly viewed
Expert marketing can speed up home sales
Agent will coordinate all the selling details
Cons
Listing agents must be paid a commission
Home showings can be time-consuming
Not all agents offer the same services
How to choose a listing agent
As you compare listing agents, one of the first things to do is ensure they can sell real estate in your state and have the proper licenses. An easy way to do this is by searching the ARELLO Real Estate Licensee Verification Database, which includes license information from 35 jurisdictions in the U.S. and Canada.
You can also perform an online search for real estate licensing in your state or jurisdiction and get in direct contact with the governing licensing agency. Plus, you should be able to find details about the agent's license on their website or by contacting the broker of their real estate agency.
ODonnell recommends asking about an agent's experience and education and getting testimonials from their clients. If you're considering a newer agent, ODonnell said it's a good idea to "include the experience and support of their mentor." Lastly, ODonnell says it's essential to evaluate how comfortable you are working with the agent.
Désirée Ávila, a realtor with Charles Rutenberg Realty Fort Lauderdale, says some things you should look for include:
Level of professionalism: Note an agent's presentation and demeanor. Look for someone who shows they take their job seriously. They're helping you sell one of your most valuable assets and should handle it professionally.
Communication skills: Your agent will negotiate on your behalf, so ensure your agent "is articulate when they communicate both verbally and in writing," said Ávila.
Availability: Try to find an agent who considers this their full-time profession. Buyers may want to see your home at any time, and you need to know if and when your listing agent will be available to help.
Knowledge: Not only do you want your agent to be knowledgeable about real estate, but it's also helpful if they're knowledgeable about the area, as a "local listing agent brings value through their knowledge of the local community," explained Ávila.
Finally, Ávila also suggested you "choose the best agent, not a good friend or family member (unless they are also an outstanding agent)." While you may want to help a friend or family member professionally, you need to ensure the agent you use will protect your best interests.
FAQ
Do you have to use a listing agent to sell your home?

No, you're not legally required to use a listing agent or real estate broker to sell your home. If you decide to sell your home independently, you may need a real estate attorney to help close the transaction, depending on your state's laws. Examples of states where this is required include Connecticut, Georgia and Vermont.
Can I use my listing agent to buy my new home?

Yes, in many cases listing agents also serve as selling agents. So, it's possible to use the same agent to sell your home (in which case they're referred to as the listing agent) and to buy your new home (in which case they're referred to as the selling agent). You'll need to discuss this with your listing agent to confirm their interest in helping you.
What is "dual agency" in real estate?

Dual agency happens when a real estate agent works on both sides of a real estate transaction, representing both the buyer and the seller at the same time.

In a typical real estate transaction, one agent represents the seller (the listing agent) and the other agent represents the buyer (the buyer's agent or the "selling" agent). In the case of dual agency, one real estate agent handles both roles.

Dual agency is illegal in some states, including Alaska, Colorado, Florida, Kansas, Maryland, Texas, Vermont and Wyoming.
Are listing agents licensed or regulated?

Yes, licenses are required for real estate agents to list homes for sale or lease in the U.S. state or territory where the transaction is occurring. Each state maintains its own real estate licensing requirements.

If a listing agent wants to handle real estate transactions in more than one state, they need to meet the licensing requirements of each jurisdiction. Some states honor real estate licenses that were issued in other states, while others do not.
Bottom line
Listing agents help coordinate all the activities associated with selling a home. This includes marketing the home, handling paperwork, coordinating inspections, evaluating buyers and negotiating contracts. While these services can help attract more buyers and speed up the selling process, you'll need to pay your agent a percentage of the sale price. 
When evaluating listing agents, consider factors like their licensing, experience, professionalism, availability, local knowledge and reputation. Your listing agent should be someone who can protect your best interests throughout the home selling process.
---
Article sources

ConsumerAffairs writers primarily rely on government data, industry experts and original research from other reputable publications to inform their work. Specific sources for this article include:
Did you find this article helpful?
|
You're signed up
We'll start sending you the news you need delivered straight to you. We value your privacy. Unsubscribe easily.