Seller's disclosure: what home sellers must reveal
Here's how to protect yourself as the buyer or seller



Written by

Edited by
Find Mortgage Lenders near you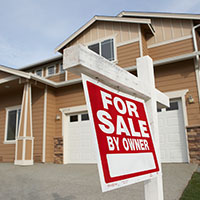 Transparency is important when it comes to both selling and buying a home.
As a home seller, it is your responsibility to provide potential buyers with all relevant information about the property they are considering. For the buyer, the seller's disclosure allows you to make an informed decision and have a clear understanding of the property's condition and any potential issues.
Whether you are on the buying or selling side of your current home transaction, here's what you need to know about seller disclosures.
---
Key insights
Sellers have a legal obligation to provide accurate and complete disclosures about a property's condition and any known issues.
State-specific disclosures may cover areas such as environmental hazards, property history or flood zone information.
Buyers should conduct their own due diligence with an independent property inspection to uncover any potential issues that might not be covered in the disclosures.
What are seller's disclosures?
A seller's disclosure is a document that outlines the condition and history of the property, including any known issues or defects. It is a legal requirement in most states, though each state will have its own rules about what needs to be disclosed.
"The interesting thing about the seller's disclosure is that it is really for the seller's protection. Which is the reason they should make every effort to fill it out completely and accurately," said Christa Ross, a Pittsburgh Realtor with RE/MAX Select Realty.
"The disclosure is so the buyers are presented with everything the seller can tell them about the home, but that doesn't mean they can rely on it in lieu of doing their own due diligence, including a thorough home inspection."
Typically, a seller's disclosure is a series of yes and no questions, with space to provide more information if needed.
» MORE: Homebuying checklist
Federal vs. state seller's disclosures
Certain disclosures are required federally by all U.S. sellers, while others are specific to individual states.
Federal seller's disclosures

These are the most common disclosures you can expect no matter in which state you sell or purchase your home:

Lead-based paint disclosure: If the home is built before 1978, this informs buyers about the potential presence of lead-based paint. Buyers will then have the right to get the house tested for lead.
Homeowners Association (HOA) disclosure: Sellers typically provide information about the association's rules, fees and any pending litigation.
Property history disclosure: This disclosure covers information such as past renovations, repairs, additions or insurance claims made on the property.
Environmental hazards disclosure: Sellers need to disclose the presence of hazardous substances such as asbestos, radon or mold, if known.

State-specific seller's disclosures

You will need to check with your state's real estate laws to know what needs to be disclosed. Most state-specific disclosures will focus on your area's unique weather and natural disaster issues.

Here are some examples of how disclosures differ by state:

California residential earthquake hazard disclosure: Sellers are required to answer questions about proximity to fault lines and if there are any areas of the home that are more susceptible to damage if an earthquake happens.
Florida coastal property disclosure: If a Florida property is exposed to coastal damage or beach nourishment, a seller must disclose that along with the fact that certain marine turtles are protected.
Missouri meth lab disclosure: The seller or transferor must disclose any prior knowledge of methamphetamine production on the property, even if the persons involved in the production weren't convicted for such production.

» MORE: Home inspection checklist
What to include in a seller's disclosure
If you are the seller, you will be required to fill out a disclosure statement, which will be provided by your agent or lender. These forms ask specific questions to make it easier for the seller to not forget important information. There will also be blank lines available for additional comments.
Expect to include the following in your disclosure, no matter what state you are in.
Neighborhood activity
Sellers have to disclose a pattern of offensive and noxious activities within the neighborhood. This doesn't mean the common sound of lawnmowers on the weekend, but more frequent, annoying noises or behaviors near the home.
This could include your neighbor having a wood shop that they use for three hours each day or living next to the party house that blares music late at night.
Hazards and environmental factors
You must disclose any known hazards or environmental factors, including being in a natural disaster zone or having mold or lead-based paint.
Property defects and damage
Disclose any structural issues with the home or problems with electrical or plumbing. You will also need to disclose termite damage or the history of termites to your home, even if you fumigated your home.
You might not be asked to fix any of these issues, but you protect yourself legally by disclosing them.
Homeowners association
Buyers must also know if there is an HOA for the property and what fees and requirements come with that.
Do you have to disclose a death in the home?
Despite the popular belief that you need to disclose a death in the home, most states do not require this. In fact, many states, like Florida, even protect the seller from having to answer the question when asked.
FAQ
What if the seller lies on the seller's disclosure?

If you discover that the seller lied before you close, you have the right as a buyer to ask the seller to fix the issues or back out of the sale. If you discover after you buy the property that the seller lied, you can take them to court, but you will also need to prove that the seller knew and intentionally withheld or misled information about the issue.
Does the seller have to disclose all of the property's problems to the buyer?

"It is not all that uncommon for things to break immediately after closing, especially in a home that is vacant and has not been occupied recently. And it is also true that many sellers just really don't know everything about their home or can't recall things that happened in the past," said Ross.

"While it is required for the seller to disclose what they know, I try to remind my buyers that everything on the disclosure should be taken with a grain of salt because there is no guarantee of accuracy."
Is it bad if there are no seller disclosures?

It is not necessarily a bad sign if there are no seller's disclosures, but buyers should not take this to mean the home is in perfect condition. This just means the seller has no knowledge of issues.

"This, again, is the reason why any buyer should have a good home inspection because that will ultimately be more protective than just reading over the seller's disclosure," said Ross.
Does a seller's disclosure protect the seller or buyer?

Ultimately, the seller's disclosure is there to protect the seller legally and provide buyers with essential information to make an informed decision. If a buyer can prove that a seller intentionally lied on the seller's disclosure statement, the seller could be liable for reimbursement.
Bottom line
Whether you are the buyer or the seller, a seller's disclosure is not only a legal requirement but can be helpful in making your real estate transaction as honest as possible. Sellers will not have to fix or pay for all issues listed, and buyers should take disclosures at face value and rely on a home inspection for a thorough check.
Did you find this article helpful?
|
You're signed up
We'll start sending you the news you need delivered straight to you. We value your privacy. Unsubscribe easily.