What to know about buying a modular home
Your guide to choosing and financing a modular home



Written by

Edited by
Find Mortgage Lenders near you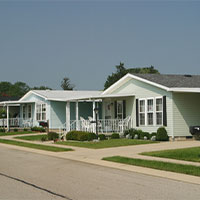 If you are in the market for a new home but aren't loving the latest housing prices, a modular home may be a good alternative.
Modular homes, or prefab homes, have become more popular in recent years, since buying one can be more time- and cost-efficient than buying a traditional custom-built home.
Whether you plan to buy land for a modular home or will move into a manufactured housing community, we're here to help you understand the risks and benefits of modular homes before you commit.
---
Key insights
Modular homes can be a cost-effective option compared to traditional stick-built homes.
They are built to adhere to local, state and regional building codes and regulations.
Just like traditional homes, a well-kept prefab can increase in value over time, especially if it is in a popular area.
What is a modular home?
Modular homes are built off-site in a factory-controlled environment and then transported and installed on a foundation of the buyer's choosing. Sometimes buyers purchase land for their modular homes, and other times they choose to live in a designated community that welcomes both mobile and modular homes.
You can purchase a standard modular home from a company or have it customized to your liking. Modular homes are designed to meet local building codes and regulations while also being more predictable in cost and construction time.
Modular homes vs. mobile homes
The main difference between modular homes and mobile homes is that modular homes cannot move. Once assembled on a permanent foundation, modular homes remain fixed in place, just like traditional stick-built homes.
Another big difference is that mobile homes adhere to federal codes set by the U.S. Department of Housing and Urban Development (HUD). Modular homes follow the same building codes as traditional homes and require the same inspections and regulations as site-built homes — providing homeowners with added assurance in terms of safety and quality. 
» MORE: How to finance a mobile home
Advantages of buying a modular home
Many buyers pursue modular homes because they feel like they have more control over the design, layout and cost compared to shopping available home listings in their desired area.
Here are a few of the main advantages of buying modular homes.
Cost-effective
The top advantage of modular homes is that they can be a lot more affordable than buying a traditional home.
As of publishing, modular homes cost an average of $82,100, according to the Federal Reserve Bank of St. Louis. You will also need to purchase land or pay an additional fee to have your home installed in an approved community.
Compare this with the national average sales price of $516,500 for traditional homes, and the difference is quite significant — even if you need to pay $100,000 for land and installation.
Customizable
Another big advantage is that modular homes offer customizable options and are still able to be completed in a timely manner.
The time required for your home will depend on the company and model of your home, but one North Carolina reviewer told ConsumerAffairs, "I was told that if I ordered a house out of the catalog and it wasn't built, the process would take 9 to 10 months."
Instead of waiting that long, this reviewer decided to buy one of the prefab homes that came to the company as is. "... When this house came in, we looked at it and it had enough of what we wanted, so we bought it off the lot."
Buying "off the lot" saved the reviewer six months of waiting.
Can increase in value
Similar to traditional homes, modular homes appreciate in value over time, provided they are well maintained and located in desirable areas. Keeping your modular home up to date with maintenance and improvements will help the home keep its long-term value.
Factors to consider before buying a modular home
Modular homes are not for everyone and can be more complicated when it comes to finding a lender. Consider these risks before making your decision.
Financing can be difficult
"Since these homes are not considered traditional real estate, financing can be difficult to find," said Justin Draplin, CEO at ECLIPSE Cottages. "Many lenders are currently hesitant to offer financing on modular, prefabricated tiny homes."
Draplin suggests trying a personal loan and being prepared to make a large down payment.
Some lenders offer specialized loans for modular home purchases, making it easier to secure financing for this type of housing.
Land restrictions
The availability of suitable land for modular home placement can be limited, especially in densely populated areas.
"Even if you have land to build on it is not guaranteed that your local jurisdiction will allow you to build a modular-style home," said Draplin. "Modular homes also still have restrictions across many counties throughout the U.S. Zoning restrictions may prevent you from moving to a desired area."
Risk of poor quality or damage
The quality of your home can vary depending on the company you choose to purchase from.
One modular homeowner from Florida had a laundry list of issues after living in their home for over six years: "Since we moved in we have had to recaulk our baseboards and crown moulding with in 3 yrs. The microwave had to be replaced because of installation being wrong. Now our ceiling lights need to [be] replaced. … I find this very poor workmanship. I lived in a [site-built] home for 24 years and never had to do any of this sort of repair."
There is also the risk of homes being damaged in delivery. Know the company's repair and warranty policy before you commit. 
» MORE: How to buy a house
How to buy a modular home: step by step
Unlike traditional homebuying, where you might start with a real estate agent, the builder will be your guide through the modular home process.
Here are the steps you can expect.
Find a seller you trust

Before you can choose a home, you need to find a manufacturer that has good reviews and experience building and delivering modular homes in the area where you want to live. Many modular home manufacturers have websites or catalogs where you can browse model types, or you can visit model homes in person.

You will be working closely with this company until the home is set on its foundation, so good customer service is a must.

Decide where the home will be placed

Are you buying land or wanting to move into a community that offers modular home placements?

If you're buying land, consider factors such as location, zoning regulations, access to utilities and the suitability of the site for modular home installation.

On the other hand, if you're planning to move into a community, research modular home communities or mobile home parks that allow modular homes. Understand their rules, fees and any restrictions that may apply.

Each jurisdiction may have specific regulations regarding zoning, construction codes and inspections. Ensure that you obtain all necessary permits and approvals before proceeding with the installation process.

Financing a modular home

Choose how you will finance your home by comparing options. You can inquire if traditional mortgage lenders will finance the home, or you can use specialized modular home lenders or personal loans.

Additionally, insurance coverage for your modular home is necessary to protect against potential risks and damages.

You can choose to get preapproved from a lender before making a decision with the manufacturer.

Design your dream home

Many manufacturers will allow you to customize your modular home how you like. However, note that customizations can add to the cost and construction time. You might be able to buy modular homes that come to the manufacturer ready to sell. This won't allow for extra design details, but it can allow you to move in faster.

When buying a modular home, review the contract terms carefully. The contract should outline the scope of work, delivery timeline, pricing, payment schedule and any warranties provided by the manufacturer or builder.

Delivery, installation and the final inspection

Once the purchase process is complete, the modular home will be constructed off-site in a factory. It will then be transported to your prepared site for installation.

After your home is complete, a final inspection will typically be conducted to ensure compliance with local building codes and standards, and you will be able to do a final walkthrough to make sure it is up to your standards.
FAQ
How long does it take to build a modular home?

The construction timeline for a modular home can vary depending on factors such as the complexity of the design and customization options. From looking at customer reviews from popular modular home companies, customers reported that the process took three months to a year.
What type of warranty is typically provided with a modular home?

In many states, the standard warranty period for modular homes is typically one year. However, many modular manufacturers provide an option for an extended warranty, which typically includes two-year coverage for mechanical systems and 10-year coverage for structural systems.
What maintenance and upkeep is required for a modular home?

Expect similar maintenance and upkeep to a traditional home. Regular tasks include cleaning, inspecting and maintaining the HVAC system, plumbing and electrical systems.
Bottom line
With their shorter construction timeline, faster move-in process and customization options, modular homes are growing in popularity. If you decide it is the best housing option for you, consider the land and local zoning laws before moving forward.
While a fraction of the price of site-built homes, modular homes will need regular maintenance and repairs to keep their value.
Did you find this article helpful?
|
You're signed up
We'll start sending you the news you need delivered straight to you. We value your privacy. Unsubscribe easily.