What is a broker price opinion (BPO)?
A BPO estimates the value of a property



Written by

Edited by
Find Mortgage Lenders near you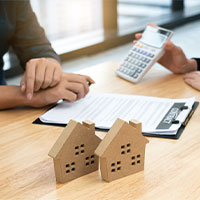 In the housing market, a single entity or authority does not set prices. Instead, home prices are influenced by many factors, including supply and demand, economic conditions, location, property characteristics and market trends.
Even so, real estate agents and brokers can play a significant role in helping buyers and sellers determine appropriate prices for properties. When it comes to assessing the value of a property, two commonly used methods are a broker price opinion (BPO) and an appraisal.
Understanding how these valuations work can help you make informed decisions in the housing market. This is true whether you buy, sell or invest in real estate.
---
Key insights 
A broker price opinion is an evaluation report prepared by a real estate broker or agent to estimate the value of a property.
BPOs are commonly used by lenders and financial institutions as an alternative to formal appraisals.
Broker price opinions rely on the expertise of brokers or agents, while appraisals are done by licensed or certified appraisers and involve a more comprehensive evaluation.
Understanding broker price opinions
A BPO is an evaluation report prepared by a real estate broker or agent to estimate the value of a property. BPOs are commonly used as an alternative to formal appraisals and are typically ordered by lenders, mortgage companies, banks or other financial institutions.
The purpose of a BPO is to provide an informed estimate of the property's worth based on the broker or agent's expertise and knowledge of the local real estate market. BPOs are often used in situations such as loan modifications, short sales, foreclosure proceedings or when a quick property valuation is needed.
Broker price opinion vs. appraisal
A BPO and an appraisal are both valuation methods used in real estate but differ in their purpose and the individuals performing them.
While a BPO is typically a quick assessment conducted by a real estate broker or agent, an appraisal is a formal evaluation conducted by a licensed or certified appraiser who follows specific guidelines and standards.
Appraisals are more comprehensive and typically involve:
A detailed inspection of the property
Consideration of comparable sales
An analysis of various factors affecting the value
Appraisals are commonly required for mortgage financing, property sales, estate settlements and other legal or financial purposes where an independent opinion of value is necessary.
How does a broker price opinion work?
A BPO assigns a value to a home by analyzing the "marketplace's behavior and statistics," explained Mihal Gartenberg, a real estate broker with Coldwell Banker Warburg.
When performing a BPO, one of the first steps is evaluating the asset class. For single-family homes, the main point of comparison is typically within the same neighborhood. However, Gartenberg explained that values may differ based on factors like "square footage, acreage, land quality (flat, hilly) and the extent of renovations."
For apartments, the most common approach is to use comparables (comps) from within the same building. This means analyzing recent sales or listings of similar units to determine the property's value. It also involves assessing factors like floor level, how much was spent on renovation costs and unique features like terraces.
Gartenberg emphasizes that apartments in boutique buildings or properties with distinctive features require a deeper market analysis. In these cases, it's essential to compare the subject property to similar homes in the neighborhood, paying careful attention to the unique attributes.
» MORE: 5 Ways to Determine House Value
Types of BPOs
Another factor that might affect the value derived from a BPO is how it's prepared. There are two common types of BPOs which include:
Internal BPOs: With this type of BPO, the agent thoroughly evaluates the home inside and out before developing a value opinion. This can include doing things such as looking at the quality of the finishings and measuring rooms to confirm the square footage.
External BPOs: This type of BPO is sometimes called a "drive-by" BPO because the value opinion is based solely on what can be observed from the exterior of the home and official recorded details about the home, like its square footage and age.
Since internal BPOs include a more detailed evaluation of the home's condition, the values are more accurate than external BPOs. Even so, external BPOs are commonly used by lenders who want to get an overview of the home's worth without going inside.
BPOs are used by lenders to evaluate home equity loans, to consider removing private mortgage insurance (PMI) and to assess distressed loans (e.g., preforeclosure, short sales, loan modifications). They're also used by homeowners who want to understand what their home is worth for financial planning, lawsuits, divorce or estate settlements.
» MORE: What is home equity?
How to get a broker price opinion
Anyone who wants an estimate of the value of a home or other piece of real estate can order a BPO. You can typically get a BPO quickly, with turnaround times ranging from one to four days. In contrast, getting an appraisal may take one to two or more weeks. Plus, BPOs typically cost $100 or less, whereas you may pay $250 to $450 or more for an appraisal.
A BPO typically costs $100 or less, or homeowners can request a free BPO from a Certified Real Estate Pricing Specialist.
However, homeowners can request free BPOs from Certified Real Estate Pricing Specialists (C-REPS) for any reason to assist with their financial decision-making. For example, a BPO can be helpful when listing a home for sale.
A C-REPS is a real estate broker or agent with specialized skills and training in preparing BPOs. You can search for a C-REPS by visiting the National Association of Broker Price Opinion Professionals (NABPOP) website.
There's no requirement for those who prepare BPOs to be a designated C-REPS. This means you may be able to get a BPO from other real estate agents or brokers. However, it's a good idea to do extra due diligence to ensure their knowledge and experience level.
Also, some states limit when and how BPOs can be prepared by real estate agents and brokers. For example, in Pennsylvania, those who prepare BPOs need extra training and can only prepare a BPO for specific uses by lenders and loan servicers, such as for short sales, but not for court or divorce proceedings.
Do I need a broker price opinion?
Whether you need a BPO depends on your circumstances and what you're trying to accomplish. BPOs are commonly used by homeowners to set the listing price of their homes. When allowed by state law, they might also be used as part of court or divorce proceedings or to help settle an estate. It's not common to get a BPO when buying a house.
Lenders and loan servicers commonly use BPOs. For example, they might use a BPO to help you remove PMI from your loan or to evaluate the value of a property for a loan that's in default. This can save you or the lender money and time since BPOs are typically quicker and less expensive than appraisals.
FAQ
How accurate are BPOs?

Broker price opinions can vary in accuracy depending on the expertise and knowledge of the broker, the availability of comparable sales data and the current market conditions. While they can provide a helpful estimate, they may not always reflect the actual market value of a property.
How long is a BPO good for?

Generally, a BPO is considered a snapshot of the property's value based on the market conditions and information available when it is prepared. The values contained in BPOs may remain current for 30 to 120 days, though this could be even shorter in some instances.

The party requesting the BPO, such as a lender or a financial institution, will often specify the acceptable time frame for the BPO to ensure it reflects the most current market conditions.
Can you dispute a BPO if you disagree with it?

Yes, you can dispute a broker price opinion if you disagree with it. You can provide supporting evidence to challenge the broker's opinion. Communicating your concerns with the broker and attempting to reach a resolution or seek a second opinion is advisable.

If your lender ordered the BPO, you'll need to share your concerns with your lender (including providing any evidence supporting your claim). Ultimately, it will be up to your lender to decide if it believes the valuation is accurate and whether it's appropriate to get an updated valuation, similar to what it would do in the case of a low appraisal.
Are BPOs mandatory for selling your home?

No, there isn't a universal rule saying you must get a BPO to sell your home. Even so, you may find it helpful to get a BPO when setting the list price, particularly if you plan on selling it on your own versus using a real estate agent.

You usually don't need to worry about getting a BPO if using a real estate agent, as they'll often prepare at least a comparative market analysis (CMA) before you agree to list the home with them.
Bottom line
BPOs are commonly used by homeowners for listing prices, while lenders commonly use them to evaluate loan defaults or modifications. BPOs can be obtained quickly and at a lower cost compared to appraisals.
While BPOs are not mandatory for selling a home, they can be beneficial when determining the listing price, especially when selling without a real estate agent.
---
Article sources

ConsumerAffairs writers primarily rely on government data, industry experts and original research from other reputable publications to inform their work. Specific sources for this article include:
Did you find this article helpful?
|
You're signed up
We'll start sending you the news you need delivered straight to you. We value your privacy. Unsubscribe easily.