How to challenge a home appraisal
Check the report for errors and look at the quality of comps used



Written by

Edited by
Find Mortgage Lenders near you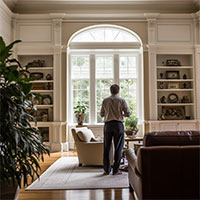 A lower-than-expected home appraisal can be disappointing, whether you're purchasing a home or applying for a refinance. A home appraisal that comes in low can create issues for a buyer trying to qualify for a mortgage, a seller who needs a strong appraisal for the sale to go through or a homeowner who's looking to cash in on their equity.
Fortunately, it's possible to challenge an unsatisfactory home appraisal or get the appraisal updated based on new information.
---
Key insights
A home appraisal is an independent assessment of a home's value.
You can dispute the appraisal amount through a process called "reconsideration of value."
If the original home appraiser is willing to consider new comparable home sales or information about your property, it's possible they'll amend your appraisal amount.
In some cases, homebuyers or sellers may wind up paying to have their own separate appraisal completed.
What happens if an appraisal comes in low?
A low home appraisal can lead to a variety of issues that can prevent a home purchase from moving to the closing table. For example, an appraisal that comes in below the contract price of a home can limit the amount of financing a homebuyer can qualify for. On the seller's end, it means their home may be worth less than the sale price they negotiated with the buyer.
In a low appraisal scenario, a homebuyer might have to come up with a bigger down payment to bring to the closing table, or the seller might have to lower the contract price for their home.
If a homeowner is trying to refinance their mortgage and orders an appraisal to prove that their home's value has increased, a low appraisal could derail their efforts or make the act of refinancing less appealing.
For example, if someone is trying to refinance to remove private mortgage insurance (PMI) from their home loan because they believe they now have 20% equity, a low home appraisal can squash their plans.
» MORE: How to get rid of PMI
How often does an appraisal come in low?
According to Fannie Mae, home appraisals tend to come in below the contract price for a home approximately 8.5% of the time.
Phil McDonald, who serves as a real estate broker and appraiser in Pueblo, Colorado, has seen home appraisals come in low in a range of scenarios over the last 25 years. He says low home appraisals may result from the appraiser not using the best comparable sales available or adjusting comparable home sales incorrectly.
An appraisal may come in low if the appraiser doesn't use the best sales comps or isn't familiar with the neighborhood.
Also, inexperienced real estate appraisers may not know the ins and outs of creating an appropriate appraisal report, especially if they don't normally work in the area of the home they're appraising, says Mike Zschunke, a real estate broker in Scottsdale, Arizona. In that scenario, there may be factors that a new appraiser simply cannot grasp, like a home's proximity to a popular neighborhood or an area's historical significance.
"Real estate is hyperlocal, so each neighborhood or property may have unique characteristics that the appraiser is unfamiliar with," he said.
Zschunke adds that, especially during the pandemic, lenders would occasionally accept appraisals that took place completely online without the appraiser ever setting foot in the property.
"There is no substitute for physically visiting the property being appraised," he said. "Honestly, I see it more often than you would think, especially in higher-value communities."
Can you dispute an appraisal?
Disputing an appraisal requires presenting better comparables or market information that supports a different adjustment amount.
"This information is readily available on the internet or through an agent," said McDonald.
Typically, though, real estate agents are the ideal advocates. They can research data and comparable sales and input them into real estate software to come up with a fair and reasonable home value.
McDonald says the important thing to remember is that the comparables or other new information needs to be better than what was used in the original appraisal, not just higher in value. For example, a real estate agent can gather more recent comparable properties in the area.
Zschunke says that in many cases, low appraisals can be prevented ahead of time. He recommends working with an agent who is proactive and meets the appraiser at the property with their own comparable sales to explain how the buyer and seller got to the agreed-upon price.
"If I can make a solid case for the price based on market data, appraisers will usually take my professional knowledge into account," he said, adding that any given home should be worth what a ready and able buyer is willing to pay.
How to appeal an appraisal
Real estate agent Gary Parker of the Salt Lake City area says that challenging an appraisal is a meticulous process that requires evidence and a comprehensive understanding of the property's value. This process is often referred to as a "reconsideration of value" (or ROV), according to the Consumer Financial Protection Bureau.
Parker breaks disputing an appraisal into four steps:
Gathering data: The homebuyer or seller (or their agents) can start the process by collecting recent sales data for similar properties in the area. For example, it can help if more truly comparable homes have been sold in the area since the original appraisal was completed.
Identifying errors: Review the appraisal report for factual errors in measurements, features or property details. For example, if a home has granite countertops and marble flooring, check if the appraisal report notes these details.
Documenting improvements: Note any improvements to the home that should make it more valuable, including recent renovations or upgrades that may not be obvious. For example, an appraiser may not have noticed that a home has a heated driveway or custom cabinetry from a top local designer.
Seeking a professional opinion: A real estate agent or appraiser can provide an expert opinion on the property's value, which can serve as supporting evidence. This evidence can be sent to both the original appraiser of the home and the lender.
In some scenarios, it can also make sense to pay for a second appraisal instead of challenging the initial appraisal. However, Parker says lenders typically have guidelines for requesting a second appraisal, and it's crucial to get a lender's approval ahead of time.
If you do get a second appraisal, make sure you highlight specific reasons why you believe the initial appraisal was inaccurate.
"Present data, evidence and explanations to support your case," said Parker.
From there, you'll want to work closely with your lender to ensure the second appraisal follows proper protocols and addresses the concerns raised.
FAQ
What is an appraisal contingency?

An appraisal contingency is wording in a purchase agreement that says the buyer of a home can walk away from the sale if a home appraisal comes in lower than the agreed-upon sale price. The buyer can also ask the seller to reduce the sale price of the property commensurate with the lower appraisal value.

That said, Zschunke points out that hot markets with multiple buyers often see offers with appraisal contingencies waived altogether. "The buyer will have to come out of pocket for any shortfall of appraisal price to sale price, but the seller can also come down and meet in the middle to make the deal happen," he said.
How do appraisers get comps?

Appraisers get "comps," or comparable home sale information, by researching recently sold properties from the last 90 days that have comparable features and amenities. If someone is selling a home with 2,400 square feet, a three-car garage and half an acre of land, for example, the appraiser would look for similar properties of comparable size and quality to determine fair market value.
How long does a reconsideration of value take?

A reconsideration of value (ROV) can take as little as a few days, but an ROV for home loans backed by government entities, like the Department of Veterans Affairs, can potentially take several weeks from start to finish.
Bottom line
A low home appraisal doesn't automatically mean your home purchase or sale is doomed. You may be able to dispute a home appraisal amount or start fresh with a new appraisal from a different appraiser altogether.
In either scenario, it helps to have a qualified real estate agent working on your behalf to help prevent low appraisals right off the bat. And if you do wind up getting a lower appraised value than you need, your agent can help you figure out the next steps.
---
Article sources

ConsumerAffairs writers primarily rely on government data, industry experts and original research from other reputable publications to inform their work. Specific sources for this article include:
Did you find this article helpful?
|
You're signed up
We'll start sending you the news you need delivered straight to you. We value your privacy. Unsubscribe easily.