Should I use a personal loan for home improvements?
What you need to consider before taking out a personal loan to improve your home



Written by

Edited by
Find Personal Loans near you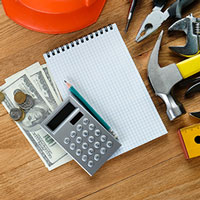 Dreaming of a new kitchen or a patio addition that will make summer hosting a blast? Home remodels are an ideal way to add value to your home and design a space you love. Because home renovations can cost thousands of dollars, it is common for homeowners to need additional funds to finance their home dreams. Using a personal loan to finance your home improvement projects comes with several benefits, including a set monthly payment.
---
Key insights
Personal loans can be used for home improvement, but the maximum amount you can borrow is limited.
Your loan interest rate will be determined by your credit score, income and debt-to-income (DTI) ratio.
Personal loans are not ideal for larger renovation projects or remodels with ever-changing costs.
What is a personal loan for home improvement?
A home improvement loan is a type of personal loan that can give you a lump sum of money within a few days. Some lenders might have a distinct home improvement loan, while other lenders allow personal loans to be used for home expenses.
Getting approved for a home improvement loan is a similar process to getting approved for a personal loan. Your interest rate will be based on your creditworthiness. Lenders look at your credit score, income and debt level to determine your annual percentage rate (APR). Expect to be asked for your Social Security number, employment verification and residence verification.
When should I use a personal loan for home improvements?
Consider using a personal loan for your home renovations when you are tackling a small to midsize project. A personal loan is best for repair emergencies where you need the funding quickly, and it is also ideal for projects with a set price tag.
For projects that will cost more than $100,000 or ones that will vary in cost, a personal loan is not your best option. Instead, a cash-out refinance, home equity loan or home equity line of credit (HELOC) can give you access to larger sums of funding. A HELOC is a revolving line of credit, acting similarly to a credit card. Once you pay off some of the debt, you have access to the same funds again, making it easier to pay for long-running remodeling projects.
Pros of using a personal loan for home improvements
One benefit of using a personal loan for home improvements is that funds are disbursed quickly. This can be especially helpful if emergency repairs must be completed, like for roof damage or pipe issues. Whether you need the funds for weekend repairs or long-dreamed-of remodeling, there are many benefits of using a personal loan.
Your home stays safe

Your home does not act as collateral for a personal loan, so if you default on your loan, you aren't at risk of foreclosure. Taking out a HELOC or cash-out refinance comes with greater risk, since your home is considered collateral for the loan.

Pay fewer fees

You will pay fewer fees if you use a personal loan, since you don't need to worry about home appraisal fees or closing costs. Some personal loan lenders even waive the origination fee, making it even more affordable to take out a loan.

One set monthly payment

Most personal loans come with a fixed rate and term, meaning you know exactly how much you will have to pay each month until the loan is repaid. Using other payment methods, like a credit card, can make for unpredictable monthly payments, especially if you max out your credit limit.
Cons of using a personal loan for home improvements
While personal loans come with a lower risk than taking out a loan against your home, there are some disadvantages to consider.
Strict requirements

In order to get the best rate, you need a good credit score, a high income and a low DTI ratio. Home equity loans and refinancing can also come with strict requirements, which make payment options like credit cards easier for homeowners to use.

Shorter repayment periods

Personal loan repayment terms are typically between 12 and 60 months. While certain lenders can offer longer terms, cashing out during a refinance will give you 15, 20 or 30 years to repay the debt, depending on the term you choose.

Lower borrowing limits

Adding on a new room or giving your kitchen a total facelift could cost you more than $100,000. While some personal loan lenders offer up to $100,000, most offer a maximum of $50,000. You can often borrow more with a loan that's backed by your home, like a home equity loan.
Where can I get a personal loan for home improvements?
There are various options for lenders for home improvements — each with its own perks and drawbacks. You can ask the lender if it offers a specialized loan for home improvements -- possibly one with lower rates or longer repayment terms than the standard personal loan.
Banks
Bank loans might be easier to qualify for if you are a current customer. It can also be convenient to apply in person if you are using a local bank. Online banks typically offer low interest rates and favorable terms.
Credit unions
Credit unions offer competitive borrowing rates for members, as well as financing for smaller projects.
Online lenders
Online lenders can provide quick and easy access to financing for home improvement projects. Some online lenders have more relaxed lending requirements and faster approval times than banks or credit unions, but interest rates can also be higher.
FAQ
Is a home improvement loan the same thing as a personal loan?

A home improvement loan is a type of personal loan. Some lenders have established home improvement loans, while others allow borrowers to take out personal loans for home improvement funding.
What can I use a home improvement loan for?

Most personal loans come with few limitations. You should be able to use your personal loan for any home improvement project on your list. However, you might be limited as to how much you can borrow with a personal loan, making it difficult to fund remodel projects over $100,000.
What credit score do I need to get a personal loan for home improvements?

According to our research on the best personal loans, many lenders require a score of at least 600 to 620. Remember, the lower your credit score, the higher your rate and monthly payment will be.
Can you deduct loan interest on your taxes for home improvements?

If you use a personal loan for home improvements, you will not be able to deduct that interest on your taxes. Interest on home equity loans and HELOCs used to improve your home can't be deducted for tax years 2018 to 2025, according to the IRS.
Bottom line
Keeping your home current with home remodeling is a great way to protect your investment. A personal loan is one way to finance your project, but alternatives, such as a HELOC or cash-out refinance, can give you access to a higher amount of cash than a personal loan can.
Did you find this article helpful?
|
You're signed up
We'll start sending you the news you need delivered straight to you. We value your privacy. Unsubscribe easily.