LendingClub

Written by
With LendingClub, you can get a personal loan, refinance your car payments or take out a small business loan. Its online marketplace connects borrowers with a network of lenders to help them select the best loan.
Overall Satisfaction Rating
5 stars

4 stars

3 stars

2 stars

1 stars
Pros
Quick, easy online application
Fast money delivery
No prepayment penalties
Fixed interest rates
Cons
Somewhat high minimum APR
Bottom Line
LendingClub is a lending marketplace that helps consumers get loans for various purposes. LendingClub also offers online banking. You can apply for one of its loan options or sign up for a bank account online.
Top LendingClub Reviews
How do I know I can trust these reviews about LendingClub?
4,188,258 reviews on ConsumerAffairs are verified.
We require contact information to ensure our reviewers are real.
We use intelligent software that helps us maintain the integrity of reviews.
Our moderators read all reviews to verify quality and helpfulness.
For more information about reviews on ConsumerAffairs.com please visit our FAQ.
Verified
I have borrowed from this lender twice and each time, it has been picture perfect. While no one wants to borrow to pay off debts, the fact that this company was willing to give me...
Read full review
Verified
I was wary of getting a personal loan, I suspected there would be hidden fees or a hidden "extra" interest rate. As an attorney, I read the fine print carefully and found that the...
Read full review
What is LendingClub?
LendingClub is an online marketplace that connects you with lenders. Its application process for personal or small business loans is quick and easy.
Apply online by providing the amount you want to borrow and the purpose of the loan.
Select a loan offer.
Your money is deposited directly into your bank account within two days on average.
LendingClub offers multiple borrowing options, including personal loans, small business loans, auto refinancing loans and medical loans. LendingClub offers fixed interest rates and a single monthly payment. There's also no penalty for paying off your loan early.
LendingClub loans
LendingClub has multiple types of loans available with different maximum loan amounts and terms. The right loan for you may vary based on how you intend to use the funds.
LendingClub personal loans
You can take out a personal loan of up to $40,000 for almost any significant expense, including:
Paying off credit card debt
Transferring a balance
Consolidating debt
Improving a home
Personal loan terms are either 36 or 60 months, and all transactions take place through your LendingClub account. Once approved, your loan is usually deposited directly into your bank account within two days.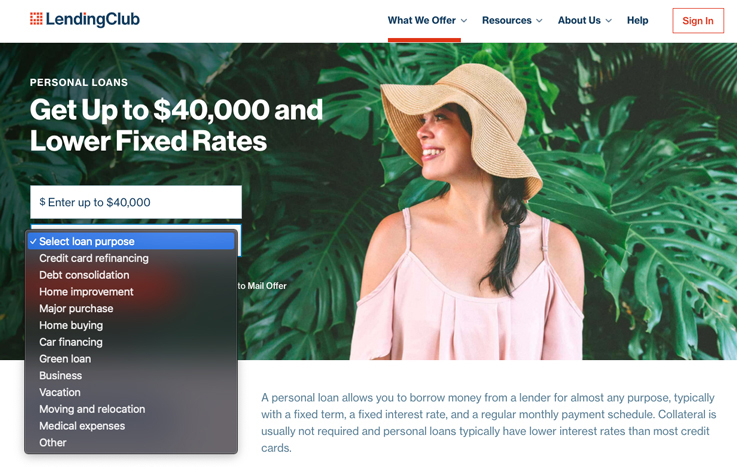 LendingClub business loans
With a small business loan from LendingClub, U.S.-based borrowers who have been in business for at least a year with $50,000 or more in annual sales can get up to $500,000 with a one- to five-year loan term. Small business loans have fixed monthly payments and no prepayment penalties.
LendingClub auto refinancing
The auto refinancing options are excellent for borrowers who owe $4,000 to $55,000 on their auto loan and want to lower their monthly car payments. Once you choose a refinancing offer, LendingClub pays off your previous lender. All payments go through a LendingClub account.
LendingClub Patient Solutions
LendingClub offers medical financing to help patients receive the care they need that may not be covered by insurance. LendingClub Patient Solutions include installment loans from $1,000 to $65,000 or revolving lines of credit from $499 to $32,000. Installment loans can be repaid in two to eight years with fixed rates ranging from 3.99% to 30.99%. Line of credit borrowers can secure rates as low as 0% APR.

LendingClub personal loan terms
Loan terms vary among lenders, and it's important to note the differences to find the best loan for you. We've highlighted some of the most important information about LendingClub's personal loans.
LendingClub personal loan terms at a glance
| | |
| --- | --- |
| Loan amounts | $1,000 to $40,000 |
| Term lengths | 24 to 60 months |
| APR range | 8.30% to 36% |
| Origination fee | 3% to 6% |
| Prepayment fee | None |
| Minimum credit score | 600 |
LendingClub rates
LendingClub charges an annual percentage rate (APR) between 7.04% and 35.89% on personal loans. Costs and fees for borrowing with LendingClub include an interest fee, and the company charges a one-time origination fee that's 3% to 6% of the entire amount you're borrowing.
LendingClub FAQ
How does LendingClub affect your credit?

Checking the rate you qualify for from LendingClub will not impact your credit score.

If you choose to move forward with the loan, LendingClub does a hard credit check to evaluate your creditworthiness, which may cause your credit score to drop temporarily.
How long does it take to get a loan from LendingClub?

You can get approved for a loan from LendingClub within 24 hours and receive funds within two days.
Does LendingClub verify income?

LendingClub verifies the incomes of most loan applicants. When applicants apply for loans, they go through a screening process that considers hundreds of data points that help identify which applications need further verification. Applicants may have to submit documents like W-2 forms, tax records or pay stubs for income verification purposes.
Can you pay off a LendingClub loan early?

LendingClub does not charge any penalties for paying off your loan early.
Is LendingClub legit?
LendingClub makes getting a loan quick and easy with its online application process and direct deposit, and there's no penalty for paying off your loan early. Just be sure you're getting a rate and loan term you can manage.
A link has directed you to this review. Its location on this page may change next time you visit.
How do I know I can trust these reviews about LendingClub?
4,188,258 reviews on ConsumerAffairs are verified.
We require contact information to ensure our reviewers are real.
We use intelligent software that helps us maintain the integrity of reviews.
Our moderators read all reviews to verify quality and helpfulness.
For more information about reviews on ConsumerAffairs.com please visit our FAQ.
Page 1 Reviews 0 - 10
EveLynn of Everett, WA

Verified Reviewer
Original review: Dec. 23, 2022
We were placed on a hardship program due having COVID twice and my husband has been home due to a head injury he got from his job. Made our payments like we were supposed to even before being placed on the hardship we made our payments on time paid more than we were supposed to. The last week of November our bank card got cloned. The person who cloned it took money out of account from shopping at several stores. We contacted LendingClub and talked with someone in their chat feature (both husband and I were sick with the flu and really had no voice so we used this feature to talk to someone).
We tried to explain to the young lady we were chatting with person we chatting with, that our card got cloned. We couldn't access our account due to the bank putting a freeze on it (to make sure nothing else was being taken out that we didn't do). Explained that it would be taken off with 7 business days or longer since they were dealing with a lot of these.
The person we spoke with was rude and told us we needed to make that payment and to ask family and Friends (which we have no one to help). She just kept saying well you need to get it paid. Yeah I know this but there is nothing I can do if my bank account is on frozen due to some people stealing my money. I paid what I could with money we had on our Venmo card (money someone sent for our 4 year old to get her Christmas gifts) figured some payment was better than none.
I Called on the December 13th, talked with a gentleman about the situation, explained we couldn't do anything due to our account was frozen. We couldn't even grocery shop or pay our other bills. Told him I made $100 dollar payment and only had $49.00 due. Also made another $100 payment on the 14th to show them I am trying to make the payment. He stated he would send a request over to management (explain to them the situation and that I couldn't access my account and emailed them what happened). He said to call back on Friday and to see if we could be put on a other hardship. Because as of that day we now owed over $1000. They basically are now charging us the rest of the payments for the 3 months we were on the hardship program and late fees as well as telling us we are now over 80 days late. Explained there was no way we can make that payment that we have rent and other bills owed.
I called on Friday but was having issues with my phone called on Saturday talked with a nice lady. Told me the request was denied and now we owe all of it and now we are over 80 days late. To make as many payments we can to stay under 120 days. I'm sorry but this is absolutely ridiculous. Over 49.00 that wasn't paid. Also how am I to pay something if my bank account is frozen due to some ** that cloned my card and took money out of my account. I call my other bills and they all understood, but you all tell me, "Oh well wasn't our fault. We won't do anything." Which I know you could have.
We will never use or recommend you to anyone. You can see in our file we have always made our payments within the grace period because of how his checks were never over the grace period days and always tried to pay more or round up on the payment. So now someone clones my card I paid the big portion of it and was trying to explain he gets paid on the 27 by then everything should be given back to us that they took out. And we get nope now you owe us almost $1000. So very wrong! And making it look like we didn't pay on time when we did. Except for the last one which we couldn't we couldn't get into our account.
11 people found this review helpful
Thank you, you have successfully subscribed to our newsletter! Enjoy reading our tips and recommendations.
chamininda of Riverhead, NY

Verified Reviewer
Original review: Dec. 20, 2022
I request the personal loan and then the agent did the application and said, "You are approved," then send me all the doc to sign. 1 week nothing hear from them. I called then they said still they are doing application. All these lie. They just collect information. Be careful.
4 people found this review helpful
Tina of Bonney Lake, WA

Verified Reviewer
Original review: Dec. 14, 2022
I have a checking account with Lending Club, I transferred money from another bank as I had lost my debit card from that bank, they flagged it as suspicious, the only other time I had that happen with a different bank I sent in proof to the bank, took all of 20 minutes, and all was corrected, not with lending club, I sent them proof that the money had left my account, it was all the money I had, you can't talk to the fraud dept, as they don't have a phone number, customer service refuse to help you, they won't email me back, I left a negative review on their Facebook page, they deleted my reviews and turned off comments, it has been a week, no communication, I have no money for food for my child, had to call out sick to work as I have no gas money,
I can't buy life saving medicine or medicine for my sick child, the couple of times they responded to my email they say call, I call tbe customer service rep say they can't help me, that I need to email, I have sent 30 emails and 5 phone calls, they won't do nothing. Here I am with no money, and no end in sight. I don't know what to do, worst bank ever, I beg anyone who is thinking of using them, run far away, I have begged, carried for help, all I get I am email we are working on it, tbd k-you for your understanding.
9 people found this review helpful
Felicia of Houston, TX

Verified Reviewer
Original review: Nov. 22, 2022
Been a customer for years and hit hard times. I have called multiple times and no one will HELP me. They will not offer a hardship option and help me at all with lowering my payment. All I wanted was for them to assist me.
28 people found this review helpful
elizabeth of Hilton Head Island, SC

Verified Reviewer
Original review: Oct. 20, 2022
I was recently looking at rates for personal loans and unknowingly signed myself up for a loan with your company. How did I know? Was I contacted to sign something? Emailed? No; I received cash in my checking account. When I called Lending Club to tell them there must have been some mistake, they said "No mistake, congratulations, we approved your $20k loan!" No, I didn't want a loan, I was just looking. I asked if I could just return the money. Sure, they said. I had 30 days and wouldn't have any fees. Great, a relief I thought. But that wasn't the case.
So, I went ahead and returned the cash that had been deposited to me. Then when I got the money returned that was sent to my credit card company (I had entered on the website to get a payoff amount-not knowing I was agreeing to a loan, just thinking I needed the payoff amount to get the interest rate for the loan), I called to say I had the money back to return to cancel the loan. This was 13 days after the loan had been initiated (without my knowledge.)
At this point I was told the loan could not be canceled. Why? Because I voided the terms of canceling the loan by paying back the cash they deposited in my bank account the same day I received it. "What?" I asked. Yes, I was told that the only way to cancel a loan is to pay it all back AT ONCE. Otherwise you cannot cancel it. However, that part was left out. Even my customer service agent who looked at the notes said that she saw that the person I spoke with didn't tell me that and the email I received (pasted below) just says the money has to be returned in 30 days (nothing about in one payment).
43 people found this review helpful
M of Newcastle, CA

Verified Reviewer
Original review: Oct. 14, 2022
Lending Club scam remote workers misrepresented Loan approved facts. Funds reversed from account, deposit & withdrawn multiple times, causing account posting high negative balance. Do not use cash app, etc. apps to make and withdraw fictitious cash deposits, on directions of remote scam workers representing Lending Club. Shame on Lending Club "remote" scam representatives, leaving personal account with negative balance.
39 people found this review helpful
Jackie of Georgetown, KY

Verified Reviewer
Original review: Sept. 14, 2022
I applied for this loan to do some debt consolidation at a good rate and to get the last of some credit card debts on a lower interest loan to get it finished off. Well it was a good rate, the application went quick and I was thinking this is easy. Unfortunately, the application process is flawed and the staff is under trained or doesn't care. All the 24 hour processing times are a joke. I submitted a 4506-C form since I'm self employed and they give directions during the application process to submit it by printing it out and filling it out and scanning and uploading.
Well after a week of radio silence I find out that a separate company called "Veri-Tax" sends an e-form you "have to use" and thats the problem. So I have to go into my spam folder and find it and do that and email the company to make sure they got it. Another week passes and I reach out again and find out there is a special code that I have to provide to Veri-Tax to make sure the form comes back to my account which was never said anywhere until I called to complain. Well I finally get that to Veri-Tax myself because Lending Club can't be bothered to. Well that finally gets the loan approved.
Now after a week of the loan being "Approved" I'm waiting on funding because apparently this company doesn't have the capital to fund loans they approve. So now I'm over 3 weeks in, a week after "approval" and no word on if or when I'll get my funding. Not to mention that half the time I've called and tried to get answers along the way agents have no idea about what's going on or just give me information that was later proven inaccurate. Definitely get your loan somewhere else.
35 people found this review helpful
Susan of North Olmsted, OH

Verified Reviewer
Original review: Aug. 14, 2022
I was applying for a joint loan. The other person on my loan was never contacted about the loan or asked for any verification of pay information etc. I did not complete the loan information I did not send in proof of income etc. I began the loan process but did not finish it. One day later after applying, it indicates that I was turned down for the loan because of a number of adverse factors and none were listed. How can I be turned down for a loan when I didn't finish the application my joint applicant was never contacted? As added information, I have no adverse information on my credit report, never late for a payment on anything. I have to wonder about the legitimacy of this organization. Contacting this organization is a joke; good luck finding someone.
49 people found this review helpful
Arthur of Las Vegas, NV

Verified Reviewer
Original review: Aug. 10, 2022
I applied for a loan on 7/26/2022 and the funds were deposited on 7/27/2022 into my Saving account as directed by me. I called on 7/26/2022 to cancel my loan since my plans changed and I did not need the loan. They told me not to touch the money and that they would cancel the loan and pull the money back from my account.
I assumed they would pull the money from exactly where they sent it. In fact, they did not, they tried pulling it from my checking account and my bank rejected the transaction since the funds were in my Savings and not my Checking. I left the money exactly where they deposited to and since they were unable to pull the money, they are now charging me $1,396.00. The representative failed to confirm any details with me and did not explain anything other than to not touch the money and that they would pull it back. I have proof from my bank showing that the funds were deposited into my savings and the transaction showing they tried to pull the funds from my checking. I am also being charged $25 for NSF fees from my bank. I tried calling yesterday to speak to a manager and never heard back.
I spoke to another manager today "Katie" which explained to me that since they only had 1 bank account on file, that is the information that they used and that I would be responsible for the outrageous fees applied for their internal mistake not pulling the money from the same place they sent it to. The reason they have my checking account which is the same account number is because over a year ago I borrowed money from them and had autopay set up. BEWARE and do not use them EVER!
They even agreed with me that there was a mistake and instead of losing a customer for a mistake on there end, they could have just cancelled the loan and we could have moved but no, they way their money and they are trying to blame me and say well I setup the autopay and I should have checked the settings. Excuse me, why would the representative tell me they were going to pull back the money and not specify anything else. That's why I thought since I gave them instructions when I applied to have the funds deposited into my savings.
27 people found this review helpful
LaTonya of Charlotte, NC

Verified Reviewer
Original review: July 26, 2022
After returning from abroad I reported fraud/Identity theft to the fraud dept at LendingClub on the 5th of July 2022 and spoke with Dillion. He gave me a email to send in police/FTC report and additional info. On the 21st of July I received a one paragraph letter dated the 7/5, stating funds were deposited into acct ** and you benefited and nothing else. I've been researching this co., and their loan practices, and found from conception to date LendingClub uses a third party and algorithm to determine the validity of a potential customers identify and doc upload.
In all their annual reports they clearly state this method is a problem/concerns because of the substantial risk of identity theft/fraud. In every annual report they reiterate the same concern/risk and vow to make changes to protect consumers. They haven't to date, even though there are plenty of apps available. The bottom line is LendingClub has been aware of this for years and has not done anything to fix it.
31 people found this review helpful
LendingClub Company Information
Company Name:

LendingClub

Year Founded:

2006

Address:

71 Stevenson Street, Suite 300

City:

San Francisco

State/Province:

CA

Postal Code:

94105

Country:

United States

Website:

www.lendingclub.com