Consumer Reviews and Complaints

They told I could get a loan from them. They told me to get iTunes cards and to load them with money. Will somehow got my bank account stuff. They stole 8,000 from my bank account. Now I owe my bank 8,000 in the hole with them. Be careful it's a scam, scam.

At first we found the fake reviews that everything was quick and easy and hassle free, but then we started the loan process. For various reasons we needed a little boost to consolidate and get through a hard time. We saw the price per month and it was better than what we were doing. We faxed them what they asked then they started asking for the something or something new every day. They started asking for documents we could not produce and we called and told them that and it was not good enough. Eventually we were denied the loan, in the end we decided with all the problems it is probably a good thing.

First and foremost, I have a current loan which is almost halfway paid off and a second loan which was paid off. I have received continuous literature that I was pre approved for up to 35,00. I applied for 9,000. After 3 fax pages I was denied. Please save that hard inquiry for something that has fruit to bear. Shame on Credit Karma for even making the suggestion that the possibility of acceptance was above average. Buyer be cautious in dealing with Lending Club and especially with Credit Karma and it's false rating. Obviously when Lending Club charges that exorbitant setup fee and the person answering the phone tells you after asking a question, "I'm not qualified to answer any loan questions."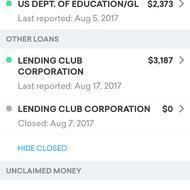 I have two loans with Lending Club. I paid off one loan last month (I had only 5 months left). They state in their policy that there are no penalties for paying off a loan early, but today I received a notification from Credit Karma that one of my accounts was closed. This dropped my score ten points!! I still have an open loan with them why would they do this? They are terrible!

Thought this company was ok, even at 29% interest with my credit score of 698, I needed to just consolidate higher interest cards. Have been paying on time for 8 months now, but needed to change the date of payment only 13 days. Tried to change it online but they said I had to call and when I did they were fine with the change for next month but is charging me $6.40 a day for 13 days past my original due date. It was on the 13th. Wanted it changed to the 26th because of change in pay dates. That is adding an additional charge of 60.00 to a 361.00 payment. Now I will owe 422.00 in August. Am not sure how legal this is but that is a big chunk!! Don't change your due date!!
How do I know I can trust these reviews about Lending Club?
883,201 reviews on ConsumerAffairs are verified.
We require contact information to ensure our reviewers are real.
We use intelligent software that helps us maintain the integrity of reviews.
Our moderators read all reviews to verify quality and helpfulness.
For more information about reviews on ConsumerAffairs.com please visit our FAQ.

The representatives were very professional and extremely helpful in helping me to enter into a high interest loan that is costing too much in the long term. The individuals that operate the Lending Club are the modern day mobsters who offer loans and charge the clients 100% interest. If I had known then what I know now, I would have never entered into an agreement with the Lending Club. If you are considering using the Lending Club as a lender, please look somewhere else.

I applied for this loan and was given $35,000, but almost $5,000 of that went towards loan origination fees so I really got a little less than $30,000 deposited into my account. First I was completely shocked to see my monthly payment was $1,350 per month... this is completely outrageous and it's a total budget buster. For reference I have another $25,000 loan through another lender and the payment is $250 per month. Okay it's bad enough, right? What else could go wrong?
Well today I had to reach out to them to ask for a deferment (Pretty standard stuff) due to a hardship, I won't go into detail but it's pretty serious personal situation that's going to require adjusting payments around and working through some troubling times for the next few months. I was told that they do not offer altered payment arrangements and that the only thing they could do is accept the payment up to 14 days late for the grace period. This $1,350 payment is killing me and now I can't even put it on deferment like any other lender so I'm completely screwed by Lending Club. Whatever you do don't sign for a loan from this company, it's a total rip-off. Happy to answer any questions... but the answer will always be don't do it.

I was approved for a loan on 7 June 2017. Then I received every week or so a request for new documentation from Lending Club to confirm information I had previously given them. I submitted all requested documentation, and then when I was in the process of submitting "My 2016 tax forms including all schedules" including schedules that the IRS themselves did not require, I was issued a decline notice. Not even 48 hours after asking for the documents, they declined me for a loan which they had approved nearly a month prior. This is not legal and their senior management know it. They are a criminal organization and should be put out of business.

I got approved for 5k and I tried to borrow 4k and they were fine with it, so one of the employer told me that I have to put $175 first into Apple iTunes card and I did! Then he told me I have to pay 200 dollars for the enquiry of my bank that way they would be able to put the money into my account. The next day I only had 100 dollars on me and I called them and another employer said that it's ok to put then 100 into another Apple iTunes card then once I get the amount I was trying to borrow just pay the remaining 100, so I said "ok that perfect." But then I had to wait them to call me. After a couple of hours I called back and they said the system was not letting them complete the transaction because I had remaining 100 and I had to pay that first but I was out of cash, so I told them to give me another day to put the remaining 100.
Then the next day I called back again and told them that I was ready to put the 100 into iTunes card, I got mad out of nowhere when they told me it was actually 150 because the 50 dollars was the late fees, meaning I have to pay 50 dollars every day until they finished. So I once they approved you that day then you have to do everything they need that day so you won't have to pay 50 dollars fee. It's 50 every late day until you pay everything and get the loan amount you want, but the good this is you get those money back with the amount you borrow! Anyway when I paid everything they told me to wait 45 min but it past so I called back and they said 10 more min then everything will be done. Past 10 min I called back again and nobody was answering the phone. It was Saturday then Sunday they closed so I have to wait till Monday but I don't know if that will be another 50 or not!

After the initial excitement of being approved for a loan to consolidate high interest debt, I was angered by the sudden appearance of origination fees. The amount I was charged was 6% of the loan amount!!! How can this go unreported, swept under the rug. At no time did I receive an itemized report of my loan documents. This seems illegal, or at the very least unethical ambush marketing.

I keep getting pre-approved loan applications via US mail. I have applied several times and was denied. I have emailed them to stop sending me these pre-approved loan applications. If we could consolidate our debt we could get out of this hole we're in. What a disappointment. Why am I pre-approved and denied? Isn't that false advertising and against the law.

I applied for a personal loan 9 days ago. I submitted all documents and it has been under final review the whole time. I have great credit and a nice savings account. Never delinquent or late on payments and was given a 23% interest rate. Not my idea of good. I called yesterday and was told to send another document. I sent it then today was told to send the same documents I have already sent. I was also told it will be another 2-4 days. With this being Memorial Day weekend it will probably be longer before I get a decision. At this point I am not very hopeful of getting a loan. This was supposed to be quick and easy, I needed this loan asap. If I would have known this I would have applied elsewhere. This has experience has been horrible and I am now thinking of withdrawing my application and applying with Prosper or another company or bank.

I had the best experience with the Lending Club. They will do whatever it takes to help you out which is why I went through them personally. You would really like this loan for personal issues that they offer now. You should look into it and see what you think.

I am on long term disability and had paid almost $18,000 in medical expenses with credit cards. I have a good credit score and paid more than the minimum payment on time every month. I received an offer from Lending Club that indicated I was pre-approved for a loan. After I started the loan process, I learned that they only accepted the requested documents electronically. In other words, I need to take photos of my documents or scan them to my computer. I didn't have a printer so I couldn't scan the documents and I had never used my phone's camera. Because I am physically disabled, I couldn't take photos that meet their requirements. (All four corners of the page had to be in the photo and, of course, the photo couldn't be blurry.) Because I am physically disabled, I couldn't take the needed photos.
I talked with a Customer Service Representative and I was repeatedly told the same thing as if it was a recording that I couldn't mail the documents and all four corners of a page had to be in a photo. My local Mail Carrier would have come to my front door and picked up my mail, if I could have sent the documents to their mailing address. If I had known that I couldn't use the United States Postal Service to submit the loan documents, I would have never started the loan process. I was amazed that this company had no respect for a person with disabilities. It speaks to their integrity. It would be easy for people without disabilities to ignore my review but I hope this company isn't rewarded with business without making their business practices equal and available to all persons who otherwise qualify for a loan.

I only had to contact customer service one time to try and switch some payments around. Besides that, I did everything online. This was the main reason I went through the Lending Club. The interest rate was high. I would have got a better rate at a bank but I didn't know if I'd get approved. The application process was fast and easy. I had to upload a few documents to provide my income and ownership. I'd recommend it to a friend or family member.

I signed up with Lending Club because my dentist offered it as a payment plan for an orthodontic treatment I got last year. I have had the WORST experience ever!!! I am someone who is extremely scrupulous about paying my bills on time and my credit score is a testament to the fact. But Lending Club seems to keep coming up with novel ways of charging me late fees. First they did not send me a statement in the mail for 2+ months after signing up for the payment plan. I called their customer service at around the 1 month mark and they assured me that they hadn't started billing yet. I'd receive my first bill in the mail soon and didn't need to do anything before then.
When I didn't get anything in the mail for another month, I called again and this time was told that my account was past due for the first month and was assessed a late fee. After a 30 min harrowing conversation where the customer service agent repeatedly told me to use the account number on my paper statement to sign up for online payments and I repeatedly clarified that the issue was that I had not received any paper statements, I was finally able to get set up online and pay. I had to ask to speak to a supervisor to get the late fees waived and she did so pretty reluctantly after another 20 mins worth of conversation.
Also, they do not offer any way of setting up recurring payments for the fixed monthly installments either online or over the phone. For a company whose marketing mantra is to "help people get out of debt" they seem to be working extra hard to keep you from making timely payments. Anyway, all of last year, I have been tracking the statement date on my calendar and going in and making my payments online when I get the reminder. This January I did make my payment a day after the due date because I had to travel out of the country unexpectedly due to a family member's death. I went online immediately on my return (unfortunately it was a day after the due date) and it did not occur to me to add the late fee to my payment because it was not showing on my account yet.
I also set up my Feb payment for the standard installment amount. At the end of Feb, I get a call from Lending Club saying my account is past due. I am surprised by this because I remembered having set up the Feb payment online. The agent confirms that a payment was made in Feb but it was for $5 less than the due amount. He is not able to explain why the amount dues is $5 more than normal. I go ahead and make the $5 payment plus the amount he tells me is due for March. I ask the agent repeatedly if there are any fees, fines, etc. due on my account and he assures me that I have not incurred any fees and after making the payment, my account is current.
Today, I went online to make my April payment and see that I have a $35 fine for Jan (which is legitimate) and another $35 fine for Feb and minimum charges for Feb & Mar when I have made early payments for both of those months. I call customer service to get an explanation for the fees I don't understand. They tell me that I was supposed to pay $5 more in Feb towards the late fee I incurred in Jan. I rationalize that I had no way of knowing I had to pay the $5 more for Feb since the extra charges did not reflect when I went in to make my Feb payment. I paid the $5 as soon as I received a call informing me they were due.
Also, charging me $35 for a payment being $5 seemed a bit unfair. I am given some circular explanation for how I am supposed to track my balances accurately. When I ask for the possibility of waiving the $35 for Feb since I wasn't in reality late, I am told that I'm not eligible since I already received a waiver last Feb (remember the $25 I was charged without ever receiving statements!).
I move on and ask about the additional minimum charges assessed in Feb & Mar. Am again told that I paid $5 less in Feb. I say I paid the $5 and exactly the additional amount the Lending Club agent told me was owed later in Feb. So, why another charge in March? A lot of fumbling in response and finally... you can guess by now... "You paid $5 less in March". At this point I give up and ask for a supervisor or a way to provide feedback. I am told there is no supervisor on call and they send out occasional customer feedback surveys. I should be getting one in my email in 3-6 months. At that point I hung up!
My opinion of Lending Club and how little they care about customers continues to get worse! I tried to look for places where I could leave feedback directly. Was giving them the benefit of doubt and thinking if they heard the details of my experience directly they'd try to fix things. I could find no way of providing my feedback directly to Lending Club online.
They do have a customer review page on their website (https://reviews.lendingclub.com/) but no way of adding a review on it. You can only publish a review if they deem you worthy enough that they request it from you. And people like me who merely want to pay their bill on time and not be charged fees are clearly not worthy! Anyway, they also seem to manipulate the reviews on their site. When I sorted the reviews by low to high rating, not a single 1 star review has negative comments to go with it. Instead 1 star ratings say things like "Outstanding... The loan will really help pay off most of my debt, furthermore it would be very helpful to anyone who is granted when no one else would. Thank You!!!" and "Great feature... Excellent service good customer service AND very knowledgeable at it service."

This company is HORRIBLE to deal with. I had problems every month that I tried to pay online, forcing me to call the company. The ladies I spoke with were nice and assured me that my payments had been taken and I had nothing to worry about. I then got a call from a person that was quite rude and condescending stating my account was 3 MONTHS past due!!! They told me they could not find any of my calls noted in the system and dinged my credit and would not help me resolve this. I highly recommend not using this awful, unprofessional and unethical company. They say they are noting your account, don't worry everything is taken care of and then later say "sorry we don't have any record of you calling". I am reporting them to my bank and to the DDS that recommended them. Be very wary.

The customer service staff has been excellent. They give easy answers to understand and analyze, which also helps you to make decisions. The application process was fast and easy to understand. The interests are low and accessible. It helps a lot to not pay so much and it motivates you to continue taking out loans. The online tool helps you to search for constant information and motivates you to continue taking out loans to get the things you need.

Extremely helpful and friendly customer service. The application process was quick, easy and successful. Approved quickly. Lending Club has great rates with the terms. Experienced positive feedback, and questions were answered quickly. It has great online tools for all the resources that you need to successfully qualify for a loan. I would return to this company for other loans. Happy customer and I would recommend Lending Club to anyone.

The customer support was awesome. The application process was awesome. I hope the process stays this way. The rate and terms were awesome. Keep up the great work. The online tools are awesome. I would recommend it to everyone I know and I hope they would do the same.

I didn't have many issues but everyone I spoke with was helpful. Especially by setting expectations around payments and what was required of me. It was easy and did not require extra effort on my end to get the application complete. Not much else I can say here other than it made sense. The interest rates with Lending Club were on par with what I saw with Prosper for A+ credit members which I fall into. 6-9% from what I remember. The tools here again made sense and were online with what I expected them to be from a company of this caliber. The app was decent as well.

They were quick with all of my questions. I really appreciated their expertise with all of my questions. They are a model business for which others to follow. They did a great job explaining all of the questions that I had. I expected less and ended up with more. I had a lot of questions however on some of the paperwork. It did get confusing to be honest. I'm glad that I had help in order to get it down right the first time. I would say that I had a good experience overall. I think that the rates and terms were to standard and explained to me the right way the first time. I think that the online tools was very helpful. I think that the website was very helpful to get me ready. This is something that the company must keep as I think it is a great tool for consumers.

If they ask you to purchase an iTunes card do not do it. They are scamming you and you cannot get your money back. They will tell you are approved but they want you to download money on iTunes cards which they scan and take, then when they tell you funds are available at Western Union by the time you get there to pick it up from lender they already collected it electronically in your name with your ID number so be aware of this. When ask for refund of course they want you to pay a fee to get your money back that you never get.

Good service for the most part. Service was fair and agents were a professional, although they could have been more detailed when explaining the costs. Application process if I had to explain it, was fairly straightforward. The application process was very comparable to other similar organizations and I didn't have to try very hard. The terms were a bit high for the quality of service we received. In the end, the terms and costs were probably too high and we would do more research before paying that much again. The online tools available were fairly standard and those you would come to expect from this type of company. I wish there were more customization features however.

Received a Pre-Approved Loan letter from Lending Club and, despite my reservations and encouragement to use the Pre-Approval from Prosper, I went ahead with Lending Club based on their tenure. Surprise! I was denied based on, according to them, my credit records. My thinking, and experience with all other lenders, was that a Pre-Approval was based on factors deemed favorable. So now, not only is my credit score dinged, I never got the fund. Same score that I used to obtain a mortgage approval. My grouse is that I wouldn't have bothered except that it was a Pre-Approval. The letter was clear in the statement saying "You have already been pre-approved for a loan up to $40,000." Don't let them get you with the same ruse.

Very good customer support. Friendly person who helped with anything I needed. I could not ask for anything more. Very good help that I was given. I would recommend them. The application was very simple and straightforward. Just put your information into the application process and it goes straight through. Very easy. Very good rates and terms. Very easy to understand. Good product for the price. You pay not overcharging on the rates and terms. The online tools are very easy to use and informative if you need information. It's very easy to find the information. The online tools make everything easy.

Quick to answer when contacted, helpful and thorough, knowledgeable. When I contacted them I was presented with options I did not even think of. I was able to gather all documents before I began the application process. It was very clear, fairly simple, relatively quick, and I had an answer right away. As always I would like to have lower rates, wouldn't we all, but my credit had a large impact in that. Overall I would say my rate is fair. The online tools are easy to use and understand especially the calculator. I have used the online resource several times and never had an issue.

They were so helpful and made sure that I knew what I was doing and that I understood everything that I was doing. They made sure I knew what the interest was and when my payments were due. The application process was very simple and the staff was very helpful. They made sure that I knew what to put and where to put it at. They made sure that I knew what to do and how to do it and where my business was. They had very fair rates and the terms were very easy to understand. I also understood when my payments were due and how to process the payments. They gave me lots of information to use when I was approved for my application and they also made sure that I knew what to do to get tools online and how to use them.

For those considering a loan from Lending Club, let this review serve as a testament to move forward. Although skeptical at first, I did some research and read review after review until my decision was made. If you take the emotion out of the review, either good or bad, it is easier to make an informed decision and decide if this is a viable alternative to credit unions, banks or other entities. The process was extremely easy and when I applied, I was told upfront that their platform for investors had a lot of applications and the process would take about 14 days. Here is the good part - The process took 14 days if you count just the business days.
The process - I applied online, then received my offer. I thought about it for a couple of days, called Lending Club and visited with what appeared to be an extremely knowledgeable representative that answered any and all of my questions concerning loan amount, interest rate, approval process and any other aspect of my application. I only had to verify my email address after the review of my application and the rest is history. I received my funds in my bank account without any additional requirements. I did not have to provide any additional income verification or banking information. This all happened in 14 days!!
There are many negative reviews on many sites, however my experience does not fit that genre, so I opted to write this review to relay my experience in this process from Lending Club. I would recommend giving them an opportunity to help you in whatever way is possible. If I had not been approved, the process was still very easy and I would have to be honest and understand the reasoning behind the denial, had I not received an approval. Thank you Lending Club for the opportunity to have a relationship with your company as a borrower and I may soon become an investor!!

The customer support team asked many questions and listened to my concerns. I felt valued, appreciated and happy. I was spoken to in a polite tone and told all my concerns would be handled promptly. The application process took less than 5 minutes to complete. It was intuitive, interactive and helpful. I had no issues while performing this. I received the best rates and returns I could with no hassles or loose ends. The rates were not variable and it was locked in on the life of my loan. The online tools were simplified, easy to use and informative. I could use it for verification and to project my loan plan. It was simple and I had no tech issues.

Barbara FriedbergPersonal Finance Contributing Editor
Barbara Friedberg, MBA, MS is a former investment portfolio manager with decades of financial experience. Friedberg taught Finance and Investments at several universities. Her work has been featured in U.S. News & World Report, Investopedia, Yahoo!Finance and many more publications. More about Barbara→

Lending club is the biggest peer lending marketplace. The company was launched in 2007, and it was originally one of Facebook's applications. Lending Club makes loans up to $35,000.
Financial and social rewards: Similar to Prosper, money borrowed through Lending Club originates from peer lenders who commit their own cash to the system. These consumer lenders help borrowers and receive higher than bank interest rates.
Easy application: Potential customers complete a quick online application. Lending Club rapidly calculates the consumers risk and assigns a credit rating and an interest rate to the potential loan. Loan applicants can examine their options without impacting their credit score.
No hidden fees or prepayment penalties: Transparent fees and the ability to prepay the loan without penalty are two of the advantages of a Lending Club loan.
Mobile-friendly: Lending Club has a sleek and easy-to-use mobile platform, which is convenient for borrowers and lenders on the go.
Award-winning: Lending Club has won many awards for its services, including recognition as one of Forbes' America's Most Promising Companies and a CNBC Disruptor 50.
Easy payment options: The company deducts borrowers' single monthly payments from their bank account, so the repayment process is simple and easy.
Best for People looking to refinance debt, those starting a business, experiencing financial hardship and consumers experiencing a big life event.
Lending Club Company Profile
Company Name:

Lending Club

Year Founded:

2006

Address:

71 Stevenson Street, Suite 300

City:

San Francisco

State/Province:

CA

Postal Code:

94105

Country:

United States

Website:

http://www.lendingclub.com/