Written by

Edited by
Our promise. We provide a buying advantage with verified reviews and unbiased editorial research.
About LendingClub
With LendingClub, you can get a personal loan, refinance your car payments or take out a small business loan. Its online marketplace connects borrowers with a network of lenders to help them select the best loan.
Pros & Cons
Pros
Quick, easy online application
Fast money delivery
No prepayment penalties
Fixed interest rates
Cons
Somewhat high minimum APR
Bottom Line
LendingClub is a lending marketplace that helps consumers get loans for various purposes. LendingClub also offers online banking. You can apply for one of its loan options or sign up for a bank account online.
Top LendingClub Reviews
I have borrowed from this lender twice and each time, it has been picture perfect. While no one wants to borrow to pay off debts, the fact that this company was willing to give me...
Read full review
I was wary of getting a personal loan, I suspected there would be hidden fees or a hidden "extra" interest rate. As an attorney, I read the fine print carefully and found that the...
Read full review
What is LendingClub?
LendingClub is an online marketplace that connects you with lenders. Its application process for personal or small business loans is quick and easy.
Apply online by providing the amount you want to borrow and the purpose of the loan.
Select a loan offer.
Your money is deposited directly into your bank account within two days on average.
LendingClub offers multiple borrowing options, including personal loans, small business loans, auto refinancing loans and medical loans. LendingClub offers fixed interest rates and a single monthly payment. There's also no penalty for paying off your loan early.
LendingClub loans
LendingClub has multiple types of loans available with different maximum loan amounts and terms. The right loan for you may vary based on how you intend to use the funds.
LendingClub personal loans
You can take out a personal loan of up to $40,000 for almost any significant expense, including:
Paying off credit card debt
Transferring a balance
Consolidating debt
Improving a home
Personal loan terms are either 36 or 60 months, and all transactions take place through your LendingClub account. Once approved, your loan is usually deposited directly into your bank account within two days.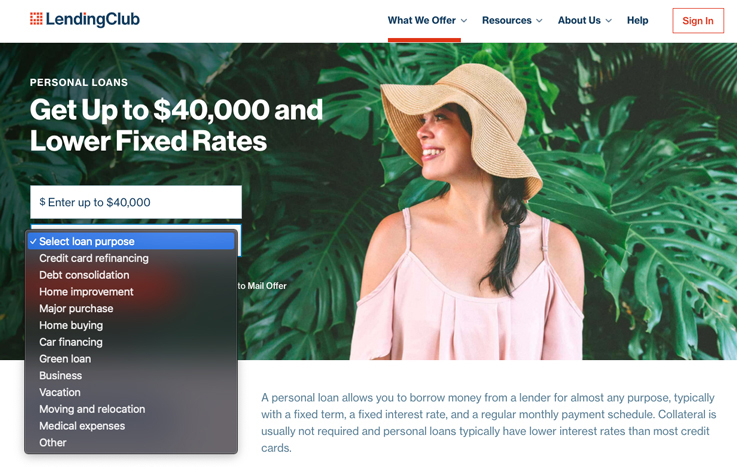 LendingClub business loans
With a small business loan from LendingClub, U.S.-based borrowers who have been in business for at least a year with $50,000 or more in annual sales can get up to $500,000 with a one- to five-year loan term. Small business loans have fixed monthly payments and no prepayment penalties.
LendingClub auto refinancing
The auto refinancing options are excellent for borrowers who owe $4,000 to $55,000 on their auto loan and want to lower their monthly car payments. Once you choose a refinancing offer, LendingClub pays off your previous lender. All payments go through a LendingClub account.
LendingClub Patient Solutions
LendingClub offers medical financing to help patients receive the care they need that may not be covered by insurance. LendingClub Patient Solutions include installment loans from $1,000 to $65,000 or revolving lines of credit from $499 to $32,000. Installment loans can be repaid in two to eight years with fixed rates ranging from 3.99% to 30.99%. Line of credit borrowers can secure rates as low as 0% APR.

LendingClub personal loan terms
Loan terms vary among lenders, and it's important to note the differences to find the best loan for you. We've highlighted some of the most important information about LendingClub's personal loans.
LendingClub personal loan terms at a glance
| | |
| --- | --- |
| Loan amounts | $1,000 to $40,000 |
| Term lengths | 24 to 60 months |
| APR range | 9.57% to 36% |
| Origination fee | 3% to 6% |
| Prepayment fee | None |
| Minimum credit score | 600 |
LendingClub rates
LendingClub charges an annual percentage rate (APR) between 9.57% to 36% on personal loans. Costs and fees for borrowing with LendingClub include an interest fee, and the company charges a one-time origination fee that's 3% to 6% of the entire amount you're borrowing.
LendingClub FAQ
How does LendingClub affect your credit?

Checking the rate you qualify for from LendingClub will not impact your credit score.

If you choose to move forward with the loan, LendingClub does a hard credit check to evaluate your creditworthiness, which may cause your credit score to drop temporarily.
How long does it take to get a loan from LendingClub?

You can get approved for a loan from LendingClub within 24 hours and receive funds within two days.
Does LendingClub verify income?

LendingClub verifies the incomes of most loan applicants. When applicants apply for loans, they go through a screening process that considers hundreds of data points that help identify which applications need further verification. Applicants may have to submit documents like W-2 forms, tax records or pay stubs for income verification purposes.
Can you pay off a LendingClub loan early?

LendingClub does not charge any penalties for paying off your loan early.
Is LendingClub legit?
LendingClub makes getting a loan quick and easy with its online application process and direct deposit, and there's no penalty for paying off your loan early. Just be sure you're getting a rate and loan term you can manage.
A link has directed you to this review. Its location on this page may change next time you visit.
How do I know I can trust these reviews about LendingClub?
4,243,660 reviews on ConsumerAffairs are verified.
We require contact information to ensure our reviewers are real.
We use intelligent software that helps us maintain the integrity of reviews.
Our moderators read all reviews to verify quality and helpfulness.
Page 1 Reviews 0 - 5
Marcos of Vale, OR

Verified Reviewer Verified Buyer
Original review: April 20, 2023
I did a conventional loan through the internet, and the process with LendingClub was a lot easier. There was another company that didn't have the fee at all, but their process of applying for a loan was way too lengthy. There were too many questions, and I didn't have too much time for that at the moment. If I had the time, I would have gone with them to avoid paying the fee. The process with LendingClub took a little longer than 24 hours, but they were all right, and if I had to do it all over again, I'll give them a second chance. I have two loans and I would have to call them to find out if I could just put them together instead of having separate. Other than that, I'm satisfied so far.
Be the first one to find this review helpful
Thank you, you have successfully subscribed to our newsletter! Enjoy reading our tips and recommendations.
Thomas of Amarillo, TX

Verified Reviewer Verified Buyer
Original review: April 10, 2023
Trying to find a personal loan to help me consolidate my cc debt was extremely frustrating and stress inducing. So many preapproval messages getting you excited to get out of this hole but once you start the process that 10% apr preapproval for 13k turns out to be 28% for 4500…It felt like I was just going to have to let my credit get destroyed and just ride out having maxed out cards. Then comes LendingClub. Their preapproval process was legit, the rates were what they initially stated and the whole thing from start to finish was incredibly simple. The money was sent to my cc accounts in less than a week.
If I had one critique it would be that once you complete the application and sign into the site to check on the status of it you can easily submit another loan application without knowing it because it looks like you haven't completed the app when you sign in. I got several emails saying my loan was denied because I already had an application active but I couldn't find anywhere that stated it was processing or anything like that which would have been great. But that's a small critique and overall I am extremely happy with everything LendingClub has done for me and I would highly recommend using them for a personal loan.
Be the first one to find this review helpful
Zee of Nashville, TN

Verified Reviewer Verified Buyer
Original review: April 9, 2023
LendingClub got me out of a jam. What I did for me helped me. It was easy, fast, and simple. I did it through the website and I called. Go ahead and do it, if you need to and you're responsible enough to make payments on time. Because you're getting out of a jam to pay another one, but it's not as frustrating. I'm paying 10 cards a month. My daughter was a little higher because of her credit limit. I should have done a higher limit and got rid of the last four cards that I have.
Be the first one to find this review helpful
Varlene of East Orange, NJ

Verified Reviewer Verified Buyer
Original review: April 5, 2023
LendingClub approved me and their interest rate and everything else worked way better for me. The application process was simple and easy. It took me more than 5 to 10 minutes, just because I had to look for some information. Everything was done online and the LendingClub website was easy to use. They didn't give me an issue and they didn't have me restart anything. I filled out the application and in a couple of seconds, I was approved. That worked out pretty well. The rates I got worked for me as well and it wasn't too high. This is my first time doing a personal loan and I had a good experience. LendingClub helped me, even though I didn't think I would be approved.
Be the first one to find this review helpful
Cristine of Las Vegas, NV

Verified Reviewer
Original review: July 2, 2022
Origination fees and a bit higher interest rates are not ideal... However, as a disabled veteran on a fixed income who has been trying to fix their credit, in part, resulting from several years worth of bad financial advice and a failed legal/advocacy system - LendingClub has been a godsend. They give folks who are reasonable with their money a chance to recover and get ahead when other institutions wouldn't - over trivial things that negatively impacted their credit score years ago, when it necessarily shouldn't have. The process is transparent, simple, and quick. So much so, I had to call to make sure I was approved because it seemed too good to be true, and too easy.
LendingClub is definitely getting something out of it for themselves, make no mistake. They have a financial interest in it for sure; however, my overall impression and experience with both loans and my bank accounts has been nothing but overwhelmingly positive. From what I understand, things may have been different a few years ago with them when it came to loans, but I definitely believe (origination fee aside) they have more to offer than their competition. Interest rates seem industry standard for their type of financial institution.
21 people found this review helpful
Lucas of Danielson, CT

Verified Reviewer Verified Buyer
Original review: May 21, 2023
Integrity poor! My account went past due (roughly $17K - not accurate) and sought out help in negotiating a settlement. But successfully there was a reached upon agreement for a lesser amount for $8K (not accurate). I made consistent payments towards the agreement on the now established amount of $8K for over a year. Then also successfully I re-financed my home and tapped into my equity. Through the mortgage dealings, my debts were implemented to pay them off. The bank (mortgage) issued checks to deal with those accounts. However through policy I guess the company couldn't acknowledge the debt settlement as that agreement was between my agency and the account. So in other words, the bank (mortgage) issued checks in the original amount of my accounts. I sent out the checks to various companies with the understanding that overpayment funds would be sent to me.
In a nutshell, other companies that have a lesser amount debt settlement had in fact sent me the overpayment funds back to me. Yay!!! There are good people/companies. Now the problem, Lending Club will not honor the debt settlement agreement for a lesser amount. The case being that they should send me an overpayment of $10K but as of yet have not. They sent me a minor overpayment which is not even close. The bank (mortgage) sent the $17K, but Lending Club applied that amount to the original balance. Which in turn they sent me $500 in difference of overpayment. They should have applied the bank check to the debt settlement agreement of $8K which would've given me $10K refund. Again these numbers are reference.
Lending Club should honor my debt settlement agreement but have not. So in my experience they DO NOT HAVE INTEGRITY, other companies I've dealt with do. So Lending Club is not trustworthy. But through my complaints Lending Club still deliberates a solution. I strongly believe I am owed $10k. So until they resolve this matter my review this will stand as a 1 star for lack of integrity!
Be the first one to find this review helpful
Thomas of Brooksville, FL

Verified Reviewer Verified Buyer
Original review: May 19, 2023
The process with LendingClub was so easy that I didn't even have to work with any of the representatives. It was seamless. Everything was done online and there were no hassles. The rate was competitive with the other rates that I got. I would recommend LendingClub.
Be the first one to find this review helpful
Amy of North Augusta, SC

Verified Reviewer Verified Buyer
Original review: May 18, 2023
I did the credit card consolidation and they paid off several high-interest credit cards I had. Now, I'm making one monthly payment to them. The application process was pretty simple. It was all online. I received emails about processing and I could check my status online. I had a very positive experience overall.
Be the first one to find this review helpful
ShayJ of Charlotte, NC

Verified Reviewer
Original review: May 18, 2023
My loan was quick and easy to get. No paperwork, the payments came auto-pay out of my account. However, I fell into a hardship and got behind only one payment of 41.00. They have literally called my phone 5 times a day for a past payment of 41.00, even calling my job, absolutely ridiculous!!! My thing is if the person is making the payments on time every month and be a few days late, give them some time. You never know what people are going through. I can't wait to be done with this loan.
Be the first one to find this review helpful
K. of Or, OR

Verified Reviewer Verified Buyer
Original review: May 14, 2023
I did a debt consolidation with LendingClub and it was all online. The website was self-explanatory. I was not happy with the rate but it was the best I could find. I would consider a better APR. LendingClub seems reliable but people should still check around for the best deal on rate and terms.
Be the first one to find this review helpful
LendingClub Company Information
Company Name:

LendingClub

Year Founded:

2006

Address:

71 Stevenson Street, Suite 300

City:

San Francisco

State/Province:

CA

Postal Code:

94105

Country:

United States

Website:

www.lendingclub.com