How to get a personal loan without proof of income
Borrowers with collateral or a co-signer may obtain a personal loan without income proof



Written by

Edited by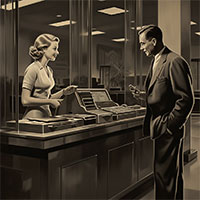 Traditional lenders typically need to verify your income before giving you a loan — which makes it difficult for those who have inconsistent income, such as freelancers, small-business owners or workers paid in cash, to be able to borrow. However, even if you don't have a regular paycheck, there are ways to get the money you need.
---
Key insights
Traditional lenders require income verification to approve a personal loan application.
Alternative sources of income can qualify for loans as well, like pensions, alimony, child support, gig work, investments and small-business income.
Take steps to strengthen your application by boosting your credit score before applying.
Consider adding a co-signer who has a traditional paycheck to get approved or qualify for better rates, fees and terms.
What is proof of income?
When a lender underwrites a loan, one of its major focuses is determining how the borrower will pay back the loan. For most people, they'll repay their loan from the income from their regular paycheck.
To verify this income, lenders typically "request documents such as pay stubs, tax returns and bank statements," said Jon Morgan, CEO of Venture Smarter. "These documents help them assess an applicant's consistent income, financial stability and ability to repay the loan."
What types of people don't have proof of income?
When you don't have a traditional job, it is much harder to document your income than it is for someone with a traditional paycheck. The people in this situation generally include:
Freelancers
Small-business owners
Social Security retirement or disability recipients
Retirees with a pension
Gig workers
Workers paid in cash
Dividend investors
Rental property owners
Unemployed workers
Parents with child support
Ex-spouses who receive alimony
These borrowers do have income that can be used to repay a loan, but the documentation is often cumbersome or difficult to piece together.
How to get a loan with no proof of income
If you're a borrower without traditional proof of income and are finding it difficult to get a personal loan, know that you can still get approved. It just might take a bit more legwork.
Here are some steps you can take to improve your odds of success when applying for a personal loan.
Fix errors on your credit report

In a 2023 study by the Federal Trade Commission (FTC), 1 in 4 consumers found errors on their credit report that could affect their credit score. Common errors included delinquent accounts, paid-off accounts still reported as open and accounts that belonged to someone else.

You can get a free copy of your credit report from each major credit bureau by going to AnnualCreditReport.com . If there are any erroneous items, you can dispute these directly from the credit bureau's website or by sending a written letter. You should also send a written dispute to the creditor that reported the item to the bureau. Creditors have 30 days to respond and take action. Otherwise, the credit bureaus will remove the disputed items.
Take steps to improve your credit score

Having a high credit score is a good way to increase your odds of getting approved for a personal loan. As you're reviewing your credit report, note any ways you can improve your credit score. For example, you may notice accounts with balances that are too high compared to the credit limits.

A few steps to boost your credit score include:

Keeping balances below 30% of your credit limit
Making all payments on time
Avoiding unnecessary credit inquiries
Having a mix of credit types (e.g., credit cards, mortgages, term loans)
Keeping your oldest accounts open

If your credit score is still low, consider lenders that have alternative credit scoring models. Lenders like Upstart use additional information when making credit decisions, such as education and employment.
Research different lenders

Even though you may have irregular income, that doesn't mean a bank won't lend to you. While traditional banks often focus on people with regular paychecks, other lenders are open to borrowers with alternative income, like rental property owners, small-business owners and retirees. Look for these lenders through online searches or referrals from friends or by talking to your banker.

However, be wary of predatory lenders that specifically target borrowers who cannot verify their income.

"Without a reliable income source, borrowers might resort to predatory lending options with exorbitant interest rates, plunging them deeper into debt," Morgan warned. "Moreover, being unable to meet repayment obligations could severely damage your credit score , hindering future borrowing opportunities."
Gather documentation

Although you don't have a traditional pay stub, there are other documents you might have to support the income you receive. Gather this documentation to show the lender how much you earn, where the income comes from and how often you receive it. Documenting your income increases your chances of approval and may allow you to borrow a higher amount.

Here are some examples of the documentation you may have to prove your income:

Tax returns
Form 1099 from clients
Rental property leases
Dividend and interest income statements
Bank account and investment account statements
Income statement from your business
Court order for alimony or child support
Unemployment receipts
Disability benefit statement
Pension statement
Consider adding a co-signer

Adding a

co-signer

who has a traditional paycheck can help you get your personal loan application approved. The combination of your credit scores, income and assets may be what the lender is looking for to approve your loan. Your combined income provides the lender with confidence that you have the ability to repay the loan without having to liquidate assets.

Even if you could get approved on your own, the co-signer's income and credit score could also help you secure more favorable loan terms. This could lower the amount of origination fees you'd pay or the interest rate charged. It could also allow the lender to structure the repayment period so the monthly payment amount fits your budget.
Secure the loan with assets

While lenders primarily focus on income as a source of loan repayment, sometimes they'll allow borrowers to secure the loan with assets instead. These loans may be secured by your home, vehicle, certificates of deposit (CDs), investments or other assets. If you don't pay back the

secured loan

according to its terms, the lender will sell or repossess the asset to cover the balance owed.

In some cases, you may receive a lower interest rate with a secured loan versus one that is unsecured. This is because the lender has collateral backing repayment instead of your credit score and paycheck.
Include alternative income on the application

When filling out your personal loan application, include all your sources of income. While you may not have a traditional W-2 job, regular income from side hustles, investments, alimony and other sources count as well.

For example, borrowers do not have to include alimony or child support on their loan applications if they don't want it considered. However, you can choose to include those sources of income to improve your approval odds.
Other ways to get funds without proof of income
When you cannot get approved for a personal loan, there are other options to get the money you need. These alternative loan options take advantage of your credit score and relationships without undergoing traditional credit underwriting.
Borrow from friends and family
Friends and family may be able to lend you money without strings attached. These informal loans are often best viewed as gifts, so they don't ruin relationships if you have trouble paying them back.
Otherwise, consider setting up a formal loan agreement to establish how and when the money will be repaid and under what terms. Make sure that the interest rate is reasonable so they don't run afoul of federal tax laws on gifting.
Margin loan against investments
Brokerage companies and fintech apps may let you borrow against your investments. Margin loans often charge a low rate of interest and do not require normal credit underwriting.
But be careful with margin loans because if the value of the assets drops, you could be forced to sell or deposit additional money to bring your account into compliance. Selling assets to cover the loan could trigger a tax bill or lock in a loss on your investments.
Loan against cash value life insurance
Many cash value life insurance policies allow owners to borrow against the cash value. These loans typically do not require any underwriting, and the funds are available quickly. If the loan has not been repaid before the covered person dies, the amount outstanding will reduce the death benefit to their beneficiaries.
Community-based grants
Many community organizations offer grants to help those in financial need. These grants do not have to be repaid, but you may owe taxes on the money received. Usually, recipients are eligible for these grants on a one-time or limited-term basis.
Peer-to-peer lending
Peer-to-peer lending networks make connections between borrowers and lenders. The lenders are typically individual investors who put money into a variety of loans. They usually invest small amounts into a variety of loans to reduce their risk against loss. Borrowers receive money from the network, and then their repayments are spread out to the investors who participated in the loan.
Title loan against a vehicle
A title loan against your vehicle can provide quick money at a costly interest rate. These loans are best for short-term borrowing because the interest rates and fees are so high. However, the lender typically does not require proof of income or a credit check. Title loans use the value and equity of your vehicle as collateral to secure the loan.
Pawnshop loan
Pawnshops lend against a variety of items based on their perceived value. The pawnshop holds onto your asset until you repay the loan. Typically, you have a set amount of time to repay the loan to buy back your asset before the pawnshop allows others to buy it from its inventory. In other words, the pawnshop will sell your item to someone else if you don't pay back your loan quickly.
» MORE: Best ways to borrow money
FAQ
What counts as proof of income?

Lenders have different requirements for proving income but generally accept pay stubs, W-2s and tax returns. Alternative proof of income may include bank statements, 1099s, court orders for alimony and pension documents.
What documents do I need for a title loan?

To get a title loan against your vehicle, you'll need a clear vehicle title and valid government identification. Additional requirements may vary by state and lender. You may need to provide proof of income, proof of residency or valid vehicle registration.
Credit card or loan: Which is better?

Choosing between a credit card or a personal loan depends on your circumstances, the terms available and how quickly you'll repay the money. A credit card offers easy access to cash at a high interest rate, although new credit cards may offer a 0% APR promotional offer. Personal loans offer a flat monthly payment with a set interest rate to be repaid over one to five years.
Bottom line
Many borrowers assume that you need a traditional paycheck to get approved for a personal loan. While some lenders do require proof of income, others will consider alternative criteria for financing.
Be wary of loans targeting no-income borrowers that offer quick cash but charge high rates and fees or have unfavorable terms. If you cannot qualify for a loan with reasonable terms, consider getting a co-signer or waiting until your credit score or income situation improves.
---
Article sources

ConsumerAffairs writers primarily rely on government data, industry experts and original research from other reputable publications to inform their work. Specific sources for this article include:
Did you find this article helpful?
|
You're signed up
We'll start sending you the news you need delivered straight to you. We value your privacy. Unsubscribe easily.