Bank of America Credit Cards
We are official Bank of America reps, here to help, listen & learn from our customers.
Consumer Complaints and Reviews

I was scammed by an ON AIR TV ad that said Free Vitamin Supplement if you pay only the Shipping and Handling $4.95. When I called the Phone number, the representative asked for my Credit Card to charge the $4.95 and I gave her this. She never once mentioned anything else until I was about to close out the call. At that time she told me I would AUTOMATICALLY be charged $93.61 per MONTH for these vitamins. I immediately told her forget it. I was no longer interested in trying the product, that was advertised as Free. What was Free? My phone call to this company NEWELL?
I was sent the product, even though I told them I no longer wanted to try their product without any documentation, however I returned the product by US Mail. I never thought of getting a receipt when I went to the post office to return the sample bottle (which in my mind according to law should have been free, since I told the Company I no longer wanted to try their produce, but they sent the sample anyway).
I told Bank of America about the Scam. They said "THEY WOULD INVESTIGATE" but never did. The Company itself (NEWELL) gave me a transaction number for canceling these charges when I complained about their SCAM and agreed not to charge me, However, BOA refused to cancel the charges because I could not show that I returned the product with a receipt form the post office. I called NEWELL and they specifically told me that my complaint is with BOA as they contacted BOA and told them these charges were canceled and they returned the funds to BOA according to NEWELL.
I contacted BOA 5 times, and after each phone call when it appeared that they finally understood, I kept getting a letter telling me because I didn't have the receipt from the post office that they could not refund me the $93.61 first months charges, for a product that I never received. All I received was the Sample - a small bottle of about 15 pills - not the 60 required for a months supply. I will no longer use BOA after some 35 years using their card and my Credit score is 820!

4 months ago I decided to transfer my credit card balance over to Bank of America (BOA) because they had an 18 month 0% deal. I was approved and instantly went online to transfer everything. When I tried doing this it was rejected from my old credit card company due to issues with BOA. I called them and they stated they had to send me a check and it'd be here within a week, which they did. I sent that to my old company and thought it was all taken care of. Next month I get something from them stating the check was bounced and that I was being assessed a $25 NSF fee and a $15 late fee.
When I called BOA they stated it was because of me attempting to do the online transfer and that they'd fix it and send a check directly to them. When I asked about the fees they said they'd credit my account. I have tried calling 6 more times since and every time they patch me through to 3 depts. only to say "We'll make a note and let you know in 10 business days". Now the last 2 times I have called they disconnect me after re-explaining the issue. Quite honestly I am fed up with them and would never suggest them to anyone.

Bank of America charged me late fee and interest even though I paid my full balance on due date cause I live in west coast and their banks works with east coast time. I called them and asked why I got charged that and their response was that, "You live in west coast and our bank works with east coast timing." It really pissed me off... I have that Visa signature credit card with them since 2005 with high credit limit and have another American Express credit card with them with high credit limit, instead they offered me another credit card saying, "Sorry we can't help you with late fees and interest but we can help you save money with double cash back card on gas and stuff..." And I said, "Sorry guys I don't want any more cards from you guys plus I'm cancelling my other 2 credit cards." It's totally a scammm.

I've had a BoA credit card for about 25 years with no issues. I've been using their online bill pay to make payments for years, again with no issues. Never been late, usually paid more than the minimum. In March, I scheduled a payment as usual. It cleared my checking account. Then a day after the due date, the bill pay app tried to withdraw a second payment from a checking account I closed four years ago. I noticed it, called BoA to find out what happened. The BoA rep insisted that I scheduled the second payment, even though I pointed out (repeatedly) that I had scheduled a payment before the due date from my current account, so why would I schedule a payment for after the due date from a closed account? He said he'd open an investigation, and that I would hear from BoA soon.
Never heard from BoA. In April, the same thing happened again. I called again. Got a different rep who also insisted that I must have scheduled the second payment from the closed account. This rep did, however, tell me that she had deleted all the information on the closed account from BoA systems. And she also promised to open an investigation. In May, the same thing happened a third time. But before I could call yet again, I got a letter from BoA saying that they had closed my credit card account because of the three returned payments. I still don't know what happened, and apparently BoA would rather lose a 25-year customer with a stellar payment history than admit there's a problem with their software or a glitch in their system or something. Not only is it upsetting to be accused of intentionally bouncing payments, BoA's action is also hurting my credit score.

I left BoA 6 months ago because they had finally screwed me enough times. I went to another bank but still had a credit card from BoA. For 3 months they took a payment from me on my new bank's debit card online. Then suddenly they wanted me to send the blank check to verify the account that they already accepted. So last month I went to a branch to pay my bill and they accepted my new bank's debit card for payment no problem. So last Saturday I went again to pay on my BoA Credit Cards and this time the same teller told me she couldn't do it if I didn't have a checking account with BoA. My God I just want to pay my bill. Why are they making it impossible. So BoA can rack up more late fees and service charges. The same old game. This time I am filing a complaint with the BBB, the States Attorney Generals Office and looking for a lawyer. Bank Of America is the worst bank ever!
How do I know I can trust these reviews about Bank of America?
790,852 reviews on ConsumerAffairs are verified.
We require contact information to ensure our reviewers are real.
We use intelligent software that helps us maintain the integrity of reviews.
Our moderators read all reviews to verify quality and helpfulness.
For more information about reviews on ConsumerAffairs.com please visit our FAQ.

Just off a call with BOA. Did you know that if you (or BOA) changes the card number that BOA will give out your card number to a previous vendor WITHOUT YOUR PERMISSION!!?? No joke. If the card is no longer valid, and an autopay vendor calls in, even if you have cancelled service with the vendor, they will give out the new card number to them! I was stunned when they told me this. This is a corp card with $100K line of credit and they give out the card number, are you freaking kidding me!!??
In this day and age of fraud they take a vendor word for this??? And now, to find that BOA is actually giving out our new card number!! I told them for this account I wanted this policy to stop immediately and they said this is policy and cannot be stopped??? They said it is up to us to file a fraud claim to dispute thereafter if you had cancelled service with them. WHAT A JOKE!

A few days ago, I was trying to book six airline tickets to Detroit for our son-in-law's ordination. I spent three hours online to work with Allegiant Airlines which seemed to be a great deal at the time. At the last step paying the bill, Allegiant kept declining my cards, from Chase, Regions Bank, and BOA. Allegiant wanted me to apply for its own credit card, so I gave all my credit info again to Allegiant. Somehow, it did not close the deal and give me confirmation on the airline tickets. Immediately, I realized this could be a scam; and closed all transaction right away. The next day, I had to call all three banks to close my old cards with them to avoid leaking of my credit info...
Regions and Chase closed my accounts and sent me a new card right away. BOA did not advise me to cut up my card and just told me that they will block the charges...However, today I open up my BOA account saw a $59 charge by Allegiant who was going to send me their credit card. I did not buy their airline tickets, therefore, there is no to keep another VISA card. Today I call customer service at credit card department of BOA to explain my situation. The person on the other end told me that BOA monitors Allegiant credit card account and she was trying to sell this credit card. I got so upset and told her the bad experience that I had with Allegiant. I told her to read the reviews on Allegiant airline and find out the truth on her own...
I don't think BOA should team up with Allegiant at all. A bad company will drag you down. But what frustrated me the most was that the customer service person did not even care nor listen to my problem. She kept telling me to close a credit card will lower my credit score and wanted me to keep it... Wow, I have had BOA accounts for more than 40 years now. But the big company does not care anymore and is going down in a hurry... I will close my BOA accounts ASAP.

I lost my credit card over two months ago in another city, and someone tried to use it for fraud charges. Although Bank of America was good about dropping the charges that I asked them to, it all went downhill when I attempted to get a replacement card. The bank said that they would automatically send me a replacement, and it should arrive in 7-10 business days... Then over 15 business days passed. I ordered a SECOND replacement card, with the same results. I was forced to order a third replacement, and when I saw that this card didn't appear as well, something was up. I went to my local branch, and they said that my address was apparently undeliverable. It had been over a month and a half, and the bank was receiving these cards back to them that were undeliverable WITHOUT even reaching out to me about it, so I have been at a complete loss.
As a college student, I can honestly say that I do tend to rely on my credit card a little more than most, but I patiently waited over two months for this replacement. I'm extremely upset at the way they handled this, because they should have reached out to me the first time the card came back to them as undeliverable. In the end, they said they would order a fourth replacement for me that will arrive in (you guessed it) 7-10 days. Terrible way of handling it, Bank of America.

I had two credit card accounts with Bank of America (Master and Visa cards). When I checked my card status, it's showing closed. My credit score is >750 and 100% payment history so far. I called the customer service and checked. They are not giving me a proper reason for that. They are just asking me to open a new account. Poor service and bad experience with BOA credit cards.

Got a new credit card for travel abroad. Was told I had to open online banking in order to get PIN promptly. Went to bank. They also called in, learned that PIN had to be set up online. Worked with very helpful staff there for 2 hours, without success. Then was told that PIN cannot be set up online! Conclusion: totally incompetent company. Go elsewhere for your banking.

My husband, in error, purchased the wrong concert tickets from Vivid Seats using our Bank of America credit card. He immediately called Vivid Seats explaining the situation. Vivid Seats offered to help us sell the tickets. Getting no results from Vivid Seats, he contacted our Bank of America credit card company regarding the situation and they removed the charge from our account and said they would open a dispute claim. Long story short, we received a letter today from Bank of America saying they would not be able to get involved. They have them put the charge back on our account. Way to support your customer service attempts Bank of America. BANK OF AMERICA SUCKS!!!

My Dad, who is 81 years old, went to use his Bank of America Visa and it was declined. We immediately contacted the company because we knew that he had a credit limit of $17,800.00 and he had only charged $400.00 on his card. The customer service representative indicated that the reason he was declined was because Bank of America had reduced his limit due to non-use. My dad was furious. He was planning on using this card while he went on vacation. He has difficulty walking, so being able to use a credit card at the gas station pump would help him tremendously. We explained to them that we started setting up some of his bills for automatic payments, making it easier for him to manage. As a business owner, he also needs access to this credit card, in large purchase emergencies.
After a lengthy discussion with a representative, they told us that his limit would be reestablished to his original credit limit. Four days later, it still had yet to be corrected. I went to a local branch and explained the situation again. The representative couldn't understand why they didn't just correct the problem. In a conference call with my dad and the credit card division and our local branch, they declined to reestablish my dad's limit, even though Bank of America was at fault for reducing the limit in the first place. Needless to say, my Dad has canceled his credit card with Bank of America and went with another company. Terrible customer service. They were in the wrong, but the consumer is the one that suffers.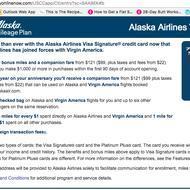 I believe that B of A is violating the "terms and conditions" of the card agreements by selling the consumer on benefits of companion fare ticket vouchers and then fudging the delivery of these vouchers to benefit the company. While they might argue that this is "just a perk", I would argue that at the very least they are guilty of false advertising. I signed up to the Alaska Air Bank of America Visa a year ago on March 15, and after completing the required purchases spend, I was awarded the agreed upon companion voucher that April 15th. I waited nearly an entire year and 2 weeks ago I went into my Alaska account check on the expiration of the voucher and it was set for APRIL 15.
I returned this week, March 28, and found the voucher was no longer in my account. I called Alaska and they stated that the voucher had expired. I was a little bummed and thought OK well if it expired, why isn't the new voucher available? I asked the Alaska rep and they suggested that Bank of America was responsible to deliver the voucher, and they suggested that I call B of A to see when it would be available since I was waiting to book a flight. I called Bank of America and spoke with the representative Ernie who answered for the benefits and awards department. Ernie told me that the voucher had expired on March 20th. I thought well that is strange since I only had 11 months to redeem it and I saw it was set to expire April 15. So then I asked about when the new voucher would be delivered and he stated that it would not be available until after the next billing cycle on approximately April 15th.
Now wait a minute, this sounds really strange. I need to wait until next month to be able to have a voucher available that the clock starts ticking March 20th??? And this is the process every year??? Hmm, so I read to him that the website says "every year on your anniversary you will receive a voucher". And that the voucher is good for "12 months". He says he cannot help me.
I request his supervisor and Ann the supervisor gets on the phone. Calmly I explain the situation and asking her if this seems a little weird to her. She puts me on hold and looks into it and comes back and explains exactly what Ernie had told me, like somehow it now made sense. I said, "Well it says very clearly that every anniversary, I should receive a new voucher code and you are saying that you are not going to deliver the voucher until next month and I want to use it now and the clock is ticking on it now, but I do not have access to use it until next month?" She then tells me that she will "escalate to see if there is something that can be done to get this delivered earlier."
I am reporting this here because I am interested in seeing if other people are also experiencing this same issue. I am hopeful that the escalation will result in resolving my issue, but I am afraid that I need to book several tickets for my son's graduation and I was relying on the ability to use this earned voucher and will now need to pay out of pocket. I will hear back tomorrow. And if it is resolved appropriately I may amend this post. Thank you for allowing me to share my experience.

I applied to a few credit cards through Credit Karma recommendations. One of them (American Express) approved me without much trouble. The Bank of America credit card could not automatically approve me so they kept calling me through some automated number. A few days later I answered and I found the woman very unprofessional and rude. She asked me what my income was, and then asked me how much I had in savings and investments. She was angry and confused that they were different numbers. Since "income" and "total savings and investments" are different concepts, I found her questions vague and confusing. She clearly didn't really understand what she was trying to ask me and wasted my time. And then I didn't qualify for the card because my income was too low. As a bank BOA is good. Credit cards, not so much.

Been trying to settle a credit card judgment (lien) for a month now with Bank of America. Over 30 phone calls, 4 faxes and no one still has the courtesy to get back to me. Keep hearing "it's in our notes, wait 24-48 hours." Been 648 hours and nobody has answers.

I was booking a ticket on Alaskan Airlines about 3-4 weeks ago. A pop up ad appeared offering a $100 credit toward the ticket if I applied and was approved for the Alaskan Airlines Bank of America frequent flyer credit card. I decided to apply for the card based on that offer. I was approved and received the card about 10 days later. Once I got the card I went back to the Alaskan Airlines website and booked my ticket. I did not see the $100 credit applied to the ticket purchase, so I called Bank of America to see how to apply the credit.
They said the $100 was not a credit on the ticket, but it was a $100 statement credit. However, I would not be getting that because in order to qualify for that offer, you had to book the ticket and apply for the card at the same time. That doesn't even make sense. How can I buy a ticket and secure the reservation if I don't have the credit card number to purchase the ticket? In any event, I booked my ticket immediately upon receipt of the card. The reps played hardball and not only would not give me the $100 credit, they kept focusing on the fact that now I owed a $75 annual fee for a card I only applied for to get the ticket offer. I had the card 3 days.
As far as I am concerned, the entire application was predicated on the offer they were advertising to entice consumers to apply for a card with a relatively high annual fee. So they renege on their advertised deal, but still expect to collect a fee based on what amounts to false advertising. I cut up the card, wrote a letter outlining that I was canceling the card, paying it off in full and not paying the bogus annual fee along with a check for the entire amount I owed for the ticket. I canceled the card verbally and also in writing and I know they got the letter because the check enclosed with the letter has cleared my bank. Now I am getting email 'balance due' reminders for the $75 fee.
I am not paying this fee. This bank does not get to create a 'Gotcha!' type false advertising campaign to entice consumers to apply and then renege on the terms that were advertised that got people to apply in the first place. The whole campaign seems designed to do nothing but unjustly enrich the bank with these bogus fees heaped on ensnared consumers. I don't believe these types of tactics are legal and they certainly are not ethical. The fact the phone reps kept repeating that I owed the annual fee without any attempt to fix the problem I was calling about tells me that the whole promotion was false and Bank of America has no intention of honoring what they advertise.
I have now sent an email to the Chairman of Bank of America, Brian Monihan (you can find his email by googling/Wikipedia page). I will not just roll over and pay this fee to protect my credit. I am sure I am not the only person ensnared in this bogus slimy promotion and I will network with others and sooner or later it will turn into a class action lawsuit. This bank does nothing to fix problems and treats their customers like garbage when they call. I was a brand new customer and my credit is excellent. I am the kind of customer any bank would normally want to have, but not this bank. They did everything possible to turn me off and make me want to have absolutely nothing to do with them in the future. They need to immediately stop running the promotion on the Alaskan Airlines website because they obviously have no intention of honoring the promotion they are advertising. Pretty crummy way to run a business.

Choosing to use Bank of America credit card is the biggest wrong decision I have never made. Every time when I went to travel, I report it to Bank of America. Guess what? Every time when I arrive other countries, the card is still locked! So I need to make several international phone call back to solve this problem. OK, if they say that's their way to protect my account, I can understand. BUT, what brings me there is this time, when they unlock my card, they release two other already finished and paid a week ago transactions with the unlock process! And they said, "It's not Bank of America fault," if you want to release your credit, you has to contact the company charges you.
WTF, they think their customers have nothing to do other than keep calling everybody during the travel?! The total hours I use to get this answer is about 4 hours with 5 international phone call!!! Well, "thank you" Bank of America, this is a very important lesson you teach me: NEVER TRUST BANK OF AMERICA, THEY DON'T CARE THEIR CUSTOMER AT ALL! THEIR CUSTOMER SERVICE IS A JOKE!!!

I used my credit card out of state and it gave the card a fraud alert. So far I spent 5 hours on the phone with Bank Of America customer service and every time they say "problem is solved and card is Active", but in reality, card is NOT active. Their customer service is useless.

I got a fraudulent charge from a company placed on my credit card from Bank of America. Made a claim that took 5 phone calls and 4 faxes and many days of waiting. Finally got a response saying that it wasn't resolved. Talked to a customer call agent who interrupted me during the entire call, not knowing anything about the matter but talking loudly and continuously interrupting literally every single time I said something. I asked nicely to talk to a supervisor hoping that at least this call would get "professional", but besides getting hanged up, this supervisor or manager named Chris **, Supervisor from Maryland said that companies can put charges on my credit card without my signature, consent or knowledge, and that actions like this are okay, and there's nothing wrong about it.
I had no clue about this unauthorized charge, which I had to prove to BoA that it was a fraudulent charge against me with all those several faxes I had to send to them, and the phone calls. But at the end this idiot supervisor CHRIS ** from Maryland said that "It's my problem" and hangs up. Therefore I'm closing my checking, Credit cards, Savings accounts, Linked business, and also my wife's account, and 15+ years of business with BoA just over $53 dollars and incompetent unprofessional supervisors that not only are extremely unprofessional, rude, and tell me, the person that keeps their hard earned money on their bank that they are okay with fraudulent charges, and hang up on the people that keep their business running. Ridiculous. Adios Bank of America!! Taking my money elsewhere.

I applied a BOA VISA Signature card on 10/7/2016. While I open this card, they promised $100 bonus if I spent $500 within 90 days. The results: I did spent about $1100 in 90 days. They still deny my bonus for $100. More, I should have cash reward for $13.23. They said: "We can not give you $13.23, the minimum is $25." I think they are cheating customers.

I have a BOA corporate credit and signed up (paid $75 per year) for their corporate rewards program. As a frequent traveler I knew this would be beneficial to me. After changing jobs, I decided to discontinue the fee since I wouldn't be traveling as much. 6 months later, when I tried to redeem my rewards, I found out that BOA had taken my (already accumulated) points away from me. Now, I realize this is corporate policy but BOA could have at least taken the 3 seconds it takes to remind me that if I was going cancel this rewards account, then I would lose my points! BUT, the rep on the phone, when I was canceling, never said a word to me! So, little did I know that my points would expire. I feel incredibly cheated - I paid over 200 dollars to this company for absolutely nothing. And I understand their corporate policy but again, it should be THEIR own policy to remind customers that they will lose their points IF they cancel their account.
Anyway, I ended up having to follow up with the Customer Service department 5 TIMES after this all happened. I spoke with 3 different managers ALL promising me that they would look into the situation and have someone call me back. But, I never once received a phone call back. What kind of customer service team says they will call you back but never does? If you're not going to call me back then DON'T TELL ME YOU WILL!!! The customer service reps themselves were great and very helpful but of course they couldn't do anything about the situation. It is the management team that peeves me. Anyhow, after calling the company 5 times, I gave up. I am still frustrated and angry that this company took my money and then took away my points, and finally, didn't even have the decency to call me back, when they said they would.

I am trying to order a few necessary things and for some strange reason my card is not going through - I checked that card is active and is paid in regular, it is a business card for heaven's sake. I called the number "18006731044" at 6:50 pm and was waiting for well 2 hours and half!! They just kept on playing a lame music and no response!! So much for 24/7 service to Small Business customers.
Oh btw they have this weird representation of your credit cards on your account online, one shows your current transactions apparently and there is another which shows the balance for billing period? I am always in a confusion of which one to pay, I ultimately end up paying one and will be charged penalties over other. I end up paying both and my balance goes in negative. I've tried to reason with them so many times but apparently that's how their 'accounting is set up' (read: screw small business). After filing up my corp taxes in a week I am moving out - enough of this nonsense. Oh their Banking service - don't want to start on this... I've lost a golden opportunity because they could not deliver a stupid banking relation letter in time to me, in spite of daily reminders 10 days ahead of required date and multiple phone calls and a personal visit requesting the letter 3 days before but all fell on deaf ears.

I opened a Bank of America cash rewards credit card a year or so ago. When I originally opened up the account, it stated that the promotional 0% APR was for 2 years. Fast forward 1 year and I started noticing interest charges on my credit card. I call them up, file a case, explaining that this is incorrect and my promo is 2 years not 1 year. The case closed in their favor and they said it's 1 year and I'm mistaken. They essentially lured me into a 2 year 0 APR card then reduced it to 1 year. I immediately told them to remove the 3 months of interest while I pay the card off. They refused. I told them, "Ok, thank you, I'm going to close all my accounts and leave the bank." They didn't seem to care, neither do I. This is the second time such a situation has happened with me at BOFA. Never again.

This review is for the Bank of America Travel Rewards Credit Card online application. My husband and I went to apply for this credit card, with the intention of both of us being co-holders. The online application asks for one name, and the salary of that person. At the bottom of the page it says "Additional Options: You'll have the chance to add the following option to your card later: Add an additional cardholder." So we added my husband's name, his salary, and clicked to continue. But that was the whole application -- it ran his credit and gave us a credit limit. It made him the Cardholder, and gave us a credit limit based upon his salary alone. It allowed me to be added as an "authorized user" later but did not factor in my salary.
Okay, no problem, I decided to call BoA immediately to resolve this issue. After looping through their call center (just say you want a new credit card application - it is the only way to get a live person on the phone), they said we had 2 options: Keep it the way it is, or cancel and start over. They said their online applications do not have the capability to add 2 cardholders - it can only have 1 cardholder and 1 authorized user. They could not fix the problem internally.
The problem: The website is misleading to state that you can add another "cardholder." It should state that the online application can accommodate 1 main cardholder and 1 authorized user. It should tell the consumer that if they would like 2+ cardholders, that they must call or visit a BoA branch in person. They already hit both of our credit once with the original application. If we cancel and start a new application, we will have both of our credit hit a SECOND time, and the canceled card would show up on our credit history as well. The only other option they've mentioned that they can "try" to do is to take the whole household income into consideration to raise the credit limit, but they cannot add me as a cardholder. Unbelievable.
Beware - do NOT apply online if you want more than 1 person as a cardholder. Since this debacle, I've read other accounts of the offer not being fulfilled (receiving 20,000 points after spending 1,000 in 90 days). I've read other reviewers saying they had falsely claimed late payments, and they had cards that were closed without notification. I really hope that I have not just brought on a huge headache. If we have one more red flag, we will take the credit hit and close this card rather than dealing with these issues. We have worked too hard to have perfect credit, paying for everything on time, to have one credit card ruin that for us.

What gives BoA? I went to activate my credit card which I have had since 2002 and got routed to an insurance company/collection agency, no mention of BoA, and a shaded choice of dialogue with a message "this is to collect a debt." It was horrific and I hung up and activated my card on the website. Is it now your practice to make paying (on time) credit card customers feel like deadbeats? Can't take the time to customize a message for your promptly paying customers?

Crooked Bank of America. BEWARE!! If you have a Bank of America credit card you are at risk of it being canceled without any notice other than your card stops working. Consider being on a trip, maybe overseas and suddenly being unable pay your bills. After literally hours on the phone trying to find someone who doesn't have an attitude or trying to find someone with a little more intelligence than an amoeba, I was told that they are "closing accounts without any notice for their own reasons", no explanation other than "for their own reasons" was given.
Further, I was told their policy is to deliberately not inform the customer in advance so the customer doesn't run up charges in advance of them closing the account. In short even if you have been a customer in good standing for over twenty years as I have been, having done over $2,000,000.00 worth of business with them over that period, your account is current, and have never failed to make your payments on time, you should no longer depend on your Bank of America credit card working. Do not cancel your account with them as that would adversely affect your credit score. Maybe make one or two small purchases per month or quarter if you wish or simply stop using their card altogether, pay off your balance and use cards issued by other banks. If Bank of America closes your account it will have a negative impact on your credit score but at least you will not be left in a bind.
These people are unethical, slimy and will cheat you if they can, not only regarding credit cards but on checking accounts, loans and mortgages. I have ordered that any accounts my companies have with Bank of America to be closed and ordered all employees to never charge any business expenses on their personal Bank of America accounts. You have been warned. Beware!!

I have been a customer since 1994 and recently opened a Travel Rewards Credit Card account. I was informed I would get 20,000 bonus reward points if I met certain spending criteria in 90 days of opening the account. I did this and received no bonus points. I called the bank and they opened a "dispute" with me. All they could say is "we do not see this offer on your card" but here it is for the whole world and the only reason I signed up. I have been informed they are sending me a letter to notify me of the dispute. Amazingly bad customer service response or was it just a bait and switch!

I set up auto pay for the 20th. The bill is due 18th. I was paying early. It must have confused them because they charged me a $20 late fee for paying early. Why would you schedule your payments two days late?

My first credit card was a Bank of America card. Had the card for 15 years. Long time customer, never missed a payment, treated the card responsibly. I have an 800 credit rating and a great job. The card had an annual fee, was a no cash back card. I called them to see if the fee could be removed since I've been a long time customer with a great credit rating (I have 2 other credit cards with 10,000 dollar limits, and I get cash back bonuses on those cards, no annual fees, so I assumed this would be an easy request). Oh no it wasn't! I spent an hour on the phone waiting before getting to talk to a slightly friendly (but also inept) CS rep. The lady said she thought it likely they would remove the fee, and that I would get a letter confirming this in a couple days. About two weeks later... the letter comes simply stating that the fee would be postponed 1 month.
Thinking there was a possible mix up or some confusion I called them again, waited another hour, and this time talked to a rude (and also inept) CS rep who said they don't remove annual fees on cards. I called ** on that and canceled the card (didn't need it anyway). About an hour after that I got called by their retention department... I promptly told them to stick it where the Sun doesn't shine and that they don't deserve me as a customer. Horrible business, there are much better credit card companies out there who are willing to give you better deals, but also treat you like a person. BOA does not care about their customers, even long time customers and should be ashamed. Canceling the card was a great idea, as I got another offer shortly after with a cash back bonus, no annual fee, and a substantially higher limit. Avoid BOA.

I have been a CC holder with Bank of America for over 16 years. A year ago I was notified that a BOA CC was being reported to my credit report as going over credit limits. When I called to discuss this I had no such card but was told I was a guarantor on the account. I closed the account that was created by someone in my family according to BOA. I told BOA all the information. I gave BOA all my pertinent info. Months later BOA then offered me a CC via NCL's. I applied for the offer, BOA gave me a CC with 24% interest - stating that I could have a new account but that because of my Credit rating I had a high interest rate for it. I ran my credit report and found that BOA was reporting that I was not paying the loan which six months earlier had been reported.
This is the clincher and will be reported to the banking authorities - BOA reports your credit as bad pay then offers you a Credit card at egregious card rates!!! SO... after being on hold for on three different occasions for over a total of 10 hours, they would not call me back to tell me what they are doing about it etc etc. DO NOT GET A CREDIT CARD WITH BOA!!! As a 16 years customer I got treated like I was a bad pay person and made to feel like I was the thief!!!
Bank of America Credit Cards Company Profile
Company Name:

Bank of America

Company Type:

Public

Ticker Symbol:

BAC

Year Founded:

1992

Address:

100 North Tryon St

City:

Charlotte

State/Province:

NC

Postal Code:

28255

Country:

United States

Website:

http://www.bankofamerica.com/