Consumer Complaints and Reviews

I bought an engagement ring an year ago from the Blue Nile site. However, I should have read the reviews of the Comenity bank which manage their credit card, before getting the "Promotional Purchases". My experience is similar to the other reviewer on Google who said, "The promotional purchase from the Comenity bank is the biggest scam on the planet!" I opted out of paper statements a long time ago and only go online to pay where there is NOTHING to warn you about approaching the end of your promotional period! Who in the world can remember every purchase they made 6 months to a year ago from which company and for what promotion? I always paid a fixed amount more than their minimum due way before the due date. They do not even have recurring auto payment.
I noticed that something is wrong only when the minimum due of the last month was ridiculously higher than what I normally pay and the statement had extra $1200 charge!!! I called their customer service. They said the full payment information is on the 3rd or 4th page of the online statement in one tiny table mixed with other useless information. This is such a disappointment and the company did absolutely NOTHING to help me when I asked for them to reverse it or help me in some other way because it was only 6 days after the promotional purchase ended and was ready to pay it in full. I could have paid it off months ago but chose not to so I could keep regular payments reporting on my credit.

I have several retail credit cards associated with Comenity Bank. I have continued to receive phone calls to my cell phone regarding a person that I do not know. They call multiple times per day. I have talked to 2 different supervisors and hopefully they will get it right this time. My concern is that they say this person is "possibly" associated with my phone number on file. I do not know the person they keep asking for. I feel like my account(s) have been breached possibly and that there is a security issue with one or more of my accounts. I cannot get them to tell me which retail establishment this is associated with, so I will just close all of the cards I have associated with this bank.

Received a letter from them saying my payment was returned due to a routing number error. The prior payment cleared with no issue. When reviewing my bank statement the payment was credited to them and debited to me. I called, sent them copies of bank statements and they insisted on a letter from an official at my bank stating the funds came out. This is the most ridiculous thing I have ever encountered. They charged me $25 for return fee and did not credit the $25 payment to my account, so $50 cost when I paid them on time (early actually) and still have not had the issue resolved. Had to go to the bank today and the bank thought I was crazy... Said they had never heard of such a thing!

As a customer of good standing of 3 years and never being late I asked the company to waive the late fees after paying the acct off. Other consumers give you a one time waiver. They didn't. Only waived the interest fees and had me pay the late fee anyway. I'll never shop with them again.

This Bank's credit card details regarding HOW late fees are assessed and exactly what time of the day that payments need to be posted (8 pm) are borderline robbery in order to make money at any cost to consumers. PLEASE BE AWARE of the following: minimum payments change monthly (i.e. $85 vs $86 vs $88). A late fee is assessed (again could be $25 or $35) based upon if your payment was posted AFTER 8 pm on date due OR if you made an automatic payment of less than the minimum payment due stated on the invoice. I was charged a $35 late fee even though bill was paid on time, but my bank made an automatic payment of $85 vs $88 and the $35 fee was attached to the $3.00 that was not paid.
They will NOT remove a late fee in a consecutive month, they did the same thing to me the month previously based upon the "after 8 pm" detail and removed the fee. However, they will not remove a fee in consecutive months AND they will attach fees to the late fee. Absolute disgrace, I cancelled my account with the Department Store and told the CS rep to put in the computer notes that I will not pay the late fee or the accumulated fees that multiply concurrently based on that fee. BEWARE.
How do I know I can trust these reviews about Comenity?
739,825 reviews on ConsumerAffairs are verified.
We require contact information to ensure our reviewers are real.
We use intelligent software that helps us maintain the integrity of reviews.
Our moderators read all reviews to verify quality and helpfulness.
For more information about reviews on ConsumerAffairs.com please visit our FAQ.

I have had several situations where I have received my statement late. Very short billing cycle. I get online the same day (5 days past due) pay the account in full (54.00). Then they assess a $27 late fee, 2.00 in finance charges. I call to have them remove the fee. Well, I am not eligible because I had a fee removed in the last 18 months? Kept me on the call for 45 minutes... and just kept saying "NO".

Twice in the last six months they have not credited my account. It was paid by cash in store. I have the receipt. I send in a copy of the receipt and they're still harassing me saying I did not pay them and charging me an ungodly amount for a late fee. I will be going in store to handle this. Victoria's Secret will never get another cent out of me. I close my account in October. This company is very unprofessional and keeps charging interest when I have never been late for a payment. Will contact a lawyer.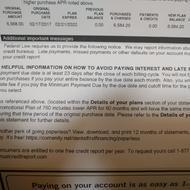 Had a tooth break while my dentist was out of town. Aspen could get me in next day so I went in to see if there was a temporary fix we could do until my dentist came back. To make a long story short I applied for financing for an implant procedure and made an appointment for a month later. The whole thing was 7 grand. After other opinions I cancelled the appointment. So imagine my surprise when I get a bill for nearly 7 grand for a procedure I never had and cancelled weeks before the appointment date.
Essentially when you apply for financing Aspen runs it as a purchase that day. I actually got the bill before the scheduled appointment date. So I called Comenity to see what I can do since I never really bought anything. Comenity tells me I owe them $16.20 interest that accumulated from the date of purchase to the date of return. How am I paying interest for something before I even have the appointment? I could understand if they charged me the date of the appointment but I was charged for a "purchase" a month in advance of the date I would have been making a "purchase" and then to charge interest on something that never took place is just shady.
The fact that Comenity is OK with the shady practices of Aspen Dental is appalling and then to charge people interest on this stuff even though they never bought anything, never had any work and cancelled all appointments weeks in advance is very very shady. I am not at all pleased with how Comenity is doing things with their "dental first financing." At least it's only $16.20 but still it's the principle of the thing.
Let me add I also have a VS acct through Comenity which I've had for years and have never had any issues, of course I've never made a late payment and rarely even pay interest on that acct at all because I pay off whatever I purchase so I never would have expected this kind of behaviour from Comenity bank. The bill even says you won't be charged interest if you pay the balance in full by the due date each month. If the "purchase" was returned nearly 3 weeks before the due date essentially there would be no balance to pay. I was told by "Shawn" the customer service rep it's interest from date of purchase through date if return which would have been about a week.

I have had accounts with Comenity Bank since they came on the scene. I recently applied for 5 new cards, verified and approved and that made the bank nervous. They have frozen some accounts and closed others. Many have a zero balances and none are delinquent. I didn't use the shopping cart trick. I actually had a decent credit score. I have cards from other reputable banks, Wells Fargo, Chase, Discover and Capital one. I am gonna close every account and keep it moving. Bad customer service in the 21st Century is unacceptable. I have officially fallen out with Comenity Bank. And I plan to file Class Action when they report derogatory info to my credit. Really, I ain't mad, it will be a blessing to not be tempted to use their cards. God works in mysterious ways...

I have just read all of the other reviews and they are 100% accurate. They purposely did not send the first month's bill, which ended up in a very big late fee. I got the card to help build credit and to purchase a much needed rug. I now wish I had picked a different banks card over Comenity. My Synchrony never screwed me over like this with the new egg card, that's for sure. 2 Thumbs down to Comenity.

My January payment was due on the 12th and I electronically paid it through my bank on the 3rd. When I got my February statement the payment was not applied. I have been trying to resolve this since the middle of January by phone calls and letters to customer service. My account is in dispute but they keep adding late fees and minimum payment charge even though they say it could take up to 60 days to resolve. When I call and the recording tells me my balance it says it is in collections. This doesn't seem acceptable when I have done the right thing. Please be extremely careful if you get a credit card from them.

I was a Comenity bank customer with Avenue...Lane Bryant and Metrostyle. Well I fell 2 months behind on Lane Bryant and Metrostyle. I reached out to them to let them know about my financial situation changing and tried to make arrangements to pay and to keep my accounts in good standing. Well after the arrangements were agreed upon by myself and the bank...they closed my accounts with the exception of the Avenue account which was not behind in payment...that was in 2015...so I just paid them until they were done!
Well the summer of 2016 they closed my Avenue account with no notice because according to the bank of the issue with the other accounts in 2015... They stated because of some new bs policy that all of a sudden emerged! I have a balance that is still due here to which I pay on time every month... Most of the time I pay it early! The bottom line they make up policies as they go and whenever they feel like and then THEY ARE ENCOURAGING ME TO REAPPLY! Really Comenity? So you can close the account after a week. I DON'T THINK SO!

We frequently shop at Pottery Barn and use their store credit card (provided by Comenity Bank). While shopping at a local store in December 2016, the sales associate had trouble with the card being read by their charge unit. She completed the transaction by simply entering the numbers manually. She suggested we request a replacement card. Good luck with that. After nearly two months trying, and being told by phone that a replacement was being sent that day (mid-January), no card. We did get a letter (the third) saying they had tried to reach us, to no avail. So would not send the card. BS!!!
I wrote a letter and enclosed the card (shredded). I stated that we were frustrated by their lack of assistance, and were returning the card which was figuratively and literally of no use in the store. I also added that we would continue to shop at Pottery Barn, and would simply have the associate look up our number for each prospective sale. The response was yet another letter. Thanked for our past association, the account had been closed. Not only TONE DEAF, but totally missing the point. Oh, the letter also stated what our outstanding balance on the card was. Naturally, the balance had been paid off five days prior to the date of the letter.
Customer service is a joke. If something this simple gets hosed up, what chance does anyone have resolving a financial problem? Besides the 'humor' in all of this, there is a silver lining to look forward to. The next time we are at Pottery Barn and make a purchase, we will open up a new account and receive their 'new customer' discount.

I'm reviewing Comenity Bank's Visa card for William and Sonoma and my recent experience with them. I was shopping their website and got a credit card offer and applied, was approved for $1500 CL. This company is down right dirty for doing what they done to me. Not only did they offer me the CC but sent it out and let me activate it then told me "Congratulations you can now shop with your new CC!"
Well I called to set up my PIN number right after that (glad I did to save me embarrassment!) and was told my card had been cancelled and a letter was being mailed out to me for the reason but I have a Victoria Secret card with them that I have made 2 payments on before the due date and had another payment coming out on the 3rd so I cannot wait to hear their reasoning behind this behavior. Just forewarning anyone expecting a CC from Comenity to be on the lookout for it to be just a card that worth nothing to you, only a negative affect to your credit score!

I have two accounts with Comenity. DB and VS. I've fallen behind on payments due to working partime. Account was sent to recovery dept. The reps are rude and nasty. Being nasty isn't going to make me pay any faster. They need not to harass clients and threaten them about account going to an attorney. The reps are unprofessional and some yell and interject. Hire better folks!

Since Comenity took over Credit Card payments for Boscovs, we have been hit with 2 $25.00 late fees already, one last August and now in January. I mail all our payments in the same time frame to make sure they arrive on time and we have never been assessed this except for the Comenity-Boscovs card. That seems to be somewhat of a coincidence and when I called Comenity, they said they can't waive it since we already had the late fee last August and it was within an 18 month period. This is a rip off and I canceled my account but my wife kept her card but they aren't getting any more of my money.

I don't owe this bank any money and have not borrowed any money. Yet they continue to stalk and harass me with threatening phone calls. I did apply for credit through Aspen Dental but never needed the credit, so I don't owe any money. Will also never use Aspen Dental because of their affiliation with this bank. My plan is to file a complaint with the Ohio Better Business Bureau. Don't waste your time with these unscrupulous people. If you can't pay cash for your items, then keep walking.

I received 2 phone calls from Comenity Bank today telling me that I am missed my last payment of $21.65 and I now have 2 months of late fees due. The first caller told me it was on an order that had been returned to HSN and the second called me that it was on an order that I placed at HSN in May of 2016 and I need to pay $75 or I will be turned over to collections. However, if I paid $50, he back out one of the late fees. When I called HSN to get some info on this, they could not help me, said I need to call the bank because they cannot call the bank on my behalf, but they could do a 3-way conference call. Well, I got disconnected. Called my bank and my web payments have been taken out of my account, but Comenity did not credit my account.
The first "guy" I talked to at Comenity should not even be in customer service. Very rude, arrogant and condescending. I asked why I was not billed for the last payment. He accused me of changing my email on my account. Why would I do that? There was not talking to this jerk. I asked him to HSN for a 3-way conference call and he refuses, telling me he doesn't even have their number to do so. Called HSN to get some help on this, which they could not do, but said she just got off the phone with a Comenity in a 3-way call. So she transferred me to Comenity. I asked for a Manager, and the "manager" was even worse than the first jerk that I talked to. He said there was no need to call HSN because he can see my account. They took my $50 payment and I hung up on this jerk.
Do not deal with this bank, unless you have money to just throw away. I have read a lot of reviews on Comenity and there is nothing good about this bank. Trust me. Those purchases that you are making using a Comenity Bank card are not worth it. I only used it at HSN, but have stopped shopping at HSN due to this. Oh, did I mention, Comenity Bank has done this to me TWICE now. So I am done!!!

I think Comenity makes it a habit of not sending your first bill so you get charged late fees. Twice, two different store cards ran by Comenity, I did not get a bill after my first purchase. Obviously without a bill, it did not get paid. Started getting phone calls for payment before an actual bill came (again, with both of these accounts). When it did show up there was a late fee.

I got a call from Comenity saying I was late on a payment. I explained my situation of losing my own debit credit card. Then got informed I was 2 months behind. I made purchase at the end of Nov. Just got a bill and the payment due date was 1-6-2017. So how am I behind two payments? That is a crock.

I opened a new account with this bank via special offer through ULTA. I tried to use my new CC (brand new account, no late fees, no overage on my end) but it was declined - no reason provided. Happened 2 times... I called the bank and found out they had closed my account without any notification to me. I am closing out this account, for sure. I have nothing positive to say about this experience.

I have had difficulties with the payment side of this company. A number of times I have had to make a payment after it was electronically sent in because I found it difficult to get that part of their payment system to work either as a single payment or trying to make monthly payment set up. I was getting late charges with statements and after a while I found the only way to make a payment that was processed was by phone. After making a final payment, I got a statement saying that I owed another late charge. Today I called them and told them that the statement I received was incorrect and that I refused to pay any further late charges. I had closed the account on the 5th of January and at first they could not remove the late charge. I finally got hold of someone, who as a courtesy said she would remove it. I suggest that if you are going to order from this group use your own credit cards and leave their Comenity Card out of the situation altogether.

I get that working for this creditor/bank cannot be a walk in the park, but their employees are rude, condescending, call multiple times/day (not just you, the card holder, but your family members, too), and then make up excuses why they're allowed to do this, and state that their employees never dealt with you in an unprofessional manner. Please avoid if you can!

COMENITY Bank is the biggest rip-off company I've ever encountered. They pounce on you one minute after your $1 payment is due and quickly charge you $27. It happened to me 2 months in a row. That's $54 down the drain with nothing to show for it. I closed this account right away. I feel lucky compared to the hundreds of other horror stories I sat and read from other consumers. How long can these scam artists be allowed to prey on consumers trying to build their credit? Stay away from this company and spread the word.

This bank is a total rip-off... I try to make payments to them online and their system will not accept them. Obviously they do this so they can add a late fee to your account. Paying by phone gets even better... It's a $9 fee just to talk to a customer service rep, even if you're paying from your checking account. I sincerely believe that Comenity Bank's practices should be investigated.

While shopping at Overstock.com, during my check-out I was advised I had been pre-approved would I like to accept the offer, I subsequently did. The same scenario occurred with J. Crew, Sportsmans Guide, and Express. I never authorized or gave permission to have my credit file accessed with a hard pull, I never provided my entire social security number. After receiving a denial letter for the Express account which indicated first party fraud, I called in on 12/13/16 and spoke with a Jonathan who was completely oblivious and said he'd never heard of anything like that before o_O, thus I requested his supervisor, she then gets on the phone and calls me Eric confused as that is not my name and I had just previously spoken to someone I wasn't sure why she would randomly call me that!
Diane told me I would need to wait 30 days for the Express account, due to the number of inquiries, however my other accounts that were recently opened were just fine. Fast-forward to 12/21 I attempted to activate my Sportsmans Guide I had just received in the mail, it was not activated, I was told it was reviewed and closed due to number of recent inquiries on 12/16/16, I was told by Mary, my J. Crew and Overstock were not affected. I called into the executive office to see about reinstating my accounts, I have a FICO of 754, it defeats the purpose of pre-approving someone only to close an account a week later.
This does damage to AAoA, Inquiries, etc. and is an egregious archaic form of banking lacking in sufficient logic. I find this behavior to be very misleading, unfair, and deceptive not to mention when you call for clarification you receive ambiguous responses. Every time I have made contact with them whether initiated or received, they ALWAYS address me by a DIFFERENT name! Today I was JASON! As someone with anxiety and bipolar, this type of verification is stupid, here you have me giving you my account number but you call me by a different name. What type of dumb ish is that. You don't JASON from Jé.
I was told the department doesn't take calls but an e-mail will be sent over to see about reinstating my accounts. This information should not be reported on my credit bureau reports, or marked closed by credit grantor, I want all activity (any inquiries and accounts) from Comenity bank DELETED and ERASED from all my credit reports for obvious reasons. I want to return all merchandise I bought from each company and refrain from doing future business with them or this horrible bank.
There is a serious flaw in their business module and it needs to be adjusted, it is giving them a bad name with potential business and affecting the business accounts they serve. Bottom line, people don't want to do business with a company who has such irregular behavior. It is not fair to have my credit reports affected for years to come because of their incompetent banking policies. Deceptively opening the accounts with bait-and-switch only to have adverse actions affect these reports into the future that we have been working so hard to solidify is absolutely INFURIATING!! Chutzpah! They clearly lack ethics in terms of honoring fair lending practices.
Approving an account for a week only to create a negative impact on the CRBs for years to come is Unfair Trade Practices against consumers; an initial denial would have been one thing but to create a long term blemish is despicable! Just downright nasty and unbecoming; corporate mentality: short term bottom line. When management has no coherent vision to improve services & the bottom line, they'll try any scheme without regard to effectiveness or casualties.
Responsible lenders will treat responsible customers responsibly. All CC companies can suspend your spending privileges without shutting down your account, or reporting your credit limit at zero! What they have done is just filthy, "freeze" the cards to mitigate risk, send a notice to the customers that their accounts are frozen and will be shut down in the future, and other niceties. This would give folks a fair chance to pay off the card before it reports with a $0 CL and "Over the Limit" if they have a balance. Very PETTY! They need to fix their software. If they don't want me as a customer quit pre approving me for cards!

I called 12/16/16, to get a one-time courtesy late fee removed. I've never been late on any of my payments, and yet this credit card did not remove the late payment, despite me making a payment for $100, which was over the minimum payment required. I also requested to have the payment due date changed, and they stated that they could not change it. Never have I had a credit card like this one, that doesn't try to negotiate with the customer. Comenity Bank, will be losing a valuable customer as a result.

I wish I could rate them 0 stars. What kind of a company only accepts debit cards and not credit cards? I understand to an extent about it, but if it goes through and they get their money then what is the big deal?? I think that the "policy" is absolutely stupid to not accept any credit cards... Once paid off I will never use again.

I have one account open with them. All of a sudden I'm getting bills from other places that I didn't apply for and bills on top of that. I have paid off the card that I had but somehow my payment have gotten sent back putting my bank account with extra fees. Not cool... Not to mention the harassing voicemail of I better have a lawyer when I contact them. As far as I'm concerned I paid them off and they sent my payment back. Now my credit score is very low because of them. Again not cool. Nowhere on the internet is there a number for the company customer service... But I have canceled the one card I had which also caused my drop on my credit score. So very upset I ever wanted a credit card with them.

I recently applied for and was approved for a Sportsman's Guide Visa card with a $1500 limit. I received the card in the mail, activated it, set up all the profile information etc. Two days later I took my wife to dinner and the card was declined. I called and said the account was closed one day PRIOR to activating my new card. Needless to say, I was not a happy customer. I have read horrible reviews about this company but have 3 other accounts with them and have a perfect payment record with them, so I wasn't even concerned about any problems with my new card. I was told that I couldn't be given a reason over the phone, but would receive a letter from them explaining why. That was 10 days ago and when I log in it still shows my account as active. And still no letter explaining why.
I am likely going to close all of my accounts with this second rate organization - how can an account be closed and yet when calling in to activate the card it's looks good. Not to mention being a bit embarrassed and very pissed off about the declined charges. But I always carry a little extra cash and have other reputable credit cards that I carry, so I wasn't stuck in any way. There are many other reputable banks out there to deal with for all credit ratings - do yourself a favor - stay away from them. I always recommended them to people rebuilding their credit or just needed a secondary card for a $1000 to $2000 limit for emergencies - never again. I considered myself a very good customer - now I will consider myself a very good former customer - good riddance to bad service and second rate organization.
Company Name:

Comenity

Website:

http://www.comenity.net/