Consumer Complaints and Reviews

The fact that I have seen others who have gone through this situation makes me feel a bit better, but I have never been so angry toward a company in my life. I was forced into using Comenity as part of laser hair removal treatments with Ideal Image, and essentially got screwed out of more than $500. I made all my payments online and was involved in paperless billing. While Comenity sends monthly payment reminders via email, nowhere in any of those payment reminders do they bother to remind you that the year-long, interest-free promotion period is coming to an end, and you should pay off your balance. That's because they hope you make the same mistake I did.
Unfortunately, I missed the promotional deadline due to this lack of information and failed to pay off my full balance by one month. Therefore I was saddled with the accrued interest from the past year and started accruing 30-something percent interest going forward. Despite paying off my balance immediately upon my realization (again, just one month late), and after numerous phone calls and a hand-written (mailed) letter to Comenity (they don't conduct any business through email), my plea to forgive the more than $500 I'd have to pay in interest was denied. Five hundred dollars is a lot of money and I essentially had to throw that out the window because of extreme lack of empathy and unwillingness to budge or compromise even a little bit. To top it all off, the Comenity associates I spoke to on the phone were extremely rude, unhelpful, and unforgiving. I'd LOVE a class-action suit against Comenity. They are a truly terrible and immoral company.

Christopher Banks Comenity Bank Card charged me a $27 late fee along with a $2 minimum charge fee for my payment due Friday 07 July 2017. I mailed my bill on Monday, 03 July 2017, in plenty of time for them to receive the payment on the due date of Friday 07 July 2017. I also mailed (USPS) my mortgage check at the exact same time. My mortgage payment was received, processed and cleared my account on Wednesday, 05 July, yet my payment to Christopher Banks was not processed until Tuesday 11 July. I sent a secure message and the reply was that CB did not have record of my electronic payment. I did not say I paid via electronic methods.
I called the credit card company and the customer service rep said that the mail had to go to San Antonio Texas and would take longer. Really??? The United States Postal Service does great work, and if one payment made it to its destination in one day, why couldn't the other payment make it to CB in four days. I feel their payment processing department does a very poor job of processing payments in a timely manner. I asked my late fees to be reversed and they refused. I feel the error is theirs and not the post office.

My experience is much the same as others who have voiced their opinion of Comenity Bank. I had paid my bill electronically through my bank and the next thing I knew I got a past due notice... WHAT??? Long story short I found out that they do NOT accept electronic payments so I had to go straight to my J. Jill account and pay it that way plus a late fee and service charge. Now I hesitate to charge anything with my J. Jill card... it's too much of a hassle.

Steer clear of credit cards issued by Comenity Bank. I just made the final payment and I am not sure that they won't find something else to bill me for. A store will offer you the product interest free until a certain date and this bank will do everything they can to find ways to charge interest and late fees. They have no recurrent payment option so they can end up charging you a late fee. I sent payments from my bank account directly. They went by bank check because they have no direct electronic option either. Every payment went out by the 28th and got there on time. They claim that my last payment got there a day late. If I hadn't checked and caught the late fee (which they wouldn't credit back to me under any condition) they would have hit me with a whole year's worth of interest.

I have never been so upset with a company in my life. After being stupid enough to apply for Forever 21's credit card, all I wanted to do was close my account. I called the number on their website which took me to a customer service rep that couldn't speak clear English. I kept telling him that I just wanted to close my account but he kept offering me deals and even said that this was part of the process in order to close the account. I kept telling him I didn't want anything but as gullible as I am, I ended up giving him my debit card number thinking I had to pay off my card (even though I had already paid it off that same day). He assured me that this was to close the account and that after he got the card he would transfer me to his supervisor.
Well once I gave him my card number he put me on hold and then after a few minutes, he hung up on me. I called back and he changed his name, and when I swore it was him who I was talking to earlier he hung up on me again. They took $4.95 out of my account (which was every dollar that I had in that account) and said it was non-refundable. I checked the number on the Forever 21 Comenity and I did not type in the wrong number. I got scammed for their inability to post the correct customer phone number. It's my fault for allowing him to scam me but even so, save yourself the headache and DO NOT SIGN UP FOR ANYTHING WITH COMENITY! They have multiple numbers on their website and they change them (for what seems like) everyday. Do not trust Comenity.
How do I know I can trust these reviews about Comenity?
829,326 reviews on ConsumerAffairs are verified.
We require contact information to ensure our reviewers are real.
We use intelligent software that helps us maintain the integrity of reviews.
Our moderators read all reviews to verify quality and helpfulness.
For more information about reviews on ConsumerAffairs.com please visit our FAQ.

I would avoid using this bank. Depending on the retail shop card you're issued by Comenity. The website's are heavy when it comes to neuromarketing and this alone hooks people. They have the payment plans and terms set up to take advantage of as many fees as possible on their end. It appears their primary customer base are low income individuals and so this said: It takes almost a week to withdraw the apparently standard $27.00 monthly payment consumers have to make. If you're not working or issued one of these easy to get retail shop cards chances are your bank account is low to begin with. If you miss having that 27$ in your account a pretty much a standard $38.00 return late fee. (you wonder if this the $27.00 psychologically fixed number) It shouldn't almost an entire business week to take money from a checking account, something's up.

Earlier this year, I opened up a new Pier-1 import credit card with above account number. When I entered the account information in my bank's Bill Pay system, I transposed the account number by mistake. As a result, a payment of $33.78 went into someone else's account. All the payment was made to the bank in earnest; it did not post against my account, so I kept on seeing the base amount plus finance charges accruing. I called and talked Diane ** on March 31 and told her what happened (give her the account it went into and the account it should have gone in). I understood that she would do the transfer from someone elses account to my account and I did not have to do anything. She told me that balance was zero and I did not have to do anything. I continued seeing this, so I called again and talked to Kiera **. Then, interestingly, I got a check from Comenity Bank for $33.78 which surprised me.
So, I called again on June 9, 2017 and talked to Shamante ** and I told that I am still seeing all the statements with even more charges accruing and showing that owed the balance and told her about my conversation with Diane and that account balance should have been zero. I also told her that I got a check from Comenity Bank. She could not see verify that check was actually sent. I gave her the check number. So, I started investigating myself and called again today and talked with Cindy ** and explained her what happened and what action I can take to resolve the issues and here it is: Instead of Comenity Bank moving the $33.78 from the wrong account to my account, Comenity Bank sent the check back to me and as a result finance charge kept on accruing on my account which is kind silly because I had paid my dues to the bank in earnest although they got posted to a wrong account.
So, I am going to go back to my Bill Pay system of my bank and reissue a check of $33.78 and it should come back to you in the next few days, so you will get paid. I will cash the check that you sent, so I am money neutral. I would like to request you to please waive all the finance and late charges, so when you do receive $33.78 check from me, the balance should go back to zero. If you have follow up questions, please call me at or email me.
I really appreciate all your help and sorry for the misunderstanding and I hope this clarifies what happened and I hope you will take the appropriate action. The check of $33.78 has been issued and I hope by the next statement the balance is back to zero barring any new purchases. So, today I get another letter from them and I still see an outstanding balance, so I talked to another agent Cameron **, then he connected me to a account manager Latoya ** and I am again on Hold 75 hour. Please help resolve this for me.

I purchased furniture at Z Gallerie on a 12 month promotion with 0% interest. I opted in for paperless statements online. Every month I would receive an email informing me of my balance and what was due. I never received an email alerting me to the fact that my promotion would be over. Since I purchased the furniture and have not made any purchasing I did not download the statements because I can see the balance and my payments.
Well my promotional was over and I was never alerted and the following month is when I see the balance go way up so I went online - still on the website there was no indication of the expiration but I did see that I had been charged $495 for finance charges. I was livid! Why is it that they can email me every month my balance and minimum due but they do not alert me to the fact that the promotion will expire? I have other bank credit cards - for furniture - and they have an alert so that if you opt out for paperless statements you know when your promotion ends. I think this is very misleading and would like to file a class action suit.

I have a Torrid Credit Card Account. I paid my Torrid bill May 3rd $27.00. Then I paid my bill for June 2nd $67.00. Also a late fee of $25.00. I saw on their Torrid's module the money is still in there. Torrid sent me a letter stating the money went back to my bank, when it did not. Had to call the Better Business Bureau to give me back my money and close out my account.

My overstock credit card with Comenity is late every month because I don't remember to log on and manually pay it every time. Everything else in my life is set up on automatic payments and is a standard for this day and age. I emailed them and said I wanted to set up automatic payments and they said they don't offer that. The experience has been horrible so far. They set up the business to knowingly disadvantage and inconvenience the consumer so they can rake in the fees. This is 2017 and you don't have an option for automatic payments??? AND YOU'RE A BANK?! THIS IS EXTORTION AT ITS BEST.

It seems like every store you get a credit card with, has this bank. I had Boscov's before for Christmas and all was good. Then in May I received a notice from Comenity Bank that they were replacing the agreement I had with Boscov's with a new agreement. A daily balance and calculate interest charges on your amount owed. My God if I pay on my bill almost half goes to interest. So if I pay 50.00 then 18.00 or more goes to their interest, this should be against the law. At this rate you'll never get it paid off. So now I want to pay off all the cards I have with this bank. Stein Mart has this bank also. This makes people not want to have any credit cards at all.

Comenity is charging me finance charges on finance charges period. They also owe me credit for a Williams Sonoma wreath returned with approval from Williams Sonoma. The bill was paid when I finally received it. Now, they are charging finance charges on finance charges period - starting at $30.00 going to $107.00 SO FAR. They are threatening me with the Credit Bureau. They simply could have, as they do for many I am sure (which would seem to be illegal that they do for some and not for others), shown understanding and waived the initial fee since the bill was paid even. Instead, they are, as I said, simply charging me finance charges on finance charges for a one time Williams Sonoma bill (that was paid in full when received), and threatening me.

I was on automatic payments for my Williams Sonoma credit card and they never continued them when they took over the card from Barclays Bank. I never got their emails for a late payment for a product I never received and ended up getting 2 late payments. I was told I needed to re-enroll for automatic payments but never received notification of the bank change. I checked my emails at ** and never received any emails as they have claimed except for the one I got today when I went online for the first time since they took over in Aug 2016. I feel like they are wrong about getting any notices and the store resent the package that I was supposed to get in April 2017. The store acted in good faith but the Bank is being extremely predatory in its actions against me with no proof that they sent me any notices for ending automatic payments and late fees.

I have one account with them "HSN". On a weekly basis I spend hours on the phone because of errors they made. Purchased items would post but they also remain in the pending for seven days. This would take away double the amount from the available credit. It supposed to drop off from the pending status once it posts. 90% of their agents don't understand basic accounting terms... such as "pending charges". Some didn't even understand the date a pending charge was supposed to drop off. They thought the charge was scheduled to post on that day. Some mentioned a credit as a debit amount. Unbelievable! I have other credit cards with other banks. I don't remember calling them because of errors. Comenity bank is the worst bank ever. If there is a "minus star" I would have given it to this bank.

There needs to be a class action lawsuit against this bank. I am among all of you. I have an impeccable credit history with a 840 credit score. They have falsely accused me of being late on a payment that was not in existence. I pay my balances in full prior to the closing date so that I will not carry a balance. The report states that I had a $140.00 balance with a late payment of $15.00 dollars. This has dropped my score to 736. This scar will remain on my credit report for seven years! I have disputed this information and they continue to verify the accusation as being true. This is not the only incident that I have encountered with this institution. Their Service Reps are incredibly rude as well as incompetent.

I have had my Elder-Beerman card for close to 2 years now. I used it to build up my credit. However I started noticing extra fees and late fees that really started to add up. I would pay my bill over the phone sometimes the day it was due. However it was before it was late and still see a late fee the next month. I decided to pay this card off and only use it occasionally because of this problem. I paid it off, and stopped getting statements (It was paid off). Somehow they charged me 4 dollars of fees and never sent me a statement so I had late fees that I didn't know I owed.
In March I purchased something for 50 dollars. I knew I would just pay it off what I received a bill. Well it's June and got my first bill will with 72 dollars of late fees on it. I called them to rectify this matter. I was treated like a criminal and hung up on. I decided to pay at least the minimum so they would at least talk to me. I called back and told them I was calling The Federal Comptroller to file a complaint. That is the only way they would try to work with me. I think if all of the people who have had problems with Comenity Bank would file complaints with everyone we can maybe the government will investigate this fraudulent company.

I applied online for a store branded Mastercard serviced by Comenity. They approved and issued the card. I had the card all of 3 weeks, used it once, paid off the balance immediately and just received a letter today that they had closed my account due to the "number of recent inquiries" on my credit report. I called and they said that they do an audit after issuing the card, and because of the inquiries where I had just built a house and started a mortgage (which was sold before the first payment to a very disreputable servicer) and then I refinanced with my bank, I was high risk and they closed it. I told them that is terrible practice and more detrimental to my credit than my mortgage inquiries.
If they can't do a proper credit check and risk assessment prior to issuing the card, then they shouldn't issue it at all. Starting the account and immediately closing it kills people's credit scores by having an account in your credit history that has a very short account length, hurting the average length and stability scores. Closing my wife's Victoria's Secret card with them immediately and will never get a card with them EVER again. Avoid them at all cost. No reputable bank/card provider opens an account on a loose check and then does a tight check and closes the card.

I have two accounts with Comenity. One of them an Express account which I use here and there and pay off the balance right away. I recently made an 80 dollar charge and completely forgot about it. The following month I notice on my credit report that my score dropped 40 points and Comenity Bank noted a past due 30 days account. I called immediately to pay the balance which included late fees. I requested this please be lifted from my credit report, as I would have immediately paid it if I hadn't forgot, and there was never a phone call, email reminder, warning, nothing. They had 4 different phone numbers on file for me that are not mine (no one seemed to know how that happened) and I had just opened my account six months ago so have had same number for some time.
I wrote a letter to the bank requesting that they please lift this from my credit report being the circumstances, and seeing that all other payments were made on time and in full. Also explaining that this impact on my credit score was huge. I called today to follow up on my letter and was told that "they said no". This is just horrible. I cannot believe that after being a loyal customer for two years with the other account, always paying on time and the one in full each time, having this one 80 dollar charge that was missed got to credit report so quickly. Then to take the time to write the letter explaining this and voiced concern for not having correct contact information for me, no letter or bill was received my mail (though they had the correct mailing address) to notify me, to just get a response of "they said no". I am needed to move soon because my son is sick. Nice to know that I will be getting a higher rate on mortgage because of this nonsense. Horrible.

Applied for a flex account, ordered several items different times with flex account. Applied for a credit card thru HSN on TV, was approved after I ordered the item, it should have went on my flex account. They put it on a charge card that I didn't give them permission to do so. I received a letter in mail that my account was behind. I called to see what was the problem. The lady that I spoken with said that it was nothing that they can do. It was going to remain on my credit, I also disputed it to the credit reporting. Waited 30 days. Checked the report. It reported no changes, late payment on my account not my fault. I'm going to seek legal service for damage. Stay away from these people. I hate this happened with HSN. They have great products but the people that handle the accounts will hurt them at some point. I will use QVC from this point forward.

I ordered a 14K bracelet from Overstock for a Christmas gift and Overstock sent a plastic silver painted ring. I immediately called them and finally they gave a return authorization. But Comenity bank continued to charge me for interest and penalties. I never paid because I never received a product. It is now June 1 and this morning they threatened me. Quote "If you do not pay this, this is what is going to happen." I said for the 100th time, "I never received a product but you want me to pay interest on this product." She said Yes. I hate Overstock and Comenity Bank is corrupt. Do not ever charge anything. Do not go near them. They are threatening to damage my credit.

Was sent a letter from security and fraud protection and was told to send in 3 forms of identification to verify identity. I had to request a new social security card to do this only to be told my identification wasn't enough and they closed all my accounts. Called and got no reasoning, but was told I can apply again. Ha no Comenity sucks. Very unhappy with them.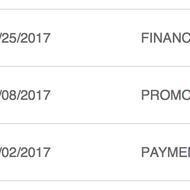 I'm shocked to find that it is true, there are thousands of people that have been most likely stolen money by Comenity Bank/credit. I've been paying responsibly every payment that was due, and no matter what I try to do, there are new fees, and late fees, and charges for interest even when the payments are honored in full. It's a labyrinth of "We're sorry for the inconvenient sir" and zero accountability.
A class action I suppose is the only way to have some justice. Just this month I've been charged nearly $800 for a payment plan I finished paying nearly a week (And credited to my account as such) before the deadline. And it's only the last of a long list. Words cannot describe the pain, and the frustration that this company has caused me. This was for a music store called "Vintage King" in Los Angeles. Worst mistake of my life. I also just found out that already, recently the FDIC has made Comenity pay 61.5 million dollars in punitive damages to its customer for its malpractices. Stay away if you can.

They are simply thieves. For a $32.00 balance for which I paid $30.00, they charged me $30.00 for a late fee and my $2.00 balance somehow became $67.00. I paid it to avoid more charges, but believe me, they are out to steal money from unaware consumers. Their customer service is dismal, it's like you're talking to a bunch of drunks. If Ann Taylor, Crate and Barrel or any of the stores offer you a credit card, turn it down with an emphatic "NO!." I paid the bill to avoid it getting worse, but I'm definitely going to pursue action against these thieves.

I am so disgusted with this company. I have credit cards with both Talbots and Pier 1. Before Comenity took over the billing/credit card responsibilities for these two stores, I never had a problem with paying my bills. The problem is that my bills no longer arrive in my email as a reminder, but rather in my junk mail. All of my other bills show up in my email, why not Comenity? I have tried to remedy this, but to no avail. I have finally asked that I receive a paper bill again. I don't feel I have to look for my bills in a junk file!!

Unauthorized magazine charges on my card with zero balance. No paper bill, then one stating unpaid balance and late fee. Had to call the magazine to get a credit. But it was only a partial credit and had a few dollar balance. They took the late charge off "one time courtesy" Then ANOTHER unauthorized magazine appeared. Had to call that company. They promised a FULL refund but again only partial with a few dollar balance. Another late fee, this time I did not even get a bill to see a small balance. But I used my "courtesy" the month before. Paid 39 dollars and closed the account. Comenity Bank and Avenue have a real scam going on.

I have had several of the store credit cards that are managed by Comenity. I have a positive standing with these cards for years. Cards such as HSN, Meijer, Dress Barn, Torrid etc. My latest addition was Catherine's. I am the type of consumer that pays the full balance each month through my bank electronically. Again, I want to point out this has been my process for YEARS. One would think there would be no issues with the newbie. WRONG! Not only could Comenity CS offer an explanation as to why their posting process is different than ALL my other 5 accounts with them. We went over this on the phone and after being put on hold several times I was told they do not know why there is a difference and it isn't their error.
After we reviewed my pattern of full payment monthly, the supervisor would not give me a full credit back on the "late fees/interest". I have a total of 6 accounts with these folks and my past paying history apparently means nothing to them in order to rectify this situation. As a result, I cancelled all 6 of my accounts with them. What a shame that they refused to back their long standing customer.

Be warned about interest rate. I got the Sportsman Guide's Visa a couple of years back because I purchase a lot on Sportsmanguide.com. I have a 7000 dollar limit with currently a 51 dollar balance. Here's where it's get down right illegal. They assess 49.90 interest charge on a $51.51, and I am not kidding. Not to mention minimum payment is 55 dollars on $100.00 dollars. This has to be criminal in some way. Paying them off right now and cancelling this card before they charge me 100.00 on a zero balance.

Excessive & compounding late Fees accrued even after I'd paid a late fee and fees associated with the additional late fees. Several written requests to have the compounded fees adjusted. I finally called and paid the fees along with a second late fee and canceled the account. I accept some responsibility given that it was my account but the way Comenity continued to add late fees on top of late fees (no new purchases were made), and allowed them to compound even as I was paying interest fees on the late fee, paying one fee and trying to work it out seems unethical to me. I have another Comenity account with Macy's which I will be paying off and closing as well. I will not be shopping Pottery Barn again. If this is how the financial company they've selected treats customers, I'd rather use a different card.

I have several Comenity Bank store credit cards-Victoria's Secret, Express, GameStop, etc. Here's the deal - if you pay your bill on time you won't be charged late fees. People that say "I never got my bill in the mail" it doesn't matter if you get a statement in the mail or not - you know when your bill is due. Yes, the interest rate is ridiculously high and the late fee is as well but I knew that going in and before I ever used my cards. I was late once and I received a late payment fee of $25 and it was my fault because I missed the date. I am just tired of people giving bad reviews to companies over things like this. People - take responsibility. If you don't want high interest rates don't open an account. If you don't want a late fee pay your bill on time. It's that simple folks.

After reading many other negative reviews on Comenity Bank, I felt I had to chime in with my situation. I have two accounts through Comenity Bank and I have paid for all purchases and finance charges assessed, however, they are quick to assess late fees, and often times the late fee amount is exactly the amount of the balance on the account. None of my balances have been very high and some have been paid in a single payment transaction. I think they are trying to trick me into believing I owe a legitimate balance by doing this. I requested a courtesy waiver of the late fee a while back on the other account via email and they denied me.
I refuse to pay any more late fees and they keep assessing late fees on top of the late fees already owed. I'm done with them and plan to close my accounts with them as soon as they open tomorrow. I want to talk to a live person, and although I don't expect them to budge at all, I will at least have the satisfaction of telling them to close my account immediately. I even had a collection agent call my cell phone the other day and when I explained the situation to him, he wished me luck in dealing with this. Yes, it will damage my credit somewhat, but I have enough credit card accounts that will speak positive for me paying my debts on time. It may take a few years, but I will overcome these thieves and be better off.
Company Name:

Comenity

Website:

http://www.comenity.net/