The seat-backs for the front seats may break in a crash
02/07/2017
|
ConsumerAffairs

By James Limbach
A Washington, D.C., reporter for more than 30 years ... Read Full Bio→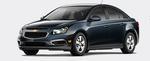 General Motors is recalling 17,197 model year 2016-2017 Chevrolet Cruze vehicles.
A bracket used in the driver or front passenger seat-back recliner mechanism may have been incorrectly welded to the seat-back frame. As a result, in the event of a crash, the head-restraints may not function properly.
As such, these vehicles fail to comply with the requirements of Federal Motor Vehicle Safety Standard (FMVSS) number 202a, "Head Restraints."
The seat-backs for the front seats...
More
Fire hazard probed in 21 models
06/17/2008
|
ConsumerAffairs
The National Highway Traffic Safety Administration (NHTSA) has intensified a investigation of 21 models of General Motors trucks and SUVS manufactured between 2006 and 2008 because of the possibility of an engine compartment fire.
More than 2,700,000 GM trucks and SUVs are the subject of the the investigation because of the possibility that a fire might erupt inside the engine compartment, even when the ignition is turned off.
The Office of Defects Investigation (ODI) at...
More
Sort By
Ice formation in engine can cause problems
02/19/2008
|
ConsumerAffairs
Federal safety regulators are stepping up an investigation of the vehicle speed control system in 2004 and 2005 Chevrolet Aveos.
The Office of Defect Investigations (ODI) which is part of the National Highway traffic Safety Administration (NHTSA) has upgraded its evaluation of complaints which began October 19, 2007 about stuck throttles in the Aveo because of ice formation within the engine air intact tract.
The change, according to ODI, follows a safety recall by Gener...
More