The front passenger airbag may not deploy properly
07/13/2018
|
ConsumerAffairs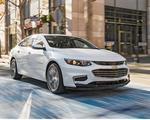 General Motors is recalling 66 model year 2016-2018 Chevrolet Malibus.
During servicing, a Passenger Presence System (PPS) may have been installed that was not correctly calibrated to the vehicle's seat type.
As a result, the PPS may not properly identify an adult passenger from a child passenger in the front passenger seat, potentially causing the airbag to not deploy when it should, or to deploy when it shouldn't.
In the event of a crash, improper airbag deployment can i...
More
The sensing diagnostic module may not deploy airbags in a crash
06/21/2018
|
ConsumerAffairs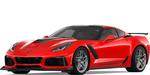 General Motors is recalling 489 model year 2019 Chevrolet Corvette ZR1s.
Hard braking or acceleration may cause the sensing diagnostic module (SDM) to enter a fault state.
As a result, the SDM will not provide crash sensing or deploy the necessary air bags in the event of a crash.
If the air bags do not deploy as designed, the occupants have an increased risk of injury.
GM will notify owners, and dealers will reprogram the SDM with updated software, free of charge.
The manuf...
More
Sort By