Consumer Complaints and Reviews

I got stonewalled by their "Customer service" people today. I posted about it on Facebook. I was encouraged to get in touch by private message. I did. I then waited all night for a phone call that never came. Their "Customer service" is a disgrace. I'm not a customer anymore. I never will be again.

Thank goodness I used the chat and requested a copy emailed to self. New customer and found was near monthly limit just before going out of town on business. Accessed the online chat help and support rep advised 38 minutes calling left on plan and 16MB data - this is in writing. We do an upgrade. One week later I receive my bill - the upgrade has been processed (I wasn't dreaming) and there is an additional charge of $31.00 in over-limit calls! So I telephone, certain that the problem will be handled courteously and professionally - my mistake. Am connected to a nasty young man who tell me that I was being charged overtime from April 14 (my upgrade chat was on the 19th). I have been on hold for the time it has taken to set up an account on this site, and write this review. I am fairly certain that this is a passive aggressive tactic on his part because of my insistence that the charge be reversed.

These are the rudest people I've ever had the misfortune of speaking with. I don't understand how the hell they keep any customers, and from the complaints I'm seeing, their entire customer service department is in need of a major overhaul. What these people fail to realize is that there is a cellphone carrier on practically every corner these days, so if you want to keep your customers, get these unprofessional people out of your call center immediately. You guys are not the only game in town! To be honest, my problems with Virgin Mobile have been month-after-month. There is no particular isolated incident that has affected my decision to leave this phone company.
I paid my husband's phone bill yesterday only to find his line suspended over .45 cents today... ARE YOU KIDDING ME? I called customer service to see why this happened, and the customer service associate argued with me about the phone being on. This man (I didn't get his name) told me that they showed the phone still being active, but their own automated system told me the line was not on and that I needed to add .45 cents. I told him that I know for a fact the phone is not, and he says, "How do you know, you don't even have the phone?" I am beginning to lose my patience at this point.
I told him that I no longer wanted to talk to him and put me a manager on the phone. He put me on hold and left me there, and when he saw I wasn't hanging up, rather than allowing me to run up his hold time, or completely disconnecting the call which is grounds for automatic termination in any call center worth its salt. He chose to put me back in cue so I would be placed on hold and sent to another representative. Mind you, I've worked in a call center before, so I know what happened, especially when no one ever came to the phone and you get the welcome message to enter all of your information all over again.
The second representative was way better, and he credited me the .45 cents after claiming that an international call was made, which is another lie. What international call is only .45 cents? He has no one to talk to internationally at that. I think they took that money for those couple text messages we sent after I put the money in his account to pay the bill. That's where that .45 cents went! At any rate, even if he did make a .45 cent international call, what type of phone company cuts their customers off for that? That is about as low as you can go. Like I said, I've had tons of problems with them, this is just one incident of many. I'm tired of them!!
On top of that, my husband works in another state because that's where the money is to provide for our family, therefore, I handle all of our domestic business. I sent him a text after I paid it to let him know it was paid, and for them to cut him off makes it seem like I lied to my husband, and I'm not handling our business. I HAVE A PROBLEM WITH THAT!

When I receive my monthly data, I won't even use it 5 minutes (with wifi) before it says I'm out of data. They have been a terrible company, and customer service is awful. I cannot wait to switch off their service! I do not recommend for anyone. I'm highly disappointed, and I will not miss their service!

I am sending an email to express how extremely unsatisfied with this service. I have been a Virgin mobile customer for around 3 years now and I've had the premium protection plan for around 19 months. I recently had to utilize my protection plan just to find out that the SmartCare plan sent me a refurbished not "like new" phone to me just so it could break without me touching it within 24 hours. After the first phone broke on me I called the SmartCare line to request a new phone that will not break on me. The SmartCare team told me that the model of my phone is on backorder and I would have to wait 7-10 business days. I made it clear that I did not want a refurbished phone sent to me due to the fact that the screen is prone to break after its original is replaced. I need my phone for life and work purposes and whoever is reading this email will know what it is like to not have a phone in any setting.
On top of this I have been waiting past the 10 business day mark for backorder on the model of my phone which is the Samsung s6. I have been paying for a phone bill that I don't have a phone to use for about 3 weeks now. I'm a student. The SmartCare team lied to me about the 10 business days for the backorder of my phone and just to find out they are going to send me a refurbished phone that will likely break.
How do I know I can trust these reviews about Virgin Mobile?
762,878 reviews on ConsumerAffairs are verified.
We require contact information to ensure our reviewers are real.
We use intelligent software that helps us maintain the integrity of reviews.
Our moderators read all reviews to verify quality and helpfulness.
For more information about reviews on ConsumerAffairs.com please visit our FAQ.

I have been with Virgin Mobile for several years now (more than 10 years) and have been happy with their service on my pre-paid phone. That all changed when I had to update my phone to accommodate a change to the 4G network. Virgin provided a new SIM card free of charge, so things were looking good. But that all changed once I put the new SIM card into my phone. It is now completely unreliable. At first Customer Service was helpful, but I had to turn my phone off, take out and then put back in the new SIM card. That procedure worked for about 2 hours. Repeating that procedure worked about 50% of the time. Then customer service simply placed me on hold when I phoned to report ongoing problems. I was very angry on the last call and was placed on hold again. They clearly do not value their customers.

With the last month or so, I got a call more Virgin Mobile stating that I was a loyal customer, my contract was almost up, and I qualified for a new phone. The phone I was using wasn't working like it used to and I was told it would only be a 15 dollar fee for the phone and also my contract would be renewed. It sounded like a pretty good idea until I got my current bill for this bill cycle and was charged for more services that I was not told about. I called Virgin, obviously quite upset, and told them I didn't understand what was going on. She told me getting a new phone would cost more than the 15 dollars. The problem with that is, I was never told any of that previously.
I told the lady I felt duped anfd. I am a single mother and if I had known this, I would have never bothered to get a new phone and would have bit the bullet. I expressed my displeasure which ended up with me and this lady going back and forth for 30 minutes or so. At some point in the conversation, she laughed at me. I got nowhere last night. I was even told I could not sent the new phone back. I eventually hung up, very stressed out. I am disgusted with Virgin Mobile. Is this how they treat loyal customers? I am a single mother that is now scrambling to pay the phone bill. I am writing this review so that everyone knows a manipulative and horrible this company is, and how they are sharks who will lie to get their way. Do not trust Virgin mobile and find a different phone company.

I have been a Virgin Mobile customer for eighteen years and have found them to be very reliable. They have really good deals for their cell phones on their online site. All I can say is check out Virgin Mobile's site for yourselves.

The services provided are good. The motto of the company changes with the constant phone upgrades. The monthly fees are suitable and you can flex from monthly to prepaid. I always appreciate the styles of phones that are offered by Virgin Mobile.

Coverage ultimately became the prime factor. After two years for ten dollars more I got more coverage in more places and more data with another cell company.

I've been a Virgin mobile customer for over 10 years. Their customer service is always excellent, their phones are reasonably priced, and they have a buy-back program for their phones.

I have been a loyal customer of Virgin Mobile (VM) for a cumulative of about 2 years. I recently started back with them last year after moving back home. I paid $80 for my phone and have been very satisfied with the service. However, this last issue has me highly upset and ready to change carriers. I have been having a lot of issues with my microphone, and because of that, people on the other line cannot hear me when I make a call. I spoke with customer service and after going through the troubleshooting, they found that I needed to get my phone replaced and that I would need to speak to the manufacturer of my phone, HTC. HTC tested my phone and they found that both of my microphones were bad, but the receiver and speaker was fine. They told me that I would have to wait 2 weeks to get it replaced, in addition to the time needed to verify the receipt I sent them.
I am a single mother and need a phone so I went back to Virgin Mobile for assistance. The first associate and the manager April were very nice, and she said she was sending me to sales to see what my options are. I wanted to get a different phone of equal or lesser value of the phone I had. Since this is the first time I am having this issue and it was only 4 months since I bought the phone, I thought it would be ok to get this taken care of. I was wrong. The department she sent me to was actually the tech dept, and the associate was rude and getting upset out the gate when I told him the issue. I was going to have to pay $25 because it is a set fee per policy or I can just buy a new phone. I demanded a manager. The second manager was even more incompetent and rude than the associate. He basically made it out to be my fault and outright refused to help with anything.
I am taking my money elsewhere and am highly disappointed with this; I am also sharing this as far as the internet will take it. I have had little to no issues with VM and I have left before only because of moving into areas where the signal is little to null. Every time I moved where I could use it, I used it. This issue is all too common in customer service, and I know that.
However, having been a customer service agent for almost 10 years, I have never treated someone like that. I always try to put my best foot forward, and I truly hope I just got a few bad apples here. Either way, there needs to be an enforcement here of a lot more decorum and class when you are talking to people who support your company. I truly hope that the policies change with VM so that we as customers don't have to be inconvenienced for basically no reason. I will not return as a customer without a written apology and a full refund of the defective phone and my last bill payment, about $120.

Service is lousy outside of your home area. Will not work in buildings right in town and when you go out of town you have no service.

I want to preface the with a statement that me and my husband have been customers of Virgin Mobile for over 10 years. On 2/28/2017 I purchased a VMU LG Tribute 2 New Handset Kit on sale from a live Virgin Mobile agent and verified that the phone was available. They sent me an email saying my phone had been shipped on 3/10/2017. When it arrived it turned out to be an iPhone SE. We called about this and were told that the phone we ordered was not available. We were not given any explanation as to how this happened, but we were told to send them a picture of the phone we received in an email for them to process my refund. Needless to say this did not happened. Two days later I had to argue with them to get them to send me a prepaid label to send the phone back to them because I refused to pay for shipping the wrong phone back to them.
They received the phone on 3/19/2017. They always say, "They have to send the case to the back office with the USPS tracking number to review it" before they can process the refund which I SHOULD receive in 7 - 10 business days from today 3/24/2017. 45 days to get a refund for a mistake they made. I am through with Virgin Mobile and will tell everyone I know about this experience. STAY AWAY FROM VIRGIN MOBILE.

Great service, experience and people. They help you if you have any issues. Would recommend them first. Had T-mobile 10 years. Virgin was my first service. I came back to it and am very happy with my phone and service.

I recently switched from Sprint to Virgin Mobile. Before the switched I looked at Verizon, T-Mobile, AT&T and Straight Talk as well. I did some homework and the conclusion is that Virgin Mobile is by far the best value. For sake of time, I'll compare Virgin Mobile and one other leading carrier, Verizon: (All prices were taken from the Virgin Mobile and Verizon websites on 3/14/17).
Say you buy the iPhone SE 16 GB outright and go with the unlimited plan with unlimited talk, text and data. Through Virgin Mobile, the phone will cost you $179.99 and the plan, $65 a month. At Verizon, you'll pay $399.99 for the phone and $85 a month for the same plan. The numbers don't lie. With Virgin Mobile, you'll save $220 right off the bat for the phone and you'll also save $20 each month on the plan. That equals out to be $480 over the course of two years. Add that up and the difference is shocking! The savings are even bigger if you go with an iPhone 6 or 7. There is no difference with the coverage and customer service with all the major carriers are the same: they all suck. So save some money and go with Virgin Mobile.

On 3/1/2017, I purchased a Galaxy S7 at the Web Price of $549.99. With tax, this totaled to $588.49. You have to pay upfront for your phones on Virgin Mobile. This was to replace a Galaxy S5 I purchased a couple years ago. I've been a Virgin Mobile Customer for over 5 years at this point. The new phone will not be delivered until 3/7/2017. Today, I look at the Virgin Mobile website, and the phone I bought for $549.99 is now selling for $499.99. I called Virgin Mobile, and was connected to what was clearly an Indian Call Center. This call had a very poor connection, and lasted slightly more than 30 minutes. I tried to explain to the agent that since I bought this phone at a higher price, and had not yet received the delivery yet, I was requesting a credit for the difference in price or $50 plus tax.
This was not only extremely difficult to explain, but the end result was that I ordered a second telephone at the lower price, and will return the first phone that ordered at the higher price. This seems ridiculous. However, this was the only way to resolve what could simply be a credit of $50. In the end, if this whole fiasco has not been resolved to my satisfaction, I will return both telephones and move to another carrier. End of story.

I feel that I have been harassed by the accounts department. I had an outstanding bill of $50.00 and they would repeatedly call me, a dozen times easy, every day. I made arrangements to clear the outstanding balance and asked for the calling to cease to which I was assured the calls would stop. 1 hour later I get a call from Virgin Mobile about my balance. I asked if there was a note in regards to calling me and "Yes" was the answer. I asked what this call was regarding and of course my outstanding $50.00. I am canceling my account and urging everyone I know to stay away from Virgin Mobile. This is just 1 of several problems that I've had with them. Stay away.

Virgin Mobile is in a way different from other companies. All phone companies promise and some deliver, but there's always something missing; some crash while making a call. This company had bars disappearing even when starting a call and very slow on internet requirements, overall all or some lack promises on they're services.

I had VM for about 2 years and they were great, until they weren't. The insurance I had on my phone went up $1 and I had updated my CC so I had to manually put the payment through on the phone. I forgot my bill went from $46 to $47 so I called VM to tell them what happened. The lady I spoke to said no problem, updated my payment information and said that she would credit the $1 to my account. That never happened. I called back, told them my story and again, said I would pay the $1 and VM kept telling me it's no big deal. My phone never turned on in the 24 hours I was calling to get this resolved, clearly, it is a big deal.
I finally called back a 4th time and spoke to someone named "Lester" (ALWAYS ALWAYS get an ID number!) who told me he was going to help me. I told him under no circumstances is he to charge my credit card unless it's the $1 I owe. He assured me he didn't need to charge my card again and that was that. 15 minutes later, I had service. I log in to my CC to check my balance and I see charges for $53.01 and $66.43 on my credit card from VM. I called and complained, having them promise me the charges would be reversed. Spoiler, they weren't reversed. I called back about 3 times, spoke to managers who were less than useless, reached out to them on their FB page, nothing.
Finally, I got so fed up that I called my CC and reversed the charges after explaining to them my story. They froze my account and one of their Finance guys told me I owed them the money and was very rude. I was rude right back and told him I don't appreciate companies stealing money from me that these are unauthorized charges. He didn't care and hung up on me. Exasperated, I reached out to the BBB and in 48 hours, it was taken care of. The next day, I went to AT&T where I've had 0 problems since. If you like hassle and people stealing from you, then this is the company for you!

Is the worst company with customer service, do not return calls when there is a problem, it is not easy to communicate, via email is worse... The only way to change this is if we all change companies and leave without customers, this company does not deserve to have customers like us.

I hate their customer service and I hate their website. They supposedly raised me to 4g a couple mths ago and now I don't even get alerts from my bank for 1-2 days now. Even my text don't get to me for sometimes hrs especially text w/pictures forget about it! I'm seriously thinking of making the jump to an iPhone from Sprint only because I despise AT&T they suck!

I have been with Virgin Mobile for several years. I have never had an issue with them and the service is great. Their plans are relatively cheap and well worth the money. I will continue to use Virgin Mobile for as long as I can.

I don't know who that Virgin mobile is and don't want to know about them. I don't even know who they are. They hacked my account and stole my credit card money $1450. From Amex account. Watch out from virgin mobile. They know how to hacking the people's account. They also work with Sprint company. They only said to me, "WELL. I said sorry." That's it. Hack person's account, stole money and said "Well I said sorry." Let's see if you still can say in front of judge. Watch out people and double check all your accounts statements!!

We have limited service options and Virgin was the only one at the time that offered no-contract services. Boost and several others have subsequently moved into the area. I have had fewer payment issues with Virgin than Boost. Average service.

Good company overall, but list of phones available is limited. Coverage is getting better with roaming now. Customer service is very good and website is very user-friendly. Also, cost is very reasonable.

I have been with Virgin for over 2 years because of my contract with them but I am so glad it's over now! I would always get overcharged for the "extra" data I use when in reality now I have the same amount of GB with Freedom Mobile and they last so much longer. Virgin always overcharges for everything. They are a rip off, they just want your money! I recently was called to pay my remaining balance and set up a payment plan with them, two days after I was still charged although they didn't notify me that this would happen when you set up that plan! On top of that, when I called today, the representative was extremely rude to me!!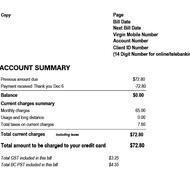 I really wish I read these reviews before switching companies. I have had nothing but issues with Virgin for the short year that I've been using them. First when my phone was broken, I spent 4 hrs on the phone with them. They sent me to 2 in-person locations that didn't actually do what they sent me there to do. Then they said I had to send in my phone - but had to go to a third location to do this. Luckily when I got there, the guy knew the problem, and fixed it in an hr instead of me sending my phone in. But no one else seemed to have their info together. But this was just the minor problem...
I just rec'd a call from Virgin telling me that I owe under $200 and my phone would be cut off and they will no longer allow me to make cc payments. After checking my account online, all my bills showed I was up to date. It took them up to 5 people and 2 hrs to figure out what was going on. Apparently my auto credit card payments had been declining (although my bank has no recollection of this), but they were still sending me bills saying that I was all paid up for 4 months??? So online it says I owe nothing, but they say that all of the payments were rejected, but their system told me they were accepted. I still don't understand this.
Long story short, they won't let me pay with credit cards and were quite happy to lose me over a less than $200 payment even though I have great credit and have never not paid. I paid out my bill plus $300 to leave them and that is so far the best money I've spent with them. The image below shows my $0 outstanding balance even though they're saying it's $180.

The Virgin Mobile has been my wireless carrier since they began as a prepaid phone. My services have been very good over the years. I don't know of any time my concerns relevant to my services were not met. I also the styles of Virgin Mobile I've had.

I'm barely not getting any signals from my home. Now I can attend the recreation center in my town and have no reception in the gym. I used to have service but now I don't and when I'm traveling you can hang it up. There's no service. I have no phone usage. Nothing. Being on the road with no service is not good. Land and buildings without service is not good either. They need to have use of more Towers. The reception is getting worse and not better. I would have recommended it when I first got it but now I wouldn't know.
Virgin Mobile Company Profile
Company Name:

Virgin Mobile

Website:

https://www.virginmobileusa.com/#!/