Consumer Complaints and Reviews

Virgin Mobile is in a way different from other companies. All phone companies promise and some deliver, but there's always something missing; some crash while making a call. This company had bars disappearing even when starting a call and very slow on internet requirements, overall all or some lack promises on they're services.

I hate their customer service and I hate their website. They supposedly raised me to 4g a couple mths ago and now I don't even get alerts from my bank for 1-2 days now. Even my text don't get to me for sometimes hrs especially text w/pictures forget about it! I'm seriously thinking of making the jump to an iPhone from Sprint only because I despise AT&T they suck!

I have been with Virgin Mobile for several years. I have never had an issue with them and the service is great. Their plans are relatively cheap and well worth the money. I will continue to use Virgin Mobile for as long as I can.

I don't know who that Virgin mobile is and don't want to know about them. I don't even know who they are. They hacked my account and stole my credit card money $1450. From Amex account. Watch out from virgin mobile. They know how to hacking the people's account. They also work with Sprint company. They only said to me, "WELL. I said sorry." That's it. Hack person's account, stole money and said "Well I said sorry." Let's see if you still can say in front of judge. Watch out people and double check all your accounts statements!!

We have limited service options and Virgin was the only one at the time that offered no-contract services. Boost and several others have subsequently moved into the area. I have had fewer payment issues with Virgin than Boost. Average service.
How do I know I can trust these reviews about Virgin Mobile?
697,568 reviews on ConsumerAffairs are verified.
We require contact information to ensure our reviewers are real.
We use intelligent software that helps us maintain the integrity of reviews.
Our moderators read all reviews to verify quality and helpfulness.
For more information about reviews on ConsumerAffairs.com please visit our FAQ.

Good company overall, but list of phones available is limited. Coverage is getting better with roaming now. Customer service is very good and website is very user-friendly. Also, cost is very reasonable.

I have been with Virgin for over 2 years because of my contract with them but I am so glad it's over now! I would always get overcharged for the "extra" data I use when in reality now I have the same amount of GB with Freedom Mobile and they last so much longer. Virgin always overcharges for everything. They are a rip off, they just want your money! I recently was called to pay my remaining balance and set up a payment plan with them, two days after I was still charged although they didn't notify me that this would happen when you set up that plan! On top of that, when I called today, the representative was extremely rude to me!!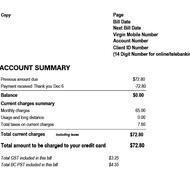 I really wish I read these reviews before switching companies. I have had nothing but issues with Virgin for the short year that I've been using them. First when my phone was broken, I spent 4 hrs on the phone with them. They sent me to 2 in-person locations that didn't actually do what they sent me there to do. Then they said I had to send in my phone - but had to go to a third location to do this. Luckily when I got there, the guy knew the problem, and fixed it in an hr instead of me sending my phone in. But no one else seemed to have their info together. But this was just the minor problem...
I just rec'd a call from Virgin telling me that I owe under $200 and my phone would be cut off and they will no longer allow me to make cc payments. After checking my account online, all my bills showed I was up to date. It took them up to 5 people and 2 hrs to figure out what was going on. Apparently my auto credit card payments had been declining (although my bank has no recollection of this), but they were still sending me bills saying that I was all paid up for 4 months??? So online it says I owe nothing, but they say that all of the payments were rejected, but their system told me they were accepted. I still don't understand this.
Long story short, they won't let me pay with credit cards and were quite happy to lose me over a less than $200 payment even though I have great credit and have never not paid. I paid out my bill plus $300 to leave them and that is so far the best money I've spent with them. The image below shows my $0 outstanding balance even though they're saying it's $180.

I'm barely not getting any signals from my home. Now I can attend the recreation center in my town and have no reception in the gym. I used to have service but now I don't and when I'm traveling you can hang it up. There's no service. I have no phone usage. Nothing. Being on the road with no service is not good. Land and buildings without service is not good either. They need to have use of more Towers. The reception is getting worse and not better. I would have recommended it when I first got it but now I wouldn't know.

I have been a member for approximately 8 years (when V. M) first came to Toronto... in the beginning V.M. was the best of all mobile companies I had the unpleasant experience of working with. Unfortunately the company's policies have deteriorated in that dishonest representatives mostly from the Philippines who misrepresent the truth regarding packages and data and roaming fees etc. The customer in their opinion is ALWAYS wrong! I was given misinformation on numerous occasions verified by V. M representatives themselves who indicted the information given was incorrect. Now I understand I was not always speaking to someone in Canada.
I am a Canadian and was hooked up in Canada. There are many people without jobs in Canada as a Canadian I do not wish to speak to anyone outside of my country! V.M. in the beginning was good when you had a discrepancy you would speak to someone in Canada who were honest easy to communicate with and assisted in resolving any challenges by explaining things clearly and honestly. In the past couple of years I have experienced more and more issues and almost impossible to speak to someone in Canada. These individuals from outside of the country who have different values might be paid less than a Canadian however it is poor business. The number of times I have had to contact V.M. regarding issues over the past year or two have been numerous and too many and too upsetting to get into. Needless to say I am about to be finished with Virgin Mobile.
Virgin Mobile is about to lose a good customer and a PROMOTER of Virgin Mobile... l used to tell family and friends how wonderful V.M. was and how V. M was not like other mobile companies!!! Comments would be 'they are all the same. Always misrepresenting the facts and ripping off the customer and I now also believe that to be true. It is UNFORTUNATELY that today what is called MARKETING is in actuality SCAMMING, making facts so convoluted and misrepresenting the facts has become a way of doing business.
Virgin Mobile has become a company which practices miscommunication of the truth and misrepresents the facts how sad! The extreme GREED of Virgin Mobile has caused them to have workers from the Philippines taking jobs from Canadians. However this practice has become destructive to Virgin M. obviously V.M do not care about their Canadian Customers and Customer Service.

The two ladies I spoke to on the phone were very nice and it is not their fault so this review is purely about Virgin Mobile customer services. I called Virgin mobile to update bank details. I wanted to change the bank account I paid from. This telephone call meant I had to speak to two people and a time of 22 minutes. For Virgin Mobile, should this call not take less than 5 minutes?

Cannot believe how bad the support is at Virgin Mobile. Finally got tired of having to call and fix their mistakes, so I cancelled my account and asked if I could donate the balance of $68 to charity... They said NO! Apparently they only allow you to transfer a balance to someone at the same address with the same last name. Since I am sure that rarely happens this is just another way they rip off customers to keep their money. I mean how desperate do you have to be as a company to not allow customers to donate their balances to charity!

My elderly father's service was stopped on Christmas Day. After six calls to customer service, I determined that service was terminated because the account had not been "topped off" for 45 days. Six different agents and six different answers on how to reinstate the account, turns out there was a $306.00 "credit" on the account that was lost when the account was terminated. I tried to reinstate the account with the same phone number and the agent said they could not use the same phone number. After over two hours of being placed on lengthy holds and receiving no solution, I decided it was best to not reinstate the Virgin account. I did pick up another service that took me about 15 minutes to activate and will never, ever use Virgin mobile again.

I got a new Sony Xperia from Virgin Mobile about a month and a half ago. After about three weeks people on the end of the phone were unable to hear me. So I sent phone away to be repaired, after about a week and a half the phone was returned with a letter saying I would after pay for the repair. When I rang Virgin Mobile they accused me of trying to fix the phone myself. This was not true. Why would I do that? They said it would cost £93 to be repaired. I am disgusted with Virgin and intend to leave Virgin Media and Virgin Mobile as soon as possible. I intend to take legal action for libel. I have been offered a much better deal with a different company and will use the money I have saved to have phone fixed elsewhere.

I transferred cell companies from Virgin Mobile to Google Fi. I had some technical difficulties that delayed the transfer two days into the next month's usage of Virgin Mobile. Rather than charge me proportionally (one fifteenth of a month's usage) they opted to charge me the full 60 dollars for the month and refused to refund me the reasonable request I had submitted of 52 dollars. It wouldn't bother me nearly as much if they weren't a multi billion dollar corporation that could take the hit. I struggle to get by and 60 dollars has an impact on my life. I would advise anyone considering doing business with Virgin Mobile to reconsider.

My mother has Alzheimer's and overpaid on her "prepay" Virgin Mobile account, although she doesn't even know how to use the phone anymore and Virgin admits she has not used it in at least 90 days (their records, in the Department I called, only go back 90 days). When trying to cancel the account because she obviously can no longer use the phone, they refuse to refund her $418.04! BAD CUSTOMER SERVICE... THEY DON'T CARE.

I've never experienced this incredible amount of bad customer service and terrible business practices. I ordered a 32GB iPhone 6s with overnight shipping ($500+) on Nov. 14. Today is Nov 29th and according to VM customer service, the phone still has no tracking number and they cannot tell me why, an ETA, or any other information regarding my purchase. I can only assume the phone is backordered or that they no longer have iPhones in stock, but no one will tell me the truth in this matter. I have heard excuses ranging from "FedEx delays" to "Sprint shipment delays" etc.
I was scheduled to receive a call everyday regarding this matter with a "manager" named "Daniela" (I am using the quotation marks because I am convinced the same small team of people use fake names)... she called me once. I've been hung up on, lied to, and just plain disrespected as a paying and loyal customer for years. I've never experienced this incredible amount of bad customer service and terrible business practices. I feel like I've been "taken" by some crooked scheme. I have now been on hold with Sprint for the past 30 mins, who seem reluctant to help me as well...

I applied to work at Virgin Mobile kiosk in Pembroke Ontario. I was surprised when I got a call from them to be interviewed. I had been a client of theirs for 5 years, and really enjoy cellular devices so I felt this would be a good placement for me. They interviewed me over the phone and asked me to come in the next day at 7 am for the job interview. I showed up at 7 am and the Kiosk and Mall were closed. Once the mall opened and I got inside I sat down on a bench with 2 other men and waited for my turn to be interviewed.
The women interviewed the 2 men first and never came back from me. I went to find her after waiting an hour, but the mall and kiosk was closed. So I left a note tacked to their kiosk with my information asking them to call me. I never heard from them. When I called corporate I found out that the manager lied and said she had interviewed me when she never had. Pembroke is a small town where everyone knows everyone else. I was astonished to learn through the grapevine that the manager had no intention of ever hiring me. She hired her 2 sons, and their girlfriends….
I bought a new phone through Virgin and the same day I purchased it, it started malfunctioning. It was sending texts and making phone calls, as well as turning on and off by itself. I went back the same day showed them what was happening as proof, to ask for an exchange or refund and they refused. My dad had to come to the kiosk with me. The manager refused to give us her ID number or name. It's only after my dad and I used his cell phone to call Virgin and complained on the phone with customer service for over 2 hours in the mall, that someone on the phone, forced the manager at the kiosk, to replace our phone for another new identical one, which worked well.
Virgin mobile says their plans come with unlimited picture messaging. But once you start using their plan you learn this is simply not true. Every picture message you send uses data. I called customer service many times to ask for an explanation, and got different answers each time. Every time I went to Virgin to top up my minutes the people who worked at the kiosk would turn away from me, after servicing a customer before me they would suddenly tell me their computers were malfunctioning and that they couldn't service me.
As soon as I walked away they would help service the customer after me. I told my friends and family this and they disbelieved me. So I got my dad to come with me to the mall and go to the kiosk before me, and then I'd show up. He was shocked to see them refuse to serve me, face me, or talk to me. He confronted the manager there saying "Look you just serviced me. You lied to my daughter that your system was down, but as soon as she walked away, you serviced the customer after her." The manager said that my dad was lying, and he must have imagined it.
My dad said he'd watched it happen, he wasn't lying, and he's not crazy. This problem continued however every single time I went to the kiosk for help, service, or to top up my minutes, they would refuse to service me. I soon learnt to take a friend, or one of my parents with me, who would have to talk with the manager first while I hid around the corner, and then while they were servicing my parents or friend, get my parents or friend, to get them to service me, and I went through this hullabaloo of them telling me their machines were down, and my friend or parent arguing on my behalf, saying their system was working when they serviced the person directly before and after me.
This went on for every time I tried to top up my minutes, or deal with one of their representatives directly. After a year of this the people working there got to know who my parents and friends were, and it became impossible to deal with them in person or directly. This is when I cancelled my pay as you go plan, and switched over to a different carrier FIDO.

I don't normally write reviews but I felt this necessary. I was a loyal Virgin Mobile customer for 4.5 years. I paid my bills on time. Interacted with your benefits sections and was a promoter for the company. I was only a month by month plan when I left but this was purely because my old plan had run its course and I decided to stay with it for the short term.
Recently a new plan was announced by virgin and fido in order to counter another provider here in BC. The deal was 4GB a month, unlimited international texts and local calling. Who needs canada wide these days, and indeed international calling, with facetime audio so this deal was a no brainer. Fast forward to calling Virgin. I spent an hour on the phone, spoke to three different people, and was utterly dismissed. I spent the majority of that time listening to cheesy hold music broken only momentarily by moments of 'no we cannot do it'.
I asked why, obviously, whenever presented with this and was told I wasn't a new customer so I wasn't worthy of this plan. 4.5 years and $3640 later, I wasn't worthy. I got given many excuses and many reasons but the short end is this was all lies. Fido held lineups that assisted the swarms of customers with grabbing this new deal and guess what everyone THEY LET THEIR CURRENT CUSTOMERS TAKE IT AS WELL.
Needless to say I ended the call on a good note as I was obviously not going to get anywhere, many experiences have taught me so, walked right to a fido stand and changed my carrier. During my time there I witnessed not only new customers getting assisted with this great deal but current customers as well. Even though the workers had obviously had a tough week they were extremely helpful and even gave me a free easier number to remember! I wanted to keep my old one but when they offered me the chance to keep it OR pick my own number I took it as it would look better on a business card.
The end of this story means that I work in one of the richest companies on the globe and used to promote Virgin as a carrier. So it wasn't just the money the company got from me but the customers I pointed in that direction. I am a promoter no more. One phone call managed to lose you $3640 dollar over the foreseeable future but mainly you've lost a big promoter. How customer service works for some companies I do not know. Virgin has been taken over by Bell as well so I can only guess both companies work in the same fashion. One thing I'll say to you all, don't go with virgin or bell. If this story shows anything it's that you will receive no loyalty, no customer service and be left out to dry when you need help. I'll be posting this on all my social media outlets, blogs and beyond to make unsuspecting customers aware.

Although VM did resolve the problem it was only after a detailed very paragraph where their initial response was untrue. I've had two phones on their system for many years, on plans that are grandfathered and no longer available to new customers. The problem was that I received messages on my phone as well as email messages that my account was past due and about to be cancelled. I've been on automatic payment for years and this has never happened like this before.
I used their contact menu rather than the phone because I know how bad that can be. The response I got was that I didn't have my account set up for automatic payment and was only set up to pay when my balance got below $5.00. Both of those statements were untrue. Then they described how I could make my payment online but if I wanted them to do it for me I would have to pay a $3.00 convenience fee.
I replied to their letter with my comments in red, interspersed with their bogus claims, and suggested that I should be charging them an "Inconvenience Fee" for the trouble they were causing. Much to my surprise, I got a message that they had applied an automatic payment to my account in less than 30 minutes. But I have no actual response to my message itself.

I've been with Virgin Mobile a few years now. I just switched to T-Mobile tonight because I want to be able to use my phone in Canada (that's prohibited by Virgin Mobile, but allowed with T-Mobile). These are my final thoughts on Virgin Mobile. For general inquiries (account updates/changes, etc) their customer service is adequate. You can tell they're based in some far flung corner of the earth but as long as they can understand, and execute, my request that's all I care. And, for the most part, they've been able to do that for me over the past few years.
For serious problems you NEED to go to Sprint's executive team. There comes a point where Virgin Mobile's customer service is just in over their head. The following Sprint executive team person was a valuable resource to me when I encountered a serious issue with Virgin last year. I bought a $500 phone through the Virgin website and I was charged $1500. Chris not only got the charges erased from my credit card, but he gave me the $500 phone for free. I won't ever forget that. Of course I had to use my talents and abilities to get a hold of him in the first place (Virgin Mobile themselves never would've helped me like he did... but...)
Keep in mind this is a bare bones phone carrier. You do get what you pay for. Or you could say you don't get what you don't pay for. Tonight, I needed my Virgin account number in order to port my number to T-Mobile. That information is seemingly withheld from Virgin customers. There is only way to get that information, and that's to call the Virgin customer service team and ask for the 'account number' department. To me, that doesn't seem like the best way to do business but it is what it is.
Lastly, as soon as I ported my number tonight, they immediately deleted my account. I called them a few minutes after the porting processed and they didn't even recognize my account anymore. It was like I never existed to them. Obviously I'm out the 2 weeks I prepaid 'til the end of the month. I don't care about that... I'm just saying... this is a bare bones operation. People have to understand that. If you want red carpet service from a phone carrier then you're likely going to have pay $100/month to get it.
My wife remains with Virgin Mobile. It works for her and I think that's great. They recently upgraded her to 5 GB/month of data (from 1 GB/month) at no extra charge, just because I asked them if they would. If you don't travel internationally, and 5 GB/month of data is sufficient (for many of us it is) - and $35/month is in your price range, I would have no problem recommending Virgin Mobile to you. They're not perfect. But, again, you get what you pay for. And for $35/month, for the past few years, it has been worth it to me.

Every single month is a nightmare to top up. You add money and your phone won't unlock, so you are forced to sit on the phone with a foreigner that you barely understand for upwards of 30 minutes to go through multiple steps to unlock it. This month was extra special for me, my phone service was cut off a week ago, I IMMEDIATELY paid. The phone service would not restore. I sat on the phone for 30 minutes with a tech trying to unlock the service only to be told a specialist would call within 4-24 hours (that the problem was not my phone but their system). Of course that never happened.
I waited 6 days, called back, Sat on hold for 25 minutes to be told it is a widespread problem, many angry customers, they don't know what's wrong and can't estimate when I'll have my phone back. Nice customer service Virgin Mobile. So, when do I get my $$ back for the service I prepaid for and am not getting? DO NOT waste your time with this company, you have been warned. I'm leaving and they can keep my prepaid $$ as a parting gift.

If you choose to use Virgin Mobile, DO NOT, I repeat, DO NOT purchase the phone from Wal-Mart. If you do purchase it from Wal-Mart, you will receive the worse customer service ever. For instance, I was on hold today for over 1.5 hours waiting to speak to a customer service rep. However, I got tired of waiting and called again from a landline and they picked up on the first ring. As soon as I told them that I purchased the phone at Wal-Mart, I was instantly put back on hold for another 45 minutes. Then, when someone finally picked up the phone, they cannot speak or understand English, and they will hang up the phone on you. This literally happened to me 3 times today, and my phone service is still not working.
The worse decision I had ever made, was to purchase a Virgin Mobile Phone through Wal-Mart. I was supposed to receive a free month of service. However, the customer service is friggin horrible, and they refuse to give it to me. I have a deep hatred for these companies that hire foreigners that cannot speak or understand English. When will these organizations learn that yes, they will get cheap labor. However, the amount of times we need to call back means that they are actually spending more money by having to hire that many more people. Virgin Mobile and Wal-Mart, you're a friggin joke! I will never use Virgin Mobile again! I hope everyone of you will feel the same way!

Virgin Mobile's customer service is insensitive and has terrible wait times when you are on hold to speak to a supervisor or anyone with the authority to cancel the account of a family member who has recently deceased. I hope the CEO responds, I tweeted him twice this evening. I have been waiting for over an hour and a half so far. Customers have to listen to terrible music and an annoying automated "cherry" voice which come in every 5 minutes to thank you for waiting and saying "We will be pleased to assist you as soon as we can." It is just adding insult to injury. Virgin Mobile should be ashamed to offer such pathetic "customer service". I hope others who might read this post seriously consider whether this is the type of service you will receive in your dealings with Virgin Mobile.

I had a bad visit to a retail store where the Virgin Mobile merchant did not handle my upgrade in the way I had requested. I called that day to Virgin Mobile and a member of the retention team spoke with me in regards to a special loyalty plan. He told me when I go to pickup my new phone from the retail store that there would be a pop-up on the merchant's computer allowing him to sign me up with a special plan. No such thing happened. When I told the merchant I had spoken to retention about a special plan, he said he doesn't see anything about that and that I should call them back.
When I called back, neither the customer service rep nor the retention team could find a case related to retention. This shows that you cannot trust promises made over a phone call. I will no longer trust anything relayed to me over a phone call from Virgin Mobile. This means that when I actually do cancel my account, I will disregard any offers made by retention. How can I trust what they say unless it's in writing?

I have had their service for 10yrs and they have gotten worse every yr and I can't take it no longer. Can't talk to a American when you call. Don't understand them. Always cutting out. No bars!!! No service. Save yourself the trouble. Don't sign up with them!!! Going to Boost.

I have had service with this company for almost a year now. I pay $40 a month and they slow my data down after a week. I don't even use my phone much. When they slow it down I can not access the internet because it's so slow. I really need to find a new provider quick.

I purchased outright an iphone 5s, brand new from VM. Had been with VM for several years and at least 3 phones in their no contract arrangement... my account was always in good standing. Went to ghana and they have no international roaming and do not even offer an alternative. Iphone was new and rendered useless to me. Virgin mobile refused to unlock the phone so that I could use it in ghana with another provider... and continue to pay VM for their service, but they still refused to unlock. I immediately canceled my service and my account... never again.

I had an account with Virgin Mobile for 13 years. I decided to get a new phone that they did not offer nor do they have SIM cards so I transferred to another carrier. I had just paid my bill for the month, I cancelled the service three days later. VM refused to give me a prorated refund as they said I used some of the service. I had to file a credit card dispute. Over the last six months they've become increasingly rude when I've called about an issue. Perhaps it was time to get a new carrier as VM was no longer competitive in the prepaid mobile market.

Virgin Mobile has bunch of idiots working in their call centre. I spent three hours in the morning and also spoke with the supervisor name Michelle. She offered me 2 LG G4s 100% credit. Then I called Virgin Mobile back and spoke 4 different agents. 2 were able to find the bill credit and 2 were not. Everytime I called someone from Philippines answers the call and sorry to say that, they just don't care about customers. My god I can't believe the mess up.

ConsumerAffairs Research Team
The ConsumerAffairs Research Team believes everyone deserves to make smart decisions. We aim to provide readers with the most up-to-date information available about today's consumer products and services.
Virgin Mobile USA is a subsidiary of Sprint and offers prepaid plans for smartphones and basic phones. The company operates in countries outside the United States under different ownership. It has been in business since 2002, and the U.S. headquarters are in Kansas City, Mo. They primarily offer unlimited plans, but custom pay-as-you-go plans may be available from select retail locations.
Music streaming: Virgin Mobile customers with unlimited plans can stream music from one of the company's partner apps, including Spotify, Pandora and others, without it counting against their high speed data usage.
Data Packs: Customers who occasionally need extra data but don't need a high-data plan every month can purchase Data Packs from their online Virgin Mobile account. Extra data is available for as little as $5 and is available for one month.
Lost phone protection: If customers lose their phone, they can contact Virgin Mobile to have their service immediately suspended. Once they have a new phone, they can have the remaining service time and data transferred to their new phone.
Additional features: Interested customers can add several features to their phone for an additional fee, including mobile hotspot connectivity, visual voicemail and text-to-landline service. They can also add CallWatch, which alerts customers to calls likely coming from telemarketers, bill collectors or scammers.
International plans: Customers who regularly make calls to other countries can add international service to their plan for an additional monthly fee. Multiple international options are available to meet different customers' needs.
Best for Virgin Mobile is best for parents and budget-conscious customers.
Virgin Mobile Company Profile
Company Name:

Virgin Mobile

Website:

https://www.virginmobileusa.com/#!/