Consumer Complaints and Reviews

I was a little reluctant to order from any NY-based camera store because there are so many scam companies. B&H has a decent reputation, so I ordered some Crucial MX300 drives. They said that the drives weren't available (after taking my order anyway - great stock system!), and then said that I could either get a much-less-appealing deal on another smaller capacity drive or my order would auto-cancel. 23 days later??? They had no problem charging my account immediately, but I either had to CALL or wait for a CHAT SESSION, just to cancel. This is ridiculous and you can usually spot scam vendors by how hard anything is to cancel, or if you can't do it without a phone call, chat, or even more. Some penny-pinching money grubbing owners at B&H are laughing their way to the bank, with your interest!

They called back my shipment in the middle of the way. I asked to customer service about why, they answered two days later something about a problem of verification and money has been refunded to my card (but didn't)!! I said I bought another item just before a few days ago with same information with same card and everything, and added what is the problem with this order now. They didn't answered for 5 days!! My shipment went back to them. My money still hasn't been refunded. In a short way to tell this story: no item, no money, no answer, no idea and wasted 10 days by worrying about my shipment and money. I just want my item. If there is a problem they should give a really good explanation, not only "we had problem with verification, your money refunded." I am really disappointed about customer service.

I have been a loyal customer for 27 years, purchasing over $125,000 in photo equipment from them. I recently ordered the new $2,200 Nikon 105mm f1.4 lens from them. After rigorously testing the first lens, I found the focus was inconsistent, and requested a new version (this is the first of numerous lenses I have purchased and have ever requested a return for). They were very quick to issue a return authorization. The second version arrived in an intact outer shipping box, but the inner Nikon box was heavily crushed and had several labels partially peeled off. I often sell my older photo equipment with original packaging in perfect condition, and I had no idea if this crushed box might have affected the lens. Again B&H quickly and graciously accepted a return for issue of a third one.
The third replacement came today. I closely inspected the outside packaging which proved to be perfect. When I opened it, the Nikon box for the lens was partially crushed, and there were 2 full thickness punctures through the box, as well as other prominent scruff marks. The lens itself appears unblemished, and functions well with preliminary testing. But when I spend this amount of money for a new product, it is discouraging to have it look like it came in a box that fell off a truck. I don't think I'm being unreasonable, but when I pay a significant amount of money for new photographic gear, it should look new. B&H is failing here, and I will no longer purchase from them. I have also canceled my other back ordered orders with them. I am moving on to other sources.

I purchased a special order PC from B&H on Oct 31st and noticed a couple days later that my credit card had not been charged and contacted customer service. The website timed out a couple times and I was not sure it had processed correctly. Customer service not only checked on the order, but repeatedly emailed back to let me know the status (The site also sends a status after the item ships). The PC went on sale a few days later and they corrected the price with no hassle.

I ordered the Canon Pixma Pro 100 from B&H on the very last day of the printer rebate. When I received the printer, it came in an "open" box from UPS. All the peripherals were intact and nothing missing. The only thing missing was the receipt which they sent me by email. Then when I tried printing, all I got was a blank print. Tried everything to get the damn thing to print but no luck. They sold me a defective printer. Had to call Canon to get a replacement. Never again will I ever order anything from B&H.
How do I know I can trust these reviews about B&H Photo-Video?
634,392 reviews on ConsumerAffairs are verified.
We require contact information to ensure our reviewers are real.
We use intelligent software that helps us maintain the integrity of reviews.
Our moderators read all reviews to verify quality and helpfulness.
For more information about reviews on ConsumerAffairs.com please visit our FAQ.

I ordered an item with a promo code furnished by B&H to download software. The promo code had already been used and when I contacted B&H, their customer service basically called me a liar and refused to offer any assistance. That's the last business they will ever see from me and as an IT director for the government who oversees purchasing, it is the last business they will receive from our agencies as well.

I just received my order of these expensive FOCAL CMS 65 speakers. And one is an OPEN BOX. All the cable packaging was ripped open, and its contents missing. Silica dust like snow all over monitor and it was left in the ON position. Stay away from the horrible company and their illegal practices.

Bait & switch/Switch. Cancelled my order stating this product was no longer available when they stated there was five new sealed in the box and then raise the product price from $549.99 to $699.99 and now appear to increase in $$$. Apple ipad pro 9.7 inch 128gb wifi. THIS COMPANY IS CRIMINAL!!!

Purchased a video system for our office. One of the cameras was defective and we contacted B&H for a return (one camera). One of their customer service reps stated they would mail us a new camera and we would need to ship the defective one back - no problem. We waited for a week without a replacement camera shipped to us only to find out with a call on 10-5-16 that we needed to return the defective camera first which is NOT what the customer rep told me. The 1 star review is for poor customer service communication from B&H + the defective camera and super cheap mounting brackets that we could not use when installing the camera. The other 7 cameras seems to be ok.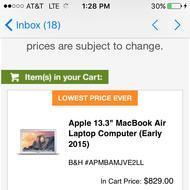 Went to B&H Photo online to purchase a MacBook. I placed it in my cart but did not purchase it. Next morning I received an email regarding the item I had in my cart was the, "lowest price ever!" That was going to be the deal closer. I clicked the link to purchase it, but the price in my cart was still the one from the night before. I tried to call at 2 pm PST but they were closed being in New York. I thought I'll wait til they're open on Sunday. I sent an email though stating it wouldn't allow me purchase for that price even though I was waiting til they opened on Sunday.
Sunday I received a reply. It said, "This was a promotion with a limited quantity. As soon as we sold through the allotted laptops, the promotion was over. Unfortunately we can no longer honor the promotional price." REALLY?!?! Ok I clicked the link 10 minutes after it was sent and I wasn't able to get that price and so I had to wait til you were open two days later... I purchased a refurb from Mac.com instead. They will not be getting any business from me.

There were reports that B&H string along its customers for months at a time by promising that stock will come in but never do. They continue to state that it will be in soon until there it has been several weeks. It's totally ridiculous and messed up.

I made an order for a cell phone recently and had to wait over 2 months. I called customer service to know what was the problem and never told me anything but ship delay and it'll be arriving soon. Waited a week and still no phone. So I made a report to PayPal to see if they could get the company to tell me what was going wrong. Instead of explaining the situation and giving me a option to cancel the order. They just cancelled it without telling me. Then they said PayPal told them to do it. But PayPal said they were just contacting the seller to investigate. So overall I wasted over 2 months waiting for nothing and had a horrible customer service experience.

Fuji XP80 - I reviewed this product and service before but now more has happened. I got a new camera for replacement about a week later that I was quoted. This new camera kept giving me messages to make sure the door was closed. As it is a waterproof camera the door fastens very securely and there is no mistaking whether it is closed or not. It would not even attempt to auto-focus and couldn't even be turned on or off most of the time.
I made a reasoned, calm and polite appeal to a B&H supervisor "Israel" and told him that I would be happy if they traded my camera in for a similar one but not Fuji and that I would even be willing to pay additionally of the replacement and was told the best he could do was to give me a "slight" discount on another camera without any credit for my camera. Bottom line: I have gotten almost no use out of this camera and I will never buy or recommend a Fuji, certainly not recommend their horrible repair system and I will no longer make purchases from B&H.

Ordered a pico projector for an art class. Specified that I needed all the equipment to connect to an iPhone/iPad. Salesman I talked to gave me a bundle price after a lengthy discussion with his supervisor. Projector came without necessary adapters. Called them back and spoke to Blaise who apologized and guaranteed that he would correct the problem and ship out the necessary parts immediately. Parts never came. I called a week later only to be told that the necessary parts which had been promised in the bundle would now be an extra $45. They offered me the "concession" of free shipping, which is what they advertise with any product. I now have extra expenses and it may be too late for use in my class.

I've ordered a new DELL XPS 13, and I've received a refurbished Ultrabook. I called back return department and they accepted to send me a prepaid UPS label and RMA. Returned the laptop, and I was refunded after 1 week, I've lost the exchange fees (I am from Canada). I will NEVER buy again from this company.

I recently put in an order at B&H and 44 minutes later I cancelled the order. I was ordering from Canada so I was dealing with exchange rates. B&H did not process my cancellation for 24 hours which meant the exchange rate changed and I was out $300. It seems to me that if a company can withdraw money quickly they should be able to cancel in the same timely manner. They were not interested in addressing their failings to quickly cancel and reimburse and blamed the credit card company. I think they need to look closer to home and find a better way to deal with international orders. I won't be dealing with B&H anymore.

VERY DISHONEST COMPANY!!! I strongly advise anyone thinking about doing business with this highly unethical company to STOP in their tracks! I purchased a product for them for our school Florence International Film School. The first one they sent me was broken and the second one worked but I could not make it work with the video camera. They kept telling me it was my fault and getting me to buy more products. The technical support guy named Victor knows nothing about video camera and nothing about the product B&H sells. I don't really know why he is working there. When I tried to return both unusable products they jerked me around with all kind of excuses as to why they would not return my $500.00 useless product. Buyer beware!!!

Please read the following if you want a true complete review of a multi-item purchase of just under 1000.00 US$ made on June 24, 2016 at 9:49am. I never previously bought from B&H Photo or did any business with them. I needed a Canon PowerShot GX & Mark II Camera for indoor simple and quick picture-taking. Personally, I do not know much about cameras but my son in law strongly recommended it for the purpose of our family get together. With accessories and combined options I was looking at just under 1000.00 US for all I needed.
Being an eBay and Amazon buyer I searched the web and found the best deal available was through Canon direct. There was a promotion and a savings of $200.00 being offered if the CS connect station was ordered at the same time, but they could not sell to me due to my shipping address was US, but my billing address was in Canada??? This after 1 hour trying to place the order on their website and a call to their customer service dept. Back to the web to find almost all places were out of stock (I WAS LOOKING FOR THE NEWER MARK II VERSION) and even Amazon was saying ships within 2 days of receiving BUT read closer. Amazon site copy paste: "Canon PowerShot G7 X Mark II (Black) by CANON. Usually ships in 2 to 4 weeks. FREE Prime Shipping once available. This is a gift. This is a gift. Learn more..." Please go to Amazon yourself and check it out.
I could not wait so my web search brought me to B&H Photo. Their website claimed stock, gave the same price as Cannon and extended the $200.00 discount as well as free shipping, all the specs were there. Seemed too good to be true so I googled a customer reference review. THIS SITE CAME UP, CONSUMERAFFAIRS AND THE REVIEWS CAUSED ME TO RETHINK EVER BUYING FROM B&H PHOTO. I was scared due to the reviews of this site. I went back to the web and read more reviews from other sites. I found quite a difference and even found one site where I believe the owner, or some exec replies to all complaints online.
Feeling a little better, I went to Google satellites and looked at their actual New York storefront to be sure this was a brick and mortar business. It was and the pics are real, showing a large store, not a hole in the wall operation. Now ready to purchase but still gun-shy DUE TO THE NEGATIVE REVIEWS HERE ON THIS SITE, I went to their web page and their online "Live Chat" service.
So I purchase the unit with an extra Cannon Battery and a couple of SD cards cheaper than I could have got from Amazon as they were having a sale. I followed the shipment online through the UPS website and received the camera and accessories as promised on time and for the best price I could find on the web. I am a satisfied customer and just want to set the record straight, their customer service was great. David **, the live chat guy was quick, polite, straight forward and no misguidance what so ever. The best recommendation I can give is to take the time to write this review and to say with confidence I will buy from B&H Photo again.

To anyone looking to negotiate on price with B&H. In making very large purchases it is not unusual to look for discounts, especially when B&H may not offer the lowest prices and they can still walk away with a profit margin. But after engaging in good-faith with BH on two occasions here is what I've noticed: they will denigrate the products from the other company, then make evasive alternative offers that are not sincere, then put you on hold for a long time - even 5-10 minutes, and finally come back with an insulting offer of a discount, such as about 1%. The lesson is, if you find a better price elsewhere with a reputable company, go for it.

AWFUL CUSTOMER SERVICE. I ordered a small telescope (USD87) from B&H and arrived to the customs in a reasonably time. I paid USD 46 for the delivery cost which is also nothing to complain about. However the item stuck in the customs because of missing digits in HS Code. It was impossible to clear and get the items with these codes. So I contacted B&H for a return actually a recall as I don't physically have them with myself. They quoted me some USD 255 for the return! This was ridiculous. This means my return right is usurped, this is that simple.
As a customer I don't care about company's third party relations or agreements with logistic partners but what I will definitely expect is a trusty and fair manner in each part of the service; this is selling and returning practices. In short don't expect this from this company. Once they sell, they finish the service. This is what they understand from a online customer shopping experience.

These are sleazy operators that should be avoided. I purchased a Sony 128GB M Series UHS-II SDXC Memory Card (U3) B&H # SOSF128GBU3 MFR # SF M128/T that advertised a write speed of up to 100MB/s. When I tested the speed it was only 32GB/s which is much too slow for my camera. Also, when I looked at the properties for this card in Windows it was a Ricoh card. The store said their specs for the card was 30MB/2 to 100MB/s but nowhere is that advertised on their website or Sony's. It was a flimsy cop-out. By the time I discovered all this, I had discarded the packaging. I would never buy from them again. Live chat on their website tech support transferred me from tech support to customer service where they left me hanging. After 20 minutes I gave up.

They don't even deserve one star. I ordered QuickBooks from B&H. Payment was taken on the same day as email to say it's not compatible for UK residents (weird) and could not be sent. They overcharged me and then only refunded part of the money back. Upon asking them to rectify they told me it was due to exchange rate changes or bank charges. The rate was the same at the end of the week as the start. I contacted the bank and they confirmed that no charges had been made by them. I'm reporting them to action fraud and the bank as the explanations they give is not good enough.

They charge to credit card and did not sent to me at all. Here the time is more than 2 months - still I was waiting and then call them. They replied to me. We are out of stock.

After viewing a GOPRO & some other accessories at B&H & deciding to do some additional research before placing the order, I continued to get ads from B&H for up to 20% off the items I was looking at. However, when I would click on the ad, the price was the same. I brought this to the attention of B&H & heard back from their Director of Corporate Communications, Henry **. I sent him about a dozen "screen shots". He claimed that these ads were not B&H's & therefore they were not responsible for the FALSE ADVERTISING??? How ridiculous is that? Who do you think is paying for these ads? As a small business owner, I would love for someone to be out there placing free ads for me. If they are some sort of an affiliate ad where they get a commission or something, then still B&H is responsible for the FALSE ADVERTISING. The Director of Corporate Communications insists these are not B&H's ads?
So BEWARE folks of doing business with B&H Photo. There are mysterious people out there placing FALSE/FRAUDULENT ADS out there with B&H's logo, products, address, telephone number, etc. Mr. ** is adamant they are NOT B&H ads though? Sounds like a Scooby Doo episode. Of course they are B&H ads. It is clear they are FRAUDULENT ADS too. It will catch up with them just like all of the other negative press about B&H has. Simply GOOGLE "B&H scandal"; B&H FRAUD. What do you say, Mr. **? Are all of these court actions, federal prosecutions, scandals, fraudulent activity, scams, etc. also done by "someone else"? Is B&H investigating who is placing these expensive ads on your behalf? Did the same people placing all of these expensive ads also rip people off? In the beginning of our conversations you promised me that if B&H was at fault, you would take care of it & I trusted you.
It is buffoonery to actually deny the screen shots I sent you were not B&H Photos or blame someone else as it seems is common with these other complaint. Your customers are not stupid. Like many of the others on this page, I have done business with B&H for many years & spent tons of money with you all. All of these complaints seem based on the "communications department" actions. Maybe it is time for some new blood in this department?

I received the TV from them in the approximated time I was given and I was happy to finally have the setup I had been looking for. Opened the box plugged tv in and wow the screen is broken. I contact them right away but to my luck they just went into passover holiday and were closed for another week and half. I finally got in contact them and they picked tv up. Time passes and the week deadline passes for the refund to show on my card. Then another week, and I contact them again. They tell me that they did not sell the tv and are doing investigation. I am like ok this must be something they usually do.
I wait and wait and now in third week and my constant contact with them they tell me the supplier told them it was not sold by them. I am pissed because who in the hell would sell it if not them, they delivered it. P.S. It looks like I am not the only one with the issue where they claim the returned tv is not theirs and supplier denies. (Sean of Deltona, FL on Oct. 30, 2015 left a review really similar to my issue.)

I went looking for film on 4/19/16. The advertisement that came up through Google was a multi-pack of 36 exposure film rolls Kodak Porta 400. The price was good $9/box according to the advertisement. I purchased two. Two boxes. I received a big box in the mail, and it had two rolls of film in it.
When I went back and rechecked the advertisement, there was no doubt. The advertisement was very clearly a multi-pack. I brought this to B&H' attention on Twitter, to which their Director of Communications responded that it was obviously Google's fault that their advertisement was incorrect; essentially passed the buck. I filed a report with Google Merchant services outlining the problem. I disputed the charge through Paypal, as the product received was not what was advertised. I filled out a survey with B&H, and someone from their customer service department (not their overlord) did issue a refund and apologize for the issue. So there's the silver lining. At least someone in their customer service department was doing something right.
On 5/18 I received an email from the Director of Corporate Communications, which also happens to be the individual running the Twitter account. He had ALSO issued a refund. We're up to two refunds now, and I still have the property (two rolls of film). I have asked multiple times for an official statement on the film and received back from the Director of Corporate Communications
For the sake of legality, I suppose I am going to have to take it. I have also pointed out that they issued two refunds. The response: "On 5/7 we received notice of your chargeback. We contested it and the funds were rightly returned to us since we'd fulfilled the terms of the transaction fully and completely. On 5/49 under ** we processed your refund. Personally I don't care what you do with the film."
As hilarious as this is, there was indeed a transaction of $18 on 5/7, and it was a credit to my account, not a reversed refund. I have tried to be honest and forthright with this issue. I have tried to get the ownership of the property (film) verified. I have tried to point out that they actually refunded me twice, and ignored because these folks (rather this individual) is incapable of being wrong.
At this point, given their Communications department inability to communicate, I am going to dispute any additional "charges" on my account should they finally decide to correct their stance on whether or not I am correct on their duplicate refund. So now I have $36. $18 of which I didn't start with and 2 rolls of film that only be rough admission now belong to me. I tried to make it even, I tried to make it square. But I'm just a stupid customer, so there you have it.

A month ago I bought a new computer, printer, software package from B&H Photo. They tell you a lot of things on the phone, however they do not tell you anything about the fine print. Once you receive your order, the invoice has all the fine print on the back of it. B&H Photo are a bunch of underhanded crooks. They get your money, then you get to see the fine print when your order arrives and you realize you have been had. The new computer they sent is defective and they weasel their way out of the 30-day return policy by stalling you and giving you the run around. They are nothing better than a bunch of swindlers.
STAY AWAY FROM B&H PHOTO. Please learn from my mistake and deal with Amazon or anybody but B&H. They will tell you how sorry they are about your dissatisfaction, and lie about how they tried to resolve the issue. B&H is a terrible experience, and when you buy a JUNK new ASUS computer from them, you just got double-swindled.

I work in an elementary school and ordered a lip sync corrector for our morning news show. The NEW product arrived, obviously USED. I immediately called to get it remedied. The B&H customer service agent was very reluctant to talk to me and told me that there was "no way you got a used one". The product is white and it obviously had dirty streaks on it, not to mention deep scratches in the plastic. The only reason I am taking the time to write this review is because the customer service agent refused to send a new replacement out until the old one was received. The agent informed me that the return label was in the mail. It has been 3 weeks now and still no return label. The agent left me feeling like I did something wrong and now we are left with a dirty and used product. WE WILL NEVER DO BUSINESS WITH B&H again. Terrible customer service with no respect for the customers.

I've only purchased items from this company twice. The first time, they got the item totally wrong. The second time they sent me a defective item. First time shame on me. Second time shame on you. Whoever was supposed to inspect the item I bought used must've forgot to check that once the SD card is entered, it's stuck. And you can not connect to wifi. It's amazing this place is still in business. It's like the blind leading the blind. I should've reviewed this place before I purchased not one, but 2 items. The reviews on this company are awful. Not sure why they are constantly allowed to do this kind of stuff with zero backlash. PLEASE, DO YOURSELF A FAVOR AND GO TO BEST BUY!!!

I have been a customer of B&H for many years and have spent thousands of dollars during that period. On Thursday April 28, 2016, I ordered Cyan Ink for my Epson SureColor Printer P800. I was very specific and asked the rep to send me the ink for this printer. Online the ink that is listed is for the 3880 printer. In the long discussion, I said I needed the ink for the above printer. But the wrong ink was sent. The ink did not fit, and any attempt to force it would have wrecked my printer. B&H was closed for Passover. I telephoned B&H this morning and tried to get them to give me a refund for the ink. They refused and blamed me for the mistake. I stated that they would lose me as a customer and that given the amount of money that I have spent over the years, they should be willing to honor this request. They refused as did the Manager named Ike.
It is very poor business practice to treat customers in this fashion. And I was both surprised and disappointed. The bottom line is that B&H should have been willing to take the loss of the price of the ink in order to keep a customer satisfied. They were unwilling to do so. They have lost me as a customer. Sad to note that B&H does not seem to care about its customers.
B&H Photo Company Profile
Company Name:

B&H Photo-Video

Company Type:

Private

Year Founded:

1973

Address:

420 Ninth Avenue

City:

New York

State/Province:

NY

Postal Code:

10001

Country:

United States

Fax:

(212) 239-7770

Website:

http://www.bandh.com/