Consumer Complaints and Reviews

I bought a brand new out-of-the-box Nikon D800 camera from B&H and paid top dollar for it because I wanted a product I could trust from a company I could trust. ($2800 to be exact!) Well, imagine my surprise when I checked the shutter release count on the "new" camera and it had over 10 000 s clicks on it already! Need I say more? Yes, maybe just one thing: THUGS!!

I ordered an amplifier from B&H on 12/29/16. It arrived on 1/5/17 - very good delivery time for crossing the country with free shipping! The amp was pretty cool, but it made a buzzing sound, so I called to return it. B&H readily accepted the return and paid the return postage. I had my money back in less than a week. Awesome. Very glad to do business with B&H.

How do I even begin.. It's the absolute worst. I ordered a PS4 Slim Uncharted Bundle on December 28th, paying by an Indian Debit Card (since I live in India). But then my friend told me that he could get it for me cheaper from Dubai. So I emailed them requesting a cancellation and a refund. They replied saying that it's been cancelled and that the entire amount would be returned to my VISA card in 3-5 business days. BUT IT'S BEEN A MONTH AND STILL THERE'S NO MONEY IN MY ACCOUNT.
On contacting them a gazillion times, they keep giving me the same bullcrap over and over again!!! The person says that the money has been returned and that I should contact my bank so I did. Nothing. I asked them for the transaction details and all I got was some useless reference number which could provide no info whatsoever. I asked them and they said they can't do anything - can't provide me any more info and that they don't have the money. WTF??? I kept emailing requesting help but to no avail. Lastly, I sent an angry message, threatening to take this to the authorities and the reply was, "Your emails will be archived from now on. You can take this to the authorities if you want to." I am absolutely horrified. I don't know what to do.

I ordered Platinum Tools EZ-RJ45 CAT6 Connectors (Jar Packaging, 100-Pieces) PL202010J In Stock QTY: 1 Price: $62.26 back in December of 2015. I just started using them a week ago. However, they are not terminating correctly when I go to test the cables that I am terminating. I am getting shorts and failed terminations. I thought that it was the cables. However, after getting some other CAT6 RJ-45 connectors and re-terminating all of the cables, I found that all of the cables passed. Therefore, it is my conclusion that these connectors are faulty and I would like a refund.
When I called to get a refund and to return the product; I spoke with Harry. He spoke in a monotone voice and tried to get me to accept a replacement jar of connectors. I told him that I would rather have a refund. I am not in the practice of sticking my hand in the fire a second time after I have been burned. He went on to exclaim that he has been doing this for ten years. I responded by telling him that I have been in my line of work for over 30 years. He persistently tried to make me think that I didn't know what I was talking about and when I asked for a supervisor he beat around the bush and procrastinated. All, I wanted was a refund. All he kept telling me is that the next jar would work. I asked him if he could guarantee this. He said that he couldn't.
Anyway, after going around with Harry and understanding that he was not going to get a supervisor, I hung the phone up and called back to get to a different representative. When I asked that representative for a supervisor, he too procrastinated and came back to the phone 9 minutes later to tell me that there is no supervisor available. This was my first time as well as my last time doing any kind of business with B&H.

I ordered a Samsung TV on Black Friday 2016. I got it delivered finally Dec 27th, which was already way longer than expected. The TV that I got was broken in one corner. So I sent it back. The replacement finally came Jan 23rd, almost a month later. The replacement was also broken (screen in the middle at the bottom).
B&H has not made any effort to make me a happy customer by either apologizing, or sending me a replacement fast or anything. Will definitely not shop there anymore.
How do I know I can trust these reviews about B&H Photo-Video?
692,060 reviews on ConsumerAffairs are verified.
We require contact information to ensure our reviewers are real.
We use intelligent software that helps us maintain the integrity of reviews.
Our moderators read all reviews to verify quality and helpfulness.
For more information about reviews on ConsumerAffairs.com please visit our FAQ.

I purchased a Macbook from them as a Christmas present but to my dismay it was the wrong one. I tried contacting them to see if I could return the item but they stated they could do nothing due to the fact that it was open. The Macbook was not even used at all and I even tried asking for an exchange for the correct item which was more expensive but they said there is nothing they can do. Will never shop at this place ever again and I would recommend no one else does! Should have done my research on this place before purchasing as they have no concern for their customers and only care about selfish greed.

I wish I could agree with the positive reviews of B&H but unfortunately a chain (in this case the business) is only as strong as its weakest link. I believe customer service rep Danny ** may be this link at B&H. Placing a recent order with B&H online, shipping recognized my mailing address (a P.O. box) from a prior delivery and I saw no need to change it since it still remains my mailing address. However, my packages were shipped UPS and I was not notified. The packages were dropped off elsewhere with no address noted. Starting with the tracking number I had to research this myself and it was only through phone calls that I eventually got this vital information.
I emailed B&H informing them of what happened and remained cordial when mentioning I felt fortunate the homeowner where my packages were delivered was honest enough to turn them over to me. I was shocked with Danny **'s reply where he mentions, and I quote: "You must choose a shipping option that ensures shipment via USPS. Standard and free expedited shipping are not methods that can be used in an order such as this."
Now how in God's green Earth am I suppose to know about B&Hs company policy and how packages are being shipped? I do not work for them. I also do not work for the USPS, FedEx, DHL, or UPS but now I'm being informed I am somehow responsible for this shipping problem. What about my time, effort and cost in tracking the packages down so I could retrieve them? Am I simply Out of Luck if the Homeowner had denied receiving the packages and kept them? B&H has yet to comment on my follow-up email and I now doubt they will. All I can say is Thank God for an honest homeowner and other camera stores.
Updated on 2117375: I recently reviewed B&H with 2 stars noting at the end I haven't received a response regarding my complaint. I am glad to announce I finally did receive a response and would like to now change my review to 1 star. Never have I had a company go to such lengths to refuse responsibility for their error. Unbelievable how they ignore the fact that they provided the mailing address at checkout automatically because I was repeat customer. Unbelievable how I am suppose to be responsible in knowing who will actually ship, how they will ship, and what the shipping policies are. Worse customer service I've ever been forced to endure.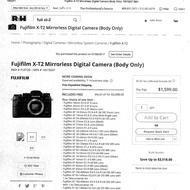 I had 2 confirmed orders for a Fuji XT-2 paid with Paypal cancelled for no reason other than BH did not want to honor the offer. The offer was to buy the XT-2 and you would get a choice of a Fuji lens for free. These folks are dishonest and have poor customer service. I have bought from for years, but no more. I have made contact with the NYC BBB, Fuji USA, Yelp etc. and it seems BH treats many folks poorly as well. They need to go out of business.

I returned an order with the intention to upgrade significantly in price from my original order. Well where the salesperson has sugar and knowledge dripping from their lips, customer non-service could care less. Doesn't matter if it is a small thing that could easily be corrected on the computer or a larger problem. They will not lift a finger past uttering the standard verbiage. Use them if you must, but don't count on help after the sale. And I was planning on placing a much larger order. Doesn't matter.

I bought this printer on 11/30/16 by mail. Arrived 8 days later. I was on vacation and opened the box on 12/16/2016 to install. First ink was missing and there were no signs of protection from shipping hazards like moveable parts were not secured by tape. When asked about the ink, I was asked to go call Brother. Ink arrived several days later and the printer failed to operate. 2 weeks later I am still struggling to have somebody take care of the issue. I bought warranty also from SquareTrade. They don't handle the warranty if the product failed to operate. I need help and consumers please beware of B&H Photo.

I am, Nadezhda **, made an order in the online shop "B&H Photo" for the amount of $578.95. The order was made - 11.07.2016 and at the same time I got email with order confirmation, and information that my purchase was mailed in two boxes. The first tracking number - 1) #** (FDX SAVER Shipping), (for the amount of $34.00). The second tracking number - 2) #** (STANDARD Shipping), (for the amount of $544.95)
As a result, box #1) - I got 11.10.2016 in 1:44 pm and a box of #2) - I never got it. But checking on tracking number (#**) location of box #2), I saw a box of #2) was returned back to the departure point, i.e. in the online shop B&H Photo. It turns out that the Store Administration intentionally returned back (took back in the shop) box #2. This I saw, when looked at the website of the Postal Service, moving (tracing) of the box #2. "B&H Photo Online Store" at the beginning was sent a box of #2 to my address, and then halfway the returned box back in shop ("B&H Photo Online Store"). And money they took me as for the total purchase. Thus shop "B&H Photo" stole from me $544.95. When I initiated the dispute, the shop "B&H Photo" refused to return me the money. They argue that all goods sent me. But this is blatant cheating.
I want to draw your attention to the fact, that the administration of the "B&H Photo" Store knowingly fraud. B&H Photo Store administration took money from me, and then deliberately and arbitrarily, without any reason returned goods (on the halfway) back in the shop and then deceives. "B&H Photo Online Store" a cheater.

I ordered a Red Asus Zenphone from B&H on 12/13/2016. This was a special Christmas gift for my wife. She opened the box on Christmas day to find that the phone would not turn on and even work. I called today 12/26 and was told that this was a discontinued item and could not be exchanged. This company knew that this item was a recall and discontinued phone when shipped. Shame on B&H for ruining my Christmas gift and my wife's expectations of this special gift. This company should have more respect for customers than pull this type of sales crap. I will never buy from them again and will tell everyone that I know about how they operate. Now I had to pay shipping and packing to send the phone back and will now have to wait on the return of my funds. This was a costly learning experience.

I purchased two unlocked phones for an additional $50.00 per phone. When I needed swap out the Sims card the phone was NOT unlocked. I called the store and Stan was no help. He kept insisting the phone was unlocked and if it wasn't he could help me unlock it. If indeed the phone was unlocked why would I need him to help me unlock it. VERY BAD BUSINESS PRACTICE. STAY AWAY!

I contacted them through their live chat about the shutter count of an used camera. They told me 4,395 which is too good to be true at the price shown in the website. I asked for proof; any form of document/test results that will guarantee me the shutter count is correct. (When someone is selling a camera they often do a shutter count test, you can see a lot of people selling cameras EVEN on eBay post screenshots of the result.) They refused to show me anything even though they could easily screenshot it from their system.
Then they told me to call a sales representative for the used department which I called but I did not mention I had spoken to someone on the live chat and asked about the shutter count again. HE GAVE ME A DIFFERENT ANSWER: 13,265. I asked for proof & he also refused to in a VERY NASTY tone. This seems too sketchy, I will never buy a new or used item from a company that just lied to me & provided me with bad customer service. They are just NOT trustworthy enough.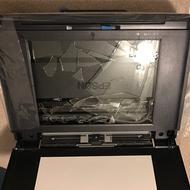 Over the years, I have ordered many items from B&H Photo and thought them to be reliable. However, I will never order anything from them again. I received a new all-in-one printer I had ordered right before I left on a trip. The day after I returned home, I opened it to find that the scanner glass was shattered. They will not refund my money or exchange it because they say it is outside their time limit. Any other time I have order something like this, it has come inside an outer box with padded protection. In this case it did not. So, it appears I am just out the money. They say there is nothing they can do -- well, they could do something, if they wanted or had any kind of decent customer service at all. I will not do business with them again - I will not recommend them to anyone again. They should have packaged it correctly to begin with. This has never happened to me before with any company I have done business with.

So I recently tried to purchase an Acer XB271HU monitor shortly after Black Friday. I noticed they said they ran out and contacted them and they assured me new stock would be in in 7-14 days. I waited 7 days and called in to ask for an update and they said they didn't know. Called back in at 15 days and they still did not know. If the item is not in stock they need to completely remove it and they need to be figuring out when it is coming in. I ended up cancelling the order on the 15th day without hassle and went through micro center for an even better deal (cheaper than B&H video with 2 day shipping). Almost a month later and they still do not have the item in stock... They have been one disappointment after another and I will be moving to other sources for PC components.

I placed my order a week ago on an SSD card they claim to have "in stock." They proceeded to charge me immediately. After 2 days, however, the charge on my account vanished from my account. Now, just this morning, after 8 days, they recharged me. Never once did I get an email, and they say that in order to track my account I need a phone number and matching email. They never asked for my phone number. Tracing the order is impossible, and they haven't responded to any requests to cancel the order. Terrible service, if I do ever receive the package I will return it on that day.

I was a little reluctant to order from any NY-based camera store because there are so many scam companies. B&H has a decent reputation, so I ordered some Crucial MX300 drives. They said that the drives weren't available (after taking my order anyway - great stock system!), and then said that I could either get a much-less-appealing deal on another smaller capacity drive or my order would auto-cancel. 23 days later??? They had no problem charging my account immediately, but I either had to CALL or wait for a CHAT SESSION, just to cancel. This is ridiculous and you can usually spot scam vendors by how hard anything is to cancel, or if you can't do it without a phone call, chat, or even more. Some penny-pinching money grubbing owners at B&H are laughing their way to the bank, with your interest!

They called back my shipment in the middle of the way. I asked to customer service about why, they answered two days later something about a problem of verification and money has been refunded to my card (but didn't)!! I said I bought another item just before a few days ago with same information with same card and everything, and added what is the problem with this order now. They didn't answered for 5 days!! My shipment went back to them. My money still hasn't been refunded. In a short way to tell this story: no item, no money, no answer, no idea and wasted 10 days by worrying about my shipment and money. I just want my item. If there is a problem they should give a really good explanation, not only "we had problem with verification, your money refunded." I am really disappointed about customer service.

I have been a loyal customer for 27 years, purchasing over $125,000 in photo equipment from them. I recently ordered the new $2,200 Nikon 105mm f1.4 lens from them. After rigorously testing the first lens, I found the focus was inconsistent, and requested a new version (this is the first of numerous lenses I have purchased and have ever requested a return for). They were very quick to issue a return authorization. The second version arrived in an intact outer shipping box, but the inner Nikon box was heavily crushed and had several labels partially peeled off. I often sell my older photo equipment with original packaging in perfect condition, and I had no idea if this crushed box might have affected the lens. Again B&H quickly and graciously accepted a return for issue of a third one.
The third replacement came today. I closely inspected the outside packaging which proved to be perfect. When I opened it, the Nikon box for the lens was partially crushed, and there were 2 full thickness punctures through the box, as well as other prominent scruff marks. The lens itself appears unblemished, and functions well with preliminary testing. But when I spend this amount of money for a new product, it is discouraging to have it look like it came in a box that fell off a truck. I don't think I'm being unreasonable, but when I pay a significant amount of money for new photographic gear, it should look new. B&H is failing here, and I will no longer purchase from them. I have also canceled my other back ordered orders with them. I am moving on to other sources.

I purchased a special order PC from B&H on Oct 31st and noticed a couple days later that my credit card had not been charged and contacted customer service. The website timed out a couple times and I was not sure it had processed correctly. Customer service not only checked on the order, but repeatedly emailed back to let me know the status (The site also sends a status after the item ships). The PC went on sale a few days later and they corrected the price with no hassle.

I ordered the Canon Pixma Pro 100 from B&H on the very last day of the printer rebate. When I received the printer, it came in an "open" box from UPS. All the peripherals were intact and nothing missing. The only thing missing was the receipt which they sent me by email. Then when I tried printing, all I got was a blank print. Tried everything to get the damn thing to print but no luck. They sold me a defective printer. Had to call Canon to get a replacement. Never again will I ever order anything from B&H.

I ordered an item with a promo code furnished by B&H to download software. The promo code had already been used and when I contacted B&H, their customer service basically called me a liar and refused to offer any assistance. That's the last business they will ever see from me and as an IT director for the government who oversees purchasing, it is the last business they will receive from our agencies as well.

I just received my order of these expensive FOCAL CMS 65 speakers. And one is an OPEN BOX. All the cable packaging was ripped open, and its contents missing. Silica dust like snow all over monitor and it was left in the ON position. Stay away from the horrible company and their illegal practices.

Bait & switch/Switch. Cancelled my order stating this product was no longer available when they stated there was five new sealed in the box and then raise the product price from $549.99 to $699.99 and now appear to increase in $$$. Apple ipad pro 9.7 inch 128gb wifi. THIS COMPANY IS CRIMINAL!!!

Purchased a video system for our office. One of the cameras was defective and we contacted B&H for a return (one camera). One of their customer service reps stated they would mail us a new camera and we would need to ship the defective one back - no problem. We waited for a week without a replacement camera shipped to us only to find out with a call on 10-5-16 that we needed to return the defective camera first which is NOT what the customer rep told me. The 1 star review is for poor customer service communication from B&H + the defective camera and super cheap mounting brackets that we could not use when installing the camera. The other 7 cameras seems to be ok.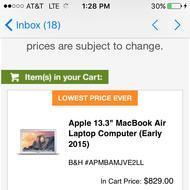 Went to B&H Photo online to purchase a MacBook. I placed it in my cart but did not purchase it. Next morning I received an email regarding the item I had in my cart was the, "lowest price ever!" That was going to be the deal closer. I clicked the link to purchase it, but the price in my cart was still the one from the night before. I tried to call at 2 pm PST but they were closed being in New York. I thought I'll wait til they're open on Sunday. I sent an email though stating it wouldn't allow me purchase for that price even though I was waiting til they opened on Sunday.
Sunday I received a reply. It said, "This was a promotion with a limited quantity. As soon as we sold through the allotted laptops, the promotion was over. Unfortunately we can no longer honor the promotional price." REALLY?!?! Ok I clicked the link 10 minutes after it was sent and I wasn't able to get that price and so I had to wait til you were open two days later... I purchased a refurb from Mac.com instead. They will not be getting any business from me.

There were reports that B&H string along its customers for months at a time by promising that stock will come in but never do. They continue to state that it will be in soon until there it has been several weeks. It's totally ridiculous and messed up.

I made an order for a cell phone recently and had to wait over 2 months. I called customer service to know what was the problem and never told me anything but ship delay and it'll be arriving soon. Waited a week and still no phone. So I made a report to PayPal to see if they could get the company to tell me what was going wrong. Instead of explaining the situation and giving me a option to cancel the order. They just cancelled it without telling me. Then they said PayPal told them to do it. But PayPal said they were just contacting the seller to investigate. So overall I wasted over 2 months waiting for nothing and had a horrible customer service experience.

Fuji XP80 - I reviewed this product and service before but now more has happened. I got a new camera for replacement about a week later that I was quoted. This new camera kept giving me messages to make sure the door was closed. As it is a waterproof camera the door fastens very securely and there is no mistaking whether it is closed or not. It would not even attempt to auto-focus and couldn't even be turned on or off most of the time.
I made a reasoned, calm and polite appeal to a B&H supervisor "Israel" and told him that I would be happy if they traded my camera in for a similar one but not Fuji and that I would even be willing to pay additionally of the replacement and was told the best he could do was to give me a "slight" discount on another camera without any credit for my camera. Bottom line: I have gotten almost no use out of this camera and I will never buy or recommend a Fuji, certainly not recommend their horrible repair system and I will no longer make purchases from B&H.
B&H Photo Company Profile
Company Name:

B&H Photo-Video

Company Type:

Private

Year Founded:

1973

Address:

420 Ninth Avenue

City:

New York

State/Province:

NY

Postal Code:

10001

Country:

United States

Fax:

(212) 239-7770

Website:

http://www.bandh.com/