Consumer Complaints and Reviews

I was called by Spectrum regarding a "Special Promotion", and boy is it "Special". They offered lower rates & a contract buyout. They are either STUPID or INCOMPETENT. I have sent my paperwork in TWICE, second time by CERTIFIED MAIL. My receipt came back to me THREE WEEKS ago, they verified it, now they say they never received it. I think we should file a CLASS ACTION LAWSUIT against them.

Now that Spectrum has acquired Time Warner with their ad stating that internet speed will be 60 Mbps and that there will be new packages available to their customers is misleading. My current package from TWC just increased by $22 just before the service was supposed to migrate over to Spectrum and of course when you call to complain they try to tell you what a great deal you are getting compared to their list price for the same package and when you tell them that they are advertising the same service for less money they tell you that is only for "new" subscribers and some line about they don't do contracts. If they don't do contracts why do they state the package is good for 12 months? Also they are saying that the lowest internet connection is now 60mps, no mine is still at 20mps or less. All I see is a price increase with no increase in quality of their packages.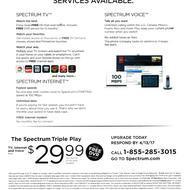 Our ISP used to be Brighthouse. When it switched to Charter, we started getting bi-weekly offers in the mail about the triple play offer they have. I keep stuffing them in my file cabinet and planned on calling them eventually. This week there is a time sensitive notice on the offer. Their system mailed me these "Upgrade" offers with my name, mailing address, and made statement that the "Upgrade" offer was valid to me. All I needed to do is call the 800 number and I could "upgrade" today... Great I can combined and save, although I don't NEED a phone line, and I lose a few channels of TV. It is enough in savings to justify and I get to simplify my bills. When I call, I am told with taxes the triple play will be $110 a month.
When it came time to order the service their system calculates my exact location and local ISP choices. This is when they then decide to give me the short end of the stick without the benefit of lube. Even though the time sensitive offer with my name, delivered to my address, I am a current customer, and the words "Upgrade" are given... The offer given is not valid for customers in my location and the triple play will cost over $160 after taxes!!!
I was a happy customer until this call. Now, I feel marginalized because I don't live in an area with overlapping ISP coverages. The package doesn't even compete with the combination of internet I have with them and my current TV package I have with another company even after both no longer are in promotional time periods and my TV package offers more channels. Why would I ever switch? It's aimed at duping those that do not shop for services in to over paying for equal or, actually in my case, less programming for the price. I respected Brighthouse and how they dealt with their customers. I am not happy with Charter at all.

TWC was bought out by Spectrum here in the KC area. I called to see if there were any options to lower my bill and I was informed that no, I had the best deal available. A month later I received my bill and it was $20 more, with no services changed. I called to ask why the bill was more and was informed that my promotion had expired. Why wasn't I told that a month earlier or even notified in an email that my promotion was due to expire? Just because you're new to the area doesn't give you the right to screw over your current customers. I had to call again to find someone to help improve the rates and even then, it wasn't much better. Buyer beware! Keep track of your bill!

When I called to customer care and got a commitment of refund of my charges. But later I see the account has been deactivated and I had to pay the whole amount (~ $123) to proceed further for anything.
How do I know I can trust these reviews about Charter Communications?
718,469 reviews on ConsumerAffairs are verified.
We require contact information to ensure our reviewers are real.
We use intelligent software that helps us maintain the integrity of reviews.
Our moderators read all reviews to verify quality and helpfulness.
For more information about reviews on ConsumerAffairs.com please visit our FAQ.

Spectrum took over for Time Warner as of Jan. 2017. I previously paid $53 a month for high speed internet 50 mbps. I received a bill in Jan. charging me $68. I called and asked why I was being charged $15 more a month. They informed me my bundle with Time Warner had expired and I was now being charged the new rate. I informed them I was not paying $70 a month for just internet, I would go somewhere else. They proceeded to put me on hold for several minutes and came back and told me I could go get a new bundle for $49.99 with a higher speed of 60 mbps. The only problem was I would need a new modem cause the current one I had wouldn't work at that speed, they would have to send me a new modem. I said okay, change it then and send the new modem, I would hook it up myself.
I received the new modem and hooked it up, I was constantly getting knocked off the internet, I had to call them 5 TIMES because they still didn't remedy the problem over the phone. Finally, they told me it may be the modem and to take it back, so I did and exchanged it for a new one. That seemed to solve the problem. I was currently having my bill paid automatically thru my bank for $53. I didn't change that until the March billing. There should have been a $6 credit on my account. I got my bill in February and they were still charging me the $68. I called again and spoke to a CSR and he told me that was the charge and it couldn't be changed. I asked to speak to a supervisor but he transferred me to the resolution dept. instead. I told him what happened and he informed me the CSR I had just spoke to was incorrect, I could get service for $49.99 and he would change it, I should have a credit on my account.
All of the Reps I spoke to sounded like they were in India, very hard to understand. Then in March I got a voicemail message about my "past due" bill, they claimed I owed $118! I made ANOTHER phone call. The CSR I spoke to this time told me I had a charge for a service rep coming out. I told him I never had a service-person to my house, I hooked it up myself. So he gave me a credit of $20 and I still owed over a $100! I asked to speak to a supervisor AGAIN. He AGAIN transferred me to the resolution dept. I spoke to a gentleman there and told him AGAIN what happened and he looked at my account and fixed it and told me I was only going to owe $49.99 for March.
Once I hung up I thought about it and I wasn't credited for the extra $6 I had paid. I decided I wasn't going to call AGAIN and get a run around so I just lost $6. I will see what my bill is like in April, if I still do not have a corrected bill, I will find internet service with another company. I thought Time/Warner customer service was bad but Spectrum's is horrendous. If you can, stay far away, find another provider.

Charter Spectrum is not updating their Primetime Free service. This happens a lot. When we call them they have so many reasons for this but none of them are valid. The first thing they try to tell us is that it's our equipment but when I tell them it's happening to everyone, then they say it's the company they use who isn't updating it. I've asked them for the number to that company and they give me a number but when I call that number that company does not have anything to do with Charter Spectrum.
We are also told that it's a free service so they can't credit my account. We tell them it's not free as it is part of the package we have and we pay dearly for it... over $160.00 every month!!! We don't want a credit we just want it to work! We would switch carriers in an instant but unfortunately they are the only provider in our area. This is just one of the many of the ongoing problems with Charter Spectrum and since Spectrum was added it's gotten worse. They spend so much money on advertising when their customers are clearly upset about so many issues as noted on this site. I hope someone at Charter Spectrum is reading all these complaints and will do something about it. Thank you.

I had gotten a package deal (tv, internet, phone) while they were still Bright House in Oct; after they changed over, I wasn't able to pay January bill and was charged for Jan/Feb with a late fee. I was only able to pay $100 at the time in Feb about a week after the billing date; 6 days later services were disconnected. I called them up to reconnect and paid the $144 I owed and told them I only wanted to keep internet and to upgrade. The woman on the phone told me my services would be $64.99mo including the tax and I would be billed every month on the 22nd. My online statement at the end of Feb said I owed $83 but $0 was due by 3/6/17. I figured they prorated my bill and only charged me for the 3 services in Feb for the time before changing. I could not make out heads or tails of my so-called prorated bill.
Now, they are expecting me to pay $153 on 4/6! The operator I spoke with today said that's the $83 + the new month of $69.99 with the computer generated due date of the 6th. Somehow these crooks at Spectrum can't count and up your bill and no one will agree on a price. The extra $5 is for wi-fi she said. There is NO ** way I am going to pay $153 for slow-ass internet service. Funny, a friend of mine dropped them too. I hope they lose all of their customers and go out of business like Time Warner.

Charter price gouging. I was locked in a promo for 12 months 49.99 started 1/20/2017. This month they increased it to 54.99 which has never happened during my 30 yrs being with this company. Once you're locked in the price never change. I've gotten different prices within the last 6 months, they're angry because people turning in cable boxes and only using Wi-Fi because people using fire stick and now they're overcharging for internet to compensate for cable but something always come along that's better. When you treat customers bad the company loses. This company need to be reviewed thru CFPB. They discriminate against people when they cancel services.

If it's not broken don't fix it. Spectrum drove TWC to dump. Any other Time Warner customers wondering why their bills spiked since Spectrum took over. Having outages? Spectrum cut down our entire street from the grid today. I watched them do it. 3 service trucks cut and collect wire from the poles as my service went down. I called Spectrum, first call India lady directed my call to nonexistent number. Go figure. TWC # didn't work. The next person told me they are rewiring the entire grid to increase speed by 1mb. Is my physics off? Electricity only travels so fast through a medium. It wasn't broken and didn't need fixed.
No warnings that everyone will not have internet, TV, phone. I know 3 people have security systems down police out for false cut signals. I know an entire call center is closed. Spectrum doesn't know when it will be complete to restore our services. Would have been smarter to run the wire before you tear down the old. So now I'm paying double all fees to fork out the money for worthless changes. $10 charge for my own modem? Grandfathered Time Warner charges and plan? I paid $34/mo. after taxes for 6mb. Now I'm paying $70 a month. Guy hung up because he couldn't explain how $36 extra is being charged, couldn't answer when we'll have service, and why I'm being charged $10 to use my own modem.
I'm better off without internet since Spectrum took over, at least I know what to expect. Not fumble a working system into turmoil. Worse yet At&T replaced wire 2 years ago, but still can't supply service down our street. Why are they on the street if there are no customers because they can't supply us service. 2 years to run wire people can't even use.

I had a problem with the TV, called Charter who sent out a tech. The tech quickly fixed the problem. Later when I tried to access Amazon Prime and Netflix, it wouldn't work. I called Charter because it had worked prior to the tech coming out. He had changed some wires on the back of the TV. When turning on the TV the letters HDMI1 are now displayed on the upper left corner of the screen. Prior to the repair HDMI2 was displayed. The first time I called I was shunted to a couple of different reps the last one saying it was a problem with the TV and gave me a number to call Panasonic. I called Panasonic and they wanted $10 to talk.
A couple of weeks later, still not being able to access Amazon Prime and Netflix, I called Charter back again. This time I was handed off to 7 (seven) different reps, and finally told that they would send out a tech for $45. It worked prior to their "repair" and doesn't since their repair. Seems like it should cost me nothing to get it back up and working. Not happy. Am going to go with another company who I expect to install their equipment and have everything up and working. Charter is losing money on this.

This has been by far the worst experience ever! I had Frontier (Verizon) originally then Spectrum offered me $500 to switch, they stated that it would take up to 6 weeks to receive a check in the mail. After the time expired I would call in periodically to check the status on my "Buy Out Check" and they would lie, hang up on me, or tell me my check is on the way. Keep in mind I have to pay Frontier (Verizon) for cancellation. Each representative I spoke to had a very nonchalant and very persnickety personality. I never received my Buy Out Check and I was forced to switch back to Frontier and pay off the debt I owed. I would recommend Spectrum to anyone!

I continue having TV outage problems almost weekly. My TV goes to "No Signal" then I get their blue background excuse screen. I've had the repair tech here so often I'm on a first-name basis with him. 'Whenever' the service returns it takes many hours - sometimes days - for the programming menu to repopulate. Of course they charge IN ADVANCE for their so-called service so I'm stuck with having to wait until their equipment starts working again. I initially signed up for their DVR/Internet/Phone package and found out quickly that I was without a phone when the internet was down. I called to cancel the phone service and they smugly informed me that my bill would go up because I 'broke' their package.
I am a senior citizen and truly resent having to do my own tech work with over-the-phone instructions. Unfortunately I'm in a new subdivision where I am VERY limited in my choice of service. I've had to contact them so many times of late that I added their phone number to speed dial. These mega-giants should never be allowed to combine because it wasn't until they did their last merge that most of the problems began. DON'T BUY THEIR SERVICE, YOU'LL TRULY BE DISAPPOINTED. I will admit though, they're loaded with excuses.

Earlier I was with Time Warner. I never had any problem with them but recently they changed to spectrum. First of all they don't have low budget internet plan for student like me. However, they keep raising price without informing you. When you asked them about notice, they come up with argument that, they mentioned in previous bill, I never understand how anyone, who went for paperless bill, bother to read online detail bill. We just worry about final amount which should be remain same at end of month. They don't bother to send separate email for that, however they keep sending worthless promotion mail... If I have any option around my location... I would prefer to go with other provider rather than Spectrum.

When we had Bright House Networks as our internet provider, we enjoyed their services. Spectrum took over and they are absolutely HORRIBLE. They mysteriously up your rates, give false information over the phone, make promises for supervisors to call you back and they never call back. Every phone call to resolve excessive charges is at least 45 minutes on the phone and you get nowhere but hung up on and asked to wait when you call back. Get some supervisors that care about customer service and train your staff with correct information. I am so frustrated that I want to cancel services and dispute the charges with the credit bureau because at the rate I am waiting to speak to a supervisor, it's going to take them another 30 days to get someone on the phone. Get the program together Spectrum and do right by your customers.

I only have internet service through Spectrum so they jack up the price. I pay nearly $70.00 per month for 60 Mbps. I called them to lower my service to 15Mbps in order to save a little money. Most households can do just fine with only 15 and rarely, if ever, need 60. I was told they only offer 60Mbps. This seems shady and should be illegal. What a ripoff, makes my blood boil every time I pay the bill. If you have options, seek out a better and more honest service.

Spent 25 minutes talking with 3 different people including a supervisor at Spectrum. I called to cancel my phone as I do not have a landline anymore and didn't want to continue to pay the $19.99 a month for the service. I also asked to change packages and go from Gold to Silver - another $19.99 a month deduction because we don't watch those channels.
First rep, changed the service and then transferred me to another rep. The young lady was incredibly rude and refused to change my service. Finally spoke to a Supervisor and he continued to push for the upgraded package as well. So frustrating to have to deal with that kind of sales push when I repeatedly told them what I wanted. I will be looking for other options.

I've never and I mean never had my service cut off but this morning I woke and sure enough I had no service. 1st off I had a 40$ increase on my service which I had no knowledge of until I called Spectrum because 2 of my boxes were not working. I was then told they couldn't fix it until I paid a past due amount of 41 dollars. I explained I had no knowledge so I was told I would get a credit. 5 days later my service was shut off and they have no knowledge of this credit being given... The escalate person was nasty and rude. For 240 a month I can get better service. I'm done with Spectrum.

I submitted a contract buyout form to Spectrum on Feb 7, 2017 and waiting the expected 14 days. On Feb 21st, I called again and was advised that there was not a "code" placed on my account to allow me to participate with the contract buyout, so I had to wait another 3 days for the code to be applied to my account. (That took another 3 phone calls). On Feb 24th, I resubmitted the contract buyout form and again waiting the expected 14 days.
When I called today (March 14th), I was advised that they would not be mailing the payments until the end of the month. I was then advised that it takes anywhere from 4-6 weeks to be compensated for something that their web-site clearly says takes 10 days. In the meantime, Dish has already taken out their early termination fees (almost $300) and there is no one at Spectrum who seems to care enough to escalate this situation any higher. I'm so disgusted with this whole process. Contract Buyout -- A JOKE. I might as well just go back to Dish.

Spectrum recently took over TWC here in San Antonio. It has been a nightmare. Our bill went from 170 to 205$ a month. We were told the only way to lower the cost was to remove channels, so we did. Now we have basic cable and internet. Our internet was supposed to be 5 dollars a month. After going to basic cable they raised the internet cost so our bill is again at 205 dollars a month.
Trying to speak to customer service is a nightmare of its own. They clearly care very little about customer retention and more about money. The customer service rep was rude and stated nothing could be done short of lowering internet speed. First, the internet speed we are supposed to be getting is less than half, and if we go to a lower speed it will be like no internet.
Also, I work for a big box company and every day we get people in who are fed up with Spectrum's drivel. No one is billed what they are told initially. The bills are always a lot higher. Plus the so called techs they send out are telling people they have to buy new televisions, because Spectrum's equipment only works on new TV's. What a load of BS. If you are thinking about going with Spectrum watch your bill because it won't be long and you will be like the rest of us. Unfortunately where I live it's Spectrum or AT&T. Geez how much money are they putting into the pockets of our representatives? I believe as someone mentioned in an earlier post, it's time for a class action lawsuit. Spectrum is full of lies. Here's a little more. The internet is so slow right now I'm having trouble posting this review.

I have been without any service since March 8th at 11 am. We had a horrible wind storm come through Michigan, which I understand a lot of people were without power and other services. My problem is that I work from home and have to use the internet entirely. I have called Charter/Spectrum 5 times now and could not get through to a live person 3 out of the 5 times. The other times they offered no information. I need to have an ETA of when services will be restored. I'm sure that they won't let me subtract the money off of my account for time lost from their services being down. I am extremely frustrated that no one can give me any kind of answers. I am literally stuck with this cable company because there are no other providers in my area, which is totally unfair. I need help!!!

This company recently bought out Time Warner Cable. Horrible experience with this group. It took 4 times calling just to get them to tell me they need to send out a tech service guy to fix my problem. Then the guy is a no-show at my house, so I call back just so they can tell me he went to the wrong house! On top of that it was too late for him to come back and I would have to reschedule two days later for him to come again! Incompetent, unresponsive, and fully do NOT have the customer in mind. Horrible company...

I'm sitting here thinking oh my god what the hell am I gonna do. No good cable companies anymore. Now with Spectrum they are the absolute worst. They took over Bright House which I never had a problem with and now I have a problem with Spectrum daily. Higher prices, lousy service, don't care and now I'm here watching my TV service reset, reset, reset. Can't watch anything. What the **. This is highway robbery and company is not paying attention to the customers and they don't care. They don't care one bit.

Spectrum is the worst of the cable companies and need to be stopped by the federal government. They misrepresent, change terms, and are scrupulous in business. For example, I recently signed up from the webpage, but when I went to push the button, a screen pops up and notes that I should call their sales office, and I am unable to get the special, because they set the webpage to appear different to me, so the special was no longer available to me. After talking with them they say that was an offer no longer offered. Really, on the same day that it was on their page.
More recently, we change to Spectrum because we were force to because of the time warner purchase. The service is not as good and the available channels are not available now and they said the change would be $60 more a month. Really, $60 more for less channels. Many people will be happy when this greedy cable company goes out of business due to lawsuits of bad business practices. I will be changing my provider soon.

Customer service is horrible. They lie and pretend that they can't take payment arrangements when you call and speak with certain people. They claim to not be able to accept payment arrangements anymore since January. If that is company policy then why is everyone not following it??? How in the world will they keep their customers!! This place is garbage.

I've sign up for Charter services three times within the last ten years during which I was promised service improvements were made each time. I was dramatically misquoted on prices, guaranteed my first month would be free on one occasion but was not. I even asked questions to be sure and the representative guaranteed free first month. He even told me that if I received a bill including the first month just to discard it because that would be corrected when I made my first payment. It was later explained that Charter has "never" offered a free month of service when I about my bill. Internet service hardly worked sometimes for an entire day at a time. Cable cut out frequently and the last time I was given a phone number, asked what jack I wanted the phone hooked up too by the installation person but it was never connected to any jack in the house (I tried them all) and l was unable to use service but was still charged.
When I told them about it they said "out records show the line is active" and did not fix it. I had to physically return all equipment to office in order to cancel service. They continued to bill for services until the equipment was returned even though the actual service was no longer being received. After I returned all equipment and received receipt I was called several times and asked to return equipment or I would be charged. Even after calling a representative and explaining it had already been returned and I received receipt. I will NEVER use Charter services again no matter what they have promised and would strongly discourage anyone from using these services.

I am completely frustrated with Charter Spectrum. They are CONSTANTLY going up on my bill all the time and I have to spend at least an hour or longer trying to get it back to the original rate. This seems to happen every few months even after I am told I am not signing up for a promotional rate. During the whole time I have to be on the phone with them trying to correct the amount I am being charged. They are trying to cross sell me on all their products. I am going to look into other options. Their sales department calls all the time as well trying to get me to sign up for more products with them. I block every phone call I can from them. My frustration with this company has been going on for years.

So, we get our new bill, as our old promo with Time Warner was coming to an end, it went up $40+. First of all, we have had Time Warner for 4 years and customer service was amazing; every time our promo was coming to an end, they would rebundle us and our bill never went above $115 for cable, internet, and phone - taxes and fees included. Spectrum, not only has nothing comparable, they want to charge us 45% more for LESS not including taxes and fees because "they don't have access to that information". After being on the phone with customer service for 30 minutes, their only argument: "we don't have contracts". They refused to lower our bill, and when I said we are going to look around because this is literally insanity, they didn't care and told us we'll be locked into a contract some place. I said basically, "no contact means you can jack up our prices whenever you want." They're like "well our promos change all the time."
Bottom line, they don't care about their customer retention. They don't care if you leave. They are horrible and extremely rude and condescending - I actually had the jerk from customer service talk over me and talk down to me. I had to put my husband on the phone to keep from flipping out. When we can find a better company we will switch. They have the monopoly and this is disgusting business practice. I'm appalled. I want Time Warner back. Their customer service was amazing.

When we moved the beginning of February, we got suckered into saving some money by changing from Directv to Charter Spectrum. First of all, you get what you pay for. Second, it ends up not being much cheaper. It doesn't matter, I am so so sorry I ever left Directv!! We never had any issues with recording shows and playing them back, we never missed any episodes. With Charter, it's ridiculous! We have had it a month and 60% of the time either a show doesn't record or it just won't let you play it back!! The remotes don't work half the time, the picture freezes, and when you call to complain, their excuse is something about a new programming guide is causing glitches and they have absolutely no idea if or when it will ever be fixed!!! The agents are complete idiots on the phone, & I wish I would have read these horrible reviews before I wasted a month with this pitiful company!!

I have been so angry with Spectrum since the switch. Service is no different from Time Warner but their customer service is WAY worst than Time Warner. When I got rid of my cable and phone, only keeping my internet, they messed up my bill and didn't prorate my bill correctly. I had to call 3 times before they fixed it. The first 2 times they kept hanging up on me. My promotion ended after Spectrum officially took Time Warner.
I called to downsize my service and was told my internet would be 59.99 for 12 months. This was back in November. After the issues with my bill when I downsized, I got two bills for 59.99 and then today, I go to pay my bill and it increased by $5. I was never notified. Thinking it was a mistake, I called and they basically said "Yeah your service has increased." Then lied and said I was notified.
I was never notified, this is my first time seeing it. First, they try to steal money by messing up my bill. Then they offer a rate at Spectrum, turn around and increase the rate, not tell me in advanced and then have rude customer service. I though Time Warner was bad but Spectrum is just the worst. I am switching cable companies, this is ridiculous. Consumers should have to go through such bad service and horrible customer service.
Compare Cable & Satellite TV Providers
Charter Communications Company Profile
Company Name:

Charter Communications

Year Founded:

1999

Address:

12405 Powerscourt Dr

City:

Saint Louis

State/Province:

MO

Postal Code:

63131

Country:

United States

Website:

http://www.charter.com/