Consumer Complaints and Reviews

So I've been with Time Warner for many years and have always been happy with their tv and Internet services. Last month when they became Spectrum I got my most recent bill and it had gone up by $30 with no good explanation. I was set to move in a few days and thought well maybe I can get a discount if I switch services to my new place. What a mistake that has been. I've had to call in multiple times to fix multiple issues. I took back my old HD DVR boxes and find out they don't offer the advanced DVR anymore. It's like how it was 10 years ago. I keep having Internet failures.
The CSRs I speak to on the phone have no clue what's going on, tell me the wrong information. It's just been one hassle after the next. The main reason I wanted to stay with what used to be Time Warner is because they are the only ones who offer the Music Choice channels but it's not worth it anymore. I will not pay more for an archaic service so I'm done. Going to get ATT hooked up asap. Sad that a once great cable company was bought out turned into absolute **!

Charter front bills their service initially then comes in and back bills for their services. You end up paying double for services not received. I agreed to the $29.99 cable and internet package. My monthly bill $130.00. The SECC needs to look into this company. They are evil. Bernie Madoff evil!

All week every week Charter's internet is constantly out and the TV disconnects constantly and cuts you off while trying to watch a movie you paid 6 dollars to watch. Their service is horrible. It's a waste of money. We will be cancelling all services and switching to better high-speed service.

Time Warner Cable is now Spectrum Charter Cable, and it already sucks!!! First, my bill went up $10.00 with no additional channels. I haven't checked yet if I have less channels yet. Hopefully not!!! Then I received a channel line up printed on a cheap piece of paper, in microscopic print, organized in order of channel numbers, which are different in every location!! How stupid is that? You can't even find anything by the name of the channel!! Then as of today the video and audio on cable is HORRIBLE!!! The sound and the video keeps getting stuck, becomes blurry and audio keeps getting stuck and words are just swallowed!! It really sucks and I talked to a few people that are located pretty far away from me. Far enough to have different numbers for the same channels, and they all said the same thing.
The quality of cable SUCKS!!! I saw the reviews for "Charter Communications", which is now "Spectrum Charter Communications" or Entertainment, and they have a one star rating!! That's horrible!!! No wonder they just call it "Spectrum" now. Don't want to mention "Charter" because all reviews SUCK from every state!!! So, we are paying more for worse quality service!! If this continues, FIOS here I come!! And so will a lot of people!!!

WORST SERVICE EVER! For three months, my bill has gone up - not because I asked for more services, but because THESE PEOPLE ARE INCOMPETENT. Today I got a bill for $294. Yes, that is correct - almost three hundred dollars. WTF. WORST SERVICE EVER!!!
How do I know I can trust these reviews about Charter Communications?
611,656 reviews on ConsumerAffairs are verified.
We require contact information to ensure our reviewers are real.
We use intelligent software that helps us maintain the integrity of reviews.
Our moderators read all reviews to verify quality and helpfulness.
For more information about reviews on ConsumerAffairs.com please visit our FAQ.

This company doesn't care about its customers in the least bit! I missed a day of work due to a cable internet outage and Charter offers a measly $10 credit! Every time I call customer service it's a negative outcome. The outages are getting more frequent and Charter representatives store no concern all.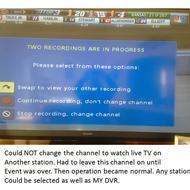 I wanted to record a football game and a NASCAR event on Sunday. They were both occurring about the same time. I wanted to watch them later that night. I did want to watch another game while those were being recorded. Once you turn on your TV and spectrum box you can only watch one of the two stations where the recordings are taking place. No other channels are available for viewing until the recorder has stopped. You get a popup that tells you about your options. Pretty terrible feature if you ask me. Charter knows about the problem and is working on a new box.

Charter says for both Tv and Internet you pay 29.99 but after having them install the cable it went to $115 dollars. Please on your commercial let the public know that they will pay more. Charter has hidden fees. Don't be fooled. It's not 29.99 as they preach and sing.

Just when I thought no one could be worst than Time Warner, Spectrum comes along and takes over Times Warner, and they are so much worse than Time Warner. The internet service is horrible, and when you contact their customer service (which by the way sounds like you are talking a million miles away, and it does turn out that their call center is in Philippines), even they admit the problems and poor service. They really have no solutions other than the typical reset which only lasts a day at most. In fact, I have to reset modem every other day and even that doesn't really help. They have no real answers or solutions, and just want you to accept it the way it is. Sorry example of a company or service.

We have been with Charter Communications for almost a year now and I have nothing good to say about their service. All we have provided by them is internet but I am very disappointed. We have an outage at least twice a week in my home. I am a full time college student online as well as a mother to two girls, so when I'm not performing my parental duties I am pushing to get my assignments done and submitted in a timely manner. Many of my assignments have been late NUMEROUS times due to the lack of internet that we face all of the time.
Also, we run Netflix through our PlayStations because we do not feel the need to pay for ** cable service through this same company and most of the time we are unable to watch anything on Netflix because of spotty internet service or absolutely no internet service. I feel as though when us customers spend more time without internet than when we actually have it, we should be discounted for it. It is absurd that we are paying $40 a month for this ** service when we can barely get through a whole show on Netflix without losing internet connection or when my college assignments are late because I do not have internet connection. I have never been more unhappy with a service provider before!

They send out these 29.99 offers but it is really written in small print that each feature is $29.99 and it goes up to more than $100 for just basic TV and internet. Total scam. Who needs a phone nowadays. It's laughable. It's the end of cable. Just get apps online and forget about TV or Cable. They deserve to go out of business.

My experience with Charter Business for internet has been uneventful until I added a phone service. The sales dept messed up the order so that it included cancelling internet service. When the installer came out, he informed me that he was disconnecting our internet. I was on the phone for 1 hour with 3 different departments before they finally fixed the problem they had caused.
The people I spoke with generally told me they couldn't help me. If I had not put a lot of pressure on them this would not be solved. Their main concern seemed to be explaining why they couldn't help me, and defending Charter's ill-conceived operating procedures. One person told me that it wasn't easy to correct this problem because Charter wants to make it impossible for customers change their minds on a whim. At the end, when I told them I had lost more than an hour of work time, they offered me a $10 credit. This is a large company, with a corporate culture of disregard for customers. If anything goes wrong, you will regret choosing Charter Business.

I've had cable since leaving my parents home 20 years ago and have never had such terrible service. Every night it cuts out which is annoying when recording dvr as every show has a break in it. It's more than inconvenient since I run my business from home and the Internet goes down, it's inconvenient that my mother's phone modem has been replaced 3 times and still the phones don't work, it's annoying when the cable guide is always wrong, and it's a mess when you need white house security clearance just to pay your bill. They obviously don't follow Facebook or they would see the endless complaints every single day of the week. They took over the company that was there before which I never had problems with, and worked hard to make it worse.

Yes TWC was expensive, but when you set dvr recordings you got them. Now a couple of weeks into this spectrum BS, you record NBC and get ABC, not even in HD. You (Spectrum) sucks **. At least with TWC I got what I paid for, as of yet you have not delivered, we are in the DFW area, I guess one of the last ones to be raped by this POS cable merger. ** from TEXAS!!!

Contacted about television pixilated images. Customer Assistant, Kelly, disconnected telephone assistance during request for help with 2 month continued problem regarding television pixilated display on 5 televisions. Numerous attempts to reconnect with customer assistance were met with recorded responses which led to recorded assistance disconnections. Contrary to initial request for help with issue. This is not the first time such denial of service has been experienced. Please assist both me and my prospective customers with this resolution. The service contract is explicit with regard to agreed signature.

We have been subject to Charter's upgrade to their Spectrum guide for the last few months. We called their tech support and the representative duly came out only to tell us that, in fact, there is no fix to our problems. The guide is slow, unreliable. It was shutting down the cable box several times a day. I returned the box and took a new one which did work slightly better. It did not shut itself off several times a day. But it was still slow, and none of the support people on the phone could explain that you HAVE TO watch the whole tutorial (or at least let the idiocy run) to its completion before the system would work normally. That took a visit from their service representative to explain this. And the guide is still slow, and not reliable.
After yet another update (I'm guessing here, but there are clues that they did), the Spectrum grid now still opens slowly, but now it starts at channel 001, instead of showing what channel the system is tuned to. No doubt it is a bug. We have another cable similar, but older, also afflicted by this update in different ways. But it does not have this problem. It was just unavailable for about a day, then it started working again. The new guide does not have the ability to set a reminder. The old one did. Charter charges a lot of money for this irritation (about $200/month), and show no interest is resolving these problems.

I have now received 3 nasty letters from Charter Communications telling me that my account is past due and the bill needs to be paid immediately. Each letter more threatening than the previous one. Each time I have received one of these letters I have contacted Charter communications and been told that my account is current and no money is due. Not surprising since I have paid my Charter Communications bill on time for many years. Today when I contacted them regarding yet another letter which demanded money they again confirmed that the account was up to date in payments. I asked how this was occurring and why. I was told, "Oh it's probably just a glitch in the system". I told the customer service rep "I would like to speak with a supervisor."
When I was connected to a supervisor I stated that given the amount of time I have wasted on phone calls to Charter Communications (which always involve a hold time of no less than 15 minutes) to correct an error on their part which demanded payment where none was due that I would like an apology from Charter in writing. I was told that "Charter Spectrum does not issue apologies" and then the supervisor went into a lecture about paying bills on time. My payment has NEVER been late in over 5 years with Charter. My account is current and paid in full. I give up. I am cancelling service with this company. It greatly concerns me that Charter Communications may be sending letters such as this to other customers who simply write them a check and do not check to find out that they actually do not owe any money to the company.

Charter is the worst cable company ever. Customer service is horrible. I called to see why my cable went up $60.00. They can't explain. I wish they would just shut charter down. You can't watch live TV if two things are recording at once. The service just really sucks.

Charter is unreliable with poor internet connection all the way around and they are raising their rates? Really. I've regretted changing from U-verse to Charter from the beginning because the service is so much poorer. It's a no-brainer, Charter is already charging too much for pathetic spotty coverage and they are raising the price? Really. I've repeatedly lost hard work because our internet is irregular losing hours upon hours worth of work. This would be a good time to resubscribe to a respected server and actually receive service worthy of hard earned money.

No matter how many times you call to have them fix a problem, are told the problem is fixed, it NEVER is! BEWARE. If you have any other options, use them. I am so thankful that I am moving to a place that does not have this company for service. I would avoid at all costs, customer service to Charter is non-existent!

I have requested for months, had investigations into the hacking into my cable. These people will not listen. It is occurring in my apartment from people living below me. Example: Last weekend beginning on Friday night, I had static all Friday night, some Saturday and Sunday. These people change the source in my TV in order to break into Prime Time movies and all the other movie options. They change my channels. These people do NOT pay anything for cable as they have been in my cable.
Time Warner investigated and decided that I was a crazy person. After having my cable taken out several times, I just had it reinstalled. It is worst than before. Time Warner did not do anything because I am "older." This has been going on since early June 2015. The managers of the apartment complex states that it is Time Warner's problem. The FCC is wishy-washy about it. Time Warner states that it is Domain Companies of New York City's problem. These are serious hackers.

I was shocked when I called Spectrum customer service by the behaviour and attitude of the rep. I had an issue with my service and billing. She was soooooo rude and cutting me off without giving a clear understanding of the situation. I have a feeling they do it deliberately per advise of the company. Shocking that it can happen in a developed country like USA!!! Beware of Charter and the service reps.

Nesting customer leads consisted of clicks Shelma, Joe, Fashionetta, Shoniece, Jeremiah, Jonathon. They would target individuals and terminate them. I was told that you couldn't be terminated on performance only attendance. I was terminated on two calls out of 80 while still in training two weeks before my 90 days. I graduated with a certificate and didn't receive a written warning just termination. Very unprofessional. I hope Charter looks into these individuals and gets rid of this coaching position. It's a useless title. HR is also a joke she shares personal information with nesting about single females and domestic violence cases. If they're kept they need to be trained.

We have been experiencing problems with tiling and dropped internet. For almost three months I have had no less than four service techs out who identified the problem was not in my house but a line problem and a Line Tech was required. Three months short of a few days and no Line Tech. I have been lied to by every person I dealt with on the telephone (BTW it is an Academy Award winning script they have because they all use it exactly as written). Service technicians are totally incompetent and there appears to be no reprimand when nothing is followed up on.
They expect you to pay the bill on time "or I promise your service will stop" (has not happened to us but I do know plenty of people it has happened to) but if you need a problem taken care of you will have to hope and pray. The sad part is the alternative is worse, so it's 'take the best of the worst service and try to get by'. There is much more to this story but I don't feel like sitting here for longer than an hour to put it all in. Let's just leave it at 'It's a Pathetic Story about an Incompetent Company'.

Charter is a horrible, horrible company... So much so I'm thinking they have to be doing some kind of unfair trade practices. First off they make you prepay for next month's service. Would you tip a waiter before your food is served? Um, no. They claim they do that to prevent people owing money on their account when they discontinue service... That's their problem, not ours!
Secondly, in most rural areas with cities/towns up to 100k people Charter will be the only available service. PG&E got sued years back for becoming a monopoly. Why is it Charter is the only available service in my town, yet a half hour away is one of its competitors? Something shady is going on behind closed doors that prevents other companies from setting up shop and I want to know why. We do not deserve the horrible customer service Charter provides. We need to sue them to prevent unfair rates hikes and create competition. We need to stop the unfair practice of tipping your waiter before you get the food. Like a child, there needs to be consequences when Charter makes bad decisions.

First off they bill you a month in advance for service that you haven't even used and then whenever you try to go on demand to download any of the movies, any of the TV show there is always an issue. The cable TV keeps freezing up on certain channels. The Wi-Fi is very weak even though we have the highest level of Wi-Fi. The customer service is horrible.

1st of all they find a reason to call you once a week to offer some new program they have or to change to them for cable. Fine, it's annoying but is what it is. What has me ticked off enough to write this is that they called repeatedly 7 to 8 times yesterday and 3 more today I finally answer. They say I'm past due on my account and need to pay the bill but also won't give me any info as to when the bill is due. I called my wife who pays our bills and lo and behold it's due today. I run my own business and would never treat a customer that way. I STRONGLY ADVISE NOT TO USE THEM!!!

I received a letter in the mail saying my promotional offer for internet was expiring. So I called Charter to discuss this price increase and to see if there was anything that could be done to keep my internet from increasing. I spoke with Miss ** in the Charter Retention Department and she was a great help resolving my issue. The Customer service Reps have a very tough job. I personally deal with Customers on a daily basis and it sometimes isn't pleasant. CSRs are only doing what they are told, please don't let your frustration out on them. If you are not getting what you want/need, ask to speak to a supervisor, it is the supervisor's job/ ability to change, or give you what you are asking for. The CSR does not have that authority. Thanks Again Miss ** for a great experience. Sincerely, A happy Customer.

The man tromped all over my carpet w/o covering his shoes. Didn't seem to know much about Charter Cable. We were left to figure things out by ourselves. Had no TV guide to give us and worst of all it screwed up my fiber optic cable for my sound-bar. We had to go buy a different type of cable. So far I wish I hadn't switched from Dish. The only upside to all this is there is NO CONTRACT!!! And we have no order number that I can find.

Extra charge for just no reason. After having them for more than 2 yrs (just because the apartment building force us to have Charter) they charge a fee for WIFI. Activation fee after having them for 2 years!!! They said that I didn't have WIFI before, when i have it since day 1!!! Customer service TERRIBLE!! PPV??? I was charged 3 times for the same fight!!! And to have that removed... a complete headache. WORSE COMPANY EVER!!! Internet??? Sometimes work, sometimes not!!! First time and last time. I just want to move from here, and next time that I move... FOR SURE I will be sure that the apartment complex DO NOT USE CHARTER... THIEVES!!! TERRIBLE SERVICE!!! AWFUL CUSTOMER SERVICE PEOPLE!!!

ConsumerAffairs Research Team
The ConsumerAffairs Research Team believes everyone deserves to make smart decisions. We aim to provide readers with the most up-to-date information available about today's consumer products and services.
Founded in 1993, Charter became a Fortune 500 company in 2001 and serves more than 6 million customers nationwide. The company is headquartered in St. Louis, Missouri.
Tiered bundle pricing: Consumers can add extra channels to their package, as desired, with three tiered options along with bundled Internet and telephone service. Plans range from 125 to more than 200 channels.
Fiber available: Customers in select areas can use fiber connections for extra high-speed Internet.
No contracts: Consumers are not required to sign a contract for the company's bundled services, and they can stop using the service at any time.
Free HD: Customers receive access to more than 200 HD channels for free.
Large volume of on-demand programming: Charter offers a high volume of on-demand content, with more than 10,000 titles.
Best for Television fans who watch a range of programs, households on a budget and customers with special interests.
Compare Cable & Satellite TV Providers
Charter Communications Company Profile
Company Name:

Charter Communications

Year Founded:

1999

Address:

12405 Powerscourt Dr

City:

Saint Louis

State/Province:

MO

Postal Code:

63131

Country:

United States

Website:

http://www.charter.com/