What does an EV warranty cover?
Similar factory protection to gas-powered cars, plus an 8-year/100,000-mile battery warranty



Written by

Edited by
Find Extended Auto Warranties near you
Kia, BMW, Hyundai, Endurance Auto Warranty, Toyota, Toco Warranty and olive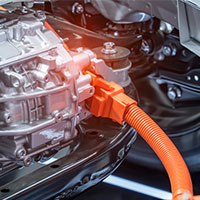 Electric vehicle (EV) ownership tends to be cheap — until it isn't.
When all's well, you save on fuel, tuneups, oil changes and other costs typically associated with internal combustion engines. But if something goes wrong with your electronics, especially your battery, the cost can be catastrophic. To replace a battery pack alone can cost well over $10,000, even on a modest Tesla Model 3.
For that reason, you're probably interested to learn what kind of factory warranty protection your next EV comes with. Will you get a few years of bumper-to-bumper protection like you would with a gas-powered car? What about battery protection? And if you're considering a used EV, would the previous owner's remaining warranty amount transfer to you?
Read on to find out.
---
Key insights
EVs and hybrids tend to come with the same factory warranties as their gas-powered stablemates, but they also get a federally mandated eight-year/100,000-mile battery warranty.
At minimum, the battery warranty only has to cover total failure or severe malfunction. But some automakers extend the length of coverage or cover degradation.
As with most auto warranties, your claim may be denied due to damage, neglect, abuse or misuse. With battery warranties, that can include improper towing, being improperly towed, unauthorized repairs or racetrack/offroad use.
Before buying a used EV, be sure to schedule a pre-purchase inspection to test for battery life and call the automaker to ensure the warranty hasn't been voided.
What is an EV warranty?
In other words, what kind of factory warranty, also called a manufacturer's warranty, does your EV come with?
For the most part, EVs come with similar factory protection to gas-powered cars. The same is true for hybrids and plug-in hybrids (PHEVs). That coverage typically includes:
A basic warranty that covers most of the car (called limited or bumper-to-bumper protection)
A powertrain warranty that covers the engine, transmission and drive axle in a gas or hybrid car and the drive unit in an EV
A rust/corrosion/perforation warranty that protects your bodywork against rust
To illustrate, the all-electric Volkswagen ID.4 has the exact same factory warranty protection as the gas-chugging Volkswagen Atlas SUV: four-year/50,000-mile limited and four-year/50,000-mile powertrain.
However, hybrids and EVs also come with an additional factory warranty for the high-voltage battery that powers (or helps to power) the car: the aptly named battery warranty.
U.S. federal law requires the battery warranty to last at least either eight years or 100,000 miles, whichever comes first. California lengthened that term to 10 years/150,000 miles, but only for PZEVs (partial zero emissions vehicles) like the BMW i3.
What does an EV battery warranty cover?
At minimum, hybrid/EV battery warranties must cover total failure and malfunction (such as low voltage or no charging) for eight years or 100,000 miles.
Hybrid and electric vehicle battery warranties for new cars in the U.S. must cover total failure and malfunction for eight years or 100,000 miles.
As mentioned, some automakers go beyond the federal minimum to offer you extra protection. Toyota, for example, offers a 10-year/150,000-mile warranty on all of its hybrid batteries (but not EVs just yet). And if you're looking to put serious miles on your EV, consider that Rivian protects its batteries for eight years or 175,000 miles.
Some automakers also cover degradation in their battery warranties, which protects you if you have a natural loss of range and power with time and use.
Tesla, for example, guarantees that you'll retain at least 70% of your maximum battery capacity for at least the first eight years/120,000 miles. Nissan guarantees at least 75% for eight years/100,000 miles. Keep in mind, however, that you may not get a brand-new battery at that point — you may receive a remanufactured one with more than 75% maximum charge.
If you plan to own an EV up north — where frigid temperatures can rapidly age your battery — you might consider sticking with an automaker that covers degradation.
But by and large, it's safe to assume that your battery warranty will only cover your battery and nothing else. And even if your battery goes totally kaput in the fourth year, you only qualify for a repair or replacement under certain conditions.
What does an EV battery warranty not cover?
Hybrid/EV battery warranties typically won't cover the following:
Surrounding hybrid/EV components, which are typically covered by the new vehicle limited or powertrain warranty instead
Damage resulting from nonstandard charging, nonrated towing, being improperly towed, collisions, weather, ignored warnings, unauthorized servicing or repairs, aftermarket parts, missing software updates, software tampering, battery exposure to water or flame, neglect, abuse or misuse
Degradation, although many automakers will guarantee at least 70% charge retention for the first eight years/100,000 miles
Since it can cost well over $10,000 to replace the battery in an EV — even in a base Model 3 — it's definitely worth reading the fine print in your automaker-specific battery warranty agreement so you don't accidentally void your warranty.
For example, when you learn that Tesla won't cover any damage or degradation resulting from a track event, you might choose to leave your Model S Plaid at home.
Are EV battery warranties transferable?
EV warranties can be transferred most of the time, but not always.
Some automakers, including Tesla, simply ask that you fill out some paperwork to transfer any and all remaining factory warranties to the new owner.
Hyundai and Kia let you transfer the basic and battery warranties in full, but the powertrain warranty gets reduced from 10 years/100,000 miles to five years/60,000 miles after the first owner sells it.
Rivian states that the new vehicle limited warranty "may be" transferred but that you or the new owner "should contact customer service to determine if the existing warranty is transferable."
Though that may sound ominous, Rivian is simply alluding to the fact that some EV warranties may already be voided before you buy the car. That's why, regardless of which hybrid or EV you're buying, it's best to call the automaker and verify what (if any) warranty protection remains on that specific car. You may discover that the cheap Kia EV6 you've been eyeballing was flooded or abused at the track.
What extended warranty coverage is available for EVs?
An extended auto warranty can help protect you against pricey repairs for your vehicle. And because EVs are considered less reliable than gas-powered cars — and can command surprise five-figure repair bills — you might be wondering:  What extended warranty coverage is available for EVs?
Many extended auto warranty companies do not currently offer warranties for electric vehicles.
To find out, we rang up several of our best extended car warranty companies of 2023 to see what protection they were offering to EV owners.
As it turns out, not much. At least not yet.
"We don't cover the hybrid/EV batteries and typically don't cover fully electric vehicles," said a rep with Endurance.
olive offers limited protection for select EVs, but "we're not going to cover the battery," the rep told us.
"We only cover mechanical components on hybrid and gas-powered vehicles," a representative with Toco Warranty said. "We don't cover the battery on hybrids and we don't cover EVs at all."
While there seems to be a small handful of providers developing EV-specific warranty products (e.g., Xcelerate XCare EV Protection), ConsumerAffairs has yet to fully vet them and therefore cannot recommend them.
It seems that for now, your best bet for maximizing your EV warranty protection (and avoiding a costly battery replacement) is to buy an EV with robust factory protection that's both lengthy and covers degradation.
If you buy used, also be sure to:
Get a pre-purchase inspection that includes a thorough battery test.
Check the CARFAX for any accidents or red flags (e.g., flood/salvage title).
Run the vehicle identification number (VIN) by the automaker to ensure the factory warranty hasn't been voided (especially the battery warranty).
Bottom line
From the factory, hybrids and EVs typically include a bumper-to-bumper warranty, a powertrain warranty and a federally mandated battery warranty. The battery warranty ensures the battery pack — the most valuable component of the car — lasts for at least eight years or 100,000 miles without major malfunction.
While that may sound lengthy, it's still worth considering an EV that comes with a longer battery warranty, degradation protection or (ideally) both. And if you're buying used, be sure to test the battery before buying, and call up the automaker to see what factory protection remains.
Did you find this article helpful?
|
You're signed up
We'll start sending you the news you need delivered straight to you. We value your privacy. Unsubscribe easily.