Airbags Studies and Reports
Likely that automakers will have to pick up the cost of the recall
06/16/2017
|
ConsumerAffairs

By Mark Huffman
Mark Huffman has been a consumer news reporter for ConsumerAffairs ... Read Full Bio→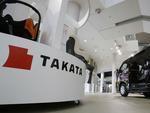 Published reports say Japanese airbag manufacturer Takata is expected to file for bankruptcy in the coming days. The company has declined to comment on the reports.
If that company name sounds familiar, that's because Takata has been in the news over the last couple of years in connection with the recall of millions of vehicles containing its airbags. Because of a flaw in the inflator, these airbags can malfunction, spraying tiny bits of metal throughout the vehicle. To ...
More
About 16 million consumers will receive compensation for their economic losses
05/19/2017
|
ConsumerAffairs

By James R. Hood
ConsumerAffairs' founder and former editor, Jim Hood formerly headed Associated ... Read Full Bio→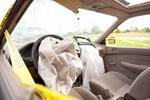 Four automakers have agreed to pay $553 million to settle a class-action lawsuit filed on behalf of owners of 16 million vehicles that were recalled because they contained potentially defective Takata airbag inflators.
The inflators can explode with excessive force and spew small shards of metal into the passenger compartment, injuring or killing occupants. At least 16 deaths and more than 180 injuries have been blamed on the inflators worldwide.
Toyota is paying the bigg...
More
Sort By