Sausage, Ham, Chicken, and Beef Recalls
The products may be contaminated with E. coli O26
09/21/2018
|
ConsumerAffairs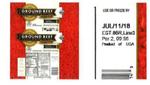 Cargill Meat Solutions of Fort Morgan, Colo., is recalling approximately 132,606 pounds of ground beef.
The products, made from the chuck portion of the carcass, may be contaminated with Escherichia coli O26.
An epidemiological investigation conducted by the U.S. Department of Agriculture's Food Safety and Inspection Service, Centers for Disease Control and Prevention, and state public health and agriculture partners have identified 17 illnesses and one death with illness...
More
The products may be contaminated with pieces of clear hard plastic
09/14/2018
|
ConsumerAffairs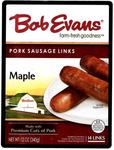 Bob Evans Farms of Xenia, Ohio, is recalling approximately 46,734 pounds of pork sausage links.
The products may be contaminated with extraneous materials -- specifically pieces of clear hard plastic.
There have been no confirmed reports of adverse reactions due to consumption of these products.
The following items, produced on August 1, 2018, are being recalled:
The recalled products, bearing establishment number "EST 6785," were shipped to retail locations in Indiana, Ill...
More
Sort By