Sausage, Ham, Chicken, and Beef Recalls
The product label identifies this product as ready-to-eat when it is not
07/21/2017
|
ConsumerAffairs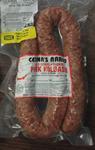 Cesina Sausage Company of Aliquippa, Pa., is recalling approximately 10 pounds of pork sausage (kolbassi).
The product label identifies this product as ready-to-eat when, in fact, it is not.
There are no confirmed reports of adverse reactions due to consumption of this product.
The following item, produced on June 22, 2017, is being recalled:
The recalled product, bearing establishment number "EST. 5073" inside the USDA mark of inspection, was shipped to a grocery store in ...
More
The products may contain bone fragments
07/17/2017
|
ConsumerAffairs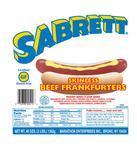 Marathon Enterprises of Bronx, N.Y., is recalling approximately 7,196,084 pounds of hot dogs and sausages.
The products may be contaminated with extraneous materials -- specifically bone fragments.
There has been one reported minor oral injury associated with consumption of this product.
The following beef and pork hot dog and sausage items, produced between March 17, 2017, and July 4, 2017, are being recalled:
Retail Products 
Institutional products
The above UPC codes refer...
More
Sort By