PurchasingPower.com
Atlanta, GA
Consumer Complaints and Reviews

I don't know why Purchasing Powers continues to do business with Non-Stop Delivery. I have not had a single satisfactory delivery from this company. They do not update their tracking info and will sell your delivery to a 4th party when they get overwhelmed and without notice which will delay your shipment. I have no issues with Purchasing Power itself but this delivery company they use is the worst.

I ordered some furniture that I did not receive. It was sitting on a dock somewhere without being contacted for delivery after being promised someone would contact me for delivery again and again. I finally purchased other furniture and advised of a cancellation. I am still getting money taken out of my check two months later with a zero balance showing on my account. This is $79.52 every two weeks. They have failed to correct the problem with my check still being debited for furniture I never received. They were like, "We will process a credit later." Hmm... You talk to accents that don't appear to be in the United States for customer service. I have called numerous times on hold forever. Average call about 45 minutes without any resolution. I don't know if my check will ever keep getting debited or I will ever get a credit for this. I have been promised over and over this would be fixed. It has not. Worst buying experience to date.

I put one star, because if there were negative stars, I'd put the lowest. I have used Purchasing Power a few times through my work in the past. You order through them, and the payments are automatically taking out of your paycheck each month until paid off. I had noticed last year, the payments stopped from coming out of my paycheck, but I still had a balance. I tried several times to contact PP to correct this problem. They always said they would call me back.
Months go by, then Feb of this year, payments were beginning to come out of my paycheck to them. The amount being taken out was almost double what was being stated on the statement on their site. I complained. I showed proof from my paystub to their statement. This was not resolved. I cannot stop payment from my side of things. I am literally paying double or maybe even triple what I owe. And there's nothing I can do about it. I will never use this company again. They are crooks. They are worse than Fingerhut. I do not recommend them to anyone... not even to someone I don't like. I may get a lawyer soon.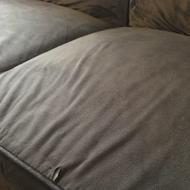 Bought a Mico Furniture Living Room Set through Purchasing Power last December. Noticed a vertical tear running to the seam of the sofa where you sit at. Called them to complain because it had just been 6 months since it had been purchased. Been told that it had not been covered by warranty but it's covered by manufacturer's warranty for only 6 months. Didn't know about that. Told me I will be emailed regarding info of my replacement sofa. They responded only after 4 days telling me to take pictures of the damages. I did what was told and emailed it to them only to receive a response again after 4 days that the manufacturer didn't agree to replace the sofa because it's caused by wear and tear! What the heck! It was just 6 months new and it got torn already.
The person who I spoke to even told me that it was purposefully torn! My goodness! The amount of the living room set is even higher than when you bought it from an actual store! I just got it because it's more affordable for me to be taken out as installment payments from my paycheck. I am so disappointed!! Definitely not recommend them to other people!! So bad!! Really so bad!!!

I ordered a vacation package for me and my family. I called to verify my chosen days to travel, I was told my days were not available that they emailed me to tell me so. I did not receive a email. I call more than 30 days in advance which was required. Hotelblox gave me bad customer service. I accepted a different travel date still they have not returned my calls to confirm. This is the straw that break the camel's back. Purchasing Power products have been sometimes unsatisfactory, but I adjusted because of good customer service. So lastly I will not be making any more purchases with Purchasing Power.
How do I know I can trust these reviews about PurchasingPower.com?
848,010 reviews on ConsumerAffairs are verified.
We require contact information to ensure our reviewers are real.
We use intelligent software that helps us maintain the integrity of reviews.
Our moderators read all reviews to verify quality and helpfulness.
For more information about reviews on ConsumerAffairs.com please visit our FAQ.

We had purchased a cruise through Purchasing Power several months ago. Apparently they use HotelBlox as their booking agent. We never heard a thing from anyone about the cruise being booked. We called and called and could get no one to return calls or if they did answer - maybe a couple of times - they said they had to call us back which never happened. The week before our cruise we discovered that it was never booked. That was the week of Spring Break - there was no way to get on that cruise at that point. Again we waited for a call. Finally we got a call from the Loss/Litigation department who told us that someone had embezzled money and not booked our cruise. Funny, I read the exact review as mine in January. So if they knew someone had embezzled in January, why wasn't everyone affected taken care of? Another Lie?
We were then told we would be booked on another cruise going out of Florida and they would pay for air fare and upgrades on the ship. They never paid for that cruise. It came down to two days before the trip when they finally booked a cruise going out of Galveston. They refused to pay for air fare and at that point couldn't get any upgrades. These were not the destinations we had planned to go to either. They paid for our parking and put $50 on our ship account. Just throw us a bone and try to look like the good guys. So the vacation of a lifetime for us because we had raised 5 children and couldn't afford it in the past, turned into a nightmare because of HotelBlox. The very least they should do to make their error correct is book us at their expense to the destinations we originally planned to go to with an upgraded room. Or they could even have given us half off of this one instead of throwing us that bone.
But they are obviously not an honest company. Reading the reviews now, they don't have a good review that I have found. They have ruined many vacations and should no longer be in this business. I just want others to be able to read my horror story and use another booking agent. I don't want others to go through this which they inevitably will since they don't seem to fix their mistakes. I would hope that Purchasing Power would get smart and use another booking agent as well. Moral of this story is to NEVER use HotelBlox and if Purchasing Power continues with them, NEVER book a vacation through Purchasing Power.

I recently downsized to a queen-size bed and needed a new pillows and a mattress topper. They arrived this week and both products are top-of-the line in quality and comfort. I experienced one of the best night's sleep that I have had in a very long time. I was sleeping so well that I actually slept through my alarm. The mattress topper truly enhanced the new mattress I had purchased and it was so comfortable that I felt I was on a cloud. The pillows (product came as a two-pack) are wonderful also. I am very pleased with the purchasing process, the variety of products available, and the check-out process. I will definitely recommend using Purchasing Power to others that I work with.

I like the experience of using Purchasing Power because I can get the products I want upfront and pay for them via payroll deduction. I love the ease of using the website and the ease of setting up my allotments.

Giving this company the benefit of the doubt my husband and I decided to purchase a couch including ottoman back at the end of November 2016, November 28th to be exact. We received our confirmation email regarding our purchase and when we would expect the items to be shipped. On December 22nd we received a call from NonStop Delivery that our order would be delivered that evening. Immediately as the delivery crew was unloading our order we recognized that the ottoman was missing. The delivery crew immediately got on the phone with their supervisor to figure out what happened. Unfortunately they were unable to give us much information other than we were suppose to receive 4 pieces but they were only provided 3 pieces from Purchasing Power. We attempted to reach Purchasing Power that evening but it was late and we were unable to reach anyone.
The following morning we called Purchasing Power to find out when we could expect our final piece. They claimed to not know why all pieces weren't accounted for and stated we needed to reach back out to NonStop Delivery, so we did. This went on for a few days with each company shifting blame. Finally NonStop Delivery provided us with a report that they did in fact only receive 3 pieces from Purchasing Power. With that information we again contacted Purchasing Power, at this time two weeks have passed. They stated they would request a replacement ottoman from Myco and we should receive confirmation. NOTHING!!!
So again, we called. And called. And called. None of the reps or supervisors with Purchasing Power were helpful with any information or updates, only providing poor excuses. Here we are 8 weeks after receiving our couch and still no ottoman. We are absolutely frustrated with this whole ordeal especially since we are currently paying for an incomplete order. Purchasing Power never calls the customer to follow up or return calls when they are dropped. They seemingly have made no attempts in resolving our issue and still claim that the ottoman will be here soon. I would NOT recommend this company and will never use them again.

I had a experience with Purchasing Power where I started getting frustrated because after 23 days I had not received credit on tires that I ordered that were the incorrect size and my fault. I spoke with 3 different very professional reps. One told me there was a 5 day delay due to holiday returns which I understood but I was past the 5 day delay.
I called again on 1/24/17 and spoke with Brandy who was extremely patient as I explained my dilemma. She proceeded with let me review notes, she gathered facts and then proceeded to take action. She told me that she needed to make a phone call and that I would have my credit in 48 hrs. 34 hrs later I checked my account and the credit was on my account. Thank you so much Brandy for turning my negative situation into a positive and I am extremely grateful to her for taking the time to go the extra mile for me. Everyone I spoke with was helpful, pleasant and extremely professional but Brandy really made my day. My first experience with Purchasing Power turned out to be great thanks to Brandy in customer service.

I purchased a new bedroom set for my daughter, back in Sept. The bed didn't come with all the parts, which then it was discontinued. I called several times to return the bed. Finally in November they picked it up. After dealing with them for several months. The refund still hasn't reflected my purchase. And it is still being taken out of my paycheck. I've talked to several different people. And the "supervisor" neither were any help at all. Just a big circle of explanation to everyone I've talked to. Would NEVER recommend this ever. Unless you are purchasing something very small. Maybe 2 out of the 20 times I've called they were helpful and were trying to get it fixed.

I ordered a fitness tracker & scale from 11-29-2016 and here it is 12-21-2016, 10 phone calls later, no shipment to be found. They repeatedly request paychecks and for me to wait 48 hours over and over. I have been placed on hold for over 2 hours on a couple of occasions only to be blown off again. It's the same old song of wait 48 hours and call back to be put on hold again. After I told them that this was my 6th & last attempt before canceling the order, he told me I could do it myself online.

After a very lengthy effort and dozens of calls, my account was finally closed and my money was refunded
Original Review
The convenience to order a low cost sofa/loveseat with payroll deduction was too tempting to pass up. I ordered the set in summertime. The delivery truck arrived in late August without my order on it. I waited until October for news of its replacement, with deductions now being taken from my pay. By the end of October and after three calls to customer service, it was clear the furniture was not coming. I asked to have the open order canceled and my money refunded. It took four more calls to customer service and three supervisors during the month of November to finally cancel the account and stop the payroll deduction.
I was told I would receive a refund within ten days. That was nearly three weeks ago. To date, no refund check for more than $220 owed to me has arrived for the furniture I never received from an order placed five months ago. I called again today and was placed on hold for 35 minutes. When I hung up and called back, no one answered at all. I'm disgusted and would love to know who to call to get this company investigated.

I open an allotment with this company on 31 Oct 2106 and is paying monthly payment. My order suppose to be shipped within 2 weeks. It was a bridal set. I was getting married on 25 Nov 2016. Dang my ring has not been shipped as of today 5 Dec 2016. Customer service seem to be no help and there is no one else to talk to. That tell you to wait 48 hours after you report the problem... You wait 48 hours and still get no response. That tell you to wait another 48 hours for a response. UNACCEPTABLE! Marriage has been put off ==because of Purchasing Power!

Placed an order online last evening - 10 minutes later went to cancel the order & wasn't able to saying order was processed! How is that possible that it was already processed within 10 minutes of ordering! Called this morning and they go on to tell me that I am not able to cancel even though they state it has not shipped yet!!! I have to wait for it to arrive to me then put a cancel request in with them then pay shipping to send it back! Total con artist and rip off! NEVER again will I order from them and this is a service offered through my employer! They rip people off by not cancelling an order and trying to cost the consumer more $$ to ship the item back PLUS in the meantime deducting money from my payroll check!

I receive unwanted mailings. I have TWICE had the fill out some "No contact form" so that this will stop. Notice I said TWICE, because I am now on hold regarding a THIRD incident! I am trying to get this escalated, but as I hold I am not at all hopeful. I am concerned that my Employer is playing a role in this, feeding purchasing power of mail list of employees. BUT, one would think TWO no contact forms later, that I could be shifted out of that. Nope. Calling now and I was just disconnected. Call two, now I am talking with Paula. We'll see if she too hangs up on me. Morgan on the line now, and even before a hello I am put on hold again.
This is the URL listed on my unwanted flyer is www.TUKH.PurchasingPower.com.

Purchasing Power is an option that is offered from my employer but I have been having nothing but issues with trying to place an order for over a month with no progress. The issue of why I can't place an order changes every week. One week it is that my name does not match what my employer has on file which is a lie and the other is that my address does not match which is also not true. I have placed orders with their competitor Paychecks Direct and have had no issues whatsoever. This whole process has been absolutely ridiculous.

Purchasing Power first became available to me at work about 4 1/2 years ago. This company has helped me out so much. I am able to purchase things that I would never have cash upfront to pay for. I have ordered a sectional couch, a side by side refrigerator, a dining room table, TVs, trampolines, you name it, and I have bought it! I am able to buy Christmas and Birthday present for my grandchildren, and only pay twice a month for it. The prices are great. Everything arrives on time. The customer service is outstanding. I could go on and on about the company. They knew an outstanding service to those of us that don't have the cash required to make these purchases. Thank you for your time, A very Satisfied Customer.

Purchasing Power is a great company. An asset to have when buy the items that is needed for your home, yard or just buys what's needed. I have order multiple items from this company, which makes me very happy with the quality and shipment of my items. Always on time. Never a hustle to get what you order. Over a period of one year I have had 10 items delivered to my home on time in great condition. No complaints at this time.
The other thing I like about this site is when I order it automatically come out of my paycheck which is great because I won't see it and definitely won't miss it which makes me very happy as well as my family. So please take the time and look around. Purchasing Power has a lot to offer. Now as for the ordering the taxes are a bit too high. Even though I know it due the fact that there is no credit check or payment expected at time of placing order I really enjoy this site. I really hate paying those high taxes but hey it the price you pay for wanting the things you want.

I ordered a High Back Leather Chair and a OSP Designs Sature Desk. These items are perfect. They are made of high quality and very comfortable. I've ordered a lot of items from Purchasing Power and am very impressed with the quality of items and their service. If you don't have lots of money on hand or charge power but want nice things, you should definitely try Purchasing Power. Over the years, I've purchased everything from furniture, electronics, appliances to toys and tools and am still getting great use of them. Give them a try.

I have purchased many items through Purchasing Power and I have never been disappointed. They are prompt in response to questions or issues as well as in delivering the items ordered in a very timely manner. I would recommend purchasing items through Purchasing Power to all of my friends.

Purchasing Power ease of payments and ordering. I love using this company, it gives me ease of supplying my children and I with up to date computers, laptops and electronics without the hassle of paying all at once.

My company sent out e-mails about PurchasingPower, so I thought I'd look into it. A few of my coworkers ordered from the site and had no issues. So I decided why not, I need a new TV and this way I can pay it out instead of having to pay all at once. On June 10, 2016 I placed the initial order. Just 4 days later I received an e-mail stating that my order had been shipped, and yet when I clicked on the tracking number, it showed that it was still being processed/preparing to ship. After a week of no updates, I did the live chat with a customer service representative. I was told that they don't send out shipping e-mails until the product is being shipped, am I sure that is what the e-mail said. I then sent her a copy of the e-mail. She acted like she couldn't be bothered with this, and stated that the product was still being processed and she did not have a ship date yet.
2 more weeks went by with still no update. Again, I got in touch with Customer Service. THIS time, I was told that there was an error on the vendor end that was keeping the product from shipping. The original order, which payments for were already coming out of my check, was cancelled and a replacement order was SUPPOSED to have been entered. After yet another week with no information, I again got in touch with Customer Service. The replacement order was never entered. I was sent new information once that order was placed. 2 more weeks went by, still no information! This time when I got in touch with someone, I was livid. I demanded to speak to someone higher up because now I was going on 6 weeks with no information and getting the runaround or getting disconnected when I tried to get information.
I was sent an e-mail from someone, not called, that 15% would be taken off of my order and expressing apologies for the trouble I'd gone through. And the shipping company is not any better. My order status is not regularly updated. Once it got to the Kilgore, TX terminal, the order was effectively LOST! No one that I spoke with could find it!! The order information was then updated that it was in Tyler, TX, which is 30 minutes from me. It has now been a week that my order has been there, but they claim that they could not reach me to schedule delivery. I spoke with someone just today stating that I was now beyond waiting for this order, and to give me an address and I would pick it up myself. I was then informed that with PurchasingPower, you are not allowed to pick up your order. It must be delivered. I will NEVER order from this company again!!!

Getting credit info - I heard about PP and work the other day and thought I'd check it out. I filled out all the information it asked for and it came up an error msg that I didn't work for that company any longer. I've worked there for 42 years. I don't know if I should go to work tomorrow or not.

Ok, to start this off, I will say this: they will ship it quick! They do have great CS. However, the only flaw I find with this company is the constant excuse of "Routine maintenance" on their website. When you go to check your balance, it takes over a month for it to update. That is crazy. And it depends on your employer as to what you can purchase. Would I recommend them or use them again? No.

I ordered a new kitchen table and chairs from this company, thinking it would be an interest free way to buy something new. I found what I wanted and placed my order. Almost FOUR weeks later, the package came, but the truck driver wouldn't even unload it from the truck because the packaging was so destroyed that there were visible chunks taken out of the wood. I refused the package and called the company immediately, thinking they would be apologetic and try to make the situation better... I thought wrong. The woman I talked to did nothing to make up for the fact that my package was destroyed, except to resubmit another order. She then continued to state that it would take the same amount of time for the next package to arrive. Mind you, they had already taken a payment out of my check.
Annoyed with the situation, I told her to cancel the order and I would figure something out. Two weeks later, another payment was taken out of my paycheck... for a dining set that I never had. When I called to question, the lady told me "not to worry about my money, it would be refunded" and that it took 7-10 days got the cancellation to go through and then my money would be refunded. Time continued to pass, I received an email that my cancellation had been processed on April 20. This too was supposedly the day they cut a check for the balance they owed me, and the check would take another 7-10 business days to reach me (I learned this because of yet ANOTHER phone call to the company).
Today is May 3rd, and I've still not received the check... so ANOTHER phone call to learn that "there was an error and it had to be resubmitted on Friday, so it will be 7-10 MORE business days". At this point I was furious and asked to speak to someone higher up in the company. I was placed on hold and no one ever answered. I will NEVER purchase anything from this company, and I will be encouraging my co-workers not to either.

I called a few times and was told that the computer was getting shipped soon or on its way. Emailed a few times which no one ever responded to. Christmas came and went with no box under the tree! I cannot express enough how poor customer service is. They don't respond to emails. The laptop ordered showed up weeks after I canceled it in late January and continued to take money out of my paycheck. When you call, there are lots of finger-pointing going on and no accountability. Don't count on apologies since no one will take ownership of the neglect or error on their end.
I kept on giving them an opportunity to correct their mistakes. I just wanted my mother to have her Christmas present! They're really not interested in correcting problems because they already make enough money in the business to not care. So imagine actually having a product with a problem? Think you'll get it resolved with the kind of customer service they have? I don't think so.

After my order was never processed, I called customer service. Here I had set up my allotment incorrectly and used the wrong account number. The rep was patient and kind. Well I got my couch yesterday and I LOVE IT! It's so comfortable and was just like in the picture.

Ordered bags on dec 15. Called more than 3 times and was told it will be shipped on Dec 24th. Today is New Year's Eve and I still have no tracking or shipping info. They've deducted from my paycheck already! I told them to cancel and stop the collection but they said they can't stop or cancel the order cause it was already processed.

This company is by far the most irresponsible that I have deal with. Ordered 3 items on the 13th of Dec. One item arrived on the 21st the other by the 24th and the last one I'm still waiting for it. Have to wait more than 1 hour to speak with someone.
PurchasingPower.com Company Profile
Company Name:

PurchasingPower.com

Website:

https://www.purchasingpower.com/