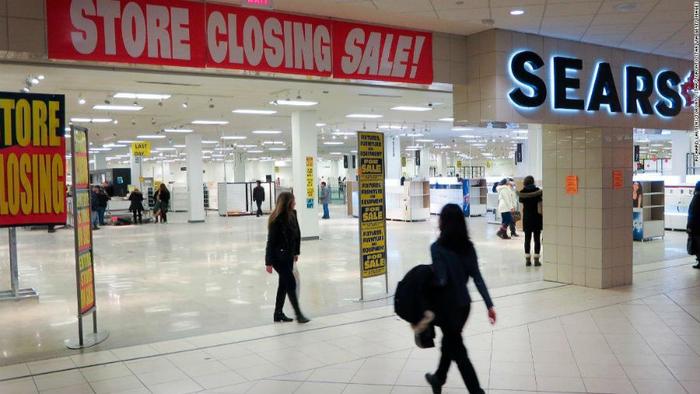 Sears Holdings, the parent company of Sears and Kmart stores, continues to get smaller.
The company has announced it is closing an additional 40 stores by early 2019. That's in addition to the 142 unprofitable stores it expects to close before the end of this year.
The venerable retailer filed for bankruptcy protection last month after shrinking its footprint to just 700 stores. The footprint will get smaller, however, as the company desperately seeks additional capital to stay afloat while it shops around for a potential buyer.
To date, most of the financial support has come from ESL Investments, the hedge fund headed by Sears Chairman Eddie Lampert. ESL has already come through with $300 million in cash infusions and bankruptcy documents show Sears is in talks with ESL to double that.
According to CNBC, talks with ESL have broken down and the company is now looking for alternative financing. That likely was a contributing factor to closing the 40 additional stores. The liquidation of the additional stores is expected to be completed by the end of February.
Trouble stems from two factors
Sears Holdings' problems have been years in the making and stem from two factors -- declining brick and mortar sales and rising debt. In 2016, Sears Holdings announced it would turn things around by getting smaller, a strategy that has failed to yield results.
At the same time, Black Friday is approaching so it's still business as usual. The retailer has rolled out plans to compete for what is expected to be record holiday spending. The company has announced Sears and Kmart Thanksgiving/Black Friday doorbuster deals.
Sears will have special deals on Craftsman Tools -- the brand it sold years ago in an effort to raise cash -- and many of the toys found at Kmart.
"It has been very humbling to see the outpouring of love and support from across the country and our 'Thanks for the Love' social media campaign reflects that," said Peter Boutros, chief brand officer for Sears and Kmart.
Despite the continued bad news, Boutros says he remains optimistic about the company's prospects during the upcoming holiday season.