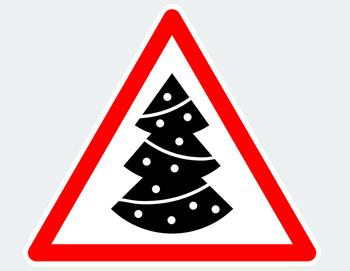 Christmas is a time to be with your family--but who are we kidding, it's a holiday that is equally about shopping, eating, and making your home or place of worship look like it belongs on a greeting card. With so many products tied to the annual tradition, something is bound to go horribly wrong. 
The nativity scene replacing Jesus with a roll of sausage
A British bakery chain last month published a promotional image online depicting the three wise men kneeling before baby Jesus. Only, the baby wasn't there. Greggs bakery had replaced him with a sausage roll that someone had taken a bite from.
Simon Richards, the head of a libertarian advocacy group called The Freedom Association, was outraged and called for a boycott. Greggs Bakery issued a public apology.
The nativity scene starring a live, unhappy cow
Since 1973, a church in Philadelphia has used live farm animals in its annual nativity display. The local tradition had been popular--until one star repeatedly escaped this year. 
The cow called Stormy was found roaming Philadelphia streets twice this season. The church subsequently agreed to return Stormy to her pasture, but now a petition is calling for the church to stop using live animals in its display altogether. 
The Hanukkah wrapping paper decorated with swastikas
Due to the similar timing of Hanukkah and Christmas, modern American Hanukkah traditions are influenced by consumer-driven Christmas traditions (how were Jewish kids supposed to get excited about lighting a menorah when their Christian friends had beautiful trees and a huge stash of toys from Santa?). Hence, Hanukkah presents and Hanukkah-themed decorations have gotten more visible on major retail stores' shelves in recent years. 
Hanukkah wrapping paper, for instance, is typically blue and silver, featuring patterns of menorahs and dreidels–or, in the case of paper sold at Walgreens several years ago, a design that resembled Nazi swastikas. 
Cheryl Shapiro was browsing the Walgreens aisles in 2014 when she saw the offending wrapping paper. It featured Hanukkah colors and a pattern of lines. But a close look at where the lines intersected gave the impression of a row of interconnected swastikas. Whether this was an intentional gesture or the byproduct of poor design was never made publicly clear, but Walgreens promptly pulled the paper from its stores. 
The Disney Christmas ornaments filled with fungus
On November 21, Hallmark sent Costco members a letter urging them to return Mickey and Minnie Mouse Christmas ornaments purchased between September and November 2017. During an inspection, "some units were found to have common mold," the letter explained. 
The turkey contaminated with metal 
Earlier this year, Publix and Aldi issued a recall of more than 38,475 pounds of ground turkey over concerns that it might contain metal shavings from processing equipment. Luckily, the recall occurred in early October, before  the height of turkey-eating.
The ham contaminated with rubber
In September 2016, also safely before the holiday season, Costco and Sam's Club recalled 8,694 pounds of Fletcher's Fine Foods Classics Black Forest ham, a ready-to-eat ham. They explained that one customer found several pieces of rubber in the meat. 
The gravy contaminated with paint thinner
In mid-December 2016, just about one week before Christmas, the British retailer Lidl announced that a few batches of gravy were contaminated with "unsafe levels of a paint thinner," begging the question, what counts as a safe level of paint thinner to consume? (Not to readers: do not eat paint thinner).
The chocolate Santas contaminated with batteries
Last year, another British supermarket chain was alerted that the hollow, milk chocolate Santas at its stores were filled with button-cell batteries. 
The contaminated chocolates were found at two different locations. The supermarket responded by recalling 165,000 Santas. 
See story

Artificial trees that start fires
Artificial, pre-lit Christmas trees may sound like the perfect Christmas decoration for those who are extremely busy or worried about starting fires, but consumers may not realize that artificial trees pose their own fire risk. The Consumer Safety Product Commission received seven reports from stores describing blown fuses on pre-lit Christmas trees manufactured by Nantucket brand. The government recalled the trees on January 12–three weeks after Christmas. 
Concerns over another brand's pre-lit trees prompted a similar recall in 2013. One lab in Chicago has repeatedly issued warnings about artificial trees and their little-known tendency to start fires. 
"People who have artificial trees should be just as careful as those who have real trees, especially when using things like candles," the lab warned in 2010.
Flammable Christmas lights
The Consumer Safety Products Commission recalled over 300,000 Christmas lights in the 1990s due to a potential fire hazard. Hobby Lobby issued a similar recall ten years later, affecting several million more lights. 
The recall stated these light strands were found to have, "flammable plastic parts, bulb sockets that can fall apart, no fuse protection, exposed bare wires and undersized wires."
Flammable snow globes
Stephen and Florence Hajek's Michigan home was destroyed in a fiery blaze in 2008. Three years later, their insurer sued Hallmark, blaming the fire on a snow globe the company sold 
That offending snow-globe had already been recalled, but several news reports indicate the problem is not limited to a single brand. 
A fire in the window of a charity in 2014 was also blamed on a snow globe. Firefighters said that the fire was specifically caused by rays of sunlight refracting on the glass of the decoration, which then ignited other decorations nearby. 
Flammable Menorahs
Lighting candles on a menorah is an ancient Hanukkah tradition, but somewhere along the way, flammable acrylic was used to mass produce thousands of menorahs sold at Target.
Target ultimately recalled 2,600 of the acrylic menorahs in May and warned customers who already purchased the products not to use them. As with other recalls, customers who bring them back will get a full refund. 
The Christmas wreath that could kill your landscaping
Boy Scout Troop 399 in southern Indiana was just trying to do some harmless fundraising with its annual Christmas decoration sale. But somehow, the Department of National Resources discovered that a Christmas wreath the troop was selling had the potential to ruin people's yards. 
The agency warned locals last week that "the wreaths are infected with a fungus that causes Boxwood Blight," a disease that is contagious to boxwood shrubs, a popular landscaping plant.   The Boy Scouts apologized and promised a refund.