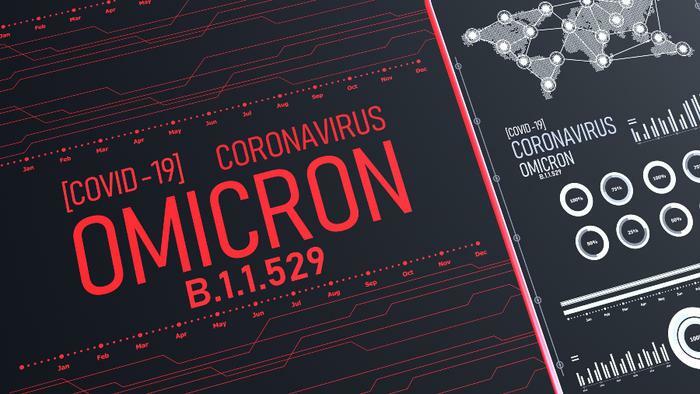 Coronavirus (COVID-19) ‌tally‌ ‌as‌ ‌‌compiled‌‌ ‌by‌ ‌Johns‌ ‌Hopkins‌ ‌University.‌ ‌(Previous‌ ‌numbers‌ ‌in‌ ‌parentheses.)‌
Total‌ ‌U.S.‌ ‌confirmed‌ ‌cases:‌ 49,938,379 (49,892,990)‌
Total‌ ‌U.S.‌ ‌deaths:‌ 797,456 (797,244)
Total‌ ‌global‌ ‌cases:‌ 270,339,576 (268,864155)
Total‌ ‌global‌ ‌deaths:‌ 5,309,203 (5,304,524)‌
Death from Omicron variant reported in the U.K.
Since it was discovered, the Omicron variant of COVID-19 has been considered to be a milder strain that produces less severe symptoms. But British officials report that it's too soon to make that judgment.
British Prime Minister Boris Johnson reports that the Omicron variant is producing hospitalizations in the U.K., and one patient infected with the variant has died. "I think the idea that this is somehow a milder version of the virus, I think that's something we need to set on one side and just recognize the sheer pace at which it accelerates through the population," Johnson said at a public appearance.
The Omicron variant also appears to spread more easily. In the U.S., the variant has been confirmed in at least 30 states, according to the Washington Post. It was first identified in South Africa during the last week of November.
Native Americans disproportionately affected by COVID-19
Health statistics show that COVID-19 is taking a large toll on Native American communities, and the president of one of the largest Native American-run non-profits says a lot of it has to do with a lack of proper health care. 
Josh Arce, president of Partnerships with Native Americans (PWNA), told the London Guardian that Native Americans generally face health inequities such as high rates of diabetes, heart disease, and other illnesses. A weakened state of overall health can make a COVID-19 infection worse.
"The issues are, by and large, some of the same issues that we've been confronted with but they've been really highlighted and exacerbated by Covid-19 throughout the past two and a half years," said Arce, who added that such challenges "really permeate all aspects of Native life and communities".
Variants aren't changing Mayo Clinic doctors' advice
We probably haven't seen the last COVID-19 variant, but doctors at the Mayo Clinic say their advice isn't changing: Your best defense against infection is to get vaccinated. They say it's also wise to follow the advice that medical experts suggested at the beginning of the pandemic.
"Masking, social distancing, and hand-washing will all decrease our chance of exposure, no matter what variants are out there," said Dr. Richard Kennedy, an immunologist and co-director of the Mayo Clinic's Vaccine Research Group.
"If we follow all the recommendations for masking, distancing, and hand-washing, and get a COVID-19 vaccine, we will have multiple layers of protection in place to keep us safe."
Around the nation