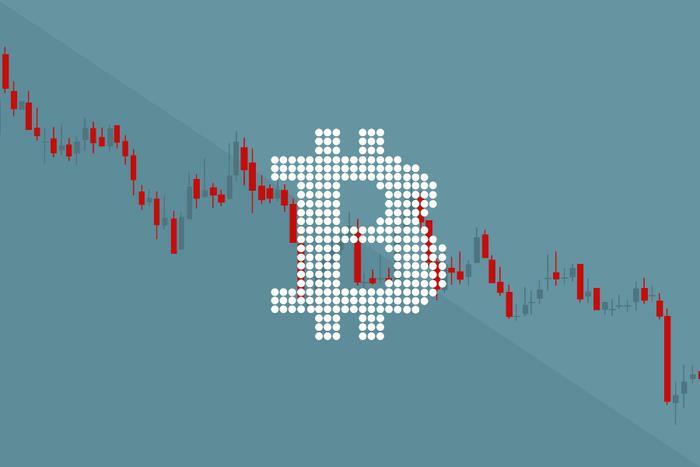 Bitcoin, the leading cryptocurrency coin, has investors scratching their heads after it had its fifth consecutive day of losing value, bottoming out at $32,813 early Monday morning. 
Where the asset will land is anyone's guess, but as cryptocurrency investors know, even more volatility is sure to follow. A year ago, Bitcoin was trading at $55,000 before shooting up to an all-time high $69,000 in November. But it isn't the only digital coin that's along for the current ride in plummeting value.
Ethereum, the second-largest cryptocurrency, also fell by more than 9% from Friday's high of $2,754.84 to Sunday's low of $2,498.43. If you compared everything in the cryptocurrency market from its early April 2022, highs to now, its total market cap has fallen by about $670 billion.
Bitcoin may not have bottomed out either. Edul Patel, chief executive officer of cryptocurrency investment platform Mudrex, told Bloomberg News that a downward trend is likely to continue for the next few days. He added that it's possible Bitcoin will fall even further, which could precipitate even more of a sell-off.
Why is this happening?
What's driving this most recent cryptocurrency crash? Michael Oliver, a chief analyst at Momentum Structural Analysis, told CBS News that these assets "have been tending to trend recently with the stock market."
"Bitcoin is really stuck in a sideways news cycle where you're just waiting for it to be calm on Wall Street and then you'll see more people confident in investing," he said. "I still think there's a lot of long-term potential value here, but you have to be able to stomach this volatility."
Another theory is that Bitcoin simply might be cooling off after a year of bullish investments from companies like Visa, Kroger, and Tesla. Edward Moya, a senior market analyst at Oanda, says corporate and institutional investors are now in "wait and see mode" and that 2022 has been a lot more subdued when it comes to investing in Bitcoin.
"There's a belief that mainstream adoption [of bitcoin] is taking a lot longer than people expected," he said.
A third hypothesis is that Bitcoin's slide is simply a reflection of how investors are moving their investments into safer, more stable investments like Treasury bonds because of what's happening in the broader economy.
Investors are "moving their money back to the dollar, as a starting point, and then seeing what they're going to do from there," Chris Kline, co-founder of Bitcoin IRA, told CBS.