How to choose a color scheme for your home
Using science to create a cohesive look and feel



Written by

Edited by
Find Moving Companies near you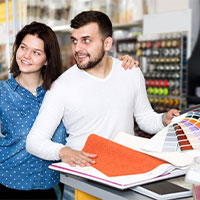 Whether you're remodeling or starting from the ground up with new construction, designing an entire home means choosing window treatments, wall colors, door styles, etc. — developing a particular look can involve countless decisions.
You can develop a step-by-step plan of attack by nailing down a coherent color scheme. We recommend mixing scientific research with personal preference to choose the perfect color scheme for your home.
---
Key insights
Research color psychology to find a color for a space based on how you want the room to feel.
Try using undertones to find colors that fit well with one another in each room.
Don't forget to consider fixed elements, like flooring or cabinets, when choosing your color scheme.
Starting with a neutral base is a great way to add personality without overwhelming a space.
7 steps to choosing a color scheme
Color psychology can help you choose the right palette. It's essentially a collection of rules put together by interior designers, color experts and psychologists that dictates the best colors to use throughout a home.
Hannah Burcham, an interior designer and owner of Designs by HLB, uses color psychology every time she designs a space. This helps her from room to room and client to client.
"Everyone has their own unique responses to color, but in general, we all have a baseline subconscious reaction that can be amplified by choosing specific shades," Burcham said. "Do a little research into what emotional effect colors have on human minds."
1. Understand color psychology and its impact on emotions
In general, color psychology states that you can set the perfect mood for a room with the right color tone. While it's not absolutely crucial that you choose one of these colors for a specific room, learning more about color psychology can help you figure out how to create a color scheme that matches your design style and preferred ambiance.
| Color | Related emotion |
| --- | --- |
| Red | Passion, excitement |
| Orange | Fun, energy |
| Yellow | Joy, optimism |
| Green | Balance, positivity |
| Blue | Calm, clarity |
| Purple | Spiritual, luxury |
It's important to note that not all shades are created equally, Burcham said. While some shades of yellow may promote joy and happiness, others may evoke a feeling of sickness or discomfort. It's all about finding the right shade based on other factors, like existing elements, lighting and ambiance.
2. Determine your preferred style and ambiance
Ambiance is the atmosphere of a certain space. You may want your home to feel calm and coastal or lively and vibrant, for instance.
Before you dive into choosing specific shades of a color, you'll need first to identify the type of style you want to accomplish, Burcham told us. This will give you a baseline to operate from that greatly narrows your options for your design style.
Three of the most common color palettes to choose from:
Monochromatic: All different shades/tones of the same color
Analogous: One section of the color wheel (for example, blues and greens or reds, oranges and pinks)
Complementary: Colors at the opposite end of the color wheel (for example, red and green or blue and orange)
"If you are really confident in your color-choosing ability, you can even try for a triadic color palette," Burcham explained. "This takes three colors from equidistant points on the color wheel, but can be overwhelming for some and, if done incorrectly, may look haphazard."
If you're not sure which feels right to you, look at design blogs or Pinterest for inspiration to help nail down your preferred style and ambiance. When it comes to this stage, there really isn't a right or wrong answer.
» MORE: How to choose the perfect interior paint color
3. Take inspiration from (and set limitations with) existing elements
You likely have some existing furniture or fixed pieces in your home that will be used in your new design, like the flooring or a family heirloom. Make sure your color scheme pairs well with these as part of the finished product.
Look at the undertones of these elements to understand what colors will work best. Once you determine your undertones, decide if you want to complement or contrast them. For example, if your wood flooring has warm, orange undertones, you can either match it with warm colors like yellow and red or contrast with cool tones like grays and blues.
4. Start with a neutral base and add accent colors
Within each color, there are thousands of shades — there are more than 150,000 shades of white, for instance.
While whites, gray and beiges (or the now popular "greige") can seem boring or safe, they're actually the perfect base for unique and standout designs. By creating a neutral base, you can play with color more freely and creatively than you could if your walls were a bright and bold color.
While picking a neutral may seem easy, consider this: There are more than 150,000 shades of white alone. Just like in the last step, make sure to pay attention to the undertones of your neutral. And, when in doubt, stick with top-selling shades from leading brands.
5. Use the 60-30-10 rule for balanced color distribution
The 60-30-10 rule is a popular rule in the world of decorating. It urges designers to split color choices for a room into threes: 
60% dominant color
30% secondary color
10% accent color
Maintaining this ratio can help keep a good balance of tones. Start by picking your hero color, then select your second two based on the palette you've chosen. If you're going with analogous, for example, pick the colors on either side of your hero color as your complementing shades.
Those three shades can be relatively similar or vastly different depending on your color scheme. Burcham told us going bold doesn't have to mean you use all bold colors; monochromatic styles can feel bold as well.
"A monochromatic design can create a peaceful and gentle ambiance with soothing emotional benefits or an incredibly energetic and vibrant feel," Burcham said. "It all comes down to the depth of tone and texture you decide on."
6. Consider the lighting in each room
Lighting plays a huge role in how a color translates from the can to the wall. For example, if you have North-facing windows, you'll have more warm, soft light, so darker colors will produce a more moody effect.
In addition to natural light, you'll need to consider the types of light bulbs you use. Artificial light can help bring certain colors to life if your natural lighting doesn't do it for you. LED light bulbs intensify primary colors but make darker hues seem duller, while fluorescent light bulbs complement cooler tones.
Burcham recommends using Samplize to get sticky paint samples you can cut up and stick on each wall rather than painting them directly. This way, you can move them throughout a room and check the color in different lighting situations.
» MORE: Home remodeling ROI: costs vs. value
7. Test samples and observe in different lighting conditions
While testing multiple samples is the best way to narrow your options, don't overdo it, Burcham advised.
"The biggest downfall of choosing paint is giving yourself too many options," she said. "It becomes overwhelming and causes decision paralysis."
She recommends limiting yourself to a maximum of five color swatches. Then, take your time to decide which color you like the best. She says if possible to keep them up for at least a week.
Over the course of a week, you may start to notice yourself gravitating toward some and hating others. When you decide that you don't like something, take it off the wall and don't second-guess it.
In short, trust your gut — at the end of the day, it's your home.
---
Article sources

ConsumerAffairs writers primarily rely on government data, industry experts and original research from other reputable publications to inform their work. Specific sources for this article include:

Sleep Foundation, "What Color Helps You Sleep?"  Accessed July 28, 2023.
Color Psychology, "10 Color Facts That Might Surprise You."  Accessed July 28, 2023.
Interaction Design Foundation, "Color Theory." Accessed July 28, 2023.
Did you find this article helpful?
|
You're signed up
We'll start sending you the news you need delivered straight to you. We value your privacy. Unsubscribe easily.