Consumer Complaints and Reviews

Called for repairs: Here's how ridiculous they are: It's all so damn cold and bureaucratic: automated options, automated calls, damn robotic. They give you 5 hour window of when they will show up, like we have no other life than to sit around waiting for them to arrive. The guy never showed up by 5 pm so I left, then he showed up 20 minutes later looking for me, but I couldn't answer the phone. He leaves me a number to call back that does not work! Damn GE charges me for the service call that never happened!!! They make me go through customer relations department to process a damn refund! **! PIECES OF **!!!

I have never been more disappointed in any company than I am with GE. My husband and I purchased $10,000+ of GE appliances for our new home from Jeffers McGill and the range, dishwasher and washer were not working properly. Our first service call was a window from 8 - 12 which is absurd because my husband had to take 4 hours of vacation time to be here for them to come. The service man fixed the range and needed to order parts for the dishwasher which I already knew would have to happen but they wouldn't order them ahead of the service call.
They gave us another service window on Friday afternoon but I explained a 4 hour window wouldn't work but 2-4 would. The service guy called my husband at 1:15 to say we were next in line and my husband explained I would be home by 2:00 pm as we discussed. The service guy called at 1:45 to tell my husband he was leaving the house and had been waiting for 15 minutes and couldn't wait any longer. I called the guy immediately and told him I was on the way and would be there by 2:00 as promised. He said they don't have 2 hour windows and I said that was what the other service guy promised would work just fine.
I called every GE service number I could find, they were all automatic and no way to connect to a human. I finally got one phone number and someone answered and said I would need to be connected to Consumer Services. I have been on hold for 1 hour and 15 minutes. I have never been more furious in all my life. I took 3 hours of my vacation time to be at home and now they tell my husband the next available service call is over a week from now. UNACCEPTABLE.
SHAME ON YOU GE. SHAME on you. My husband spent 4 hours at home and you didn't fix it. Your service man hung up on me and left the house before he should have. I have been on hold for close to 1 hour and a half and no one has picked up one time to tell me sorry or what can we do to help. SHAME ON YOU! I will never ever buy a GE appliance again. I cannot go through this pain and misery to get something fixed that should have never been broken to begin with. $10,000 worth of brand new appliances and this is how they treat a VERY GOOD customer. I have never been more upset. I want my time, energy and vacation hours back.

Horribly cheap and overpriced products. You will pay for them beyond the initial purchase. Customer service is a giant scam. One year warranty is a complete joke. Have had an issue with washer a few months ago. It took myself over two weeks to finally schedule, yes, just schedule a technician to my home to repair the machine. You'll get through the customer service to a live person every time but the excuses these people come up with are absurd. From my "system crashed and to reboot it it will disconnect you" to "oh dear, we have no openings available for at least a year". The customer service division is actually contracted out to an outside source. I don't blame them either for their horrible products.
These people will do everything they can to get you fed up and frustrate you to the point where you will want to just call a repair company and pay to have your junk fixed. I truly think they get incentives with the more people they turn away, to where GE is not paying to warranty their crap. So here, in less than a year, my machine is broken again. And here I go again battling the "customer service" department. Companies like this, that have gotten as big as GE need to become EXPOSED. But sadly, too many things are like this these days and all we are left with to fight is to leave these measly bad reviews. Well, as long as one person reads this and stays clear, I guess it helps.

I called GE to repair my GE Profile microwave and was happy to learn that the repair they performed on my microwave 4 years ago was still under warranty to fix. The heating element keeps burning out. I was grateful that the repair would only cost $108.95. Then the GE repairman came to my home and the nightmare started. Mind you GE gives you an ALL day window for the technician to arrive 8-5 and there is no one you can call to see when the technician might arrive. After waiting for the repairman to arrive my husband met him at the door and greeted him. He asked what was wrong and we explained it was repaired 4 years ago and the part was still under warranty. Then he said it would cost $108.95 plus $268.00 to fix the microwave. I said no. The part is under warranty. He said that was just for labor. I said I was told the labor was 108.95. He said "NO that's just the service call."
I've never been more misled with a bait and switch in my life and trusted GE to do right by my family. I called a local repair company and will have the microwave fixed for $260.00 and they give you a two hour window for arrival and a warranty. Use your local peeps and support small businesses who care for their customers. Don't use GE service repair. They will rip you off and not even care!!! Never GE!!!

I purchased a GE ZDP364NDPSS Monogram Dual Fuel 36" range with griddle for 8600.00 new and within 14 months the oven went out. GE sends repairmen 3 times and finally figure out a wiring harness burned up. They then notify me that the wiring harness is no longer manufactured by GE. I was then informed that they would replace the range for 3200.00. The unit was under 2-year manufacturers warranty and I have to pay 3200.00? Long story short: I paid the 3200.00 and they replaced my unit. Took me 1.5 years of fighting with them but they had me by the cajones. Either pay 14000.00 for a Wolf which is what I wanted anyway or come up with 3200.00. What a rip-off. Bottom line. DON'T PURCHASE ANYTHING G.E.
How do I know I can trust these reviews about GE Washing Machines?
610,392 reviews on ConsumerAffairs are verified.
We require contact information to ensure our reviewers are real.
We use intelligent software that helps us maintain the integrity of reviews.
Our moderators read all reviews to verify quality and helpfulness.
For more information about reviews on ConsumerAffairs.com please visit our FAQ.

Made an appointment with GE for repairs of a two month old washer, confirmed the date. I get a call a few days later saying "The part will be shipped to your home address in two days so it is there for the tech." (Appointment is for Monday.) I get a call on Friday that they have to cancel the appointment as the part is on back order and will come in October. Looks like the right hand does not know what the left hand is doing... ZERO communication in the company. After two days and playing Russian Roulette with the piece of JUNK the machine came on. They could not be bothered when I called them. Looks like they have a script which they read.

Our GE fridge has failed twice in less than two years. We shelled out for the extended warranty and they can't be here for FIVE DAYS. The first time it failed the tech said it was a lousy part that failed but that GE had fixed the problem. Clearly that's not true. I'm disgusted both with the the device and with GE's inability to respond. I guess their field service people are understaffed and overworked - tells you something about the quality of the company!

My family recently had the worst service call encounter we ever experienced with any company from GE. GE sent a repairman to fix 2 of our stove plates. The repairman fixed them but one broke again a couple days later, so he had to come back. Upon returning and before even looking at the stove, he started yelling at my mother for breaking it. He yelled that he told my mom not to touch the stove plate. When my mom tried to remind him that he actually said that we could use it, he yelled that he never even repaired the particular stove plate and that she was lying. My mom then told him that she doesn't mind paying for the repair and that she just wants the stove fixed. In response, the repairman slammed the counter with his hands, leaned his face into my mom's face and said, "See my face? No. I am not fixing it." My mom then said that she will have to call his supervisor and asked for his name and badge number.
In response, the repairman laughed, and said "in your dreams." He then walked out the door laughing. The worst part of it all is that GE sided with the repairman when we called them back regarding the matter. The lady over the phone said that the repairman claimed that my mom had actually called another repair company that ended up breaking the stove plate before he arrived the second time. He even provided an actual name of a real repair company!
We of course never called another company. We tried to explain to the lady that we never called another company but she didn't believe us. She said that since we called another company that it voids the warranty and that she is closing the case. My family really doesn't know what to do at this point. The repairman was so aggressive that my mom is afraid he will come back to harm her if we continue trying to report him. We expected much more from GE since their service calls are so much more expensive than other companies.

Had an appointment Aug. 19th for dishwasher repair. 1-4 pm. Never showed up. Called service at GE and was told it was cancelled and a voice message was sent to my phone. That didn't happened. Set up service call for another date. Good luck with that one! Chances are slim if I purchase another GE product.

All problems have been remedied. Hoping there are no further issues.
Original Review
Purchased a new stove from Sears Outlet store in December 2015. It is now July 2016 and I am waiting for the repairs on my second service call to be completed. First service call was regarding the glass on the oven door. It shattered during cooking. This repair took approx. two months to complete. I was unable to use the oven for this time. The second service call was regarding the fact that the oven did not hold the temperature, therefore the cooking of food was nearly impossible. This has been a two month affair as well, with the service still not complete. Also have been unable to efficiently use my oven for cooking during this time.
The repair company only comes to my city once a week and usually gives me a call in the morning and an approximate time he will be around. Turns out, I have a job, a family and a life, so therefore this one day a week does not always work out. (The repair company is based in a city 15 minutes down the road so I am not in an extremely rural area).
My calls to GE Service company (Mabe) have been less than productive, however my concerns were graciously noted in my file. I have repeatedly requested a new stove as this one appears to be a lemon. This idea was not entertained at all. Also, Sears is not concerned it sold a defective appliance to a consumer. This was an expensive electric range and I am obviously very frustrated with the inconvenience this unsatisfactory oven has caused myself and my family. My cheap 400 oven worked a heck of a lot better than this GE one. I will not be recommending or purchasing a GE appliance of any sort ever again. Service and quality has much room for improvement.

Bought a DOA clothes washer which would not agitate and kicked into Pause mode. GE service said the washer needed a new front panel and electronics but refused to honor the warranty because I installed it myself. So, if you buy a GE washer, take it home, connect the hoses and plug it in your warranty is VOIDED!!!

Requested service under warranty. They never called me to make an appointment then claimed they called me prior to an appointment that they never told me they had scheduled. They never called. I made a new appointment and stepped away from the phone for 2 minutes and they called and since I did not answer they cancelled my appointment. I called them back 3 minutes after the missed call and they said I would have to make another appointment. I could tell they were actually enjoying being rude. I hope they do this to the wrong person and get exactly what they deserve.

I have a GE vibration control washer purchased from Sears September 2013. At that time I paid for a 3 year extended warranty. I am now attempting to use it for the first time as my washer keeps moving forward and the load shifting. The repair person came out approx. 10 days ago and ordered parts. He was to return today and install them. He did not arrive and I was on the phone for over an hour waiting to see where he was. The phone was never answered; I heard the familiar phrase "We are experiencing a higher volume of calls..." I now have a box of parts, no repair person, and can't get anyone to pick up the phone when I call the number listed to call on my paperwork.
To make the issue more interesting, I have paperwork showing I paid for the warranty but when I called the phone several days ago to see where my parts were, I was told I don't have an extended warranty based upon their records. I was told to go to the Sears store where I made the purchases and they can print me the paperwork they need. The Sears store I purchased this appliance from is now closed. Since the warranty is over in 2017, I am going to attempt to return the parts and wait for the appliance to break and then replace it. No appliances will be purchased from Sears again nor will I get any extended warranties. I have read many times, it is better to establish a fund for such things. I will now be following this advice.

While Monogram appliances are supposed to be "top of the line", the technicians they will send out to repair these expensive appliances are not. You definitely pay for more than you actually get. A technician came out and broke our range. We ended up paying to have the appliance replaced. It was discounted but still a huge unexpected cost. He also damaged our floors by not moving the appliance properly.
Please do not trust the technicians provided by GE support. Go with someone you know and trust. They have caused us to miss several days of work for repairs. The technician came back several times claiming that we needed more parts. Finally, his manager came out with him to our home. He ending up irreversibly damaging our range that day. THESE ARE EXPENSIVE APPLIANCES. YOUR TECHNICIANS MUST BE COMPETENT. There were more issues when they came out to the install... more days of missed work. The processes that are in place are a mess. I won't waste any more time talking about this company.

Waited between 1-5 o'clock for service and stepped outside for 1 minute and missed the call. Called him right back and he didn't pick up the phone and he cancelled my appointment. 1 minute that's it. I called customer service up and they said, "Sorry sir you can make another appointment." REALLY!!!

Bought a GE Cafe built-in refrigerator and had it installed last week. Installers couldn't level because back right adjustable wheel wouldn't adjust. GE service tech came to the house two days later and confirmed the problem. Said he needed a part and a couple of assistants to handle the refrigerator. Installation of new adjustable wheel scheduled for today (8-12). Tech didn't show for scheduled service. GE customer relations gave me the runaround and ultimately had to reschedule the repair for two weeks from today. The GE customer relations person blamed "dispatch" for whatever problem caused me to waste my entire day. GE's service system is dysfunctional. I wish I had not purchased a GE product and pray that once repaired, it will not break again and force me to again deal with such incompetence.

For the past 2 months I have been going back and forth with GE and their technicians with resolving a minor issue with my refrigerator. My refrigerator was installed in my new custom built home in September. After living in the home my wife and I notice an unusual sounds coming from the refrigerator. We then scheduled an appointment visit with the GE repairman the following week. Here is where the saga begins. My first appointment went rather quickly. The repairman investigated the problem in 5 minutes. After investigating the problem he diagnosis the problem coming from a bent mental plate in the rear of the refrigerator. The repairman then removed the metal plate from the refrigerator and told us that they will need to order a new plate and come back. Before leaving the repairmen asked for us to record the unusual noise when it happens again to assist them investigate the issue.
So two weeks went by and we haven't heard anything from GE. My wife and I then called GE to check the status. We were told by the operator that our initial ticket has been closed as resolved. We were shock, to know that the issue status had been resolved. We were left with a bent metal plate and a refrigerator that still made unusual noises. The operator recommended that we submit another issue ticket. We agreed. For the next week the refrigerator continued to make unusual noises. On the second visit the same two repairmen visited my home. Once the repairmen arrived they asked my wife and me if we had received the new metal plate. Supposedly, GE mail ordered our replacement metal plate. No one ever told us that the replacement part was being mailed to our house. The repairmen made a call to their facility and were told that the part was never ordered.
Before the repairmen decided to quickly leave let them hear the noise from a recorder. The repairmen then decided that the metal plate was not the issue and that we needed a new compressor. The repairmen left again but ensured us that they will order the compressor to arrive soon and they will call to schedule our availability to install it. After a few days we received a call from the repairman scheduling a day and time that we can be home. We agreed. On the day of the installment the repairmen arrived asking if we again received the new compressor. It had not been delivered to the house. Once again the repairmen had to communicate with their management to check the status of the device.
The delivery driver stated that security would not allow him entrance into my (gated) community. I found this hard to believe since construction trucks and other delivery trucks are always allowed access into the community since it is a new development. The delivery driver agreed to deliver the compressor by COB. Before leaving my home without installing the new compressor the repairman stated requested that we call him once the compressor arrives so that he can install it. But he warned us that if the compressor isn't delivered today that he will not be able to install it for at least two weeks since he will be going on vacation. Once the delivery was made later that evening we called the repairman. They agreed to come to install the compressor as promised. After 1 hour at the home the repairmen successfully installed the compressor. HELLELUJAH!!!
Two days later we received a telephone GE survey on our service. My wife gave the repairmen a great survey. The very next day (Friday) is where the horror began. We notice the next morning (Friday) that our water dispenser from the refrigerator was leaking. The refrigerator was now not cooling properly. We called GE to report the issue and were told by the operator that the next available appointment was the following Tuesday. This was four days later. Over the weekend my wife and I watched our food spoil. Oh did I mention that my wife is pregnant. This required us to eat out all weekend. Monday morning the kitchen started to reek of spoiled food.
While I was at work my wife began to take evidence photos of the food that we lost as well as begin to trash lost items. She also took time to call GE Food Spoilage department and explained our situation. She was told that GE is only liable for $100 per appliance over the life of the contract under the covered failure of the refrigerator or freezer. I think this policy is garbage. We surely had more than $100 worth of food in our refrigerator. Oh did I tell you that my wife is pregnant! $100 worth of food wouldn't last but a few days. My problem with GE is that our refrigerator was cooling perfectly prior to THEIR REPAIRMEN working on it. Why should we be liable for spoiled food due to their repairman incompetence?

My wife and I had a custom home built and purchased $9000 worth of appliances for the whole house through Sears. These appliances included the top of the line GE Advantium double wall oven. Sears no longer does any type of warranty service for LG, Samsung or GE so I was referred to GE Repair directly. I explained to Varonda at GE that the microwave sounded like the fan was rubbing or sounded loose. She asked me who installed the wall oven and I informed her that the builder had their own team of installers. She went on to tell me that it sounded like the oven wasn't installed properly and that if she sent out a technician out, that the technician could fix anything that was broken but if he determined that the oven wasn't installed properly that he wouldn't be able to help me.
I asked, "If it turns out that the oven wasn't installed properly, may I pay to have it installed properly?" She informed me "NO, GE does not have installers but rather only technicians that may repair GE products." So if the repair technician is not trained or certified to install the product, how can he make a determination that the product was installed improperly. This is a loophole that GE uses to get out of liability. Look, my wife and I spent 500,000 on a new custom home. I wasn't trying to save 200 on the installation of a 3500 dollar GE product but rather following the advice of my builder who has trained professionals who install appliances. Stay away from GE appliances. I should have read these reviews before making the final decision to purchase a GE product. I made my decision based on Consumer Reports ratings and other websites ratings. BIG MISTAKE!!!

Called because of an issue with a refrigerator that is just about 1 year old. Had to repeatedly give (mostly irrelevant) information to an automated answering system with long lag times. Had to verbally and also manually (typing into phone) model information, serial numbers, zip codes, phone numbers, etc and when I finally got through to a live person I had to give her the information again. I was looking for advice on an issue with my refrigerator but they wanted to schedule the service. They claimed that my refrigerator was out of warranty and that it was purchased in December of 2014, however I didn't own the home that the refrigerator was purchased for until February of 2015 and didn't buy the appliance until more than a month after that. When I explained this, they said the warranty would go from the date of the house closing instead! I repeatedly asked them to explain this, and they weren't able to.
I still don't know why it would be based on the house closing date and not the date of purchase. They seemed to be confused and even when I spoke to a manager they didn't care about my concerns or have better explanations. When I went through these complaints the manager (Bobbi)'s response was given in a dismissive tone and said "Well is there anything else that I can help you with today?" They still expected me to schedule the service with them, but they will never get any more business from me. I will add that my refrigerator may indeed be outside of their 1-year warranty, but if so, only by a week or two at the most, and more importantly they have completely arbitrary rules about when the 1-year warranty starts and ends.

A storm created a power surge disabling our GE profile microwave a very nice $400-$500 unit retail. The touch screen was not working so it was inoperable. My wife nor myself are repair technicians so we called GE consumer service to come out to our home to fix it. The tech arrived, took one look, he did not open or touch the microwave. He went back to his truck, made a 10 minute phone call, came back inside and gave an estimate of $644.00 to repair. We refused and we're then billed $100 for the call. We were outraged. My wife then researched and fixed it for $60 on her own by watching a YouTube video and acquiring the part from eBay. I feel robbed by a lazy incompetent company who would rather get money for 0 work rather than try and help for a fair price. Do not use this company. You can fix it yourself with a little time and a smart phone.

I bought a brand new GE stove, Home Depot failed to tell me that I had only 48 hours to determine whether or not the stove worked. Weeks later I tried to install the stove and the electronic igniters did not work. I spent over an hour on the phone telling them that they sold me a stove that did not work and failed to disclose the 48 hour policy. They told me I had to call GE. I have spent over 1 hour on the phone and had a horrible agent named Carla from Memphis, Tennessee, was rude and unhelpful. I asked her 6 times for a supervisor, after 45 minutes I got a supervisor named Baron. Although he was nice and helpful the GE company policies are terrible. I purchased a new stove with the extra warranty and then had to spend 2 hours on the phone and take a day off of work to meet the tech guy. Terrible!!!

I got a Built-In Touch Control Induction Cooktop. The cooktop is having some problems. One of the burner is not working properly. Sometimes it cannot detect the same pot I have been using for 8 months. I call the support to send in a technician to take a look. All that technician did was put the pot on the burner and told me if the burner is working then it got no problem, and told me that maybe I don't know how to use the cooktop or not putting the pan/pot properly... I think everyone can be a technician if fixing an appliances are as easy as PUT ON A POT. Later I called the support and told them what happened and ask if they can take the cooktop for an inspection. All they told me is they will send another technician to test it (PUT ON THE PAN).
SO buyer beware! If you want to try your luck, buy the GE product. If it works well, good for you. If appliances start having problems on and off, then good luck. My warranty for the cooktop is about to expire. Will buy another brand when time comes. Will never want to throw my money away to a company that doesn't take care of their customers and bad after-purchase services. I wish I have read the reviews before the purchase.

We bought two GE appliances, one was a refrigerator and one was a microwave. The refrigerator hasn't given us any problem. So far it seems to be ok. However, the microwave started giving us problems while it was under warranty. We called in for a technician more than once and they came in and fixed it but the same problem kept on reoccurring. Soon after, the same problems occurred, the warranty, of course expired and it's the same story I read more than once. GE has no customer service, once your warranty is over, you're no longer a worthy customer! I kept explaining to them how the same problem occurred several times while my microwave was under warranty but that doesn't matter to them.
I mean I rather just go out pay more money and burn the microwave down rather than to deal with them. Although, in the near future, I know what brand name I won't be buying when I get married!!! Please everyone, do yourselves a favor, spare your headache, learn from our mistakes and don't buy GE appliances!!! I have just about enough nerve to write a complaint to their company!!! An actual formal letter!!! Why should I have to pay out of pocket when they couldn't fix the same problems???

I bought 3 appliances from Lowe's. A GE refrigerator and a Hotpoint washer and dryer valve problem. The refrigerator has some issues regarding temp (not cool enough) then no lighting at all inside refrigerator. Refrig was one yr old washer and dryer 6 months. Washer we weren't getting hot water. Wash mixer valve issue and dryer needed a new timer. The GE tech wasn't called at first because LOWE'S called A and ? something or another here in Northern N.J. HORRIBLE. They don't carry equipment with them. The ordering of the parts which was supposed to be 5 days took over 4 weeks.
Then the kicker was when the guy did show up. He didn't leave me a bulb when he supposedly fixed the refrig. He also did not resolve my washer issues. The manager of the 3rd party repair shop told me "lady it's a 40 watt bulb. Go buy your own." My point is I still had no lights because they were a cheap outfit and I had to call LOWE'S and get GE to come out to fix all the mistakes the 3rd party repair company made and didn't fix properly to begin with! I am not pleased with the quality of the GE appliances but the GE techs did great work and in a timely fashion. Don't let the 3rd party repair shops touch your appliances.

We have 2 individual wall ovens, both were Jenn-Aire. We wanted to "upgrade" as they were 20 years old. We shopped around and decided to purchase 2 each GE Cafe model oven, both electric, one has the standard oven door, the other has the "French" style door that opens from the center. After buying the ovens we had to have the electrical service at the wall connection upgraded which delayed the installation. Once completed the installer installed the ovens and the oven with the traditional door did not operate as the fan was defective. That is when the adventure began. A part was going to be ordered, and I said that I did not want a repair done on the unit, I wanted a replacement. GE was adamant on its position, so I went to the retailer where I bought the ovens and after a week and a few days another oven was ordered.
I was contacted by the retailer a couple of weeks later informing me that the replacement oven had arrived but when the carton was opened, the oven was damaged. Again another order was placed. I once again was contacted by the retailer, they requested that I come to the store to inspect the oven which I did. The unit was installed on a Tuesday. One day later we noticed that the clock had lost time, we reset the time and the next day it was 40 minutes slower than the actual time. GE was contacted and after a rather contentious conversation where the representative hung up on me, I made an appointment for a repairman using the auto feature. The repairman has just departed, the oven needs a NEW CLOCK!!! Image a brand new oven needs a new clock, just like the first oven needed a new fan assembly.
After this experience I will NEVER purchase any GE product again. Why GE would hesitate on replacing the oven in the first place left me very dissatisfied with them. These ovens are not cheap, much research was done before we purchased them. The only satisfaction I got out this situation was that the retailer, HOME DEPOT took the lead in getting this resolved.

I bought a range from GE and I received a defective unit. They tried to repair it unsuccessfully and here I am with GE not wanting to replace the defective unit. Please do not buy GE ever again! I will not!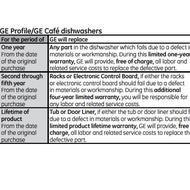 When we purchased our new home, we paid extra to "upgrade" to GE Profile appliances. Two of the three appliances crapped out within 2 1/2 years. GE jerked us around on the warranty service both times. When this dishwasher's logic board went out after 2 1/2 years, I checked the warranty card and saw that it was covered for parts replacement on the electronic control board for five years, so I called GE warranty's 1-800 number. The call service agent immediately began to tell me it was not under warranty as the warranty was only for one year (before she even knew what model dishwasher we had or what the problem was).
I informed her that I was looking at the warranty and that it said the ECB was covered for five years. Only then did she get from me the model and serial number of our dishwasher. After some time on hold, she came back online and said that the part would be covered but that I would have to pay for a service visit ($99) and the labor to replace the part. We scheduled a service appointment.
The day of the service appointment arrives and the technician immediately says the service visit charge will be $145 instead of the quoted price of $99. He also tells me that he "looked it up on the internet" and that the ECB is not under warranty. I told him that I have a warranty that says it is and that I've already been through all this with the main office but he's not willing to listen to any of it. I asked him to call the main office because they have already verified that it is under warranty which was when he stormed out of the house and left without a word. Any dishwasher that won't last 3 years and is backed up by a fictional warranty that the company won't honor is not worth your hard earned money at any price. It should receive negative stars.

GE service repair has treated my family unfairly. We have Monogram refrigerator and freezer. We called for service and they came out and told us to defrost our freezer unit and they would come back. On the day of repair (12/29/15) after we defrosted our huge freezer, they called at 9AM to tell us they would not service our house. They said that the service provider from 2011 said we had a hostile environment. When I asked for details they said there were not specifics, but that all the repair people in our area will not come to our house because of the note made in 2011.
To tell you the truth we did have a problem with the one repair person but honestly he treated us unfairly as well. And now they are "playing" with us. As strange as this seems, they made a second appointment and made us have to wait close to two weeks as our freezer leaked on our floor, made us empty and freezer and then called us day of service to tell us they were not coming. No apology, no solutions. They treated us unfairly. I talked to a supervisor in North Dakota, employee ** and was told that she was the "end of the road" and no supervisor would call me back. Please do not buy any GE products. The customer service department is cold and uncaring. Many of us consumers are left with appliances that do not work. And if you get placed on their internal list - do not service - you have no rights.
I just want GE to know there is always two sides to every story and I just wanted someone to listen to mine. We were unfairly profiled, and I wanted someone to address our situation fairly.They basically told me to go pound sand and the "supervisor" did it in a way that deeply hurt my feelings. They made us feel like outcasts. Like we had done something so terrible in 2011 and we are not worthy of being services. I just have to say - that is not the case. And now I know what it feels like to be unfairly profiled by a system that treats you like you are less than others. This situation has been eye opening experience for me and my family. Please reconsider using GE brand. The organizational culture is not good and the customer service department is the worst I have every dealt with.

I purchased a new home with built-in double ovens. I went to use for the first time in Oct 2015. It would not heat and sent a code. Called GE repair and they lined up a service appointment for two days later. When waiting for the tech to arrive, he called me 30 minutes from the end of the four-hour window and told me he knew of the issue and he did not have the parts. He would order them and since I did not occupy the home, he would have them shipped to his location. I returned to town for Christmas and tech showed up on 12/26 right at 8. He told me that he only had one of the needed parts and there was another tech that could not be there, and now will have to return tomorrow. GE service has been terrible and GE should be ashamed of this lack of quality. No more GE for me.

I bought my GE dishwasher from Home Depot in May 2015. At the beginning of Dec 2015 it stops working completely dead. I call Home Depot and they refer me to GE as the appliance is less than one year old. I make an appointment for a week or so. Later, that day comes and it is now three pm so I call the GE # and I am told that they have no appt scheduled for my repair. That's funny because I recall reading the model # to the person on the phone but I did not get a confirmation # so I had no proof I had spoken to anyone so I make another repair appt for a few weeks later.
On the morning of alleged repair appt I call GE to get an idea of when repair person is coming and they give me the number of the local repair shop. When I call the repair shop... surprise surprise he had never heard from GE regarding my repair appt and says that this happens all the time with customers of GE. However he will come in two days.
When I call back to GE to complain I am put on hold for at least five minutes. When I finally speak to the "Consumer Advocate" he gives me generic responses and never says sorry. When I recommend that they change their process of scheduling repairs he states that there is nothing wrong with their process and that the repair shop should read their emails. Well after hanging up with him and recommending they all be fired I get a call from the repair shop and suddenly he has gotten an email which is difficult to use. I wanted to buy GE because it is made in the USA (allegedly). Their customer service is useless and rude and their appliances are CRAP. Next time I will buy something cheaper made in China. Shame on you GE. Your employees are substandard and don't give a **!!!
GE Service Contracts Company Profile
Company Name:

GE Washing Machines

Company Type:

Public

Ticker Symbol:

GE

Address:

3135 Easton Turnpike

City:

Fairfield

State/Province:

CT

Postal Code:

06828

Country:

United States

Website:

http://www.ge.com/