Bedbug bites vs. flea bites



Written by

Edited by
Find Pest Control near you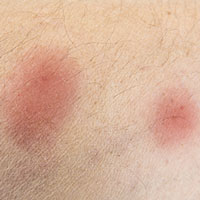 Bedbugs and fleas can both bite and leave behind itchy, irritating marks, but there are key differences between the two. Knowing how to tell them apart helps you identify the pest you're dealing with and take the appropriate steps to eliminate it.
---
Key insights
Bedbug bites often appear in a line or zigzag pattern, while flea bites are scattered and often around the ankles and legs.
Bedbug bites may not appear immediately and can vary in reaction, while flea bites are extremely itchy and can blister if scratched.
Bedbug bites are not dangerous but can lead to an infection if scratched, while flea bites can potentially transmit diseases and tapeworms.
If bites are identified, it's crucial to check for an infestation and take appropriate action, which may involve DIY treatments or professional pest control services.
FAQ
Can bedbug bites and flea bites appear on any part of the body?

Both bedbug bites and flea bites can appear on any part of the body. However, bedbugs tend to bite any exposed skin, while fleas often target the legs and feet.
Can I have bedbugs or fleas even if I keep my home clean?

Cleanliness does not necessarily prevent a bedbug or flea infestation. These pests can enter your home through luggage, clothing, used furniture or, in the case of fleas, on pets.
Can I treat bedbug or flea bites at home?

Over-the-counter creams and ointments can help relieve the itching and inflammation caused by these bites. However, it's recommended to seek medical advice if the itching is severe or persistent.
Can pets get bedbug bites like they do flea bites?

While bedbugs can bite pets, they prefer human hosts. Fleas, on the other hand, primarily target animals like dogs and cats. If your pet is scratching excessively, it could be a sign of a flea infestation.
Did you find this article helpful?
|
You're signed up
We'll start sending you the news you need delivered straight to you. We value your privacy. Unsubscribe easily.