Consumer Complaints and Reviews

Me and my daughter both have different Netgear routers. The one at my house we are on the 3rd router. All three were different. They kept getting more expensive and took me forever to find a number to dial to get an actual person on the line and ultimately they wanted to charge me anywhere from $49 to a 100+ dollars for continued access and help so my router will get its 10 years use out of it. I was on the phone with them for over an hour and they tried to sell me the 1-year and 2-year so-called extended warranty plan so I can get help with the reconfiguration and upgrades of the routers every 5 to 6 months so that my router will work the 10 years that it is supposed to work! Then I said, "Forget it" and they said, "Oh let me talk to my supervisor. Wait we have a $49 fee for this one time(???)..."
And I didn't know that every 5 to 6 months you need to go online and do a reconfiguration and an upgrade so your router will work, and I stated that nowhere on the box does it say this, and nowhere is it specified that a person within their first 90 days needs to make sure they go on to the website, which is not easy by the way (especially when you're older. I have to do all this from my parents). To do the reconfiguration upgrade, mind you this is $130 + Wi-Fi router you have to upgrade and reconfigure the first 90 days and then every 5 to 6 months after that for it to work properly! Well they should say that on the box and then when you don't do that you call in and then they say because you didn't do (it because they don't post it anywhere on product). "Now we want to charge you to make sure you get the life out of your product!"
So I will never buy this product again and I'm having the same issue at my daughter's, so no more Netgear because it's a fraudulent company! When you go to buy routers in the markets they are all tied up, there's no way anywhere to find out that you need to do this to every first 90 days and then every 5 to 6 months after that. If that were on the box and it was stated so when you go to buy the product maybe I would think twice about buying Netgear.
I don't want to buy an expensive product and go home and have to go online to do some difficult reconfiguration and upgrade every 5 to 6 months... Without BEING INFORMED FIRST so the consumer can make an educated decision. They ended up replacing my router, but it was an ordeal! And now I have to do the 90-day/5-6 month ordeal now to keep this one working. Plus the first 2 of mine, and my daughter's first one... were tossed 'cause I didn't know any better. I'm a busy person and don't have time to deal with difficult routers.

I purchased a Netgear signal extender 8 months ago. It suddenly quit extending the signal even though the lights say it's working. I called customer service thinking that the product needed to be reset or something. A "technician" from India gave me a song and dance, said the problem obviously wasn't with the extender, and said he couldn't help me unless I paid $89 for a 6 month technical support contract. That's as much as I originally paid for the product. Oh, but for $89 they will also support my router and computer. I wouldn't trust them to service my cat. Netgear obviously isn't in the business of making reliable products. It is in the business of raking in money on technical support. I will never buy anything made by Netgear again and I am spreading the word to others.

Called for support on router and was told I only had 3 months of it and now I will have to pay $120 for help. Is there product so bad that they need to make money on the purchase and then in 3 months shake you down for $120 or you can go to hell. I had no options but to pay them. A class action lawsuit should be brought against them.

What they all have said! Was going to purchase an Arlo security system until I found out it was made by NETGEAR. Previously purchase an expensive router and unfortunately found out how their customer service is set up. There is none. From that point on I have been steadfast in my resolve to never purchase anything from them again, or from any other company, who make it a point and policy to attempt to have no communicate with their customers (unless of course you pay them another $150). I believe it's time for consumers to unite by voicing their displeasure in how they're being treated and boycott these corporations by not buying their products and informing them the customer comes first!

We have tried a few Netgear routers and have had problems with all of them. Our ISP said they hear that a lot. The tech support gives bogus advice about how to fix the problems. This time they said our ISP was blocking our router and we need to get the IP address from our ISP. Our address is dynamic and our router is set to automatically detect it & has done so successfully off & on over the past 6 months since we purchased the router. Netgear Tech refuse to help unless we purchase an additional warranty so our latest and last Netgear router is going in the trash and we will never buy a Netgear product again.
How do I know I can trust these reviews about NetGear?
744,488 reviews on ConsumerAffairs are verified.
We require contact information to ensure our reviewers are real.
We use intelligent software that helps us maintain the integrity of reviews.
Our moderators read all reviews to verify quality and helpfulness.
For more information about reviews on ConsumerAffairs.com please visit our FAQ.

I have had my Netgear product for a year. For some reason my work and personal cell phones were disconnected from the WiFi connection over night and the password would not work. I called Netgear Customer Service. The representative told me that it would be an easy, quick fix, but that my warranty was only good for 90 days so I would have to pay $49 for her assistance. I would NOT buy this product again since they're not able to assist with such a quick, easy fix. It's extremely disappointing.

I was having issues with intermittent internet drops, so contacted my ISP. Everything was clear on their end, so the next step was checking my Netgear Router. When logging into the router configuration thru routerlogin.net, and trying to get the modem to find the latest firmware, the device always said that the "server didn't respond - update failure". I called Netgear, and they tried to sell me a service for $89 for extended tech support. I explained that it was THEIR product failing to update from THEIR server, so it was not an 'operator error issue'. They refused to help. I later discovered that I could EASILY AND FOR FREE MANUALLY DOWNLOAD THE FIRMWARE AND INSTALL IT MYSELF. Would have been nice if they would have told me that, but instead they tried to stick me with a CHARGE HIGHER THAN BUYING A BRAND NEW ROUTER to get their tech support. No help offered without paying $89! THE WORST!!!

It seems every day we hear about company's customer support services declining while the cry of their customers fall into some bottomless void in a database somewhere never to see the light again. It's understandable when company's representative makes a mistake when dealing with a customer but what makes or breaks a company is how they respond to that error.
My parents aren't what you call technically savvy by any means so I have taken care of all their computer issues as they arise from 8 hours away for many years. Isn't the internet great!? It was working well because I could connect to their computer through remote control that is until their NetGear wireless adapter decided to update its drivers and not work anymore.
No internet connection equals no remote control connection equals complete panic and pandemonium. Just imagine a loving Grandma not being able to Skype with her Grandchildren, as I said this Def Con 5. So my Mom decided to call Netgear and was talked into getting the one year subscription for Technical support. That didn't go well and the next thing I know I am getting a call from the Boss putting in her request. Ever heard of the saying "If Mama ain't happy no one's happy?" Yeah I'm sure no matter your longitude and latitude on the big blue spinning ball in the universe you know the Truth I speak.
Now the order was handed down for me to go scorched earth on the company and take no prisoners. So I gather all the ammunition I can find - the model number, the amount she was charged for the service contract and anything else I could think of to give me the edge in the negotiations. To my surprise, the unexpected happened. I was immediately transferred to a Supervisor named Gopinath ** and we worked out a way for him to remotely control my Dad's computer to work on getting the adapter calibrated rightly. That's right. He worked for well over an hour getting everything all set up and it was on the wrong computer!
I'm not sure if I could have held my composure like he did but like I said this is someone who deserves to be recognized as the standard for customer service because Mr. ** raised the bar higher than I ever thought possible. So my Mom had to switch computers so he could remotely connect to her computer and once again calibrate the adapter on the right computer this time. This took probably 30 min or so and he just waited patiently until everything was set up for him to do his part. All together I think he worked with me and my Mom a total of 2 hours.
I hardly ever complete surveys because I feel they are overused and don't really give the company an honest review of the customer service but I made an exception in this case because I was powerless to help my Mom get back in touch with her Grandbabies and needed a lifeline. So to your model employee, Gopinath **, I tip my hat with respect and a renewed hope in the customer service industry. THANK YOU!! It is my personal recommendation that Mr. ** be given public recognition along with all the rewards deserved. Be it pay raise, promotion and/or whatever else the company feels he has earned! Netgear is on the right track with this type of customer service! Thank you Mr. ** for going above and beyond the call of duty.

The router's WiFi signal kept dropping. Netgear said I bought this product one year ago! I said no, I bought it 3 mo ago. Customer service said send proof of purchase and they will send me a new router. I did, sent it from my phone, but when I called them back, to check on the receipt. They said they didn't get it. I sent it again by a friend. Now when I call they disconnected me. Your number shows up and is associated with your case #. I will never buy their product ever again! Rented Spectrum router and now pay a monthly fee.

I called Netgear tech support to find out if I could use the N300 Wifi Cable Modem, Router as a range extender. It was simply a yes or no answer. The tech insisted they needed to see the system I had already installed. I grew suspicious as I just wanted a yes or no answer. I let them connect to my pc and they did some checks and found that my pc had a 40% probability of being hacked. They offered to protect my system for $199.00. I knew they wanted to find something to charge me with. I simply said no thanks and ended the call. I never got an answer to my question! I will return all netgear and never buy from them again.

Terrible english and rude. Tried lying to me about the problem and saying I had to pay to get help. Tried telling me my IP address had a virus... HUH??? Didn't know an IP address could get a virus. They tried telling me I can have several devices plugged into modem without a router. Needless to say I would have got better support from a jockstrap.

I purchased a Netgear router from Costco and it didn't work. I called their customer care service as it was only a few months old and was told it was because I had a virus on my computer and a lot of other problems, that later checked out to be completely untrue. The technician was from another country and difficult to understand. He told me that I could purchase a special virus protection program that would help clear up the virus that had attacked my computer and offer protection for an entire year for over $100. When I said I would think about it he became very high pressure which aroused my suspicions.
I then called Costco Concierge services which is free with the purchase of the Netgear and they checked my entire computer and didn't find anything amiss. The problem was that it wasn't recognizing my computer because I had failed to do something when I installed it and they helped me correct this in a few minutes. My Virus protection which Netgear said was nonexistent was working fine and there was no virus.

I called Netgear's customer service department because I was having a problem with my router not sending a WiFi signal. When I called, I was connected with a woman in India who I could not understand very well. Likewise, she could not understand me. I am usually patient with the person on the other end as they are just trying to do their job. We spoke on the phone for 45 minutes when she finally "solved" my problem. She said that there was a problem with the hardware on my router and that the only way to fix it was for her to access it remotely.
In order to do this, I needed to purchase a warranty for $150 for 6 months, or $250 for an entire year. I told her that I would just go and buy a new router as this would be my cheaper option. She told me that a new router would not help the situation, that she needed to fix it remotely. I told her I wasn't going to pay $150-$250 for her to do this and hung up. Definitely sounded like a scam to me. Funny thing... I found an extra router lying around and plugged it in. Problem solved immediately. DO NOT BUY A NETGEAR product!!! I never will again!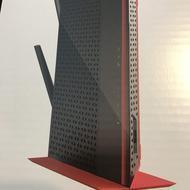 I attempted to set up my newly purchased NetGear Wifi Range Extender from Best Buy. When following the instructions I could not seem to get the 5 GHz Link Rate LED light to verify connection. It would light up (along with the 2.4 GHz light) and then the 5 GHz light would go out. After repeating the procedure several times, I attempted to find the NetGear phone number.
I finally registered the product online with NetGear and called their phone support. After going through several support people (each call would take 10-15 minutes) that I could not understand due to the language barrier, I finally ended up with a woman named Vershade who was excellent. She was able to figure out that my router needed resetting. Once that was done, the Extender was able to connect with the 5GHz band of the router and the setup could be completed. Excellent phone support once you are done with the waiting game... I really thought Vershade was well trained, thorough, patient and knowledgeable.

I bought a Netgear router yesterday, 90-day warranty included. I needed to port forward, I called up Netgear. I had to pay 80 dollars for my issue to be solved. I said I had a warranty and the Indian woman that was calling me didn't give 2 ** that I had a warranty, so I said to her to ** off and hung up. 0/10 never buy from Netgear. Scams, horrid customer support.

I bought the modem/router in one worth almost $300 dollars and now I am having a wifi problem. Contact the Netgear tech support and they said that I need to pay them once the wifi is fix. This is BS, so my money is down the drain. For everyone that will be reading this DON'T BUY ANY NETGEAR MODEM/ROUTER PRODUCTs. IT WILL BE A WASTE OF MONEY. Serial # 4BE25C7AA1BEA and MAC # **.

I sent Netgear their product back with a tracking # ** and my complaint because they refuse to honor the warranty. So they end up telling the BBB lies and said I smashed it with a hammer when the US mail delivered it to them intact. Long story I got done wrong. They are calling us mail a liar when it was in the box intact with my complaint.

I could not get the Wifi range extender AC750 to work so I called customer service and Brian was very nice and helped me walk thru the steps to getting it hooked up. I thought I was done until he said, "I had virus detected and other people were hooked up to my IP Address." So the next thing he said I needed to do was to purchase their virus protection for 1 year @ 100.00 and I fell for it. Then my mother in law saw this website and showed me so I cancelled my card, but they must have changed up the wording instead of using service contract. Now its virus protection services.

I needed help with online technical support. I was connected with someone from India. I think this person could not understand English. We spent nearly 30 minutes just trying to spell my name and address. His ability to answer technical questions was very poor. Had to hang up and call Best Buy where I purchased the item, and received very poor help. Probably recommend staying away from Netgear.

I purchased an Arlo camera system and one of the cameras did not have motion detection. I have repeatedly called and after stating I would get a replacement camera instead I got an email stating my case would close in three days. I have spent hours trying to contact them via phone and email. Now they state it is under review but can't tell me what department or give me a name of a person to call. Their website is poorly setup if you are looking for assistance and tends to be circular in its direction. Finding a phone number is a challenge as well. I would not recommend this company after my many contacts to resolve being shipped a defective camera.

I am a level 3 technical support specialist. There are concerns about Netgear selling devices that have known technical issues with incompatibility between the device and ISP. I am referring to the purchased item stand alone Netgear Modem. Model CMD31T. After a year of intermittent service with my ISP the conclusion was the cable modem had intermittent failure. It connected to the internet but had problems with DHCP server with ISP. After running some tests with Netgear Reps in India and discussing this with level 3 engineers with my ISP it was determined the chipsets were malfunctioning. I have the case numbers from Netgear and documented the known issues of the modem with other engineers from different ISP's. All of this BTW is public information and all you have to do type in the brand device model name and the words "known issues."
Netgear had thousands of refunds to customers on warranty with this modem with Cox Cable service as IPV6 addressing issues caused network engineers to roll back provisioning for this modem. Cox ISP tech engineers had to inform their customers if they are using Netgear modems to use another modem due to these issues with Netgear. In lieu of the fact that Netgear knows there have been connectivity issues due to faulty chipsets in their devices since 2012 the question I present here is why would they continue to sell devices that have known issues? I suggest to all who lack technical expertise to file a class action lawsuit against Netgear. I am sure if we get enough signatures from users with device failure there will be plenty of lawyers who will take on the case.
Like others have mentioned here sometimes the failure happens within the warranty timeline but most failure conveniently happens after the warranty runs out. In the tech world there is a term we use for this. It's called Crippleware. It cripples itself non usable at the most convenient time for the seller of the product. Meet the team that took your money and kicked you to the curb. Look at their faces how happy they are. You would be too if you made millions per year. https://www.netgear.com/about/management/
The symptoms you might experience is you have an internet connection but you have the same IP address for well over a year. This can be a concern for a security breach on your computer. Most residential internet services use DHCP which means the IP addresses change for your security. The second symptom is you can't access the modem interface 192.168.100.1 even when plugged directly into your nic card bypassing Router. All my connections are hard wired. I do not recommend buying Netgear and what gets me upset the most is you have a foreigner that comes here to the US, gets an education at Brown University, becomes CEO of Netgear and then moves all the business offshore. I think that alone is totally underhanded and a typical example of how this CEO represents the cheap mass produced products they sell.

Being sensitive to Radio frequencies from regular router, I contacted my server who recommended a Best Buy product Buffalo ethernet. They didn't have one, instead we purchased a Netgear GS605 5 port gigabit switch. It works fine on the home computer, but can't on my Laptop. My server has no idea how to help me. I had to register the product to get tech support from NetGear, which I did. They gave me a password which does not work on my default network. Disgusted with the emails and requests that Netgear themselves phone me to resolve this I phoned 5 times January 10th. My calls repeated were dropped, recordings, and of the 5, one live, foreigner speaking poor English answer. I requested another more well versed in English and was re-routed to the same recordings, "are you requesting Tech. support? Yes or no?" Trust for technical support is low. Thanks to Consumer Affairs.

I had a Netgear wireless router, N300wnr2000 and it went out last January and I went out to Best Buy and purchased another one. We are snowbirds and went home in May and when I got back last week this one is out. I have tried to contact you without success. I am not good on the internet so tried the phone. Still nothing. I will never purchase your product again. And as far as I am concern you need a better support system.

Technically (-) 0 review for this one! I had a Netgear router for almost 4 years since July 2012 years. It was working fine until October 2016, I started having connection problems. I called customer service and the agent told me that she will help me fix the device but I have to purchase their support services which costs $139/year or almost $200 for 2 years. I was ASSURED that the problem was NOT the router but from the "communication" between the router and my internet provider. That getting a new router will not fix the problem. The agent was very persistent selling the "support service". That should've been a red flag! But I fell for it! Fast forward 1.5 months after, my router stopped working (again). At this time, they weren't able to fix the problem... And guess what??? They're selling me a new product!!! Seriously? That's just too fishy!
I asked for a refund since I don't have any other Netgear devices. Initially they were suppose to do an investigation but that "investigation" was just a waste of time. Now I bought a new router device and it's not NETGEAR! I'm so much happier with my Linksys router now. No support system needed that will rip off my procket and connection is so much faster. I'm not planning to buy another NETGEAR product because obviously this company just wants money from their customers. This company will just get money from people and doesn't care anymore after that. I WILL NEVER EVER BUY NETGEAR AGAIN!!! BIG MISTAKE!!!

This company is operating a scam and will continue to take people's money for phony service contracts. Like others, my service provider told me to call NetGear because the router device was connected on their end but it wasn't allowing me to connect to wifi. I called customer service in India... they told me I needed to pay 130.00 for a 1 year service contract. I said no and they insisted that they knew what the problem was and only they can fix it remotely if I pay. First of all, I will never in a million years be proving my cc info to someone in India. Second, the plan costs more than the product. I'm sure they designed it this was to only work for a few short months then try and stick you with that BS. Well, guess what... I'm going to return that piece of crap to the retailer and purchase another brand.

I purchase a $250 router from Netgear about 7 months ago. I had intermittent wifi signals for most of that time. The unit finally stopped working outright. I called the tech support line in India. They wanted to $89 to tell me if the unit wasn't working. After many calls and being hung up on and decided to return the unit to Best Buy where I purchased it. They told me to send it back to Netgear for repair. I contacted Netgear return department and they made significant effort to not complete a return. They finally accepted to exchange the unit with a refurbished unit. Someone else's piece of junk. This is the last Netgear product I will ever own! Shame on the CEO of Netgear for running such a bad business. They sell bad product and then try to get value by ripping off their customers with bad tech support.

My modem WiFi router is 90 past their warranty, which I would consider if something was faulty or broke. Netgear has a update a patch they need to send to my router. For them to send a signal to my router they want $50 for a 6-month subscription or $175 for a 2-year subscription. Could you imagine if Apple or Droid wanted us as customers to pay for every update or patch. They would be a multi-zillion dollar company or they would be bankrupt as not one of us is going to pay for a patch on our phones that update probably 2 times a week.
What a Great example of a company with Poor customer service. Now remember there is Nothing wrong with my modem, Netgear just happens to need to send a update 90 days passed my "what they call a warranty". It would basically be like if your car had a recall because the chip needed to be updated, even the Automotive company pays for this. Just never been so disgusted as to see such greed from a company. VERY POOR SERVICE.

I bought a Netgear N600 from Staples and after 7 months it failed. I called Netgear and was treated very rudely by some Indian man who I could barely understand. He acted smug and told me that he could fix the problem but only if I agreed to pay for a 1 year tech assistant fee. Nope. I told him that if he didn't help me fix this problem, that I would NEVER buy from Netgear again. He wouldn't help. I gave him as terrible of a review as I could on the Netgear website later on and have since moved on. I'm not wasting any more time on that company. Won't ever buy from Netgear again and you shouldn't either.

Purchased and installed new Netgear Nighthawk AC1900 R7000 Wi-Fi router June 2015. I will call the unit functional. The help from customer service was inadequate from the beginning. After countless hours of email and phone contact I realized the customer service is designed to placate, but not cure problems. I recently received email from Netgear indicating a security update (VU #582384) should be downloaded and installed. I have spent 7 hours attempting to access my Netgear settings. NOT A Chance! I believe the inept and cursory attention of customer service at Netgear should be considered by any potential buyer prior to any purchase.

I have a Netgear wifi box and have been fine with it until I bought a Amazon Fire Kindle. I cannot get the authentication to go through. Spoke to my internet provider and the router I have is fine. Then I contacted Netgear because it seemed that was my problem. First off they wanted to charge me more than I paid for their wifi box for tech support. I am not about to give them $140 for a year of tech support when they can't even help me with what they call a small issue - easily fixed. Also, I do not want to business with companies that send their business overseas - India tech support is BS. You are an American company - support local business. I am DONE with Netgear. BOO!
Company Name:

NetGear

Website:

http://www.netgear.com/