What is a mortgage statement?
Use your statement to track your payments and remaining balance



Written by

Edited by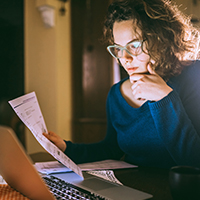 Your monthly mortgage statement may seem at best like just another bill to glance at or, at worst, overwhelming with all its mortgage-related terminology. But knowing how to read it can help you keep track of payments and spot any changes to your loan.
Every lender's mortgage statement might look a bit different, but almost all provide the same information.
---
Key insights
Consumer laws require that mortgage lenders send monthly statements to the borrower, detailing critical loan information.
A mortgage statement includes information such as the current balance, any changes to the mortgage interest rate, interest charges and how to make a payment.
It's crucial as a homeowner to review the statement each month to check for any discrepancies, changes or important notices.
Understanding your mortgage statement
A mortgage statement is a monthly document that details the latest information regarding your home loan. The statement should align with the terms you and the lender agreed upon when you closed on your home.
The law requires lenders and servicers to provide monthly, accurate statements to you as a borrower. The timing of when you receive the statement coincides with the lender's billing cycle. You should receive it in the mail each month, but most lenders offer the option of digital statements, too.
What's included on a mortgage statement?
Each month, you can expect to receive a statement, and it will likely look the same each time (unless the lender decides to change the overall layout). The statement is full of valuable information about your loan.
"For many first-time homeowners, understanding their monthly mortgage statement can be confusing. However, it is important to closely monitor this statement each month," explained Tai Christensen, chief diversity and public relations officer for Arrive Home, a social enterprise facilitating homeownership to underserved communities.
Here's what you'll find included on your statement:
Account number

Your account number is your loan's unique identifier, and it is necessary to have it if you need to contact customer service or set up your online account access. It's typically included on the payment coupon or in the account information summary on your statement and should remain the same throughout the life of the loan.
Balance, interest and term

You can expect to see the remaining balance of your loan on your statement. Note, however, the balance listed on the report is not the payoff amount. If you need a mortgage payoff quote, you typically need to call the loan servicer for the exact amount.

The interest rate is also listed. The interest rate should match the loan documentation from your closing. The rate shouldn't change unless you have an adjustable-rate mortgage , in which case your lender should provide you with 60 days' notice of the rate change.

"Paying attention to the principal and interest portion of the mortgage statement is especially crucial. This allows the borrower to carefully track the progress of their loan repayment and ensure it aligns with the agreed-upon terms and conditions," said Christensen.

The maturity date is sometimes in the statement. You can review this date to see the current expected loan payoff date, but this will change if you make additional payments toward the balance.

» MORE: How do loans work?
Payment details

Your payment details include the minimum amount due and the due date. The statement breaks it down further by showing how much of the payment goes towards the

loan principal

, interest and escrow payments.

Payment details also include your year-to-date payments. This is especially helpful at the end of the year as you prepare for tax time. You can use it to estimate the amount you've paid in interest for your taxes and reference the property tax information.
Escrow account

If your lender collects your homeowners insurance and property tax payment each month, then the lender uses an

escrow account

to house the funds for a yearly payout. The mortgage statement includes the monthly escrow amount, which may fluctuate yearly, depending on any changes in insurance or taxes.

Christensen noted: "Reviewing the mortgage statement allows a homeowner to identify changes in their taxes and insurance, which could potentially increase their payment. An increase in taxes or insurance can become a hardship if the borrower is not aware that these changes have occurred."
How to make a payment

Most loan servicers offer multiple payment options, including:

Online payments, including help setting up automatic withdrawals
Pay-by-phone with a customer service representative or automated service
Through the mail with a check, using the payment coupon included in the statement
In-person with a check (or possibly a credit card) if your loan provider has physical locations
Transaction history and activity

Your transaction history includes a summary of the recent payments made to the account. It also includes any late fees, other charges and past-due amounts.
Prepayment penalty

Most mortgages don't have a

prepayment penalty

, but there are some cases where it does include one if the loan is paid in full prior to a specific date. If this applies to your loan, a prepayment penalty reminder might appear on the statement.
Customer service

The mortgage statement should include details regarding customer service options. This is vital if you have any questions regarding information you see on your statement, any mistakes you catch or if you have trouble making monthly payments.
How to read your mortgage statement
While there are numerous vital pieces of information included in your statement, one of the most essential ones is the payment information and due date. Staying on top of your monthly payments helps you avoid late fees, and on-time monthly payments go towards building better credit since the lender reports your monthly payment activity to the three credit bureaus.
Also, it's a smart idea to check each month:
The balance and interest rate listed
Your escrow payments
Any fees listed
Any delinquency notices
These are the areas where mistakes can happen. If there are any discrepancies or questions, discuss them with your provider as quickly as possible.
"Early detection of an error ensures it is quickly addressed with the lender, which can minimize the risk of any financial complications," said Christensen.
» MORE: Principal vs. interest
FAQ
How long should you keep your mortgage statements?

The Consumer Financial Protection Bureau (CFPB) recommends keeping paper statements on hand for three years. Your mortgage provider should also have copies, but the best practice is to keep physical copies of your own, especially if there were any discrepancies in reports along the way.
How often do you get a mortgage statement?

You should receive a mortgage statement on a monthly basis. The timing corresponds to the payment billing cycle established by the mortgage company.
Does my mortgage balance include interest?

No, your mortgage balance is the outstanding principal on the loan only, which doesn't include interest.
What is a delinquency notice?

A delinquency notice appears on your mortgage statement if you are more than 30 days past due on any mortgage payments. If you're having trouble making on-time monthly payments, contact the mortgage company right away to explore options for help with payments.
Bottom line
It may feel like just another piece of mail, but your mortgage statement is a useful tool for keeping track of payments and any changes to your loan. This is where you'll not only find key basic information such as your account number and loan details, but the statements alert you to any upcoming changes to your loan or if there was a mistake with any transaction activity.
Did you find this article helpful?
|
You're signed up
We'll start sending you the news you need delivered straight to you. We value your privacy. Unsubscribe easily.