What are the pros and cons of buying a bank-owned property?
Is getting a good deal on a foreclosed home worth the risks?



Written by

Edited by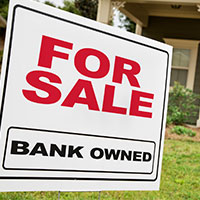 Getting a bargain or reduced price on a home in today's market seems like a long shot. But a bank-owned property may offer one way for a homebuyer to purchase an affordable home or a home in an area with the potential for a strong return on investment.
Foreclosures in the U.S. are on the rise, which means there are more opportunities to purchase bank-owned properties. But although these properties may offer tempting prices, they also come with disadvantages that a buyer should take into account.
---
Key insights
If a homeowner defaults on their mortgage and the home doesn't sell at auction, it becomes a bank-owned property.
A bank-owned property can potentially be purchased below its fair market value.
Buying a bank-owned property may be a much longer process than buying a standard property.
What is a bank-owned property?
A bank-owned property is a property that a bank, lender or loan servicer has taken possession of as a result of a foreclosure or deed-in-lieu of foreclosure. It's sometimes referred to as a real estate-owned (REO) property.
Once a homeowner defaults on their mortgage and there's a foreclosure on the property, the home goes up for auction. The goal is to sell it to the highest bidder so the lender can recoup as much of the outstanding loan as possible.
If the property doesn't sell at the auction block, ownership transfers to the lender, and it becomes a bank-owned property. The lender takes responsibility for selling the property, which may also include clearing the title and making structural or cosmetic home repairs.
Pros of buying a bank-owned property
Purchasing a bank-owned property is a very different process than purchasing a traditional home. However, there are several potential advantages for a buyer if they're willing to go through the extensive process.
Lower price
Buying a bank-owned property may mean getting a bargain. You're essentially purchasing a home at a discounted price, which gives you a greater opportunity to build equity and get a higher return on your investment.
The purchase price isn't the only potential savings to be had when purchasing a bank-owned property. Some bank-owned properties sell with a low down payment or discounted interest rate. Plus, there's a chance to negotiate closing costs with the bank for further savings.
Greater investment potential
If you purchase a property at a substantial discount, it gives you more options to maximize your return. You can fix it up yourself and flip it for a profit. On the other hand, you can keep it and rent it out for monthly income or live in it while reaping the benefits of a lower home price.
Less competition against other buyers
The process of buying a bank-owned property doesn't appeal to every buyer, thanks to the longer purchase timeline and heightened risk of home remodeling and repairs, among other reasons. There may also be less interest from investors as they concentrate on other types of properties for their portfolios. Both these scenarios mean less competition for you as a buyer.
Lower chance of title issues
Chances are that a bank-owned property will come with a clean title and no liens, as a financial institution typically works on clearing these when it takes possession of a property.
However, this advantage does come with a caveat: You may receive a clear title from a special warranty deed on the property, which only covers the title while it was owned by the bank.
Désirée Ávila, a realtor with Charles Rutenberg Realty in Fort Lauderdale, Florida, warned: "This does not guarantee the buyer against any future claims to the title beyond when the bank owned it. A buyer should talk to an attorney and understand what the ramifications, if any, there could be if they take title as a special warranty deed or other type of deed."
» MORE: What is title insurance?
Cons of buying a bank-owned property
The potential savings and reduced competition among buyers might sway your opinion toward buying a bank-owned property, but there are drawbacks that anyone considering bank-owned properties should know upfront.
Possible repairs needed
A financial institution may take care of some cosmetic and/or structural issues once it takes possession, but there's no guarantee that every problem a property has will be fixed, and most sell "as-is." You can conduct a home inspection with these transactions and find out more about repairs upfront. However, the bank isn't likely to offer any repair concessions. Anyone purchasing this type of distressed property should understand that it may need extensive repairs.
"The price appears to be the most obvious advantage [when purchasing a bank-owned property]. If there is nothing wrong with the house, then it probably is. However, if there are a lot of things wrong with the house, what seemed like an advantage could feel to a buyer like fool's gold," Ávila explained.
Limited finance options
You can pay cash for a bank-owned property or obtain a mortgage, but you may find your financing options are more limited than they would be if you were purchasing a traditional property.
Longer purchase process
You might assume that dealing directly with a financial institution that owns the property will make for an easier purchase process, but the reality is that the purchase process is typically longer with these transactions. Multiple parties get involved with each part of the closing, such as the submission and approval of an offer, which further delays the sale.
In this circumstance, a buyer interested in pushing the sale along is working with a financial institution that wants to avoid another foreclosure in the future. That means the institution will scrutinize every aspect of the transaction.
» MORE: How to finance home renovations
Should you buy a bank-owned home?
Buying a bank-owned property isn't the fastest path to homeownership, but it's possible to purchase the home at a reduced price or save on closing costs. As you consider buying a bank-owned property, ask yourself the following questions:
Am I comfortable with a longer purchase timeline?
Do I have additional money for repairs, some of which are likely to be extensive and costly?
Is the financing that I qualify for available for this type of property?
Will I conduct a title search and home inspection and add any contingencies to the offer if necessary?
Is this an investment property or a primary residence?
If you pursue a bank-owned property, it's wise to work alongside a real estate agent with experience in bank-owned properties who can show you comparable properties in the area and guide you through the sale process.
FAQ
Where can I find bank-owned properties for sale?

You can find bank-owned properties for sale through websites dedicated to these types of properties. Some banks, such as Bank of America and Wells Fargo, list the available properties directly on their websites. Other banks and credit unions redirect you to a real estate office. You can search independent foreclosure databases, too, such as RealtyTrac and HUDHomesUSA.
Do I need a real estate agent to buy a bank-owned property?

You're not required to use a real estate agent to purchase a bank-owned property. However, an experienced agent can offer valuable advice and support throughout the process. You can request a real estate agent who is experienced with REO properties and the additional paperwork required.
Can I negotiate the price of a bank-owned property?

Yes, you can offer a purchase price over or under the listing price, although not all financial institutions will negotiate. Remember, not only is the purchase price negotiable, but so are other costs, such as closing costs, the interest rate and the down payment amount.
Bottom line
Finding a bank-owned property is a potential way to save money on a home purchase, as the property may have a low price, interest rate or down payment requirement. But the path to purchase is often long and bumpy and deserves careful consideration.
If this still interests you, start by checking out available properties and enlisting the help of a real estate agent specializing in REO properties. The more you understand the process and dealings with the lending institution, the better your chances of success in completing the purchase.
---
Article sources

ConsumerAffairs writers primarily rely on government data, industry experts and original research from other reputable publications to inform their work. Specific sources for this article include:
Did you find this article helpful?
|
You're signed up
We'll start sending you the news you need delivered straight to you. We value your privacy. Unsubscribe easily.