How to get the best mortgage rate
A good rate can save you a lot of money in the long run



Written by

Edited by
Find Mortgage Lenders near you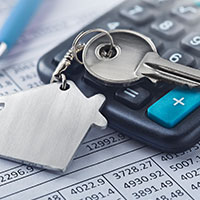 Recent data from Freddie Mac suggests the rates on 30-year home loans increased by more than 3.5% from mid-2020 to mid-2023. This rising rate environment makes it even more critical to find a rate you can afford to pay.
Although you can't control what's happening in the economy, there are things you can do to reduce your interest costs. A good rate will not only make your monthly mortgage payments more affordable, but could save you thousands of dollars in interest over time.
---
Key insights
Your mortgage rate is based on factors such as what's happening in the economy, your financial condition and the size of your down payment.
Three ways to get the best possible rate are to build good credit, lower your debt-to-income ratio and make a larger down payment.
You may get a better rate by considering a government-backed loan.
What determines your mortgage rate?
Your mortgage rate (or interest rate) is determined by many factors, including your credit score, debt-to-income (DTI) ratio, the loan-to-value (LTV) ratio on your mortgage, the type of loan you get and what's happening in the economy.
According to Freddie Mac, average 30-year mortgage rates increased from 3.07% as of the week ending July 2, 2020, to 6.71% as of the week ending June 29, 2023.
While you can't control what's happening in the economy, there are factors you can control when searching for the best mortgage rate. For example, you can make sure your "credit, DTI ratios, and down payment are in good shape at the time of application," said Scott Haymore, head of capital markets and mortgage pricing at TD Bank. "These factors are what lenders use to determine what kind of mortgage will best suit a borrower and will impact their rate."
» MORE: Interest rates and how they work
How to get a better mortgage rate
There are several ways to get a better interest rate on your mortgage, depending on your budget and financial circumstances and what type of home loan you want.
Improve your credit score

Reduce your debt-to-income ratio

Make a larger down payment

Get a government-backed mortgage

Shop around

Buy mortgage points

Lock in your rate
How much money can a lower rate save you?
Depending on the loan size and interest rate you get, you may save thousands of dollars.
For example, let's say your mortgage is $200,000 and you plan to keep your home for 60 months. If you lower your interest rate from 7.75% to 6.75%, you will save $10,082 in interest over this period.
The total interest costs you could expect to pay over 24 to 84 months as interest rates increase or decrease by 0.50% are shown in the following table.
5.75%

6.25%

6.75%

7.25%

7.75%

8.25%

8.75%

24 months
$22,714
$24,717
$26,721
$28,728
$30,736
$32,745
$34,756
36 months
$33,834
$36,839
$39,849
$42,863
$45,881
$48,902
$51,925
48 months
$44,784
$48,791
$52,807
$56,831
$60,862
$64,898
$68,938
60 months
$55,553
$60,561
$65,583
$70,619
$75,665
$80,720
$85,782
84 months
$76,507
$83,508
$90,539
$97,598
$104,679
$111,780
$118,895
Interest costs on a $200,000 mortgage with a 30-year repayment term
FAQ
Is a fixed-rate or adjustable-rate mortgage better?

It depends on your risk tolerance. If you're not worried about rates potentially increasing over the life of your mortgage, you may get a lower rate if you choose an adjustable-rate mortgage (ARM). However, a fixed-rate mortgage is better if you want the security of knowing your rate will never change.
Are mortgage rates different for different types of property?

Yes. Properties that lenders consider riskier may carry higher interest rates than lower-risk properties. For instance, you may pay a higher mortgage rate for a vacation home or rental property than for your primary residence.
How often do mortgage rates change?

Mortgage rates change daily based on factors like what's happening in the economy and market conditions. Rates might even change multiple times a day. So, when shopping for a home loan, closely monitor rates and lock in your rate as soon as possible, especially in a rising interest rate environment.
Can you negotiate your mortgage rate?

Yes, you can negotiate your mortgage rate. While your lender may not always be willing to offer you a better rate, in some cases, they'll agree to match or beat other offers. Shop around so you understand market rates and are equipped to negotiate the best possible rate.
Bottom line
Mortgage rates reflect the amount of risk associated with the loan and the current market. When lenders set mortgage rates, one of their goals is to ensure the money they're making on the loan via interest charges is sufficient to cover the risk they're taking by giving you the loan.
While you can't change what's happening in the economy, you can influence your mortgage rate by improving your financial condition, making a bigger down payment, comparing offers, paying mortgage points or locking in your rate.
No matter which tactic you choose, getting the lowest possible rate might save you thousands in the long run.
---
Sources

ConsumerAffairs writers primarily rely on government data, industry experts and original research from other reputable publications to inform their work. Specific sources for this article include:
Did you find this article helpful?
|
You're signed up
We'll start sending you the news you need delivered straight to you. We value your privacy. Unsubscribe easily.