How to flip a house
It's not quite like the TV shows, but it can be profitable



Written by

Edited by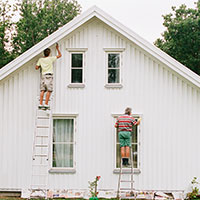 Flipping homes is an enticing side hustle. Buy an ugly house for cheap, do some repairs and rake in the profit. While popular real estate reality shows like "Fixer Upper" and "Property Brothers" have made this endeavor look like easy money, there's more to house flipping than the production crew let on.
While you can't expect to flip a house within a month, you can still use this strategy to earn a decent side income or have a temporary place to live while saving up and waiting for your dream house. Here's what you need to know about the house-flipping process.
---
Key insights
There are several costs you need to consider, including purchase price, rehab costs, holding costs, closing costs and commissions upon sale.
There's also a time investment required for a house flip, even if you hire out all of your repairs.
Evaluate the property's value based on comparable sales in the area rather than relying on asking prices or tax records.
What does it mean to flip a house?
Flipping a house refers to purchasing a property, usually a home in poor condition, to renovate or remodel it and then sell it at a higher price. The goal is to make the best profit possible while only holding on to the home for a few months or less.
According to ATTOM, a real estate data site, homes flipped in 2022 generated a gross profit of $67,900, with the highest percentage of flipped homes in Boston, San Diego and Seattle.
How much does it cost to flip a house?
Many real estate investors abide by the popular rule of buying low and selling high. This is great advice, but it's important to do a full cost analysis before purchasing. "The first big mistake that flippers make is not including all costs involved in the deal," said Steve Davis, CEO of Total Wealth Academy. "Not only do you have purchase price and rehab costs, you have holding costs, closing costs and commissions when you sell."
Closing costs typically cost 2% to 5% of the home's purchase price and can include taxes and insurance. Holding costs are the fees that come when your property does not sell in the time you wish, such as paying an additional month on your loan.
"The second big mistake is over-evaluating the property value. I watch HGTV. They do it wrong every time," said Davis. "The value of the house should be based off of comparable sales. The average sale price is what you should go with when evaluating single-family real estate. Do not go with the high even though you are making it perfect. Go with the average."
» MORE: How to negotiate your mortgage closing costs
Calculating the 70% rule
The 70% rule helps estimate the maximum cost of paying for a piece of property to flip. According to this rule, an investor shouldn't pay more than 70% of the property's after-repair value (ARV) minus the estimated repair costs.
(Projected ARV value of property) x .70 - (estimated repair costs) = Maximum purchase price
For example, if the ARV of a property has a projection of $300,000 and the estimated repair costs are $40,000, the maximum purchase price should not exceed $170,000.
How to get a loan to flip a house
Based on ATTOM's research, buyers purchased 64.8% of homes flipped in 2022 with all cash, and while that's the ideal way to maximize your profit, it isn't the only choice. Applying for a traditional 15- or 30-year mortgage isn't the best solution for your short-term property either.
Instead, a hard money loan is an option for real estate investors and flippers to get financing quicker than a conventional loan. Even though these loans have easier requirements, expect to pay higher interest rates.
Flipping houses: Step by step
If you're ready to try home flipping for yourself, here are the five basic steps you need to follow. It's always a good idea to get tips from others who have flipped a property before or are in the real estate field.
Researching the market

Begin by thoroughly researching the real estate market in your target area. Analyze trends,

property values

and demand to identify neighborhoods with potential for profitable flips.

You should also be aware of what's trending in decor styles so you don't waste your money redoing the kitchen in an outdated trend.
Find the right home

Seek out distressed properties, foreclosures or homes in need of repairs that have the potential for value appreciation. Be mindful of your budget and timeline.

"When diving into house flipping, it's crucial to identify potential risks. Look for red flags like foundation problems, extensive mold and outdated electrical systems," said Gagan Saini, founder and director of acquisitions at JiT Home Buyers. A thorough inspection can help you identify if this property has any structural issues that aren't worth your time.
Estimate repair costs

Estimating repair costs accurately is crucial for a successful house flip. It's essential to thoroughly evaluate the property and create a detailed scope of work. Get multiple quotes from

contractors

or use cost estimation tools to gauge the expenses involved in repairs, renovations and upgrades.

It's wise to add a buffer for unforeseen expenses or contingencies to ensure you have a realistic budget. If you know which contractor you will use, they can walk through it with you on potential listings and help you calculate estimates.

» MORE: How to finance home renovations
Hiring quick and trustworthy tradespersons

Even if you're pretty handy around renovations, you'll still need a team of trusted tradespersons to help you finish your home on time. Look for licensed professionals who have worked on similar flipping projects and know how to work effectively with local building codes and regulations.

Avoid working with individuals or teams trying to balance too many projects since it can affect your overall timeline.
Sell for a profit

The most exciting and nerve-wracking step is putting your newly refinished home back on the market. Consider spending additional funds to stage it since, according to the National Association of Realtors (NAR), 82% of buyers' agents said that staging a home helps buyers to visualize the property as a future home.

Additionally, you should plan on high-quality photography and videography to enhance your listing. If the house looks better and is priced competitively for the neighborhood, you should get traction from interested buyers.
The pros and cons of house flipping
House flipping can earn a lot of cash within a short time frame if you find the right property, renovation team and buyer. However, flipping houses can also be financially risky, especially if it's your first time or you're buying and selling in uncertain market conditions.
Consider these pros and cons before you buy a house to flip.
Pros
Make a profit: One of the top reasons to flip a house is for the potential profit you'll make.
Temporary housing: If you're saving up for your dream home, living in your fixer-upper temporarily can help you save on rent.
Raise property values: Fixing up the worst house in the neighborhood and selling it for a higher price will help the value of the other properties on the street.
Cons
Can take time to sell: It's hard to predict how fast a home will sell, and if your flip spends too much time on the market, you can lose money.
Can cost more to fix than expected: Sometimes, an inspection doesn't uncover all of the costly repairs a home needs, and you don't find out until you start removing walls.
Legal issues: There's always a risk that you can be sued for the renovations or if the title is not in the clear.
FAQ
What is the ideal property to flip?

The ideal property to flip is typically priced below market value and has good potential for improvement. Look for properties in desirable locations with solid market demand. Focusing on homes that require cosmetic updates rather than major structural repairs will save you stress, time and money.
What are the top mistakes of house flipping?

While there are many costly mistakes new investors should avoid, the top mistakes happen when you neglect the proper legal route. You can run into big legal issues if you don't flip a house with a clear title, follow the area's zoning laws or if your remodeling is not up to code.
How long does it take to flip a house?

The duration of a house flipping project can vary based on various factors, including the extent of renovations, market conditions and the investor's level of experience and connection to competent remodelers. Typically, a house flip can take anywhere from a few months to a year to complete, though waiting too long to sell your investment can end up costing more.
Bottom line
House flipping can be rewarding as a side business or a one-time way to earn a profit quickly. Before starting, know that home-flipping reality television shows aren't as accurate as the producers lead you to believe. Instead, it's better to do your own research in your local area to discover what the process really looks like and if it's a good fit for your finances and skills.
Did you find this article helpful?
|
You're signed up
We'll start sending you the news you need delivered straight to you. We value your privacy. Unsubscribe easily.