Semi and Commercial Truck Financing
Compare Reviews for Semi and Commercial Truck Financing
If you are in the market for a semi or commercial truck, you're probably wondering how to get the vehicle you need at a price you can afford. Many companies offer financing options such as leasing and leasing-to-own. These options may be ideal for people who want to get started as an owner-operator or vehicle fleet owner but can't afford the high startup cost of purchasing vehicles outright.
There are many factors you should keep in mind before signing a financing contract for a semi or commercial vehicle. Understand your options and find a company that offers you reasonable terms you can afford.
Top 10 Best Rated Semi and Commercial Truck Financing Companies

Read 31 Reviews

LRM Leasing is a Class 8 tractor and heavy duty construction equipment lease-to-own company in Davie, Florida. For over 35 years, it has provided affordable leases with no credit checks and financing available. Find out more

Read Expert Review
Be the first one to rate this company

Founded in 1933, Ryder is an American transportation management and fleet rental company headquartered in Florida. It provides fleet and supply chain management, contract maintenance, commercial rental and support services.

Read Expert Review
Be the first one to rate this company

OTR Leasing is a semi truck leasing company that specializes in owner-operator financing. It offers low monthly payments on a large selection of late-model used semis for highly qualified customers.

Read Expert Review
Be the first one to rate this company

Wil-Trans is a semi truck fleet management company based in Springfield, Missouri. It offers a lease operator program to qualified drivers, with the option to purchase after proving themselves to be reliable.

Read Expert Review
Be the first one to rate this company

Integrity Financial Groups is a semi and commercial truck financing company with rates as low as 5.49 percent, 18 to 60-month terms and loans up to $10 million. It has been in business since 2011 and is located in Midvale, Utah.

Read Expert Review
Be the first one to rate this company

Go Capital is an Irvine, California-based semi-truck, dump truck, construction vehicle and semi-trailer financing company. It specializes in financing for customers with challenging credit histories and owner-operators.

Read Expert Review
Be the first one to rate this company

Lone Mountain Truck Leasing is a semi truck lease-to-own company with locations in Nevada, Iowa, Illinois, Georgia and Texas. Customers pay a down payment, make monthly payments and own the semi at the end of the lease period.

Read Expert Review
Be the first one to rate this company

Big Rig Lending is a title loan company based in Dalton, Georgia. It specializes in vehicle title loans for owner-operators who need cash for repairs, insurance, income taxes, IRP or other costs associated with the vehicle.

Read Expert Review
Be the first one to rate this company

CAG Truck Capital is a commercial vehicle direct financing company in Chadds Ford, Pennsylvania. It specializes in financing commercial trucks, semis and engine overhauls for owner-operators.

Read Expert Review
Be the first one to rate this company

Capital Solutions is a Tucson, Arizona commercial and semi truck financing company. Founded in 1997, it specializes in dump truck, trailer and semi truck financing and also offers commercial truck leasing.
Semi or commercial truck financing company reviews

Ryder is an American transportation management company founded in 1933 and headquartered in Miami, Florida. It is perhaps best known for its fleet of rental trucks and also leases fleets and individual commercial vehicles such as delivery trucks, transit vans and freightliner trucks. Ryder acquired B.I.T. Leasing and Carmenita Leasing, Inc., and The Scully Companies, Inc. in 2011, further expanding its leasing holdings.
Fleet management service: Ryder's biggest business segment is its fleet management, which provides contract-based full-service leasing, management, rental and support services for small- to medium-sized businesses.
Vehicle options: Ryder leases and rents a variety of commercial trucks with over 37,000 vehicles in its inventory, including single or tandem axle conventional tractors and sleeper tractors; Metro and City Van trucks, including refrigerated trucks; straight, refrigerated and stake trucks; and dry van, flatbed or refrigerated trailers.
Used selection: Ryder offers three classes of pre-owned trucks, vans, tractors, trailers and specialized equipment. Ryder Certified vehicles are the highest quality and have only been owned by Ryder. These have a full maintenance history, extended warranties and flexible financing. Ryder Verified vehicles are inspected and available with warranties. Reclassified used vehicles are sold in as-is condition and are damaged, but make good scrap vehicles.
Ryder ChoiceLease: Ryder recently launched its new leasing portfolio, ChoiceLease, which offers three flexible lease options: full service, preventative or on-demand. Full service provides bumper-to-bumper maintenance for new and pre-owned tractors and trailers. Preventative provides scheduled maintenance for new and used trucks, tractors and trailers. On-demand offers pay-as-you-go maintenance for pre-owned trucks, tractors and trailers and new trailers.
Financing options: Ryder offers both capital and operating leases. The Fair Market Value option includes a closed-end lease with no down payment and 100 percent financing. The FlexTrac option offers a capital lease with the customer responsible for residue value; this option gives you the opportunity to purchase the equipment at the end of the lease.
Best for: small business owners and entrepreneurs.

OTR Leasing specializes in owner-operator semi truck leasing. It offers a large inventory of late model used semi trucks, a quick application process and a high approval rate.
Credit requirements: OTR works with customers with poor credit, first-time owner-operators with three or more years driving history, fleet owners and those with on-time payment history for major bills and loans. It does not work with those with people who have unpaid or overdue child support, less than $5,000 down payment, serious criminal history or open bankruptcy.
Simple application process: OTR offers an online application followed by a telephone interview with an account representative. You will receive an approval or denial decision quickly, and if you're approved you can choose your vehicle and make your down payment immediately.
Payment options: OTR Leasing offers easy payment options, including auto drafts from your bank account, credit card by telephone or online and Comcheck, EFS or Transcheck payments.
Large inventory: OTR leverages its scale buying power as one of the largest late-model semi buyers to pass on selection and savings to the customer. Their large selection of Peterbilt, Volvo, Freightliner, Kenworth and International trucks are all 2005 to 2014 models.
Quality: OTR guarantees its semis to be Department of Transportation compliant, with no body damage over $500 and a new mattress. They also have 12/32" or greater tire tread and 50% or greater brake life.
Best for: owner-operators with three or more years' experience needing a semi truck.

Wil-Trans is a trucking company based in Springfield, Missouri. Founded in 1980 and incorporated in 1990, Wil-Trans began as a fleet management company and now also offers lease and lease-purchase options for drivers. Drivers can lease their trucks and drive for Wil-Trans, then have the option to purchase their vehicles.
Revenue based pay: Lease operators are paid based on a percentage of the revenue generated by their truck plus 100 percent of the vehicle's fuel surcharge. This provides incentive for efficient and safe driving.
Online application process: Drivers interested in working as a lease operator for Wil-Trans can fill out a secure online application. If you'd rather talk with someone, you can fill out a contact form and a representative will get in touch.
Longevity compensation: Lease operators who remain with the company for 5 years and maintain a dependable and safe driving record are given a $10,000 longevity compensation.
Full benefits: Lease operators receive the same full benefits as Wil-Trans' company drivers, including health, dental, vision insurance, life and disability insurance. Wil-Trans also offers a rider program, driver referral bonus, spousal support system and pet program for all drivers.
Support: The company works with drivers, from CDL training to lease planning and purchase. The CEO and staff are involved in helping every driver succeed.
Best for: semi truck drivers who want to become a lease operator.

Founded in 2011, Integrity Financial Groups is a semi and commercial truck and equipment finance company based in Midvale, Utah. It offers truck and equipment finance, bad credit finance and credit repair services.
Large equipment selection: Integrity Financial Groups finances a large selection of vehicles and equipment, including semi trucks, dump trucks, concrete transport trucks, heavy duty trucks, mobile cranes, garbage trucks, medium duty trucks, box trucks, flatbed trucks, semi-trailers, dry van trailers, refrigerated trailers, commercial trailers, flat bed and lowboy trailers and more.
Small or medium ticket financing: Integrity Financial Groups offers small ticket financing up to $150,000 or mid-ticket financing up to $10 million. These options are available for sole proprietorships, vendor resellers, franchises, corporations, nonprofits and more.
Customized lease options: Lease rates start at 5.49 percent with 18- to 60-month terms available. Integrity Financial Groups customizes your lease to your personal needs, credit history and preferences.
Online loan application: Customers can complete an online application and receive a financing decision quickly by phone.
Free credit consultation: Integrity Financial Groups offers a free credit repair consultation with a partner company. The company will obtain your credit report and counsel you on how to improve your credit score, which can help you save money over your financing term.
Best for: small to mid-sized businesses that need commercial trucks or equipment.

Go Capital is a semi truck, dump truck, construction truck and semi-trailer financing company founded in 2013 in Irvine, California. It offers financing solutions to people with many credit backgrounds with a focus on poor credit and owner-operators in all 50 states. It also works with trucking companies with small to medium sized fleets.
Poor credit options: Go Capital offers options for people with challenging credit histories. Its representatives take into account your credit history, industry experience, current financial situation and references before making financing decisions.
No truck limits: Go Capital funds all types of new and used semi-trucks, construction trucks, dump trucks and semi-trailers and, unlike most financiers, does not limit your choice of truck or supplier. You can find a truck through a local dealer, online, private party or even an auction and use your Go Capital funding to acquire it. If you need help locating a dealer, Go Capital's account representatives have many industry connections to help you find the right vehicle.
Quick financing process: You can begin your application at Go Capital's website by filling out a brief contact form. Applications are processed within a few hours on business days, and you will be contacted with the terms of the agreement. The entire process can take as little as one or two business days.
High approval rate: Your loan has a high chance of approval since Go Capital relies most heavily on your trucking experience and not your credit score when considering your application. Go Capital approves 97 percent of applications.
Title loans: Go Capital offers title loans to business owners looking to expand or support their trucking business. A semi-truck title loan, also called a sale lease back, secures financing against the value of your semi as collateral. This type of loan is available to consumers with any credit score.
Best for: owner-operators and small fleet owners who need semi trucks or trailers and those who may have poor credit.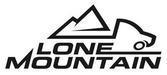 Lone Mountain is a semi truck lease-to-own dealer. It offers a simple process to own your own rig. After you've paid a down payment and made your monthly payments for the duration of the lease, you receive the title to your semi.
Five locations: Lone Mountain has locations in Omaha, Nebraska; Chicago, Illinois; North Las Vegas, Nevada; Fort Worth, Texas; and Tifton, Georgia. Customers can visit any of these locations to view current inventory or search inventory online. You can view detailed specifications and pricing.
Warranty: New trucks include a four-year, 500,000-mile factory warranty. Most used trucks include an engine warranty and a set of new drive tires.
Quick application process: The online application takes less than five minutes, and you can also apply over the phone. You can be approved in as little as one business day, and a Lone Mountain representative will contact you to decide which truck is best for you.
Flexible lease terms: Lease lengths vary from 33 months to 60 months. Newer vehicles require larger down payments, but with a variety of makes and models available you can find one in your price range.
Trade options: Lone Mountain accepts trade-in trucks as all or part of the transaction. Simply complete a trade request online with your information and details about the truck you'd like to trade, and a representative will let you know what kind of a deal they can offer.
Best for: semi-truck owner-operators and those who want to lease-to-own.

Big Rig Lending is a title loan company based in Dalton, Georgia. It works with commercial vehicle owner-operators to offer title loans against their vehicles to fund repairs, insurance, taxes or other expenses of operating the vehicle. Loans up to $15,000 are available in as little as 48 hours.
10-4 Process: Applying for a loan with Big Rig Lending follows the "10-4 Process:" simply spend ten minutes on an online application and provide four photos including one each of your driver's license, vehicle, vehicle's odometer and vehicle title.
Quick funding: The entire application process takes as little as one day, and you can have your loan completed within 48 hours.
Commercial vehicle title loans: Big Rig Lending offers loans against many types of commercial vehicles, most commonly semis but also dump trucks, box trucks, car haulers and more. They plan to add a Trailer Cash program soon.
Two options: Big Rig Lending offers installment loans up to $15,000 at a fixed interest rate with monthly payments, or title pawns from $1,500 to $7,500 with flexible payment options for those with credit problems.
Referral bonus: Big Rig Lending offers a $100 referral bonus for every new customer referral who completes a transaction.
Best for: commercial vehicle owner operators who need small to medium sized loans.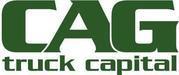 CAG Truck Capital is a commercial vehicle direct financing company located in Chadds Ford, Pennsylvania. It works with owner-operators and specializes in financing for commercial trucks and semis as well as engine overhaul financing.
Trucks financed: CAG Truck Capital finances semis and garbage, roll-off, chip, bucket, septic and pumper trucks. The customer locates a desired truck from a dealer of their choice, then seeks financing through CAG.
Engine overhaul financing: If your commercial vehicle or semi is in need of an engine overhaul, CAG Truck Capital offers financing for customers at many credit levels.
Early payoff options: CAG Truck Capital offers early payoff options for all of its loans and leases. CAG also helps with the trade-in and insurance claim processes if you suffer a total insurance loss.
Online applications: CAG Truck Capital offers truck and overhaul financing applications online. You'll need information about your income, credit history, personal references and information about the vehicle or engine repairs you hope to finance.
Quick process: The process takes just a few minutes and you will be contacted by an account representative with more information. If you're approved, the process takes just a few days to get your loan.
Best for: commercial vehicle owner-operators who need truck or overhaul financing.

Founded in 1997, Capital Solutions is a commercial and semi truck financing company headquartered in Tucson, Arizona. It specializes in financing those with poor credit histories. It offers a 97 percent approval rate for those who pre-qualify.
Simple application: You can apply online or by telephone. The most important qualification to receive funding is your equity, including how much money you have for a down payment and what you can put up for collateral on the deal.
Poor credit: Capital Solutions' average approved customer has a credit score of 567, and they specialize in those who have already been denied funding through banks or other financing sources.
Truck options: Capital Solution can fund older trucks than many companies, typically 2002 models or newer. You can purchase the truck from any dealer, and you can wait to pick it out after you've been approved so you know how much you can spend.
Early payoff: Capital Solutions offers an early payoff without penalty after nine months of on-time payments. You can also increase the amount of each payment to pay off your lease more quickly.
No large balloon payments: Many financing companies require a large payment at the end in order to settle a lease and own the vehicle, but Capital Solutions does not charge a higher final payment.
Best for: those with a poor credit history who need to finance a commercial vehicle or semi or want to lease direct.
Disclaimer
Information in this guide is general in nature and is intended for informational purposes only; it is not legal, health, investment or tax advice. ConsumerAffairs.com makes no representation as to the accuracy of the information provided and assumes no liability for any damages or loss arising from its use.