Consumer Complaints and Reviews

After being customer with Paula Young for years with successful exchanges and returns I was refused a return due to "not in pristine condition", stated had an odor. I returned with all tags and in condition I received it. I was not allowed to talk to a supervisor. I will no longer order from Paula Young and advise other to beware of their "pristine" requirement. I regret I was not allowed a more satisfactory resolution.

I ordered wigs online from Paula Young. It was my first time on the site and I read the stated return policy. I had ordered color swatches from the wig company for $50 and chose my color wisely. When the wigs arrived they were big and bulky and looked comical on me. I returned all 3 of them promptly. All tags were intact, never removed, and in the original box, with net. They were NEVER worn just tried for fit with tags on. I was charged a $40 restocking fee for each wig and $80 restocking fee for a very expensive wig I wanted to exchange. So $160 approximately in restocking fees!!!
Two of my wigs made no mention of Drop ship on the invoice or return label. It was not noted on the website when I ordered. Seems ALL wigs are Drop Ship and these fees are well hidden and easy to miss if you have chemo/radiation brain!! Plus these people are just nasty to deal with. This is a hard lesson to learn because we all want to believe that people are honorable and will do the right thing. Do Not; DO NOT DO BUSINESS WITH THESE PEOPLE!!!

I purchased a wig for my mother. She was very unhappy with the quality. She returned it for a refund it, and I received a postcard saying that the sale was final and the item had been donated to charity. BEFORE I purchased the wig, I called the company and asked if I could receive a refund if my mother didn't like the wig. When I called their customer service, the representative was rude and said I should have noted that it was a sale item and not eligible for a refund. $100 down the drain, NOT including what my mother paid for return shipping. STAY AWAY FROM THIS COMPANY.

I recently purchased a Paula Young wig online. I received the item and the next day I received a catalog that had take $10 off the price of any $49.99 purchase along with free shipping. Since the wig came just one day before I received the catalog I called to ask if I could get a $10 credit since the wig I purchased was $59.99 and the agent told me no because I ordered online and the sale was only good if you ordered through the catalog. I tried to reason that it was the same wig and the same company and that I had made several purchases through their company for the past few years. She hung up. I decide to return the wig for a refund due to their bad customer service department and then read about their return policy where I would be charged $19 for a restocking fee. I guess it is an expensive lesson that taught me to never deal with this company again.

I ordered a wig Sept.15th, received it Sept. 26th, 2016, looked nothing like the picture and color nothing like sample shown. I immediately sent it back for exchange for another wig. After talking with 3 different people, was told two of the times that they had received my wig and my exchange was being processed and would be sent in 5 to 7 days. Now I call today which is Oct. 17th, and they tell me that my wig is now a donation, and I can't get a refund or exchange. This is unbelievable! Took me over a month to find this out. What a joke. Warning buyers to read any fineprint before ordering from this place. I will certainly pass the word on what a terrible customer service you have!!!
How do I know I can trust these reviews about Paula Young Wigs?
636,825 reviews on ConsumerAffairs are verified.
We require contact information to ensure our reviewers are real.
We use intelligent software that helps us maintain the integrity of reviews.
Our moderators read all reviews to verify quality and helpfulness.
For more information about reviews on ConsumerAffairs.com please visit our FAQ.

I ordered 3 wigs and all of the accessories. One was drop shipped from another vendor. Apparently this ship date started my 21 day return clock. The Jazz wig arrived 5 days before the 2 Paula Young brands. I had no paperwork included with Jazz so I couldn't return it. When the others arrived, I kept one and returned 2. By the time they processed the returned Jazz, it was a hair beyond the 21 days. The PY brand was credited because it was within 30 days. I communicated via email which was a joke. They pasted the return policy in their reply. They did not even acknowledge I couldn't return the Jazz until I had the paperwork with the later shipment. I'm out $120. I wish I had found this site before I ordered. Now it's impossible to get completely off of their mailing list. Buyer BEWARE! Read these before you buy.

I have been ordering from Paula Young since 2016. I order five to six wigs per year and I have previously never had a problem. On July 7, 2016, I purchased a Sheer Chic wig and received it on or about July 19, 2016. When I ordered the wig, I did not see (and I do not believe it was) a final sale item. I know the difference between a sale item and a final sale item. After receiving the wig, it was very comfortable, but it did not suit my face shape. I returned it the next day after receiving and requested an exchange for a Sheer Beautiful.
About two weeks later, I received a card saying that the two wigs were on clearance; therefore, they donated the Sheer Chic to charity. I was furious and spoke with a customer service rep. who basically said that I was just out of luck. I called back and talked to a supervisor and was the told the same. Naturally I was furious because I unwillingly donated $80 to charity and received nothing. I will never use this company again. I think they are crooks and their customer service is awful. If it was, in fact, a final clearance item, they have stamped the invoice as such, but it said nothing about a clearance item. BUYER BEWARE!

I am a long time customer, ordering many wigs over many years. I recently ordered an expensive wig. When wig arrived it was a different color than the picture in the catalog. Called customer service and was greet with a less than friendly response when I explained my problem and told the CSR I was not satisfied with the wig and wanted to return it. I was told that since it was a clearance item I could send it back at my expense and they would determine if the correct item was shipped to me. I tried to explain the issue was not whether the correct item was shipped but that the item I received was not the same color as depicted in the catalog or the color chart regardless of whether the correct item number shipped or not.
The CSR appeared to get annoyed so I asked for a Supervisor, who also appeared to be reading from a script and was also less than helpful. Either she did not understand my position or did not want to understand my position. Their solution, I send the wig back, they decide if my position is valid. If, in their opinion it is not they do not return my wig but give it away and I am out the money. What a great way to discourage anyone wanting to return a clearance that does not match the product in the catalog. Why would I return this item to a company who has CSRs who are less than friendly when dealing with returns and having them make a decision that potentially will result in me having nothing. It is so much easy for them to just say I am wrong, give away my purchase and close the issue with me having no recourse. Terrible way to do business.

I have found this company to be excellent. I have returned more than 1 wig and got very good service in replacement or credit. It is "The Wig Company" that would not refund my money when I returned a wig to The Wig Company. That wig looked horrible - unnatural looking, too much hair and the color was awful. I tried to return it to The Wig Company and explained that I was a little over their 30-day return period because my husband has just died. They would not give any leeway and they charged my credit card for the return postage which was in the amount of $14.99. Be thankful there is a Paula Young Company in which to do business with.

I returned wig piece. Did not receive a refund of 39.00. They said "didn't get it 21 days from when it was shipped." They lied about when they received it as post office said they got eight days before. Also the return policy instructions on back said thirty days.

April 23, 2016, I purchased a money order in the amt of 133.98. This included shipping. Filled it out and placed it and the catalog order form filled out for 100% human hair wig Manhattan #A5068. Placed the money order and order form inside the catalog envelope and mailed them April 23, 2016. May 5 I phoned to see if I could get the free shipping. I didn't see at the time of placing the order. Millie told me the order was received and hadn't had time to ship. She said she would apply the free shipping. May 9, 16, and 23, I phoned back to see why the order hadn't shipped that Millie told me it was in and hadn't had time to ship.
Each of the other 3 TSR's told me I was told wrong and you guys hadn't received my order. It's nice to know after you have been scammed that you guys are in the business of scamming people instead of selling wigs and wig products. Be aware that your company has been reported to the Federal Trade Commission. Carol ** is a very dissatisfied customer...

I returned the same week I received, after trying on and was told the wigs were in unacceptable condition. I was told that I would get back $100.92. The company said they cannot now return the money stated to me. Beware of this company as its product and its claims are bogus.

I purchased 2 wigs that upon arrival did not fit me. I returned them to the company but only received partial credit for one wig. I had to make more than 8 phone calls over a period of 7 weeks, constantly being told they would look into my return and I should call in a week. Finally, I insisted on speaking with a supervisor getting her name and told her how upset and disappointed I was with their service.
I also let her know that someone in the return dept. had to either misplaced the 2nd wig, lost it, stole it or credited it to the wrong customer. I also told her if I had delivered such bad customer service in my job I would have been fired. She put me on hold and miracle of miracles, she came back to say I would receive a full credit for the 2nd wig. I will be checking my credit statement. This is such a shame as my friends who recommend this company have had nothing but good things to say and their wigs always look natural. However, I am forever soured on dealing with them again.

They lie about their products and their customer service is nonexistent. Even their contact numbers for email, etc., are incorrect. You can run around in circles and find no information. The wig I received was the wrong color and they argued with me about it even though I was looking at the wig. The hair quality was worse than a horse's tail and could not be styled. Not only was the hair awful and the color inconceivable, the cap could be seen everywhere. When I called them, I received the same attitude and service received by the other customers giving them a review. Giving this wig to charity would be an embarrassment to anyone. A cancer patient would be better off going without, in my opinion. It might serve as a clown wig. I am going to call my credit card company and discuss removing the charge. NEVER will they have any business from me and I will tell everyone I know, including strangers.

I ordered a hairpiece from this company a month ago but never received it. They did, however, cash my check and keep the money. Attempts to contact them were unsuccessful.

I ordered 2 wigs. These were wigs I have worn in the past. The styles are totally different than my other wigs and the hair is so much shorter that styling is impossible. There is absolutely nothing I can do with these items. This is not my first bad experience with Paula Young. If the wigs are advertised as 4" long, be prepared to receive wigs that are 2" long and with the texture of feathers. They should be put out of business.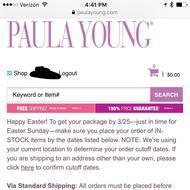 I purchased a wig from them on March 23 before 12:00 on EST. I selected two day shipping so I would receive it by Easter as stated in their email. Upon receiving an item shipped email, I logged into my account to check its location. All documents in my account on their website show 2 day shipping was selected. However, the estimated arrival of my package was March 31, so I called customer service. When the representative couldn't answer me, I asked for a supervisor. That is when Ms. ** informed me that they could not ship my product 2 day, even though they advertised they could, and they had shipped it standard shipping. Her reasoning was that FedEx doesn't deliver 2 day to Georgia. That is crap! Yes they do!
I accused her of false advertising as the advertisement stated to select 2 day shipping if ordered by 12:00 pm EST on March 23 to receive it by Easter. There was no "fine print" saying except items shipping to Georgia. She stated there was no false advertising. No offer of shipping reimbursement was offered, nothing but free shipping on a future order. I told her for their false advertising there would be no future order from me. Bad advertising, terrible customer service. Never ordering again!

I had ordered two wigs (which were new to me), for a total of $82.97, which included a $2.99 staging(?) fee. I received them sometime in December. I tried them on, didn't like them and returned them later. I called the automated system and was informed that the items were returned on January 25 and processed on December 25. I called several times to make sure about these dates, which left me thoroughly confused. I talked to an actual service rep who was very, very rude and who told me that I had returned them after 30 days and per their policy they deducted $19 from each item, shipping and processing.
Now, I really don't know for sure when I returned them and their computer system didn't help any. I do know, however, that it takes them an awful long time to process an order, both outgoing and incoming. I also order from another company and I usually get the wigs within a week. As far as the 30 days is concerned, the rep said it starts the day it is shipped (which is not mentioned in their policy). I wouldn't be as upset if the service rep was sympathetic, or at the least, spoke nicely to me. I will never, ever do business with them again!

My mother ordered two wiglets but received two incorrectly labeled full wigs. She called customer service and was given return instructions. When she received her refund, it was $23.97 short. Not only had they deducted return shipping from her refund, they kept her original shipping. She called and spoke to two very angry and rude people, a frontline agent and a supervisor. The supervisor actually told my mother that she (my mother) didn't know the difference between a wig and a wiglet. My mother was very offended by this and felt that the supervisor was either accusing her of lying or saying that she's stupid.
I called later the same day. I spoke with a frontline agent who was quite rude, a supervisor who was outright belligerent, and a higher supervisor who was nicer but still refused to help. They all kept repeating that the returns department said that the item was right and implied that they neither believed nor cared about what actually happened. Why would I want to do business with a company that is so dishonest themselves they automatically assume their customers are dishonest too?

Just during a period of 1 1/2 years I was taken to the cleaners by this company to the tune of over $350.00. They are very difficult to work with compared to other wig companies! If you are a nanosecond late in returning a wig for an exchange, forget about it. Then they tell you that the wigs you returned (even unopened, still in the box) cannot be accepted and that they have donated them to charity. Hah! And the reps with whom you speak are usually pretty snarky about it. I once returned 2 brand new, still in the box wigs for a return and they refunded the $108.00 cost to a gift card that I no longer have. So, that money is just GONE! I have several more stories, but you get the gist. I am just so disappointed with their unfair and unprofessional dealings. There are a lot of other wig companies out there!

I ordered 2 wigs to get free shipping and did not get the free shipping. When I tried to cancel the second wig they told me they could not cancel it until it ships. Then I told them I would just send the order back unopened and they told me that would cost me at least $19.00 to do that. And their return policy is terrible compared to other wig sites. The Wig company takes returns if you do not like the wig or color, etc. without any problems. I would recommend that you do not order from paulayoung.com. This was the first time I had ordered from this company too. I can imagine how they treat their return customers. They finally took off the extra wig I ordered to get free shipping but the only reason they did that was it was back ordered.

I purchased a wig for my mom. I call to inquire where it is and I found out they said it was already delivered. I called back and told them I had not received it. They told me they delivered it and it was my fault because I put down the incorrect city. Of course I know what city I live in and I did not do that. Came to find out they said they delivered it about 20 miles from me. How could they have delivered it if the address doesn't exist??? I know for a fact my street name does not exist in that city. It's very unique and I looked it up. Does not exist. So now they refused to give me my money back, they refused to give me a new wig and when I tried to talk to supervisor I was on hold for so long. I just hung up. Came to find out my zip code was off by one digit, but the address and city and street was all correct according to my receipt.
The person on the phone lied to me and told me it was delivered to the wrong address because I typed in the wrong city in on the computer. I argued with her and told her that would be impossible I would never do that. She actually told me I did it until I embarrassed her by telling her I found the receipt and I have proof I did not. She still told me they're not going to help me so now I'm out the money without a wig for my mom. This is a very mean-hearted disgusting company. Do yourself a favor and find another wig place. It's just not worth dealing with a company with customer service like this.

Ordered total $53.47. Returned hair/head/stand. I kept the pins. Refunded 21.99 total. Head & stand not refundable. This wasn't made clear on pre-purchase invoice. Never used. I am out $12.00. Deplorable business ethic. BUYER BEWARE!

Returned two wigs that I received about the 8th or 10th of December. Returned 12/23/2015. I kept checking with the company as to the return status, and was told they were received on Jan 19th. The total for the wigs was 103.97 one was 41.99 and one was 48.99 plus shipping. Today 1/25/16 I was told I was given a refund of 44.00 because they were not received on time and there was a restock fee. So basically I lost a whole wig. I have no control as to how long it takes them to process their orders, however previous orders have also taken them weeks to process. BUYER BEWARE OF THE TRICKS. THEY ARE NOT A COMPANY I WANT TO DEAL WITH AGAIN.

My mom who has had chemo and radiation was advised by her hairdresser to order a wiglet from them. When contacted they told us what to order and so we did. The wiglet was too small and we had to return for an exchange. When I talked with the Rep she was very rude, It had been over three weeks and the pkg was still in transit when I called again. The same rudeness and after four weeks it still had not been in their facility with their return label. When I asked for some way to resolve this issue I was told that it was my tough luck and that when it comes in they will process it and not until then. Also, if it did not get there by the time the return policy was up they would donate it. I will never do business with them again and I don't advise anyone else to do so.

This is the first time I've ever reported a company for such poor customer service and unprofessional return policy. On 12-8-2015, I received an e-mail from Paula Young advertising discounted wigs. I decided to order by phone. I received the wig on 12-19-2015, and decided to return it, as the color was too dark, and the wig too big, so packed it up and returned to company on 12-21-2015. After one month and no credit to my card, I called. They said it was a final sale, and if returned it would be donated. If I knew this was a non-returnable item, (which was never indicated by the rep taking my order) would I pay additional postage to send it back? The supervisor was rude, and unmoving. The Paula Young company has a lot to learn when it comes to customer service. I asked to be removed from their customer list, permanently! It was an expensive experience for me.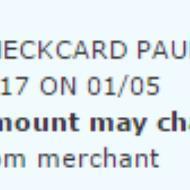 Mid December 2015: Ordered the Spencer Hair Piece for $19.99 on clearance and paid $7.99 shipping/handling. When I received the product and opened the box it was obviously much lighter than the shade pictured in their catalog book. I compared the colors. Included in the box was a return/exchange label and the smart label. I filled out the form and used the smart label charging me an additional $7.99. Later that day I found the exact same product on Ebay for $8.00, free shipping! I sent an email telling them to cancel my order. I received an email stating that my order was a clearance item and non-returnable/non-refundable and that it would be donated to charity even though it was in pristine condition and never even tried on.
I called and asked why did they include a return label and form for returns/exchanges. I said they were encouraging customers to return the item. I added that the color of the item was wrong. They said the item would be donated to charity and that I would not get a refund. I told them I didn't want anything else from them and that I expected a full refund. I was angry and said that they were taking advantage of women experiencing hair loss because of medical conditions, radiation and chemotherapy. I had already paid $19.99 for the product and $16.00 in shipping!
On January 6, 2016 I see a charge on my account for $24.99 from Paula Young Wigs. I called customer service and was told that was for a new order. I said I never placed a new order. The representative said that they decided to let me have an exchange for my product and created a new order for me. I told her that I never agreed to that and that I told them at my last phone call that I didn't want any of their products and wanted a full refund. She said that I should not have hung up on them and that if I hadn't they would have told me that they had decided to let me have an exchange and that the product had already been shipped. I told them I would refuse it. They said I would still have to pay the shipping. So now I have been billed another $24.99, plus the original $27.98 for a total of $52.97. I have nothing to show for it but charges against my account.

I ordered the same wig I've been ordering for years from Paula Young on December 4th. I didn't receive the wig until December 21st at 8pm and was leaving for a trip for the holidays the next morning (December 22nd 7am). I didn't have a choice but to use the wig since it took so long and arrived the night before my trip. After opening the wig up that morning I come to realize it is not the same wig I have been ordering. It was in the same packaging and the invoice reflected the correct order but this wig is not the same. The wig is darker in color, doesn't fit my head and is a shorter length. I contacted Paula Young customer service when arriving to my families in a different state, and was hung up on 2x by customer service while explaining the situation. I then called after the holiday and finally reached a "supposed" supervisor who was rude, and told me they do not care.
I did wear the wig, but it was not my fault the incorrect wig was put in the bag and I had no choice when it arrived the night before leaving for my holiday trip. The best way the company could have rectified this would have been to exchange the wig that they had sent to me in error, but instead I received an attitude from the representatives and supervisor. I was so embarrassed wearing this wig but had no choice for the holiday and am really upset that I am out that money. I will never ever order from that company again and advise anyone I know to not use them as well. Honestly if I saw these reviews I would have never used this company. If they make a mistake they should correct it, rules or no rules, it was their mistake sending the wrong wig in the package to begin with. I can't believe all these complaints and this company still does business like this... Disappointing!

I ordered a wig few month ago. I never received it and they did not refund me. Tracking no is **.

In 2013, I called to complain because I had purchased wigs from Paula Young since the 70's and had the Adelaide wig for a long time. Then they were no longer true to size so I was asked to return the wigs to Specialty Commerce Co Customer Support. Never heard back from them so I switched to the Trisha Wig. This past month 11/2015 I ordered it on the website and the color was not available. Then I checked the catalog and called and they said it was an error on the website. I returned and received the correct color. Now, the large no longer covers my hairline and the hair itself is much shorter. Not at all true to the ad in the catalog. I was also told the website would be fixed for the color error and has still not been fixed. I am going to start looking for a better company because Paula Young apparently does not care about their customers and when you call they are RUDE!!!
Updated on 05/26/2016: I received a phone call the very next day and was informed that they were having issues with the Trisha wig. I received credit for the return and also received free shipping on the Naples that I chose to use in the meantime. I was also given a number to call her back if I had problems with the Naples. Since the Naples has more hair and also a little longer than the Trisha, I thought I would call that number and find out if the issue with the Trisha had been resolved. Previously, when I had called the number and asked for Latonya, I was able to leave a message and she returned my call. This time I was asked which department, and I told her the situation and I didn't know the department. Maybe it was someone in Customer Service. I was transferred and they didn't know Latonya but looked at my account and said nothing was posted as to my previous conversation with Latonya.
They tried to transfer or get some information for me but were unable and then asked if they could help me with anything or if I would like to place an order. I said that I didn't want to order and have to return unless I knew that the issue with the Trisha had been resolved. They were not able to tell me other than maybe the next batch of them that they received might be correct. Apparently, they do not follow up to see if the size or length has been corrected. The only good thing I can say is that someone did contact me originally and they do finally have the color added on their website. I recently looked to see the new wigs they mentioned to see if I could find a different one and now I keep getting emails regarding that, asking if I found anything or if they could help me. Yet they were really not able to help me. They ought to look at the definition of "Customer Service".
Paula Young Wigs Company Profile
Company Name:

Paula Young Wigs

Website:

https://www.paulayoung.com/