Consumer Reviews and Complaints

I called AT&T to order new landline service. I was disconnected twice during the call and had to restart the process all over again. The rep gets your cell number and claims to call you back if you get disconnected but he doesn't. Plus the reps barely speak English. After an hour on the phone, I was finally given my new number and a date and time when AT&T would arrive to install the line. That date and time came and went without anyone showing up. I called AT&T and was told they could NOT find my order. I had to go through the order process all over for the third time. They gave me a new date and time for installation. However, an AT&T technician showed up at my house on the WRONG date and time.
The next day I received mail from AT&T with a list of services I had ordered. The list was wrong and my phone number was different than the one they had assigned me when I placed my order. In addition, our new phone line had static and a constant hum. I called AT&T to ask about the two phone numbers, the line hum, and the incorrect list of services and got stuck in voice mail hell with an automated system not prepared to handle multiple problems.
So I went to AT&T online and tried to create an account through "myAT&T app". The system couldn't find my account using either of the two phone numbers. Frustrated, I initiated a chat. The AT&T rep could not understand English well and relied on canned phrases and sentences to conduct business. She clearly did not comprehend my issues and kept asking repeated irrelevant or silly questions. She kept asking who my home line service provider was. AT&T of course!!! I couldn't believe she kept asking. She also stated she couldn't find my Account either.
Finally after 45 minutes of dithering around she transferred the chat to another agent. The next agent informed me that he was the in the WRONG department to help me, and transferred the chat again. This time I got an automated message saying my wait time was two hours!!! At that point I disconnected the chat. I'm near tears as I write this. AT&T seems to offer no good way to contact anyone for help and if you do get someone, they don't understand English well enough to solve the issues. First they can't find my order and now they can't find my account. If only AT&T weren't the only choice for a landline but I'm in a rural area. I give up.

My mother is 83 years old, blind and has a special telephone to dial. Her telephone is her lifeline. She has had the same phone number for years. Her telephone account is in her name. When trying to use her phone it did not work. We called for repair. They were sending someone next day 4-6PM, no show. My husband called, they will send someone 6-8, no show. Next day someone comes early morning unannounced, as we were on our way out for her Dr. appt. Repair man said, "Can't fix it, you have to talk to someone and have them do a credit check." My mother was confused asked "Why? I pay my bill on time, they deduct it from my checking account autopay every month." His response, "You have two phone lines here, when AT&T installed U-verse, they used your phone line." My husband and I have a separate AT&T account and had ordered U-verse. Instead of connecting to our phone line they tapped into hers.
I spent hours, days, on the phone trying to get someone to come and turn my mothers phone back on. They said someone will call to let us know when a repairman would come. My husband and I called a "special" number given to us by the repairman. No callback, next day tried again, woman was rude, "Oh you're the one with the three people, you, your mother in law and your wife. Who placed the order?" When I got in the phone with her, I said we want to know when someone is coming to fix the phone, my mom needs her phone. The woman did not even hear and was rambling on and on, I asked her to please, shut up and listen, she hung up! My husband texted her for her supervisor. Supervisor called and said we had used profane language. NOT TRUE.
She, they, could not help, dial another number. Finally got a lovely woman that explained exactly what happened, someone would come, someone would call when. Still no call as to when. Called them again, response, they'll be here on the 21st that's more than two weeks. My mother had to do a credit check on the phone, her DirecTV bill will no longer be consolidated (that gave her a $20.00 discount) and she'll have to resetup her autopay. I don't understand why my poor, blind, 83 year old Mom has to be so hassled with all these things. She has done nothing wrong. How hard is it for AT&T just to come and fix their mistake! I am totally disgusted. My mom is afraid and full of anxiety, she can't call anyone especially in case of emergency. Her little senior friends can't call her. This is elder abuse and very bad business! Shame on AT&T.

Without any notice or warning, AT&T removed 'Privacy Manager' from my residential telephone line. This feature helps to screen out callers who are UNIDENTIFIED, UNKNOWN, BLOCKED, PRIVATE OR DO NOT PROVIDE CALLER ID. This feature allows callers to be voice screened or press '1' to unblock their number for the current call only. In this day when we are being frustrated and annoyed by Telemarketers and Spam phone calls without let up, it is an essential tool as a front line of defense for these types of callers. They refuse to restore it - and say that it is being discontinued. I never received any kind of notice or letter from AT&T.
I have had to contact the CPUC (California Public Utilities Commission) and requested their help. In the meantime, I am vulnerable to Blocked or Anonymous calls from Telemarketer at any time of day or night. I cannot understand any justification for this kind of action. This is an essential feature, and AT&T touted it as such for years and years. Agreed, it is useful and helpful and I merely want it restored ASAP.

We moved to a home that has no access to cell signals or cable services in March, 2016. We had to have a landline and AT&T was the only option. When we set up the account, we wanted auto draft payments. We never received a bill, but since we have several emails, we didn't notice. Since auto draft was to be in place we didn't worry. We receive at least 4 calls a week from AT&T associated folks trying to sell other unwanted/unneeded services, but never a call from their billing department.
On June 20, 2017, they emailed us a disconnect notice with a bill for $$1,002.55. We received it on 7/24 and a call confirmed $91.96 due on 7/7 as well. Of course the bill included 14 late fees (unknown amounts) with no refund possible. I paid it all immediately over the phone (with a $5 fee for using a phone payment). The associate again set us up on auto draft for future bills. On August 9, I called again because we still hadn't received a bill. After a 15 minute struggle to get to a human he assured me the bill had been paid, but he claimed that the reason we had not received a bill was because when they sent the bill to the email, it was rejected so the system stopped trying. He changed us to a paper bill. At no time did they try to call, mail a past due notice or mail a bill. To this date (8/10/17) we have not received a bill in any form and we were told in no uncertain terms we would have to pay for any back copies of a bill!

I was just on the phone with AT&T trying to get help for my combined bill which I was suppose to save money doing. We have a landline, also talked into for savings, internet and DIRECTV. Combining was suppose to save more money, so I did that only to get an exorbitant bill with the DIRECTV charges jumping sky high.
Called AT&T, was transferred 5 times, an hour and 42 minutes on the phone, with the last transfer wanting me to start all over again with all the info!!! I am now waiting for another supervisor to call back! The service people are kind, but I wouldn't want their job for anything -- everytime I call this is the same scenario. And it seems I have to call about every other month. No one has any idea of what they are doing and they pass it off to the next "supervisor". The DSL internet connection is spotty, which they claim they can see that -- so why do they not fix it!!?? If they weren't our only option where we live, we would be going with any body else! They over sell and under provide.
How do I know I can trust these reviews about AT&T?
881,173 reviews on ConsumerAffairs are verified.
We require contact information to ensure our reviewers are real.
We use intelligent software that helps us maintain the integrity of reviews.
Our moderators read all reviews to verify quality and helpfulness.
For more information about reviews on ConsumerAffairs.com please visit our FAQ.

Please take my advice and stay away from AT&T. I have spent my day waiting for a technician to come out to bury lines in my yard so I can close on my house and all I keep getting is the runaround. Lines still not buried. I have spoken to nine different people today alone, not counting the ones that I spoke with Monday, who promised the same thing. Now I have to wait to Monday and call a different department and hope that the contract on my house doesn't fall through because of AT&T promises that were never delivered. They do not care about their customers! All they care about is getting their money once a month. PLEASE STAY AWAY FROM THIS COMPANY!! Nothing good will come from using them. I will never use them again and will tell everyone I know to stay away as well. They are full of promises but they don't deliver on any of them. Do yourself a favor and choose a different provider. I wish I had!!! Customer service is a joke...

I have been a loyal AT&T customer since 2004. I was solicited to begin a digital life services while purchasing my second Apple Watch. I agreed. The service was installed and worked okay until all the security equipment caused the socket it was plugged into to malfunction. I informed AT&T Digital Life that my security system was not working because the socket stopped working. They expected me to continue to pay despite the issues. I suggested that they send someone out to move it to another area. Instead the situation has lingered and resulted in a $782.15 debt. It was beyond my control that the socket stopped powering the system.
I can't believe AT&T expected me to pay for a service that wasn't working; potentially because of their equipment. I can't believe the nonchalant attitude Chrisan and the other 4 representatives I spoke to displayed. I was on hold 30 plus minutes on a over hour long conversation. I know that there is something that can be done. This ruthless attitude is unacceptable. I plan to seek furthest assistance. They should have suspended the service until the electrical problems were dealt with by moving the system. Now I am stuck with all this equipment, electrical problems and a $782.15. But I am expected to maintain my loyalty.

I own a business account and has one phone line with AT&T. It has been many years... Recently I am closing down my business, so I don't need the phone line anymore, called AT&T to cancel the service. They said, the termination fee is $120, because the phone is auto renew every year, and if you don't accept auto renew, they won't provide the service... I paid one line for $57 every month, it's not cheap, now I want to cancel it, it's more fee to pay? It is the worst company. I agree to pay what I use, but this is not fair, when I cut off the phone line has to pay termination fee? They are ridiculous, surprised they have all of awful reviews, and still survive… I will try not to use anything from AT&T in the future! No more AT&T!!!

Thankfully I switch to Cox a few months ago for internet because my home phone from AT&T is down again and they won't fix it till Wednesday. A whole week to send someone out - what kind of service is that. It is in their equipment but I am so tired of this problem. We called Cox to get their phone and they will be out Monday so I will be canceling my home phone with AT&T which isn't working anyhow but get to keep my same number.

It is hard to describe just how bad AT&T/DIRECTV billing is. Some time ago, we terminated. We sent a check to cover our cancellation fee. They CASHED THE CHECK. Now they have sent the bill to a collections company for the same amount! If they don't resolve immediately, I am taking legal action. Their product is OK but their billing is absolutely the worst.

So it all started with one day they decided to come in and install an internet line. We then some how had 4 internet lines on our account on two different bills. When I called them I was transferred 14 times and even to another state's AT&T and they asked how the heck I got there. Finally I got to the right department and spoke to a supervisor and they told me "Oh we will merge the accounts and cancel the excess lines along with credit you the amount back." I waited for that to happen and nothing was happening so I decided to cancel their service entirely.
Fast forward 2 months and I get a bill from them saying it will be sent to collection for past due and I called. I get transferred 5 times all to the wrong departments again and no one can answer my question and all they can tell me is "Oh we just checked and that credit to your account was denied." I asked them "Why did you not tell me sooner? Why was it denied and who decided to come in and install the additional lines then?" They could not tell me who requested it or why they decided to come out there and install extra lines to charge us for it.
Story short: Tried to figure out why we had two separate bills with 4 internet lines and 2 phone lines. Found out they started an additional account without any request from us and just started billing us. We asked for a credit and they agreed to it and they sent it for final approvals. The credit got denied and they never told us about it nor why it was denied. The bill then ended up being sent to collection.
If love to spend 13 hours on the phone with the company and be transferred 14+ times in 1 day without any resolution, then this is the company for you. If not you are better off looking for another company because AT&T is by far the worse company with the worse customer service. Hell, I even read that if you complain to their CEO they will take legal actions on you. Now that there is a red flag that the company even knows what they are doing is wrong but they don't care they only want your money.

Over the weekend, our Internet stopped working. Considering I have a book due in a few days, I was really frustrated! I am so grateful I received an amazing Customer Service rep for area 46280 on the phone! I apologize for the spelling, I should have asked... I think his name was Kannon or Cannon? Thank you AT&T for stepping up your Customer Service! Previously we never had any problems with Customer Service. I just felt the service was average. After experiencing zero call hold, multiple options for help with my complaint and great customer service, our Business will always use AT&T!

If I could leave no stars that would be better. Worst company ever. They tell you they need to put you on hold to review your account. Meanwhile the stupid ** kept me on hold for 45 minutes till they closed and never returned. That's how they want to conduct business!!!!! 5 ** calls today and the issue still is not resolved. What kind of ** morons do you people have working for you??? Like really do your job and help the customers, you take enough ** money and rip us off, the least you can do is talk to us when we call, not place us on hold and pretend you're doing work. When really you're watching the ** clock tick till it's time for the phone lines to close while I'm over here looking like an ** thinking you scumbags are actually trying to help. This place and the people that work for AT&T are worthless!!! I'm surprised this business is still functioning with the amount of stupidity from at&t customers services!!!

My husband signed up for the bundle deal which was supposed to be $89.99 a month for two years last 10/19/16 and was billed around that level for Dec, Jan, Feb...then in March they started billing us $133, $144 etc, for the next months. I called at least 20 times to correct this and each time they said they would and to not pay a portion over the amount...then they started adding late charges and even shut off my phone service and DirecTV service. Again, after another 10 or so calls it was reinstated but I had to pay the $279 back charges. Most of it was reimbursed, but then I started receiving two bills - one from DirecTV and one from AT&T which is more than the 89.99. Now it is June 2017 and my husband took it over and it's still wrong and there is no place to go to straighten it out only call centers that do not work to fix the problem. So stay away from AT &T deals. They're a pack of lies.

Overcharging - March 24, 2017, I called in to inquire about adding another line of service and change our data from 5gb to 10gb. Made the appropriate arrangements, put a phone number on hold and until my husband could go in to the store in person to have them set up a new account on a phone that we owned outright. Went into the store that evening, and found out our account was all messed up. Supposedly got it straightened out. Then on March 30, 2017, I discovered the amount they were charging me was wrong. So I called in and spoke with an AT&T call rep and began to figure out all of the problems. They had me behind on my bill for every month and it wasn't. How could my daughter and I have upgraded if my bill was behind. Everyone knows you cannot upgrade if you are in arrears.
They were also were charging me more than what was quoted to me. I was being charged for insurance where I never asked for it, got a credit for that and some other credits which brought my bill balance down. Supposedly got everything worked out and was told my bill each month would be less than what it was with only 3 lines instead of 4. The next bill was said to ignore since there would be some pro rating on it where we changed the account mid month. After that, would be what my bill would be normally.
The next month was close, a little cheaper than I was told, so I didn't complain. Then the next month, my bill went up considerably... like almost $100! I called in to see what was going on and spent 3 hours on the phone with two women. They tried sidetracking me from the fact that my account was being overcharged. I had kept all of my texts and emails about payments. I was told 4 different amounts on what my normal bill was. One was $218, the other was $246 and then the next was $223. When I asked how they came up with these amounts, and why there was such a price discrepancy, I never got any answers. Nothing was resolved. Then I call in again requesting to speak with a manager. They didn't want to transfer me and tried to speak to me about my account. I asked again to speak to a manager. Finally, I was connected to Josh and started to explain my dilemma. Then I was hung up on.
I then called back, this time I was told they couldn't transfer me since they didn't have the capabilities to do so. Then the lady proceeded to ask me to talk to her about my problems. I said, "no thanks", that I wanted to speak to a manager. She said "ok," and then transferred me (funny how she said originally they didn't have those capabilities but then did). Finally a woman said "Hello, how can I help you." I asked if she were a manager and she hung up on me. I then called back, and got the automated system telling me after I entered in my number that the call centers were closed. I then called back and used one of our other line numbers and got right through. I tried it again on my number, and was told the call centers were closed. My husband recorded it and was witness to it.
That's when I called Sprint, asked if they were buying out contracts and they said "yes." Then I called back to see how much was left on two phones we had just upgraded to back in January. Had the same issue about the call center being closed but then used one of the other numbers and got right through. I was asked if I had any issues right from the beginning of the call rather than "how may I help you". I knew right then they were all in on whatever they were trying to do. I said "no, I just wanted to know the amount we owed on two of our phones." He then gave me an amount. I said "thank you," then he started acting weird, saying "yes, yes, yes" and proceeded to then tell me that since we've made payments on the phones, that we actually owed less. He told me that what he gave me was the retail amount. Umm, did I ask for the retail amount?
Then he gave me what we actually owed (supposedly). He then asked what were my issues. I never said one thing about any issues. I just requested the amount we owed on the two phones. I said "no problems, thank you so much", hung up and went to Sprint and became a new customer with them. Long story short, they have no record of the amount the woman gave me on March 30, but my bill showed it but then increased and they had the nerve to tell me I paid a partial payment. I've always paid my bill statement and what it says to pay. Never have made a partial payment ever... How would I ever be able to and keep service? Makes no sense! I am done with this company who has had a lawsuit against them for overcharging their customers and lost. They're still doing it! Their customer service is a total joke.

We bought a cabin for which we needed a landline because the cell service is spotty. When we set it up with AT&T we told them to send the bill to our home address because there is no mail delivery to the cabin address. A month later we called them to inquire about the bill and were told that the payment is late. We explained to them that they messed up because we never received the bill. Reagan promised us a $60.00 refund. We did not see that on the next bill and called again. Arthur assured us that things will be taken care of. Next bill arrived, no refund. I just called and was told that the refund was denied. I don't care about the refund but communicate people. That's your business. Incompetence all around. Sorry that I need that landline.

Just decided to go with AT&T U-Verse digital phone linked to my DirecTV acct. Previously I had a standard line phone through AT&T. First thing I check was that my number would be Portable. They checked and assured me it was. After 3 days of waiting, I called today to see why it hadn't changed yet. After talking to a person who supposedly was working with a tech, finally told me it was all but done and they just needed to have me answer some questions for security reasons. They put me on hold for this person. 30 min & 3 people later, I finally demanded to speak to a supervisor.
The supervisor checked & told me that my phone number was not available to move. That is 2 maybe 3 people that lied to me about moving my phone line. All the supervisor could say was that he started an investigation as to why I was told it could move. I told him that did not help me and they were losing my business. Sorry guys, you just cant trust what they say, and obviously selling is more important than truth.

My mother is 84 years old. My father passed away in Feb. My mother just wants to have my father's name taken off the billing on the AT&T account. My father was an employee for AT&T for 35 years. He retired with them, and had benefits with AT&T. They told her she would be without service for 2 weeks and they have to change the equipment, then she has to send the old equipment back to AT&T even when the technician was there to install the new equipment. She has a Life Alert pendant and being without phone service for that long was not an option. She called several numbers and no help. She would get people that talked with such a heavy accent it was very hard to understand. She would ask for a supervisor and get nobody. Very disappointed in AT&T in that they do not support former employees and their families. Will not use them again.

On April 11- 2017 AT&T disconnected my home phone service without warning. MY bill was due on the 2nd. When I called them, the explanation was because I had a late bill in February. That bill had been paid as well as the one in May. The first 3 times I attempted to speak with them was via online chat. Each time when I got to the part of the conversation where the person with AT&T realized my phone should have not been disconnected the person would stop typing and the chat would be dropped. This happened 3 times. Finally I called the company from my cell phone the next day. After being transferred to three differ people. I was told that I would not be charged a reconnect fee. However they could not provide that in writing.
The lady I was speaking to also went ahead and told me the call was not being recorded but she assured me there would be a note in my account. Today when I got the following month's bill I was charged a reconnect fee. Again I called the company and was transferred to 3 different people and placed on hold 15 minutes. I asked to speak with a supervisor and was told they could not waive the reconnect fee. I asked if she could see any notes on my account. She said she couldn't, but strangely she was able to see the name of the people I had talked to. I asked her to speak with the person listed that I spoke with. She put me on hold. She came back within 2 minutes and said she had reviewed the notes on my account and spoke with the person. She said the other lady did not agree to waive the fee. I asked to speak to her supervisor and was told there was not any one in the office higher than her. She did offer to have corporate call me within 24-48 hours.

For 25+ years I've had trouble-free landline phone service via "Southern Bell" and "Bell South", it was then taken over by AT&T. I asked AT&T to up-grade my internet service from DSL to their U-Verse. On July 7th, 2014 a AT&T's tech. came to my home and as requested upgraded my internet service. AND without my knowledge nor permission, the same tech switched (aka STOLE!) my "landline" to "VOI" (Voice over Internet). During the next several months, till Oct 27th, 2014 I was frequently lied to! As AT&T switched my home phone service from one of their service plans to another (Jerked around), I was CHARGED FEES for unwanted services on unwanted phone plans... Approx $330.00.
Losing my "land line" meant I lost phone service whenever the electric power went out. (Frequent storms, including hurricanes, equipment failures. misc & etc.) From the day I lost my landline, my home security system was unable to call my security monitoring center as it was unable to connect via VOI. At the time, I was 79 years old. Having a number of health issues I needed reliable 2-way communications with the outside world. What I didn't need was the aggravation AT&T dealt me during those three months! I felt AT&T was giving me UNRELIABLE service, thus switched to another carrier ASAPracticable!

I disconnected my phone July 2016. I kept receiving bills with outstanding balance for three months. Finally in for the months of Nov/Dec the bills had stopped. In January 2017 I received another outstanding balance for Nov/Dec. I called AT&T and was told it was an outstanding balance again! I explained to them that I canceled my account in July of 2016. I also requested for AT&T to double check if my phone service was even canceled. The rep for AT&T explained to me that she couldn't even get into my account because my account had been canceled, however I needed to pay the outstanding balance.
TODAY as of April 2017 I received another outstanding balance. I called AT&T and the rep for AT&T explained to me that there is NO evidence of me calling in and canceling phone service with them and I would be sent to collections if my bill wasn't paid. I told the AT&T rep that I canceled in July 2016 and double checked January 2017 and was told my account had been canceled. He explained to me that YES I did call in January to pay the bill and was unable to provide AT&T rep with account information. I explained to him that if AT&T was able to collect my money then AT&T was able to get into my account. He further explained to me that it was two different departments. So, I have decided to file a complaint with the PUC.

Spoke with "Patricia" at AT&T Customer Service on February 1, 2017, asked for service to be disconnect immediately. She said it'd be done THAT DAY and AT&T would send a FINAL Bill out in a couple of days. I received a Bill (NOT the Final Bill) approximately 6 weeks later (billing date 3/13/17) on 3/27/17 with a PAST DUE FEE. Spoke with "Melvin" at AT&T Customer Service on 3/28/17 ~10:31am and he said that AT&T would reduce the FINAL BILL to $19.96 and it should be available for payment the next day. After several days of trying to login to the AT&T site the person in the "CHAT" said I would have to wait for a paper bill which I should get in a couple of weeks!?
Today, 3/3/17, I've "Chat" with Kim **, who got "Katie" to call me (~4:26pm) after I was told the bill was not adjusted by AT&T's Melvin after he swore he would. "Katie" said she needed to transfer me to someone who could "help". I'm STILL waiting on the muzak to stop and someone to answer the phone. Someone on AT&T side of the line just hung up the phone, without answering, after being on hold for approx. 50 minutes! Does this "Company" need money this bad that treat a customer this badly?!? Consumer Affairs should have negative numbers for ratings! I will NEVER do business with AT&T again and I intend to Twitter/Facebook this issue to others as well!!!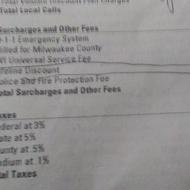 I am a unemployed senior with adverse medical issues receiving food benefits from a government funded "lifeline" service on my bare bones analog Wired service by AT&T giving me a $18.50 discount off my overpriced service so I can afford $20.20 a month to keep my phone. 4 months ago AT&T advertisement on tv offered $10.00 internet access over my phone line for low income families receiving food benefits (which I am). It took AT&T - 6 applications and 4 MONTHs of aggravation, resending applications they lost, misfiled or couldn't read to finally get my application approved and my internet running via my phone line. I just paid my internet 2 month bill at $10.00 a month when I received a notice from AT&T that they no longer would be providing low income families with a $18.50 lifeline credit (just in WI- nowhere else!).
AT&T has a MONOPOLY - on the wired analog service here in Milwaukee, WI. Which means there is no other companies that can give me service. I DO NOT want a "free cell phone" with my number and do NOT want wireless service. As my internet AT&T provided after 3 months of grueling harassment to get will NOT work with wireless or cell phone. I filed a complaint with FCC - #** who contacted Annette ** of AT&T at 1877 677 3215 ** office of the President who blew me off regarding my complaint and couldn't even tell me if my internet would still work without a landline service! She gave me Frontier phone number which I already called who verified they did NOT provide service in my area because AT&T is a monopoly.
I'm frustrated, stressed out and can not afford to pay full price service for AT&T home phone service and feel abused AT&T takes money from government to install internet to low income families then turns around to pull the rug out from under them for profit. Ms ** would not do a thing for me but add to my stress and frustration. She couldn't even tell me how to keep my $10.00 internet without my phone service. I simply can not afford at&t service without help. She was unapologetic, rude and unavailable and refused to give me the numbers of resellers that rent AT&T lines to offer to public at discount - Northwestern said they used to do that, but AT&T jacked up their price so bad they could no longer resell it at discount. Company Greed while taking government money that's all it is.

For over a year I have filed complaints with ATT regarding "unblockable", excessive, offensive and often content dangerous, incoming Spam mail. Each complaint was disregarded. Each complaint was "lost"... with each subsequent phone call revealing that there was no record of the previous complaint. After much research, and a confession by a Yahoo representative... I learned that the Yahoo "address blocking" function on ATT email accounts had been disabled, via ATT demand.
I also learned that the SOURCE of these emails was actually tied to ATT itself, via a "pay to solicit" program through an ATT service identified as ATTCustomerCare@emaildl.att-mail.com. These emails include such charming items as an explicit solicitation for erection supplements... a solicitation for "Asian ladies"... a solicitation for 'bedroom' products... a solicitation for "pain control" supplements... and a solicitation regarding methods by which you may CURE your Diabetes. Obviously, this presents a true danger, to real Diabetics.
These examples are in addition to the hundreds of other unsolicited trash, which arrive daily - in batches of 20 to 50. Eventually, ATT provided with 3 email addresses - and instructed me to forward the emails to those addresses. Despite doing this... the flow of garbage was not only NOT REDUCED... BUT ACTUALLY ACCELERATED. NOW, THOSE "FORWARDS" ARE BEING BLOCKED BY ATT/ YAHOO... and I have now received emails telling me not to send forwarding/reporting them. Adjusting "privacy settings" does NOTHING to stop the flow of this garbage. The ATT website continues to refer customers to the steps to take in order to "block" offensive email addresses, when in truth, this email tool has been disabled.
Filing complaints does NOTHING to stop the flow of this garbage. One ATT agent suggested that I actually reply to these emails and "unsubscribe". I pointed out that using links/replying to unsolicited emails is inviting "account hacking". I also pointed out that I should not be required to "unsubscribe" from trash that I never "SUBSCRIBED TO" in the first place. I ordered them to "unsubscribe" all of my email addresses from ATT's "pay to solicit" program. This abuse needs to be addressed and this company required to obtain an "Opt-In" from the customer, before anyone can avail themselves of the use of customer's email addresses. It has already been investigated and verified that this issue IS NOT virus related, NOR have my email addresses been collected by means of "pages visited". I have retained every one of these emails... along with each 'forwarded' copy.
When I finally asked ATT Rep directly about this "pay to solicit" program... coupled with the presence of a "dismantled" blocking function; the Rep stated that she was "unable to either confirm or deny" that information. I replied, "That would indicate that the accusation is true... since you would have been instructed to absolutely deny such a statement IF it were false." She laughed... and said, "No comment". The public needs to act on this matter. It is no wonder that "hacking" is becoming rampant... YOUR SERVICE PROVIDER ENCOURAGES IT BY ITS OWN BUSINESS PRACTICES.
Update 04/05/2017: This is an update to the complaint that was filed on 2/22/17. The complaint is related to the receipt of large volumes of inappropriate Spam mail coming from the "sender address" of "ATTCustomerCare@emaildl.att-mail.com" - many of which arrive with MY NAME on them. While AT&T denies that this material is coming from them (claiming that the domain of @emaildl.att-mail.com had been "phished")... it is important to note that their ONLINE BILLING STATEMENTS, also come from THE SAME "@emaildl.att-mail.com" Sender address domain. It is also important to note that the "blocking tools" within the affected email program have been disabled, prohibiting the customer from blocking this particular/other related email addresses.
After 14 months of attempting to work with AT&T's phone assistants to stop this flow... and with the issue continuing to be unresolved... and after the company was unable to provide any repair/replacement of the provided "Spam blocking" tools... I filed a formal complaint with the Atlanta Better Business Bureau. I was contacted by the Office of the AT&T's President. After weeks of excuses from this office, the problem was totally unresolved. The Office of the President FINALLY simply stated that they could not do anything about the matter, and announced that they were closing the complaint, as "resolved".
THIS PROBLEM WAS NEVER RESOLVED, NOR DID I CONSENT TO THE CLOSING OF THE COMPLAINT. This office attached a $50, one-time credit to my account, as compensation for "the inconvenience". The "inconvenience" continues, unabated. During the entire time that I was communicating with this office, I was never afforded the services of a qualified "remote access" AT&T technician who could actually view these emails directly. I was never afforded any direct contact with a "remote access" Yahoo technician, who could have likewise directly viewed this material. I was never provided with an upgraded/repaired Spam blocking tool.
I REPEATEDLY REQUESTED THAT THESE STEPS BE TAKEN... AND WAS REPEATEDLY REBUFFED, WITHOUT EXPLANATION. Now, this same gentleman, logged in to the Yahoo portal, viewed this mail and stated that he was "taking screenshots" of the offending mail. Apparently, that was not enough for his technical staff to follow up on - and yet, no technician ever contacted me and did the same thing! Instead, the AT&T office gentleman claimed that, despite the fact that AT&T had told me to "forward" these emails to them... that the "forwarding" of these emails to such technicians was insufficient for their review needs...
AND despite the fact that HE had viewed/screenshot captured them... that this was insufficient for their investigative needs, and so he wanted me to download the Spam mail onto my P.C. hard drive and then send it to the same AT&T department addresses, as an email attachment. I was advised, by an outside source, that this "direct download" process was patently UNSAFE, and NOT to do this. I advised the gentleman of this outside advice, and he responded, by forcibly closing the complaint.
NO UPGRADED/REPAIRED SPAM BLOCKING TOOL WAS EVER PROVIDED AND THE OFFENSIVE MAIL CONTINUES TO ARRIVE, TO THIS DAY. What is interesting, is that the volume of this offensive material (coming directly from the AT&TCustomerCare address) has slowed down slightly... BUT with the identical emails are now arriving from different "Sender" addresses... which cannot be blocked either. In the end, the Atlanta Better Business Bureau stated that they could not do any more to facilitate a resolution - claiming that I had "no new evidence".
Customers need to be aware of this situation. They need to be aware of the complete lack of AT&T ownership of the problem... and of a total disregard for customer privacy and personal data use. I remain convinced - as both I and an AT&T service investigator were told by Yahoo - that this is part of a "pay AT&T to solicit AT&T customers" solicitation program, and that Yahoo is therefore contractually unable to "block" the "@emaildl.att-mail.com" address. It appears that these "low end" advertisers submit their advertisements to AT&T, who in turn, sends those advertisements to the AT&T customers - thus avoiding the customer's claim that their email address/ personal information has been "shared" with an outsider. I have turned this matter over to a "outside interested party" for ongoing monitoring and potential action.

They are crooks and their customer service dept is a joke!!! Countless times over the past year my bill has randomly changed... higher, of course! Every time I try to resolve this repeating occurrence, it takes well over an hour speaking with various reps!!! Last month I was told one thing... this month it all changed! To top that off, two calls today were mysteriously "dropped". Seriously??? There is no professionalism and these people DO NOT VALUE THEIR CUSTOMERS!!!

Worst company ever!!! Do NOT do business with them. They take your money by overcharging you without explaining details. Customer service is the worst. They don't know anything about helping you as if they don't care. Do not switch over to this phone company. DirecTV made biggest mistake letting AT&T merge with them. AT&T is nothing but a scam and loves to collect your money and overcharge you. This company shouldn't be open. I hate AT&T and will be switching to another company ASAP. I repeat don't do business with these losers. They take your money and overcharge you for everything. The customer service is ** and doesn't help you out. I can't believe a company like this one will drain you dry for your money. And not only that they put it on your credit. I hate I even switched to company. They are piss poor with their service and nothing but scams.

I've been with AT&T for several years. I have never had my service interrupted. I have several devices and some I finance, so my bill is a little high. I have no issue with that. The problem I recently experienced with AT&T was upgrading my device online and through mail. I will never do it again after this, and I would advising you to do the same. If it weren't for the devices I currently have financed I would have left AT&T in a heartbeat! I saw an add that mentioned that if I upgraded from my LG V10 to the LG V20 I could get free headphones valued at $175 free and a $200 credit towards my bill but only if I pre-ordered. The incentive definitely caught my eye especially since I was unable to purchase a Samsung Note 7 with all the issues it had. I placed my order and received my phone not long after. I attempted to activate the phone and had issues and went to a local store nearby for help.
Long story short, turns out I just needed a new SIM card. I went home packed up my old device to ship it back. Prior to returning the device, I made sure to inspect it and followed all the rules that were sent to me (i.e. Back cover was on, battery included, no cracks in the screen, deactivated find my phone, phone turned on/off.. etc) I actually hadn't had that device for a long time because I was having issues with a previous LG V10 and was given a refurbished model. My phone was in tiptop shape because it was always in a case and had a tempted glass screen protector. I shipped off my old device and kept receiving emails and text messages that my old device had not been received. I called customer service and she advised me to wait a few more days since there is a process. To my surprise a few days later I got an email stating the device was returned damaged and was only valued at... $18!
Because I was on the next program I was being held accountable for $261.99. I never was given details as to why it was considered damaged and they refused to return the phone to me. I called customer service and was bounced from department to department only to have not one resolution. I regret not taking pictures prior to shipping out the phone because honestly who takes pictures of their phones. I would not intentionally send a phone knowing it was useless. I also regret not just going back to local store and just turning it in. I'm now stuck with the fee on top of my already high bill. If something happened in transit I should NOT be held responsible. I feel set up, I think it's odd that I wasn't given detailed information about what they claimed was damaged and with having to pay the fee for the phone why is it not being sent back to me? If I were you and was looking for a new carrier I would avoid AT&T all together.

Today I received for the first time in my life a bill from a collection agency. It was from AT&T. I notified the AT&T today that I received no bills from them after I closed my account 8 months ago. I spent 3 hours on the phone being sent from one representative to another over and over. I was explaining to them that I did not receive a bill from them and THEY explained to me that they sent one out in March (8months ago!). They stated that was the only mailing they sent to me. I NEVER remember receiving this bill. Today I found out about having a balance due on this closed account as THEY CONTACTED THE CREDIT BUREAU.
I feel that they have very unfair business practices. I have always taken such great pride in having a high credit score and yes, I believe it was only affected by 5 points but still I think this is horrible business practices and I will NEVER use this company again. They refused to remove it from collections EVEN though they admitted only contacting me one time 8 months ago. (I had gone into the store to make that last payment when I closed the account I thought. Customers need to be aware when they close their account and to make sure and verify that all has been paid. I thought that I did.)

I had no connection on my landline. I was scheduled for an evening appointment between 4 and 8 pm. I called 5 times up until 9 pm. I repeated the complaint to each operator, a supervisor and finally a manager. They would only give first names and no ID number. No one ever showed for my appointment. The manager said I would be priority the following morning between 8 am - 12 pm. No one showed up the following morning. Again I had to speak to a supervisor who again reschedule for 1-4 pm. I asked for the number to the corporate office no one knew the number including the supervisors and managers. I am done with AT&T. I will be acquiring another service. AT&T needs to be investigated. They do not care about their customers and their customer's time. It's sad what they are getting away with.

My family has been with AT&T off and on for the last 30 years. My father really likes AT&T... till now. For the last few months, where we live, we've had off and on service from AT&T. Sometimes the service would go out for 12 hours at a time. Sometimes 2 or 3 days. When we would call they would say that they were having issues in our area and that they would take the money off the bill. We had some issues with our bill - admittedly we were behind but we thought we'd caught up. Fast forward to October we get a bill from AT&T for $847 and change. Asking me questions because we knew that we owed them money so it's best we could We Gather the money and paid them off, within days of the bill that we got it was paid. The service was not restored. We assumed that it was one of the outages because they were frequent. When it became apparent that they had disconnected the service we went to Comcast.
Comcast said that they could not Port the number because it was disconnected. So we called AT&T and ask them to release the number. A week and a half of calling AT&T and talking to people in the Philippines I'm getting a different story every time we talk to someone. Finally I spoke to a gentleman named Marco who was very gracious and gave me a confirmation number that AT&T would take care of the issue within 24 hours. A week later nothing is done. I called and talked to them and they said "oh it's because the ticket was sent out with a 2 week date on it." The person said he fixed it and it would take 24 hours for it to be ready. I called Comcast this morning and still it wasn't done. I called AT&T again and they're telling me that they're going to charge me over $100 to reconnect their service in order to have it active so that the number can be ported by Comcast.
Bear in mind we don't owe them any money. Bear in mind that we did not ask them to disconnect the service. We've had this number for over 30 years with people all over the world having the number and now we're going to have to lose that number because AT&T doesn't really give a rat's behind about their customers. Decency counts for nothing with this company.
UPDATED ON 11/24/2016: This is an update from previous review of AT&T. After AT&T cancelled our home phone service, they also cancelled our TV service. We had AT&T U-verse and because the service had been going in and out since July we went to the store and one of the representatives recommended that we use DirecTV. The representative told us that DirecTV was a separate company from AT&T even though it was under the same umbrella. We got a separate DirecTV bill and we assumed that even though they were under the same umbrella we're dealing with two different companies. Be aware that you are not!
When AT&T cancelled our service they cancelled DirecTV service also. Even though the bill for DirecTV was not connected to the bill for AT&T. We did not cancel DirecTV - AT&T cancelled DirecTV. Yesterday we got a bill from DirecTV saying that we had an early cancellation charge of over $400. When I called to find out why when we didn't cancel the service, they said AT&T cancelled the service and so they were charging US the early termination fee. The representative they said the only way that they could reverse the cancellation fee was if we re-established service with them once again paying all the installation fees that came with the original bill. That even though we did not want the service cancelled and AT&T cancelled it we still have to pay to reverse what AT&T did.
The representative was the first person I spoke to and what I said to her that we couldn't afford to pay that kind of money for a service that was wrongfully taken away by AT&T, she referred me to their billing department in the Philippines. I was very polite when I told David the representative that the way I appreciated his work he couldn't help me and I hung up. I decided that I did not want to speak to someone in the Philippines because as in the first review -where we were begging AT&T to give us back our number- I learned that if AT&T sends you abroad it's because they're not going to do anything at all to help. They send you there because they don't want the American Representatives to receive the brunt of any ones displeasure with them.
As to our 30 yr old telephone number which AT&T took away, I called AT&T and ask them to put an addendum on their message (which told everybody that our new number was unavailable) that gave the new number that we had been given. The representative said they would be able to do it in a couple of days. A week goes by and in that week my mother goes into the hospital. Our relatives and friends are calling and they can't get through because there's no number. They start calling everybody else in the family who had our cell numbers. This turns into a virtual circus because people are calling - this one calling that one trying to get through.
I called AT&T to find out why they haven't followed through with what they said they were going to do. Because now this is a week later. I spoke to representative who said to me he had no idea why I was transferred to him because he was in the technical department and he had nothing to do with those outgoing messages. In a voice that was tightly controlled and I do admit dripping with rage I told him that my family could not get through because AT&T did not follow through once again. I told him I was sitting at my mother's bedside in the hospital and I needed this matter to be resolved.
If you recall the previous representative said that it could not be done in under two days. This young man, apparently NOT an AT&T company man, got the job done in half an hour. I don't think I have ever been so disillusioned by the company as I am but AT&T. For company with such a long history it's kind of pathetic to see how badly they treat customers. I guess once you've reached the top of where you want to be there's nothing to do but the step on the little man.

ConsumerAffairs Research Team
The ConsumerAffairs Research Team believes everyone deserves to make smart decisions. We aim to provide readers with the most up-to-date information available about today's consumer products and services.
AT&T is a publically traded company with headquarters in Dallas. The company has 140-year history in the communications industry. Today, it offers home phone, cellular, Internet and television services. Consumers who bundle two or more services receive discounts.
U-verse Voice: Consumers in select locations can subscribe to U-verse Voice, a digital home phone service that makes calls using an Internet connection. The service is available in over 20 states.
Traditional service: AT&T offers traditional landlines in most locations throughout the United States. Options include local and nationwide plans. Rates vary by location.
Extra features: Customers can add several features to their phone service, including three-way calling, call forwarding, selective call forwarding, call waiting, caller ID and more. Some plans include these features in the monthly fee.
Online support: AT&T customers can visit the Support section of AT&T's website to learn about using the features associated with their landline. They can also schedule service and installation online.
International calling: International calling can be added to any plan for a monthly fee. Interested consumers can visit AT&T's website to see per-minute rates for international plans.
Best for AT&T Home Phone is best for anyone who wants a traditional landline and is looking for a variety of additional features.
Compare Home Phone Service
AT&T Home Phone Service Company Profile
Company Name:

AT&T

Year Founded:

1983

Address:

208 S. Akard St.

City:

Dallas

State/Province:

TX

Postal Code:

75202

Country:

United States

Website:

http://www.att.com/