Consumer Complaints and Reviews

Spoke with "Patricia" at AT&T Customer Service on February 1, 2017, asked for service to be disconnect immediately. She said it'd be done THAT DAY and AT&T would send a FINAL Bill out in a couple of days. I received a Bill (NOT the Final Bill) approximately 6 weeks later (billing date 3/13/17) on 3/27/17 with a PAST DUE FEE. Spoke with "Melvin" at AT&T Customer Service on 3/28/17 ~10:31am and he said that AT&T would reduce the FINAL BILL to $19.96 and it should be available for payment the next day. After several days of trying to login to the AT&T site the person in the "CHAT" said I would have to wait for a paper bill which I should get in a couple of weeks!?
Today, 3/3/17, I've "Chat" with Kim **, who got "Katie" to call me (~4:26pm) after I was told the bill was not adjusted by AT&T's Melvin after he swore he would. "Katie" said she needed to transfer me to someone who could "help". I'm STILL waiting on the muzak to stop and someone to answer the phone. Someone on AT&T side of the line just hung up the phone, without answering, after being on hold for approx. 50 minutes! Does this "Company" need money this bad that treat a customer this badly?!? Consumer Affairs should have negative numbers for ratings! I will NEVER do business with AT&T again and I intend to Twitter/Facebook this issue to others as well!!!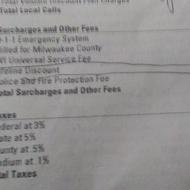 I am a unemployed senior with adverse medical issues receiving food benefits from a government funded "lifeline" service on my bare bones analog Wired service by AT&T giving me a $18.50 discount off my overpriced service so I can afford $20.20 a month to keep my phone. 4 months ago AT&T advertisement on tv offered $10.00 internet access over my phone line for low income families receiving food benefits (which I am). It took AT&T - 6 applications and 4 MONTHs of aggravation, resending applications they lost, misfiled or couldn't read to finally get my application approved and my internet running via my phone line. I just paid my internet 2 month bill at $10.00 a month when I received a notice from AT&T that they no longer would be providing low income families with a $18.50 lifeline credit (just in WI- nowhere else!).
AT&T has a MONOPOLY - on the wired analog service here in Milwaukee, WI. Which means there is no other companies that can give me service. I DO NOT want a "free cell phone" with my number and do NOT want wireless service. As my internet AT&T provided after 3 months of grueling harassment to get will NOT work with wireless or cell phone. I filed a complaint with FCC - #** who contacted Annette ** of AT&T at 1877 677 3215 ** office of the President who blew me off regarding my complaint and couldn't even tell me if my internet would still work without a landline service! She gave me Frontier phone number which I already called who verified they did NOT provide service in my area because AT&T is a monopoly.
I'm frustrated, stressed out and can not afford to pay full price service for AT&T home phone service and feel abused AT&T takes money from government to install internet to low income families then turns around to pull the rug out from under them for profit. Ms ** would not do a thing for me but add to my stress and frustration. She couldn't even tell me how to keep my $10.00 internet without my phone service. I simply can not afford at&t service without help. She was unapologetic, rude and unavailable and refused to give me the numbers of resellers that rent AT&T lines to offer to public at discount - Northwestern said they used to do that, but AT&T jacked up their price so bad they could no longer resell it at discount. Company Greed while taking government money that's all it is.

For over a year I have filed complaints with ATT regarding "unblockable", excessive, offensive and often content dangerous, incoming Spam mail. Each complaint was disregarded. Each complaint was "lost"... with each subsequent phone call revealing that there was no record of the previous complaint. After much research, and a confession by a Yahoo representative... I learned that the Yahoo "address blocking" function on ATT email accounts had been disabled, via ATT demand.
I also learned that the SOURCE of these emails was actually tied to ATT itself, via a "pay to solicit" program through an ATT service identified as ATTCustomerCare@emaildl.att-mail.com. These emails include such charming items as an explicit solicitation for erection supplements... a solicitation for "Asian ladies"... a solicitation for 'bedroom' products... a solicitation for "pain control" supplements... and a solicitation regarding methods by which you may CURE your Diabetes. Obviously, this presents a true danger, to real Diabetics.
These examples are in addition to the hundreds of other unsolicited trash, which arrive daily - in batches of 20 to 50. Eventually, ATT provided with 3 email addresses - and instructed me to forward the emails to those addresses. Despite doing this... the flow of garbage was not only NOT REDUCED... BUT ACTUALLY ACCELERATED. NOW, THOSE "FORWARDS" ARE BEING BLOCKED BY ATT/ YAHOO... and I have now received emails telling me not to send forwarding/reporting them. Adjusting "privacy settings" does NOTHING to stop the flow of this garbage. The ATT website continues to refer customers to the steps to take in order to "block" offensive email addresses, when in truth, this email tool has been disabled.
Filing complaints does NOTHING to stop the flow of this garbage. One ATT agent suggested that I actually reply to these emails and "unsubscribe". I pointed out that using links/replying to unsolicited emails is inviting "account hacking". I also pointed out that I should not be required to "unsubscribe" from trash that I never "SUBSCRIBED TO" in the first place. I ordered them to "unsubscribe" all of my email addresses from ATT's "pay to solicit" program. This abuse needs to be addressed and this company required to obtain an "Opt-In" from the customer, before anyone can avail themselves of the use of customer's email addresses. It has already been investigated and verified that this issue IS NOT virus related, NOR have my email addresses been collected by means of "pages visited". I have retained every one of these emails... along with each 'forwarded' copy.
When I finally asked ATT Rep directly about this "pay to solicit" program... coupled with the presence of a "dismantled" blocking function; the Rep stated that she was "unable to either confirm or deny" that information. I replied, "That would indicate that the accusation is true... since you would have been instructed to absolutely deny such a statement IF it were false." She laughed... and said, "No comment". The public needs to act on this matter. It is no wonder that "hacking" is becoming rampant... YOUR SERVICE PROVIDER ENCOURAGES IT BY ITS OWN BUSINESS PRACTICES.
Update 04/05/2017: This is an update to the complaint that was filed on 2/22/17. The complaint is related to the receipt of large volumes of inappropriate Spam mail coming from the "sender address" of "ATTCustomerCare@emaildl.att-mail.com" - many of which arrive with MY NAME on them. While AT&T denies that this material is coming from them (claiming that the domain of @emaildl.att-mail.com had been "phished")... it is important to note that their ONLINE BILLING STATEMENTS, also come from THE SAME "@emaildl.att-mail.com" Sender address domain. It is also important to note that the "blocking tools" within the affected email program have been disabled, prohibiting the customer from blocking this particular/other related email addresses.
After 14 months of attempting to work with AT&T's phone assistants to stop this flow... and with the issue continuing to be unresolved... and after the company was unable to provide any repair/replacement of the provided "Spam blocking" tools... I filed a formal complaint with the Atlanta Better Business Bureau. I was contacted by the Office of the AT&T's President. After weeks of excuses from this office, the problem was totally unresolved. The Office of the President FINALLY simply stated that they could not do anything about the matter, and announced that they were closing the complaint, as "resolved".
THIS PROBLEM WAS NEVER RESOLVED, NOR DID I CONSENT TO THE CLOSING OF THE COMPLAINT. This office attached a $50, one-time credit to my account, as compensation for "the inconvenience". The "inconvenience" continues, unabated. During the entire time that I was communicating with this office, I was never afforded the services of a qualified "remote access" AT&T technician who could actually view these emails directly. I was never afforded any direct contact with a "remote access" Yahoo technician, who could have likewise directly viewed this material. I was never provided with an upgraded/repaired Spam blocking tool.
I REPEATEDLY REQUESTED THAT THESE STEPS BE TAKEN... AND WAS REPEATEDLY REBUFFED, WITHOUT EXPLANATION. Now, this same gentleman, logged in to the Yahoo portal, viewed this mail and stated that he was "taking screenshots" of the offending mail. Apparently, that was not enough for his technical staff to follow up on - and yet, no technician ever contacted me and did the same thing! Instead, the AT&T office gentleman claimed that, despite the fact that AT&T had told me to "forward" these emails to them... that the "forwarding" of these emails to such technicians was insufficient for their review needs...
AND despite the fact that HE had viewed/screenshot captured them... that this was insufficient for their investigative needs, and so he wanted me to download the Spam mail onto my P.C. hard drive and then send it to the same AT&T department addresses, as an email attachment. I was advised, by an outside source, that this "direct download" process was patently UNSAFE, and NOT to do this. I advised the gentleman of this outside advice, and he responded, by forcibly closing the complaint.
NO UPGRADED/REPAIRED SPAM BLOCKING TOOL WAS EVER PROVIDED AND THE OFFENSIVE MAIL CONTINUES TO ARRIVE, TO THIS DAY. What is interesting, is that the volume of this offensive material (coming directly from the AT&TCustomerCare address) has slowed down slightly... BUT with the identical emails are now arriving from different "Sender" addresses... which cannot be blocked either. In the end, the Atlanta Better Business Bureau stated that they could not do any more to facilitate a resolution - claiming that I had "no new evidence".
Customers need to be aware of this situation. They need to be aware of the complete lack of AT&T ownership of the problem... and of a total disregard for customer privacy and personal data use. I remain convinced - as both I and an AT&T service investigator were told by Yahoo - that this is part of a "pay AT&T to solicit AT&T customers" solicitation program, and that Yahoo is therefore contractually unable to "block" the "@emaildl.att-mail.com" address. It appears that these "low end" advertisers submit their advertisements to AT&T, who in turn, sends those advertisements to the AT&T customers - thus avoiding the customer's claim that their email address/ personal information has been "shared" with an outsider. I have turned this matter over to a "outside interested party" for ongoing monitoring and potential action.

They are crooks and their customer service dept is a joke!!! Countless times over the past year my bill has randomly changed... higher, of course! Every time I try to resolve this repeating occurrence, it takes well over an hour speaking with various reps!!! Last month I was told one thing... this month it all changed! To top that off, two calls today were mysteriously "dropped". Seriously??? There is no professionalism and these people DO NOT VALUE THEIR CUSTOMERS!!!

Worst company ever!!! Do NOT do business with them. They take your money by overcharging you without explaining details. Customer service is the worst. They don't know anything about helping you as if they don't care. Do not switch over to this phone company. DirecTV made biggest mistake letting AT&T merge with them. AT&T is nothing but a scam and loves to collect your money and overcharge you. This company shouldn't be open. I hate AT&T and will be switching to another company ASAP. I repeat don't do business with these losers. They take your money and overcharge you for everything. The customer service is ** and doesn't help you out. I can't believe a company like this one will drain you dry for your money. And not only that they put it on your credit. I hate I even switched to company. They are piss poor with their service and nothing but scams.
How do I know I can trust these reviews about AT&T?
739,825 reviews on ConsumerAffairs are verified.
We require contact information to ensure our reviewers are real.
We use intelligent software that helps us maintain the integrity of reviews.
Our moderators read all reviews to verify quality and helpfulness.
For more information about reviews on ConsumerAffairs.com please visit our FAQ.

I've been with AT&T for several years. I have never had my service interrupted. I have several devices and some I finance, so my bill is a little high. I have no issue with that. The problem I recently experienced with AT&T was upgrading my device online and through mail. I will never do it again after this, and I would advising you to do the same. If it weren't for the devices I currently have financed I would have left AT&T in a heartbeat! I saw an add that mentioned that if I upgraded from my LG V10 to the LG V20 I could get free headphones valued at $175 free and a $200 credit towards my bill but only if I pre-ordered. The incentive definitely caught my eye especially since I was unable to purchase a Samsung Note 7 with all the issues it had. I placed my order and received my phone not long after. I attempted to activate the phone and had issues and went to a local store nearby for help.
Long story short, turns out I just needed a new SIM card. I went home packed up my old device to ship it back. Prior to returning the device, I made sure to inspect it and followed all the rules that were sent to me (i.e. Back cover was on, battery included, no cracks in the screen, deactivated find my phone, phone turned on/off.. etc) I actually hadn't had that device for a long time because I was having issues with a previous LG V10 and was given a refurbished model. My phone was in tiptop shape because it was always in a case and had a tempted glass screen protector. I shipped off my old device and kept receiving emails and text messages that my old device had not been received. I called customer service and she advised me to wait a few more days since there is a process. To my surprise a few days later I got an email stating the device was returned damaged and was only valued at... $18!
Because I was on the next program I was being held accountable for $261.99. I never was given details as to why it was considered damaged and they refused to return the phone to me. I called customer service and was bounced from department to department only to have not one resolution. I regret not taking pictures prior to shipping out the phone because honestly who takes pictures of their phones. I would not intentionally send a phone knowing it was useless. I also regret not just going back to local store and just turning it in. I'm now stuck with the fee on top of my already high bill. If something happened in transit I should NOT be held responsible. I feel set up, I think it's odd that I wasn't given detailed information about what they claimed was damaged and with having to pay the fee for the phone why is it not being sent back to me? If I were you and was looking for a new carrier I would avoid AT&T all together.

Today I received for the first time in my life a bill from a collection agency. It was from AT&T. I notified the AT&T today that I received no bills from them after I closed my account 8 months ago. I spent 3 hours on the phone being sent from one representative to another over and over. I was explaining to them that I did not receive a bill from them and THEY explained to me that they sent one out in March (8months ago!). They stated that was the only mailing they sent to me. I NEVER remember receiving this bill. Today I found out about having a balance due on this closed account as THEY CONTACTED THE CREDIT BUREAU.
I feel that they have very unfair business practices. I have always taken such great pride in having a high credit score and yes, I believe it was only affected by 5 points but still I think this is horrible business practices and I will NEVER use this company again. They refused to remove it from collections EVEN though they admitted only contacting me one time 8 months ago. (I had gone into the store to make that last payment when I closed the account I thought. Customers need to be aware when they close their account and to make sure and verify that all has been paid. I thought that I did.)

I had no connection on my landline. I was scheduled for an evening appointment between 4 and 8 pm. I called 5 times up until 9 pm. I repeated the complaint to each operator, a supervisor and finally a manager. They would only give first names and no ID number. No one ever showed for my appointment. The manager said I would be priority the following morning between 8 am - 12 pm. No one showed up the following morning. Again I had to speak to a supervisor who again reschedule for 1-4 pm. I asked for the number to the corporate office no one knew the number including the supervisors and managers. I am done with AT&T. I will be acquiring another service. AT&T needs to be investigated. They do not care about their customers and their customer's time. It's sad what they are getting away with.

My family has been with AT&T off and on for the last 30 years. My father really likes AT&T... till now. For the last few months, where we live, we've had off and on service from AT&T. Sometimes the service would go out for 12 hours at a time. Sometimes 2 or 3 days. When we would call they would say that they were having issues in our area and that they would take the money off the bill. We had some issues with our bill - admittedly we were behind but we thought we'd caught up. Fast forward to October we get a bill from AT&T for $847 and change. Asking me questions because we knew that we owed them money so it's best we could We Gather the money and paid them off, within days of the bill that we got it was paid. The service was not restored. We assumed that it was one of the outages because they were frequent. When it became apparent that they had disconnected the service we went to Comcast.
Comcast said that they could not Port the number because it was disconnected. So we called AT&T and ask them to release the number. A week and a half of calling AT&T and talking to people in the Philippines I'm getting a different story every time we talk to someone. Finally I spoke to a gentleman named Marco who was very gracious and gave me a confirmation number that AT&T would take care of the issue within 24 hours. A week later nothing is done. I called and talked to them and they said "oh it's because the ticket was sent out with a 2 week date on it." The person said he fixed it and it would take 24 hours for it to be ready. I called Comcast this morning and still it wasn't done. I called AT&T again and they're telling me that they're going to charge me over $100 to reconnect their service in order to have it active so that the number can be ported by Comcast.
Bear in mind we don't owe them any money. Bear in mind that we did not ask them to disconnect the service. We've had this number for over 30 years with people all over the world having the number and now we're going to have to lose that number because AT&T doesn't really give a rat's behind about their customers. Decency counts for nothing with this company.
UPDATED ON 11/24/2016: This is an update from previous review of AT&T. After AT&T cancelled our home phone service, they also cancelled our TV service. We had AT&T U-verse and because the service had been going in and out since July we went to the store and one of the representatives recommended that we use DirecTV. The representative told us that DirecTV was a separate company from AT&T even though it was under the same umbrella. We got a separate DirecTV bill and we assumed that even though they were under the same umbrella we're dealing with two different companies. Be aware that you are not!
When AT&T cancelled our service they cancelled DirecTV service also. Even though the bill for DirecTV was not connected to the bill for AT&T. We did not cancel DirecTV - AT&T cancelled DirecTV. Yesterday we got a bill from DirecTV saying that we had an early cancellation charge of over $400. When I called to find out why when we didn't cancel the service, they said AT&T cancelled the service and so they were charging US the early termination fee. The representative they said the only way that they could reverse the cancellation fee was if we re-established service with them once again paying all the installation fees that came with the original bill. That even though we did not want the service cancelled and AT&T cancelled it we still have to pay to reverse what AT&T did.
The representative was the first person I spoke to and what I said to her that we couldn't afford to pay that kind of money for a service that was wrongfully taken away by AT&T, she referred me to their billing department in the Philippines. I was very polite when I told David the representative that the way I appreciated his work he couldn't help me and I hung up. I decided that I did not want to speak to someone in the Philippines because as in the first review -where we were begging AT&T to give us back our number- I learned that if AT&T sends you abroad it's because they're not going to do anything at all to help. They send you there because they don't want the American Representatives to receive the brunt of any ones displeasure with them.
As to our 30 yr old telephone number which AT&T took away, I called AT&T and ask them to put an addendum on their message (which told everybody that our new number was unavailable) that gave the new number that we had been given. The representative said they would be able to do it in a couple of days. A week goes by and in that week my mother goes into the hospital. Our relatives and friends are calling and they can't get through because there's no number. They start calling everybody else in the family who had our cell numbers. This turns into a virtual circus because people are calling - this one calling that one trying to get through.
I called AT&T to find out why they haven't followed through with what they said they were going to do. Because now this is a week later. I spoke to representative who said to me he had no idea why I was transferred to him because he was in the technical department and he had nothing to do with those outgoing messages. In a voice that was tightly controlled and I do admit dripping with rage I told him that my family could not get through because AT&T did not follow through once again. I told him I was sitting at my mother's bedside in the hospital and I needed this matter to be resolved.
If you recall the previous representative said that it could not be done in under two days. This young man, apparently NOT an AT&T company man, got the job done in half an hour. I don't think I have ever been so disillusioned by the company as I am but AT&T. For company with such a long history it's kind of pathetic to see how badly they treat customers. I guess once you've reached the top of where you want to be there's nothing to do but the step on the little man.

My MIL moved from an senior living apartment to a nursing home across the street. All she has asked for is her phone service to be moved. On 10/27/16 I conducted an online chat with Suzanne **. I provided all of the information to her. She said that this was in process and they would call me back to verify. No call back. On 11/1/16 I talked with Neil. Provided all of the information again. Neil stated his system was down, and he would have to call me back No call back (this will start to seem familiar). On 11/2/16 I talked with Darlene at 12:30 pm. I repeated the information, she seemed to understand what I wanted, said she needed to talk to technical, put me on hold, and then disconnected me (btw, you cannot call back to that individual, of course).
I then called back and talked to Pao, who said that his system was down and would need to call back. Same chorus, no call back, though I did tell him I did not believe I would get a call back, and he very solemnly assured me that he would! Hah! On 11/4/16 at 9:30 am, I talked to Jaffs (sp?) who proceeded to tell me that after I provided all of the information again, (don't they have notes in their system?) that he needed to transfer me to technical support. Mari in technical support answered, I explained briefly what I was trying to do, and she put me on hold to look up my information. I was on hold so long that I was moved back into the customer support queue, where I got Al.
When Al asked that I repeat all of the same information again (each person assuring me that they would be the one to correct my issues) I told him that I wanted to speak to a supervisor as I was no longer confident that they knew how to operate their phone system. He continued to argue with me that I needed to provide all of the same information before he could send me to a supervisor. I admit that this is where I lost my cool. I told him I was not going to go through this again until I talked to a supervisor, and that he had a choice to make, he could either transfer me to a supervisor or he could hang up, but I was through banging my head against the wall. He then told me that there were no supervisors available to take my call as they were all on the phone helping other customers. He of course would take my phone number and someone would (you guessed it!) call me back.
I then tried a customer service line in Dallas in the hopes of registering a complaint. By this time, I had calmed down. I talked to Katherine (she could absolutely fix this!) but she can't even find my account in the system. She then transfers me to another woman (I didn't get her name) who upon learning that this was about a landline, couldn't help me as she only worked on Uverse. She transferred me to Martin who could not help because he is only in the Southwest not Illinois, who transferred me to an automated repair line. Like that would help! I really am at an impasse as my mother in law suits in a nursing home, and wonders whether she will ever be able to talk to her family again!

This company has got to have THE WORST customer service EVER!!! Got new service to our cabin that we go to 2 times a year and which has limited access - meaning you can only get there by boat - no roads. So we get a time slot of 4 hours and have to go sit at dock and wait for technician who is 3 hours late! Finally get it done and last week I start thinking - "Hey, we've never received a bill" - call in to their customer service - got disconnected 3 times - then had someone help me that had zero clue what they should be doing! Lucky me!
Over an hour later I find out the number was just disconnected and the mailing address they had was the service address of the cabin which isn't even the cabin address! Are you seriously kidding me??? I gave ALL the information to the gal I talked to when setting up the service. Really? How hard is it to put the information in the computer? If I could use another service I would - but unfortunately they have me by the you know what's because they are the only company offering service to this area. What a joke!

I signed up for AT&T basic home phone service on May 20th, 2016. I was told by the representative that my bill would be around 67 dollars a month. I get my first bill for 195.07 and find out they didn't have my local and long distance setup as the agreed unlimited plan. I called and the customer service guy said he fixed it and credited my bill for the charges incurred due to the mistake. I went to pay my bill 2 weeks later and notice the amount is not what he said. I called back again, this customer service guy says he fixed it and gives me a new bill amount.
I immediately went to pay that amount, but found it still not changed. By this time I received the next month's bill for 584.00. Still not corrected. I called them 5 different times and they would not get it correct. Finally I told them to cancel the account, and now they want me to pay them over 450 dollars as a balance due on the account. If they can't hold to their agreement then why should I pay this. I wouldn't mind paying a fair settlement, but for 2 1/2 months of basic phone service this is horrible.

I ordered my service on October 16th 2016. I ordered cable TV services as well as porting my number from Time Warner Cable landline over to AT&T phone service. My cable TV services were hooked up correctly. My landline is still not working. I spoke with a representative who stated that their employee made a mistake and left out a verification step. Upon completing this step they told me my service would be restored by 6 p.m. that day. I made a switch to DirecTV and AT&T phone service believing that their service would be better and that I would receive customer satisfaction. However I am not satisfied as a customer who's waited over a week to get my landline restored after they have already dug up my previous landline and I'm still waiting for someone to come out to Port the number over.
The representatives did not offer any help to get my service activated. All I was told was to wait another week and they could do nothing else for me. I'm a new customer and within my first week of service. I'm already having issues trying to get something resolved that their employee told me will be resolved and now the next day it cannot be resolved, just wait another week. Because of their error I now have to wait another week before service is restored on my landline. I have an elderly parent in the house and having a phone is a necessity to her health. Had I known that if it was an error with their service and they would not be willing to fix their error within a reasonable amount of time I would not have ever made the switch to this service. This does not meet customer satisfaction whatsoever.

I have recently scheduled a AT&T technician to come install the new service, and they asked me to wait between 8am to 6 p.m. on Saturday, there was no show, no call...and I wasted the whole day. I called their technical support, which of course took forever too, I finally talked to someone, and they apologized. Said they will come on Sunday between 8am-12pm, and will call me first thing in the morning. And again, no show, no call...what the ** is wrong with this company???

AT&T baits you with a low Promo Rate then switches after a year (rates doubled). When you call for info or service, you have to talk to somebody in a foreign Country that you cannot understand, they switch you from Dept. to Dept. or they hang up on you. After a wild fire in 2003 we were without a landline for about a month. The telephone pole that supports our phone line is still needing replacement (it is totally burnt and ready to snap). That was 13 years ago.
Today I had a repairman show up to repair inside wiring (no dial tone). I was told I do not have Wire Pro, which I do have. It's on my phone bill every month, I pay extra for it. The repair man told me to buy some cordless phones and left. I called AT&T to find out what's going on with my account and repairs after the repairman left my home. So far it's been two hours and about seven different AT&T agents. They still don't have an answer. AT&T SUCKS. Thanks to Pres. Bill Clinton all we get to talk to is foreign Countries because of NAFTA. Time to find a new Country.

When moving to another area where U-Verse was not available, I attempted to cancel my service by phone. I also tried to cancel my landline. I was on the phone for over an hour and got nowhere. I was sent from one person to the next and, finally, back to the first person, who still knew nothing. My son tried to get information. So did my realtor. Eventually he was able to get a rep who said the service was cancelled. He was told we had to send the equipment back, we could not take it to a store. We sent it back by UPS. I have gotten bills every month since for service AT&T has not provided. My son has spent hours on the phone with AT&T in the last few months and gotten no satisfaction.
Finally, on the advice of my lawyer, I am sending the cancellation request in writing. However, I could not find an e-mail address on the website, so I am sending it by U.S. mail to the billing address. I should not have to go to a lawyer to get this information. Obviously the info I got on the phone was not correct. The issue is still not resolved. Under the circumstances, I cannot, in all good conscience, recommend AT&T California to anyone.

Been without service for 2 weeks. Keep calling for repair, appointment set up, service repair never shows up. Call again, they say we will call back to tell us what happened and that doesn't also happen. Spoken with many people on the service line and still not resolved. We are at our wits end. What do we do? Husband a customer for 60 years. He is 86 years old, in poor health, and I just had hip surgery. We can't even go to their main office on Broadway to file a complaint. Luckily I have a cell phone to use. Someone help us!

I have a vacation home in a mountain region with no AT&T cell phone access. Only Verizon phones work. I have AT&T landline with Internet at my full time home. For Internet at my vacation home, I have AT&T, and have to use my full time home phone number for that account. So, I have two Internet accounts using the same phone number.
When contacting AT&T, they want to access your account by phone number. When I try to tell them mine must be accessed by account number or address, I get argued with. When they insist on using phone number, I explain I have two accounts under same phone number, give them the account number for vacation home and address for vacation home, but they still end up mixing up the accounts. I have had changes made to my main home service, when they were supposed to be made to the vacation home service. They ask over and over for a cell number and I keep telling them they have no cell service here and maybe they should put in a cell tower!

After spending 3 hrs yesterday with AT&T about issues with... my account, my internet, my services on my landline phone. I had an order # with the landline phone to add call blocking. The rep. said it would be available in 2 hrs. Well 2 hrs passed and no call blocking available, later that night still no call blocking available, today no call blocking available. I call AT&T and was on the phone 1hr- 35min and was transferred a total of 11 times and the only solution was she would have programming check and give me a call back sometime (no estimated time) so here I am with no resolution to my phone problem and have spent a total of OVER 4-1/2 hrs over 2 days and nothing yet.

Called in on Saturday, July 20, 2016. Was given a repair time of by Wednesday @ 6:30 p.m. Gave my Verizon cell phone as a contact phone; received a call on my cell phone on Monday, August 1, 2016 at lunch confirming the outage and still confirming a repair time of Wednesday. Arranged with a neighbor to be on call if it became necessary to access the home. At approximately 5:00 p.m. received a text on my Verizon cell phone saying "Sorry. We are unable to repair your service today, rescheduled for tomorrow," and giving me a number to call, which I did. It went straight into the AT&T repair again, again the same routine, report outage, etc., and the "recording said it was scheduled by 6:30 p.m. today."
I finally reached a Customer Service Rep and asked him what was going on. He of course in addition to my telephone number wanted my name and address, etc. He sounded as if he were in a bad mood when he answered the phone. I relayed the events to him, and asked him what it meant. He rudely said "it means that your service call has been transferred to tomorrow as a high priority." Every time I deal with any area of AT&T or their subsidiaries, I come away feeling as I have been verbally abused. I will never deal with AT&T for additional services. Apparently they are just poorly trained people with constant attitude. If it were only a one time thing it would still be bad, but it is every time they have to be contacted.

Our entire neighborhoods home phone lines are out. We have made multiple attempts to report the outages by calling via cell phones other family members home phones, computer online, Facebook and everything. None of us have gotten to talk to one live person nor do we have any idea if they even know our lines are down, what is wrong, when or if they will ever fix the problem. Obviously they don't care about it being a safety line for 911 or elderly for any reason or the problem would have been fixed already. You can know we will all be charged our hard earned money to pay for services we have never received. Talk about being ripped off. No customer service. They don't care about the people nor care to fix the problems.
In today's technology and as much money as this company makes this should not ever happen. They should know this many people don't have service before we do. No personable service only computers that make you waste your valuable time. It should be fast and easy to report an outage and find out an estimated time of repair and a reputable company would not charge customers for services they are not receiving. What an embarrassment for such a large company to be this bad. Hopefully others will find out by those of us being treated so badly letting everyone know exactly what is happening to current customers so they won't make the same mistake of using such a bad service company. Hopefully they will spend their hard earned money on a good customers service company.

I was told if I signed up for a landline, which I do not need, that I would receive a $250 credit card in the mail. After paying my bill for the 3rd month, I reached out to see if maybe someone else had gotten the credit card instead of me. I was then told that I would not receive the credit card because I wasn't supposed to receive a credit card in the mail. I was supposed to receive a claim letter and 12 days prior to my phone call that claim had expired. It took me an hour and 15 minutes and went through every channel of customer support from a local store to the website and all departments there in and each department was inept except for Trina in the North Carolina office for retention which I later found out was actually for deactivation. I will never use them once my contract is over and I will recommend that no one ever sign with AT&T. #buyersremorse

Keep receiving texts on my business cell phone from this company, and it's spam content. The texts say, "Hit me up, I have something to show you" and "I was hoping to show you something, get back to me". I have never heard of this company and NO ONE has my work cell number in MI. I do not give this number out very often at all. I would think that if Ameritech cared at all about their company name, they would put a stop to whoever is using their numbers to potentially scam people. Read the other reviews. It's not just me.

So I received a phone call from a lady with a thick accent stating that I have become eligible to receive an 8,000 dollar grant that I don't have to pay back from the Federal Grant Commission or something like that. I immediately realized this is a scam. Especially when she tells me that first I have to call back another number. When I ask for her email she immediately hangs up on me. When I look at the number I'm surprised to find out it's a US number being serviced by Ameritech. When I look up the number I find out that many other people have been called by it and that Ameritech doesn't seem to care that fraud is being conducted over their phone lines.
When I look up their company, it seems it's no surprise looking at all the complaints they've received. Apparently this is the company to do your fraudulent activities with. They don't care as they are allowing people's identities to be stolen and used and then demanding the real people to pay for the scammers accounts! I wouldn't be surprised if they are somehow involved with these scammers calling our numbers. Beware if you received a phone call from the following number: 312-563-8459. It's a number serviced by Ameritech!

I have been a 7 year AT&T customer of all my services. I went to add a line to my cell phone account just to find out that there was a $477.87 early disconnect fee on my credit report. I have NEVER received a bill or collections notice for this charge. They are stating that I disconnected our cell phones and reconnected them on the same day. This all happened in 2013 and this is the first time I've heard anything about it. Either contacting my attorney or taking this to small claims court. This is ridiculously absurd.
I have NEVER cancelled my cell phones EVER. Cancelled a landline but they are claiming it was wireless. Obviously an employee disconnected them by mistake or something, realized it and reconnected them. I am absolutely livid and will be pulling my internet, landline, cell phones and TV from AT&T. The customer service rep told me to SHHH when I was trying to explain myself. I have never been so disappointed in a company and will never recommend them to anyone!!!

I called and order the AT&T bundle. First of all they send out Dish network and they messed up one of our tv's, the most expensive one, and now they tell me to call RCA. Had an appointment for 9:00 a.m. today to have the home phone put in. The tech called me and said no one answered. Ok my dad is there and you don't hear no dog barking (my dog barks at everyone) and my dad sits on the side porch by the drive way. The tech was at the wrong house and now they tell me it will be Friday before they can come back out. My dad is 76 years old and stays by himself while I work 12 hour shifts. I expressed to them that I need the phone so I can call and check on my dad and if he needs help he has no way to call anyone. They got their money and don't care about you. So we get punished cause the tech went to the wrong house. Crazy!!!

I have been through a nightmare with AT&T after having been first, a PacBell customer, then SBC, and recently AT&T for the past 28 years. My analysis of the problem is that the company is too big geographically and lacks trained personnel resulting in the various divisions of the company not communicating with each other, being not well trained, and apparently computer systems that often freeze. Interestingly one is put on hold. Reps say because their computers freeze most often when you are trying to address and readdress a problem.
After a recent move within the same town in CA I have spent 40 hours on the phone trying to straighten out being double charged for two accounts one of which had been cancelled with the move, supervisors not being able to locate account numbers, talking with offshore reps who read from scripts and asked questions which I had just answered, "specialists" not calling back at designated times, techs not showing up after waiting 3 hours past the scheduled time. When calling about the no shows, no order can be found. After finally canceling all accounts with AT&T with the company owing ME $258 I received yet another bill yesterday for a non-existent account. I can only conclude that this company being close to a monopoly is after the buck and does not care one bit about customer service despite its alternately called "Loyalty Dept" or "Retention Dept". Truly a shame to see a good company become so corrupt at its very core.

I have endured landline and service interruptions from AT&T for years and especially for the last several months. Every few weeks we lose landline connection, DSL, or both. I will cite the two most recent instances. Both connections went dead Monday morning, February 3. My wife reported the problem and received an automated message that the line would be repaired by the following Thursday evening. Four days seemed to us a ridiculously long time. When we still had no service Thursday morning, we called Gary **, the technical support manager for our area. Mr. ** reported that no repair ticket had been sent to him. To his credit, he had the repair done by Thursday early afternoon. But had we not contacted him directly, we apparently would have been without connectivity indefinitely. Letters of complaint I sent to two AT&T corporate offices were ignored.
Now to the more recent occasion: At 4:00 PM Wednesday, March 30, the landline and DSL went dead again. We reported that, and a repair tech came Thursday afternoon. He told us that a tall vehicle had snapped the line crossing the road in front of our house. (We wonder why no one had determined before that the line was too low.) The tech said that he would call in a unit that could string the line higher but that it would probably not come until the next day, Friday. Instead, he closed out the ticket. We did not find that out until we returned from a weekend trip Sunday evening to still no service. I spent hours on the phone Monday trying to get through voice-mail hell to AT&T representatives, being kept on hold for long periods of time and once being disconnected after such a wait. Finally I reached someone helpful, and service was restored at 11:00 AM Tuesday - after a week.
To top it off, the outage resulted in a need to reconfigure our voice-mail system. When we received a phone message to that effect, we called AT&T Saturday April 11 to make sure the message was legitimate. The AT&T rep was not familiar with such messages, found no notation of this need on our account, and made a notation herself of a possible scam. She was clearly not trained adequately to know that the message was in fact legitimate. Her ignorance typifies your company's poor customer service. A customer service representative did credit our bill for $32 for the week of no connectivity but, of course, did not have the authority to credit me for lost income as I requested. I demanded that a supervisor call me back, but no one did. This is inexcusable.
Finally, in my frustration, I wrote CEO Randall Stephenson April 11 and demanded compensation for a week's loss of work ability rather than just the usual credit for lost service. A copy of that letter is attached. George **, a representative from his office, called me April 20. He refused my additional compensation and even refused to tell me what steps the company would take to ensure that I have reliable service in the future. That response was unhelpful, dismissive and insulting.
We depend on our phone and Internet service for professional as well as social and community activities. I work out of our home. We would have quit AT&T as our provider long ago except that it would have done no good; regardless of what other phone company we might switch to, AT&T still own the lines. We need a landline because we do not have a reliable wireless signal inside our house. We do not wish to change to Comcast because its reputation for poor customer service is even worse than AT&T's.
Our frequent service failures are unacceptable. We are in metropolitan Atlanta, Georgia, one of the most sophisticated telecommunications centers in the world, not some impoverished third world country. We see no excuse for AT&T'S incompetence and apparent indifference toward our need for reliable service. Nothing seems to have changed since the classic 1970's Saturday Night Live sketch featuring Lily Tomlin and ending with the tag line, "The Phone Company. We don't care. We don't have to."

I tried to order two more services with AT&T, however, I received an email informing me that the services were set up incorrectly by an employee named Joshua. Then I found out that my credit was illegally pulled without authorization. I spoke with a manager who told me she would contact Joshua's manager and she would also follow back up with me that following Monday. Neither manager called me back. I called back and spoke with someone who said they would write an internal email to have Joshua's manager email me. Again, I never heard back. I called back multiple times and got no resolved. I even spoke 10 people on three separate chats for over four hours just to be transferred back and forth to different departments people. I've wasted hours and hours AND had my credit pulled and my account set up incorrectly. I tried to rectify this informally multiple times but no one from AT&T will help me.

Two incidents: I recently called AT&T to upgrade a phone. We are grandfathered into the unlimited talk, text and data plan and want to keep it. I was transferred 3 times and kept on the phone for 40 minutes while the reps kept telling me they were trying, but the system wouldn't let them do it. I finally hung up. I will purchase the phone elsewhere (for less) and have them add my AT&T account.
My husband and I have auto pay for our AT&T bill and have not checked the bill for inaccuracies lately. Our fault for not being on top of it, but we feel the company also bears responsibility to be honest. However, we cancelled an iPad internet fee approximately a year ago and found out they are still charging us for it. When my husband mentioned the auto pay and not checking the bill each month (which we will certainly do now), the rep said, "That doesn't speak well for you, does it?" My husband asked to speak with a supervisor and the rep said that wouldn't do him any good. We were both appalled.
They refunded two months charges, although they had overcharged us for months. We are longtime AT&T customers, along with many members of our extended family. But, even if we were not, is this really the face AT&T wants to present to the public? We are researching other companies because apparently AT&T does not care about keeping our business.
Compare Home Phone Service
AT&T Home Phone service Company Profile
Company Name:

AT&T

Year Founded:

1983

Address:

208 S. Akard St.

City:

Dallas

State/Province:

TX

Postal Code:

75202

Country:

United States

Website:

http://www.att.com/