Asthma Inhaler Safety and Problems
Last of the aerosol asthma inhalers will soon be gone
Asthma, COPD patients sacrificed for environmental preservation
05/29/2013
|
ConsumerAffairs

By James Limbach
A Washington, D.C., reporter for more than 30 years ... Read Full Bio→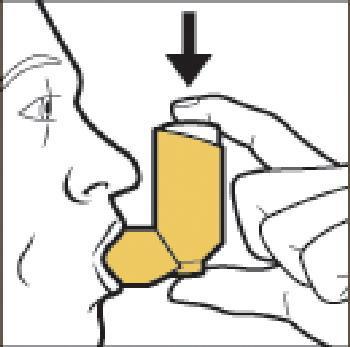 If you use an aerosol inhaler to treat your asthma or chronic obstructive pulmonary disease (COPD) you're going to have to get a new one.
The last two inhalers used in the United States containing ozone-damaging chloroflurocarbons (CFCs) and are being pulled from the market by the end of this year.
If you use one of them, you'll have to talk with your doctor about a prescription for an alternative.
Most people who use inhalers have already made the switch to those that are CFC-free and the U.S Food and Drug Administration (FDA) says that -- in general -- the transition has gone smoothly. 
Inhaler problems
The transition may have gone smoothly for the FDA but it hasn't been trouble free for patients.
An asthma patient in Virginia voiced harsh concerns about the FDA's comments that patients remember to breathe deep with the new inhalers. The new, non-flurocarbon rescue inhalers require the patient to take a deep breath, whereas the older inhalers aggressively shot the medication into the airways. 
"This is absolutely total ignorance," says Roger M. of Glen Allen, Virginia, in a ConsumerAffairs post. "People having an asthma attack and in a panic state cannot breathe in deeply. People with COPD and limited lung function -- when in need of medication -- cannot breathe in deeply. Recent times have shown the (incompetence-plagued) FDA's inability to properly understand and evaluate these life altering decisions."
"I may die if I cannot have my CFC inhaler," says Paulette B. of Sacramento, California. "I cannot use hydrofluoroalkanes (HFA) albuterol inhalers as I am allergic to the propellants in all of them. I tried two different ones and they made me cough really badly, and my lungs burned awfully. They gave me an awful headache and caused nausea, too." 
The phase-out
But be that as it may, the final two inhalers on the market are going away. 
Combivent Inhalation Aerosol will no longer be available after July 2013. It contains two medicines -- ipratropium bromide and albuterol sulfate. A bronchodialator intended to open airways, it is approved for patients with COPD. An alternative inhaler -- Combivent Respimat -- contains the same two medicines but does not contain CFCs. It was approved by the FDA in 2011.
Maxair Autohaler will not be available after Dec. 31, 2013. This inhaler contains pirbuterol, which is also a bronchodilator and is used for the treatment of bronchial spasms in patients with asthma or COPD. Alternative inhalers are available that contain other bronchodilator medicines, such as albuterol or levalbuterol, but do not use CFCs as a propellant to move the medicine from the inhaler.
CFCs a problem
CFCs damage the ozone, a thin, outer layer in the stratosphere that acts as Earth's shield against the sun's radiation. The U.S. and most other countries signed the Montreal Protocol in the 1980s to phase out the worldwide production and use of CFCs. In this country, CFCs have been removed from such products as hairsprays, deodorants and air conditioning.
CFCs have also been used in medical devices, including as propellants to move medicine out of inhalers so that patients can breathe in the medicine. For more than two decades, FDA has coordinated the phase-out of CFCs in inhalers.
Most inhalers using CFCs have already been phased out. The most widely used -- albuterol CFC inhalers -- were phased out in 2008 and replaced with alternatives that use HFAs. The most recent phase-out was of over-the-counter epinephrine inhalers sold under the brand name Primatene Mist, which were phased out at the end of 2011.
FDA maintains a list of inhalers for asthma and COPD that do not use CFCs, and adds the names of new non-CFC inhalers as they become available.
Used by millions
Millions of people who suffer from asthma, allergies and COPD use inhalers. In the U.S., more than 25 million people suffer from asthma, a disease that affects the airways in the lungs and can cause coughing, trouble breathing, wheezing and tightness or pain in the chest. Attacks can be mild, moderate, severe and even life-threatening.
Another 15 million U.S residents have been diagnosed with COPD, a serious lung disease that usually causes breathing to get worse over time. It can limit airflow, and may include chronic bronchitis, emphysema or both.
While all FDA-approved inhalers currently on the market have been shown to be effective, there are some differences between the products. For example, products propelled by HFA may taste and feel different than the spray from CFC-propelled inhalers.
Although some consumers note that the spray from an HFA inhaler feels less forceful, this does not mean that the medicine is not working. Other alternative medications may use no propellant at all. Your doctor may be able to find the product right for you.

If you use an aerosol inhaler to treat your asthma or chronic obstructive pulmonary disease (COPD) you're going to have to get a new one.
The last two inhalers used in the United States containing ozone-damaging chloroflurocarbons (CFCs) and are being pulled from the market by the end of this year.
If you use one of them, you'll have to talk with your doctor about a prescription for an alternative.
Most people who use inhalers have already made the switch to those that are...
More
Victims of Government: Asthma Patients' Lives Shattered by 'Green' Inhalers
Previously healthy asthma sufferers wind up disabled -- and worse
09/08/2009
|
ConsumerAffairs
On a good day, Victoria O. can walk from her house to the driveway without stopping to catch her breath. But those days are rare for this Florida woman, who has what doctors call severe airflow obstruction.
I struggle to breathe all the time, she explains, wheezing between her words. Im 43 years old. I should be enjoying my life. I used to have an active life, but I went from a normal person to a very sick person.
Victoria can pinpoint the moment her health started its downhill spiral -- a rapid decline that has left her unable to work.
Its the same moment that triggered another, unexpected, battle in her life: one that pits the ailing and financially-strapped woman against her disability insurance company. And in yet another blow to her ongoing battle, Victoria learned just days ago that her employer -- which in May approved her absence under the Family and Medical Leave Act -- will no longer cover her under its health insurance plan.
As of today, I have no insurance, Victoria told us last Tuesday, choking between breaths. And I have a doctors appointment tomorrow. Here we are in the middle of a national discussion on health care and look what Im going through. I was fine before all this startedI never had a problem with my asthma before.
But that all changed in April 2008 when Victoria took a puff from her new environmentally friendly rescue inhaler that contains a propellant called hydroflouroalkane (HFA). Victoria hadnt used one of those inhalers before, she says. On the once in a blue moon occasions she needed an inhaler, she used one propelled by chlorofluorocarbons (CFCs).
And she never had any problems.
Inhalers banned
Those albuterol metered-dose CFC inhalers, however, are now banned in the United States under an international agreement called the Montreal Protocol on Substances that Deplete the Ozone Layer.
That ban went into effect on December 31, 2008, but pharmacies nationwide started switching to HFA inhalers last year in preparation for the mandated change.
The Food and Drug Administration (FDA) -- and other supporters of the 1987 agreement -- say the CFC propellant in the inhalers damages the ozone.
Asthma and pulmonary patients must now use the greener and more expensive HFA inhalers, which the FDA acknowledges have a different feel and taste.
Patients must also breathe in deeply when using the four HFA inhalers now on the market: ProAir, Proventil, Ventolin, and Xopenex.
FDA officials say these inhalers are a "safe and effective" alternative for the more than 40 million asthma and pulmonary patients nationwide.
ConsumerAffairs.com, however, has heard from hundreds of scared and angry patients with asthma and other respiratory problems who say the new HFA inhalers dont give them any relief. The inhalers, they say, fail to open their airways and leave them literally gasping for air.
Some patients also say the HFA inhalers are too costly; theyve jumped in price from about $5 to, in some cases, more than $50.
Ethanol allergy
And then there are patients like Victoria, who had an allergic reaction to the ethanol in her HFA inhaler and can no longer work because of her declining health and the constant battle to breathe.
Compounding those problems, Victoria says, is the recent denial of her short-term disability benefits and last weeks loss of her employer-provided medical insurance.
Im facing a dilemma that I didnt anticipate, she says, adding her employer had covered her under its plan during her leave. Ive gotten sicker and sicker and I know its solely because of the HFA inhaler.
ConsumerAffairs.com has learned that other asthma and pulmonary patients are also considering filing for disability, saying theyre unable to work because the HFA inhalers leave them tired and constantly gasping for air.
Grassley takes an interest
A few elected officials and public-interest organizations are beginning to take an interest in the asthma victims' plight, however.
Senator Chuck Grassleys (R-Iowa) office continues its review of the nearly 400 complaints ConsumerAffairs.com has received about HFA inhalers from asthma and pulmonary patients nationwide.
And an environmental organization in Washington D. C. said it supports efforts to bring CFC inhalers back to the United States.
The FDA, however, isnt likely to support any efforts to legalize CFC inhalers.
CFC inhalers damage the ozone," spokesman Christopher Kelly told us. "People will have to get used to the new (HFA) inhalers."
Asthma and pulmonary patients must also be sure theyre using the HFA inhalers properly -- and keeping them clean to prevent build-up and blockage of the medication, the FDA said.
What about the increased costs of the HFA inhalers, which do not have a generic alternative?
The FDA said it expects those prices to drop in the next few years. Until that happens, The Partnership for Prescription Assistance (PPA) and drug companies that make inhalers have special programs and coupons to help consumers cover the higher costs.
But the salient issue in this debate, the FDA and pulmonary experts say, is for patients to get their asthma under control.
Someone who uses a 'quick reliever' (rescue) inhaler many times a day does not have well-controlled asthma, says Dr. Norman H. Edelman, chief medical officer for The American Lung Association. "Patients shouldn't need their quick relief inhalers more than two to three to four times a week.
Asthma is a variable disease and doctors are always readjusting medications and dosages," he added. "If patients are not getting good asthma control, they need to talk to their doctor."
Problems started with HFA inhaler
But Victoria and the hundreds of other patients whove contacted ConsumerAffairs.com say their asthma was in control until they used an HFA inhaler.
In Victorias case, her medical -- and now insurance -- problems started in April 2008 when her doctor prescribed an HFA inhaler for bronchitis and wheezing.
I hadnt used an asthma pump in years, she recalls. But I couldnt get rid of the bronchitis. The doctor gave me that HFA asthma pump and within a week, I was sicker than Id ever been.
The moment she took her first puff, Victoria knew something was wrong. A burning sensation instantly blistered the back of her throat. It moved down and burned her windpipe and lungs.
It felt like liquid acid," the Kissimmee, Fla., woman told us. "I realized I couldn't breatheI thought I was going to die."
Since that day, she says, her health has deteriorated. I have headaches, throat pain, my immune system is all over the place, my hair has fallen out, and I constantly struggle to breathe.
Her breathing has become so labored at times that shes had to be rushed to the emergency room and spend days in the intensive care unit.
In the 30 plus years I've had asthma, I have never had it spiral out of control this quickly or this severely," Victoria says. "I think they've put poison on the market."
Disability filing
In May, Victoria heeded her doctors advice and filed for short-term disability.
My pulmonary tests did not come back very good, she says. I had to file for disability. My doctor said that I have moderate to severe lung obstruction.
Victoria, however, grappled for months over the decision to apply for those benefits. Ive always worked. Ive always had a job. I like my job and I want to keep working. But how can I work when I cant breathe?
Despite her health problems -- which she says are documented by two of her doctors -- Victorias insurance company denied her claim.
Oh my gosh, its been a mess. They keep rejecting, rejecting, rejecting, my claim. They dont believe this asthma issue is a problem.
I paid into this disability for years, she says. Its very expensive. But I wanted to be sure I had coverage in case something happened. When I sent in my claim, though, they said I wasnt sick enough.
Victorias short term disability is through a company called Lincoln Financial Group of Omaha, Nebraska. In a letter dated July 27, 2009, the company said it had determined that no benefits are payable.
After a thorough review of the information currently contained in your claim file, we have determined that you do not meet the definition of Total Disability.
The company cited the following reasons for its denial of Victorias claim:

• The date Victoria stopped working. The company said one of her doctors stated she was unable to work back in November 2008, but her employer said she continued working until May 2009;

• Lack of medical proof that she couldnt perform her sedentary duties as a secretary;

• Pulmonary tests in April 2008 indicated her lung function had improved, according to the company;

• Her reluctance to try systemic steroids and controller treatment that might improve her condition.
Victoria balks at those reasons for denying her claim.
I needed the insurance, she says, adding her family was covered under her employers health care plan until she went on leave in May. I have a 12-year-old son. And like I said, Ive always worked and I like to work.
Victoria says she was finally forced to stop working in May when her portable nebulizer broke down. I couldnt work without that machine. And I couldnt afford to fix it or rent another one.
What about her sedentary job duties?
First of all, I was running all over the place at my job, Victoria says, adding the company used a Department of Labor (DOL) description for her secretarial duties. In a letter she sent to Lincolns president and CEO, Victoria criticized the company for using that job description in her case.
I dont see how DOL job descriptions apply to my realistic situation or my health, she wrote. My breathing became critical at times because of the undue stress on my lungs at work.
Victoria also counters the companys claims that her lungs improved and she didnt want to try new treatment methods.
I have documentation from two doctors who placed me on disability, she says. One said as far as he was concerned I would never go back to work. The other one said maybe I would go back to work. But we dont know all the effects the HFA inhaler (and the ethanol) will have on me. I may clear up. I hope thats the case."
'Ruined my life'
She adds: I cant tell you how much HFA inhalers have ruined my life. Im sick all the time and Im not getting better. Some days I feel okay in the morning, but by the afternoon, I feel like a three-week wilted rose.
Victoria told us shes shocked and disappointed that Lincoln Financial ignored her doctors opinions.
My doctors have given them everything -- all the analysis and the blood tests. Theyve told them that I have difficulty breathing.
Their (Lincoln Financial) doctors have never even met me or talked to me, she says. If they did, theyd hear me wheezing and choking. But yet, they said Im fine. Its almost a mockery of how the system is supposed to work.
ConsumerAffairs.com obtained a copy of July 26, 2009, letter from Victorias pulmonologist, who said shes been disabled since April.
(She) is under my care for moderate to severe persistent asthma, wrote Dr. James Lucio of Kissimmee, Fla.
Dr. Lucio said he evaluated Victoria in April 2009 and again in Mid-July and did not see signs of improvement. She continues to manifest persistent and disabling respiratory symptoms, including persistent wheezing, shortness of breath, and cough. She has had only a modest response to therapy.
Dr. Lucio also confirmed that Victoria has been unable to work due to the recalcitrant nature of her symptoms. He wrote: Therefore, in my medical opinion, she has been temporary (sic) disabled as of 4/21/09.
Victoria is now appealing Lincoln Financial Groups denial of her disability benefits and has included Dr. Lucios July 2009 letter to back her claim. She has also consulted an attorney regarding the companys decision.
ConsumerAffairs.com contacted Lincoln Financial about Victorias case. The company's Assistant Vice President of Risk Services did not respond to our inquiries.
More disability filings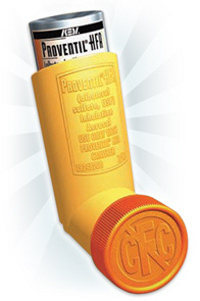 New inhalers, like this Proventil model, are powered by non-aerosol propellants
During our investigation, we also discovered that other asthma and pulmonary patients -- who say the HFA inhalers dont give them any relief or made their conditions worse -- are now considering filing for disability.
Their problems may signal a new and troubling trend in the ongoing debate over the governments decision to ban what hundreds of asthma patients call their life-saving CFC inhalers.
Consider:
The new inhalers dont work for me, says Roberta W. of New York. After the CFC inhalers were banned, I developed a severe respiratory infection. I nearly died and now I can barely shop for necessities or run the vacuum in the living room.
This legislation could very well end my life decades sooner and it has disabled me completely, she adds. I cannot live independently or care for my disabled husband.
An asthma patient in Louisiana worried that should couldnt continue working because the HFA inhalers leave her constantly out of breath.
I would like to know what procedures I need to take to become considered fully disabled as an asthmatic since I can barely function on an everyday basis because of my asthma, says Kimberly W. of Maurepas, La. The government wants this change that affects my quality of living as a normal person. I have to rest after everything I do; Im constantly out of breath.
Kimberly, however, recently found a job and hopes she can keep working in spite of her asthma. She also hopes the extra income will cover the increased costs of the HFA inhalers.
I cannot afford the new inhalers, she says. (They are) $80 more ($126 plus tax) than the one I've used since I was 12 years old.
Early warnings ignored
In Washington, D.C., the head of an environmental organization said he isnt surprised that so many asthma and pulmonary patients have experienced physical -- and now financial -- problems because of their HFA inhalers.
He warned the public about these issues before the ban on CFC inhalers went into effect.
"The breath of life for asthmatics is being seriously threatened by the elimination of CFCs in asthma inhalers, wrote Norris McDonald, president of the African American Environmentalist Association and Center for Environment, Commerce & Energy. We need to immediately amend the Clean Air Act to fix this well intended, but woefully misguided, effort to protect the ozone layer. Asthmatics unite.
The HFA inhalers are not as effective (as the CFCs), said McDonald, who suffers from asthma, in a ConsumerAffairs.com interview. And thats the scary part. The old CFC inhalers gave you a nice boost.
I much prefer the old inhalers with the CFC propellant, which had an insignificant effect on the ozone layer.
McDonald says his organization supports legislative efforts to legalize CFC inhalers in the United States -- and would even lobby Congress to make that happen.
Theres a lot on their (Congress) plate and were a little bitty group, he says. It takes a groundswell to get things moving and this is not on top of the radar screen. But as more and more people start having problems with these (HFA inhalers), that might move Congress to do something.
He added: Your call has refocused my attention to this issuemaybe its now time put out more publicity on this.
One group that is already spearheading efforts to bring back CFC inhalers is The National Campaign to Save CFC Inhalers.
The California-based organization -- which says the FDA and other supporters of the ban duped the public about the need for the action and the safety of HFA inhalers -- is lobbying Congressional leaders to amend the Clean Air Act and make CFC inhalers permanently legal in the United States.
We are the last hope for asthma and pulmonary patients, says the organization's founder, Arthur Abramson. And we will fight this state by state."
Asked if his organization has heard from asthma and pulmonary patients who are considering filing for disability because of HFA-inhaler related problems, Abramson said: Yes, several. His group, however, doesnt track whether patients have received those benefits.
Neither does McDonalds environmental organization. But he empathizes with patients whove encountered problems with their insurance companies because of asthma and problems related to their HFA-inhalers.
I cant get insurance because of my asthma and so I have to pay (cash) for the HFA inhalers, he says. And its a $10 to $15 increase over the CFC inhalers. Its a vicious cycle. I cant get insurance because of my asthma and Im paying more for my asthma medication.
Back in Florida, Victoria says she can no longer afford her medications or medical treatments.
Last week, her employer dropped her from its insurance plan.
It is my understanding that you were turned down by Lincoln Financial Group for your short-term disability claim, her employer wrote in an e-mail. Unfortunately, it is our policy that once a claimant is denied benefits, that individual may no longer remain on our health insurance plan.
Therefore, regrettably, your coverage will end at the end of business today.
The only way Victorias employer will put her back on its insurance plan is if Lincoln Financial approves her appeal. But that process could take weeks or months, Victoria says. And she needs medical coverage now.
This is obviously another upset in this dilemma since I now am not able to seek medical care unless I get Medicaid, which is a very long and difficult process, she says, adding she cant file for long-term disability through the state until her appeal process is over. I just applied online tonight since I know that this could take months in the state of Florida.
In spite of these setbacks, Victoria refuses to give up her fight. Or change her surprisingly optimistic outlook on life.
I have emotionally accepted this the best I can, she says. I dont like it and it makes me angry, but I have a strong faith. I believe there must be a reason Im going through this. And I thank God that Im alive.
Shes also thankful that her husband recently found a job. But hes had to move to New York for that position and he doesnt have medical coverage yet.
Victims of government
As she struggles to catch her breath, Victoria says she isnt waging this battle just for herself. Shes fighting for all asthma and pulmonary patients whove experienced similar problems.
I'm sure I'm not the only HFA victim who became disabled, she told us. I think that asthmatics are still having major reactions to this medication and many (people) should know what life looks like after using HFA inhalers.
Congressional leaders, she says, need to pay closer attention to this issue and those suffering in its wake. They also need to legalize CFC inhalers in the United States. Unfortunately, the powers that be in Congress are not interested in listening.
We need somebody to advocate that there are sick people out there, she says. There are people who are so sick (because of their HFA inhalers) and theyre not getting better. They used what was out there (for their asthma or respiratory problems), but that is whats creating their disability.
And now there are people like me who are not getting their disability benefits. My insurance company isnt there when I need them. I now stand alone.
Read consumers' comments about the new inhalers.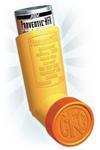 On a good day, Victoria O. can walk from her house to the driveway without stopping to catch her breath. But those days are rare for this Florida woman, who has what doctors call severe airflow obstruction.
I struggle to breathe all the time, she explains, wheezing between her words. Im 43 years old. I should be enjoying my life. I used to have an active life, but I went from a normal person to a very sick person.
Victoria can pinpoint the moment her health started its dow...
More
Sort By