The suit claims the men promised huge profits in ticket resales
01/31/2017
|
ConsumerAffairs

By Christopher Maynard
Christopher Maynard is a New York-based writer and editor who ... Read Full Bio→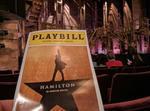 Lin Manuel Miranda's much-acclaimed musical Hamilton made a big splash in the theatre community in 2015 and 2016. Tickets for shows have sold out only minutes after being made available, and scalpers have collectively made millions from those who are desperate to see the show.
While Miranda has publicly condemned scalpers who use ticket bots to snatch up tickets, more insidious individuals have tried to use the show's appeal to scam people out of their money. The Securit...
More
The health drink company allegedly misled 'affiliates' about the amount of money they could make
12/16/2016
|
ConsumerAffairs

By Christopher Maynard
Christopher Maynard is a New York-based writer and editor who ... Read Full Bio→

Back in August of 2015, the Federal Trade Commission (FTC) acted against the Vemma Nutrition Company, alleging that it was luring college students and other young people with promises of high compensation. In reality, the agency said the operation was a pyramid scheme.
"Rather than focusing on selling products, Vemma uses false promises of high income potential to convince consumers to pay money to join their organization. We are also alleging that Vemma is an illegal py...
More
Sort By