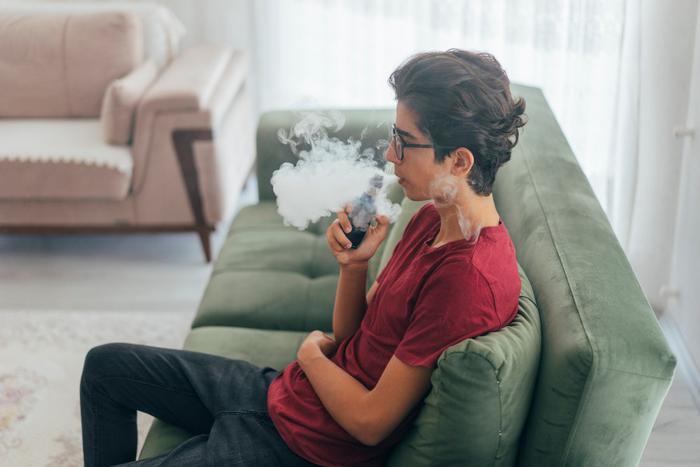 Youth vaping rates plunged during the COVID-19 lockdown period, according to a new survey published Thursday in JAMA Network Online. 
Roughly two-thirds (35 percent) of teen and young adult e-cigarette users said they reduced their use of the products or stopped using them altogether (32 percent). The survey found that concerns about lung health were a key factor for 1 in 4 respondents who said they either cut back or quit. 
Concerns about COVID-19 (which affects the lungs) have combined with concerns stemming from last year's nationwide outbreak of a condition dubbed "EVALI," short for "e-cigarette- or vaping-associated lung injury." 
"One of the main reasons they quit is that they were worried about lung health, and we think that's important, that they thought they could hurt their lungs," said lead researcher Bonnie Halpern-Felsher, a developmental psychologist and professor of pediatrics at Stanford University in California.
Kids adhered to stay-at-home orders were 50 percent more likely to quit or reduce their vaping, researchers found. However, only 15 percent of respondents said they were motivated to quit for fear of their parents finding out about their vaping.  
Emphasizing adverse health effects
Doctors and health officials say the study results suggest that emphasizing the health risks of vaping is an effective way to get younger users to stop using the products. Although teen vaping has become less of a concern in light of the COVID-19 pandemic, experts say it's still a major problem. 
"Vaping is still an important issue just as I think smoking is still an important issue … We've sort of forgotten about it because we've had a bigger health concern to worry about," Dr. Nancy Rigotti, director of the Tobacco Research and Treatment Center at Massachusetts General Hospital in Boston, told TODAY.
Experts say vaping use among teens could rise again after the pandemic is over and normal social events are cleared to resume. Halpern-Felsher said e-cigarette use among minors is largely socially driven, so the problem could resurface once kids can congregate safely.
"The concern is that as soon as youth are not having sheltering in place and they're all back in school, whether we're going to see more social use again and the uptick will happen," she said.
Highlighting research showing the health effects of vaping can be an effective way to get e-cigarette users to re-think their decision to start using the products in the first place. 
"If we can emphasize that vaping is not healthy and make it appear unattractive, we will win over this generation of e-cigarette users. We'll get them to stop," said Dr. Panagis Galiatsatos, director of the Johns Hopkins Tobacco Treatment Clinic in Baltimore.