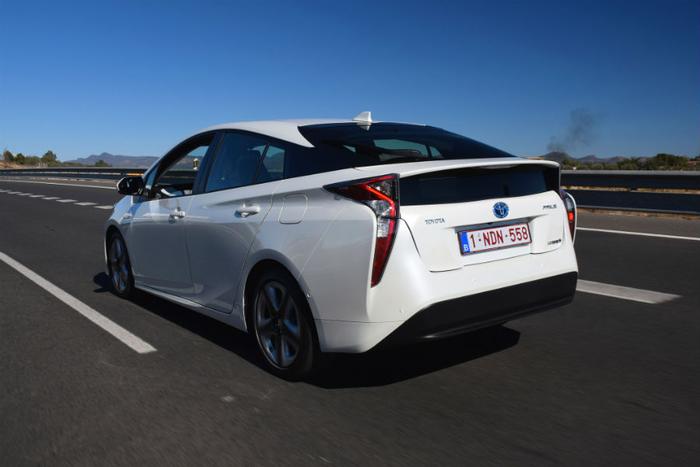 They were on busy thoroughfares, returning home from work or running errands, about to turn left, pulling into traffic or passing cars in the fast lane, when they remember seeing the same vague message flashing across the dashboard.
"CHECK HYBRID SYSTEM" it said, according to over two dozen drivers who submitted grievances to federal regulators since January 2018. The clock on Toyota's "limp-home" mode, something that Toyota itself has billed as a safety feature in the Prius, had begun to tick. Drivers had just a few moments to get off the road.
One person in Florida said they were trying to cross railroad tracks in their Prius when the car awkwardly jerked forward at the press of the gas pedal. The driver then noticed a "CHECK HYBRID SYSTEM" message on the screen.
"The car did drive on the gas engine a short distance to make it over the railroad tracks," the driver recounted, in a report that they submitted to federal regulators in March. "This seems to be an issue that Toyota is ignoring."
In the past five years, Toyota Prius cars have been plagued with a problem causing the vehicles to suddenly die while in motion. Toyota has twice recalled 800,000 Priuses to address the issue, mostly recently in October 2018. But mounting evidence suggests that Toyota has botched the recalls, giving credence to a Southern California dealer's claim that Toyota is both refusing to pay for the correct repairs and is downplaying the dangers of its "limp-home" mode to save money.
"Somehow, this has been twisted where they want people to believe that that portion of it is safe," the dealer Roger Hogan told ConsumerAffairs in an interview last year. Toyota has responded to Hogan's claims by characterizing him as a disgruntled salesman.
Going limp vs. dying
Both Toyota and Hogan agree that the problem is linked to the hybrid system malfunctioning or overheating. Toyota's latest recall addresses the manner in which the car responds when that happens; the car is supposed to go into something called "limp-home" mode or "fail safe" mode, Toyota says, to allow people time to safely pull off the road. The company is instructing dealers to adjust the software in affected cars to ensure that the car goes "limp" rather than immediately dying on the road.
But Hogan says the Hybrid system itself -- or more specifically, a part powering it called the inverter -- is what needs to be replaced. Essentially, he argues that the car shouldn't be malfunctioning or overheating at all.
In an ongoing $100 million lawsuit, he charges that Toyota has a pattern of refusing to properly address safety issues. Hogan has been outspoken about the issue for nearly two years, and the trial is scheduled for next month.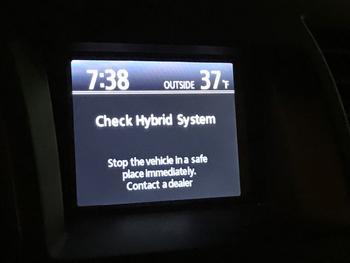 Database shows repeated problems
A ConsumerAffairs search of the phrase "CHECK HYBRID SYSTEM" in the National Highway Traffic Safety Administration (NHTSA) database, a voluntary system in which consumers report problems with their cars, turned up 25 reports since January 2018 describing frightening or inconvenient experiences in which Toyota vehicles suddenly died.
In several cases, consumers said that the problem was left unfixed because it was not covered by a recall or because Toyota could not properly diagnose the issue. It wasn't just the Prius that drivers had grievances with. Two reports describe a hybrid system failure in the Highlander and two others in Lexus vehicles.
"In one instance I was almost rear ended by a semi," the owner of a 2013 Prius wrote to regulators in August 2018, after being told by Toyota that the problem wouldn't be covered by a recall or warranty.
Drivers and experts have difficulty distinguishing between a car going "limp," in accordance with Toyota's safety standards, and one that is just dying. That's largely because "limp home" mode is not something that is actually regulated by NHTSA or anyone else, Jason Levine of the Center for Auto Safety noted in an interview with the Los Angeles Times. The newspaper recently interviewed more than a dozen Prius owners who described their cars stalling out after they had already undergone software repairs that were supposed to fix the problem.
"I was lucky nobody was behind me because I would have been rear-ended," one Prius owner told the newspaper. He escaped without a crash, but Toyota later told him he would have to replace the inverter on his own dime.
The consumer whose car nearly died on the railroad tracks this year, meanwhile, wrote in their report to NHTSA that Toyota did agree to cover the cost of a new inverter. But in that case, the driver said Toyota covered it under an extended warranty program, not a government recall.
The problem with warranties, safety advocates say, is that they are also unregulated. And unlike recalls, warranties provide little recourse for drivers should they experience a defect past a given time period. In the case of the Prius, Toyota has said that some cars may be eligible for an inverter replacement under a warranty program that lasts 15 years.
An $11,000 inverter
As the Times report notes, a similar issue appeared to afflict the Highlander Hybrid several years ago. But in that case, Toyota agreed to replace the entire intelligent power model, which holds the transistors for the inverter in place.
It's an issue that Philip Barton knows all to too well. The Vancouver-based attorney purchased a Highlander Hybrid brand new in 2010. In the years since, the car was recalled by Toyota twice over the inverter issue. He underwent repairs as instructed, he tells ConsumerAffairs, and otherwise the car ran well. But then it unexpectedly died while his wife was driving home from work on icy roads earlier this year.
A Toyota dealership emailed him explaining that the inverter needed to be replaced entirely. And because the car was past its warranty, Barton would have to pay for it himself.
"As discussed, we cannot make a direct connection as to how or why the inverter assembly failed," says an email that the dealership sent Barton, which he saved and forwarded to ConsumerAffairs. The email quotes Barton a total of $11,000 to replace the part.
Barton appealed to the corporate headquarters of Toyota Canada. He was mailed a letter stating that the company couldn't help because his warranty policy had run out.
"Toyota Canada has very liberal warranty policies and a mandate to assist customers whenever possible," the letter says. "Even with this mandate, your situation is one in which we cannot assist due to the length of time your vehicle has been in service."
Left with the bill
Unable to sell the vehicle, Barton is now letting it gather dust while he prepares to take the automaker to small claims court. He has since purchased a new car to use for the time being.
For drivers who can't afford an extra car, the situation is even worse. A San Diego resident told NHTSA that he got the "CHECK HYBRID SYSTEM" notice on his 2010 Prius one last time in November. The car hasn't started since, he wrote. But the driver said that Toyota still would not pay for the inverter to be replaced.
"I currently use my vehicle for my livelihood doing independent delivery services such as Instacart, Doordash, Postmates, etc.," the consumer said.
In a statement to the Los Angeles Times, Toyota said that it is "committed to the safety and security of our customers."
"We monitor the available information on this issue and would continue to investigate any new information that emerges and take any appropriate action," the statement said.