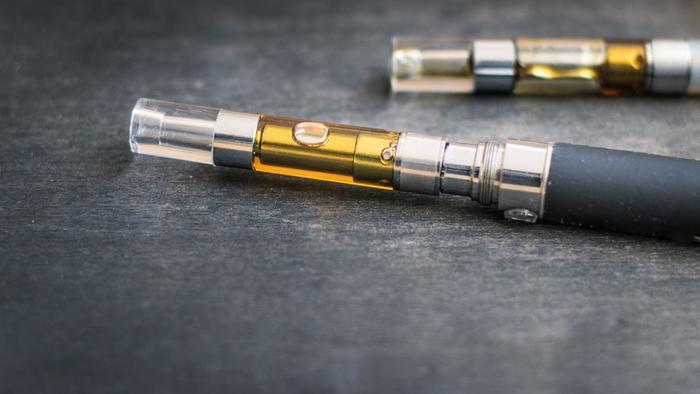 The Centers for Disease Control and Prevention (CDC) is continuing to update consumers on the number of lung illness (EVALI) cases that are connected to vaping. In its latest advisory, the agency points to new evidence that devices containing THC are part of the problem. 
THC, or tetrahydrocannabinol, is the chemical in marijuana that produces a psychological "high." The agency says that e-cigarette devices that contain THC were linked to 82 percent of EVALI cases as of January 14. Overall, 33 percent of consumers who developed EVALI reported that they only used a THC-containing device before becoming ill. 
With those numbers in mind, the CDC has adjusted its advisory to focus more on warning consumers to avoid THC-containing e-cigarettes.
"The EVALI outbreak primarily affects young adults, is driven by use of THC-containing products from informal sources and is strongly linked to vitamin E acetate," the agency stated. "CDC and FDA recommend that people not use THC-containing e-cigarette, or vaping, products, particularly from informal sources like friends, or family, or in-person or online dealers."
"THC use has been associated with a wide range of health effects, particularly with prolonged frequent use. The best way to avoid potentially harmful effects is to not use THC-containing e-cigarette, or vaping, products."
Cases continue to decline
While the CDC continues to narrow down the factors related to these lung illnesses, the number of EVALI cases continues to decline. 
As of January 14, 2,668 consumers had been hospitalized nationwide due to lung illnesses linked to e-cigarette use. There have also been 60 reported deaths from 27 states and the District of Columbia, and officials say these cases are still under investigation. 
Consumers in Illinois and Texas have been hit hardest by this outbreak of illnesses, with each state experiencing between 200-249 hospitalizations. Cases of EVALI peaked last September but have slowed to a trickle in 2020. 
For more information, consumers can visit the CDC's website here.