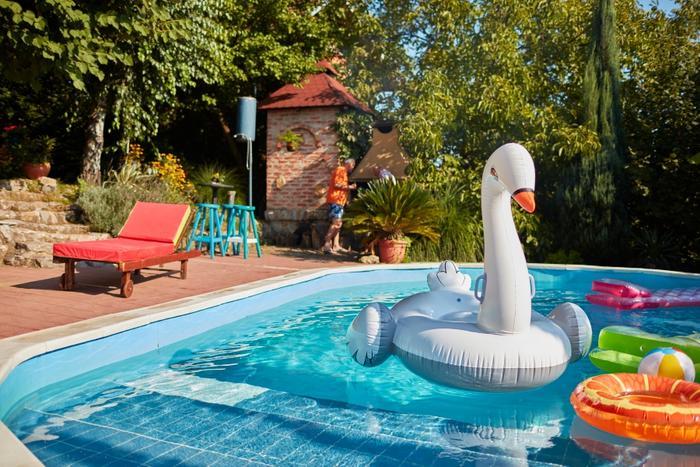 It's long been an article of faith in real estate circles that adding a swimming pool to your home does little to raise its value. But a new study from LendingTree calls that assumption into question.
The study looked at property values in the 50 largest U.S. housing markets, separating homes with pools from those without one. It found the median home with a pool is valued at $469,187 and the median home without a pool is valued at $305,152.
That works out to a 54 percent premium for homes with pools. The largest differential was in Memphis where the median difference was 157 percent.
But that doesn't mean homeowners should rush out to install a swimming pool in the backyard. A lot of other factors have to be considered.
More valuable in the Sunbelt
A pool may be of more value in places where it can be used the most. In the Sunbelt, for example, a pool can be used year-round. In more temperate climates, it's a seasonal activity. And it's no surprise that swimming pools are more common in the Sunbelt. The study found 33 percent of homes in Phoenix have pools. Miami, Tampa, and Orlando are not far behind.
But comparing a home with a pool to one without one carries other risks. Homeowners who build backyard pools tend to have more disposable income and often live in larger, more expensive homes. Could that account for some or all of the swimming pool premium?
The study authors took that into consideration. In Phoenix, for example, homes with pools averaged about 2,258 square feet in size. Homes without pools averaged 1,647 square feet.
When broken down to cost per square foot, homes with pools were still more valuable than those without -- $157 per square foot to $136.
Other factors
According to Houselogic, whether a pool makes your home more valuable relies on a lot of factors, some of which the LendingTree study addresses. It does make sense if you live in a warm climate where it can be used most of the time.
It also makes sense if you live in an affluent neighborhood in which most of the houses on your street have a backyard pool. In that case, not having a pool could decrease your home's value.
"Still, that's no guarantee you'll get a return on your investment," the home site advises. "At most, your home's value might increase by 7 percent if all circumstances are right when it comes time to sell."
Regardless of what the real estate market thinks about your pool, your local government jurisdiction is almost certain to see your investment as a big boost in your property value, with your property taxes going up accordingly.