The company wants to make its free tier more accessible
04/11/2018
|
ConsumerAffairs

By Sarah D. Young
Sarah D. Young has been a columnist for a blog ... Read Full Bio→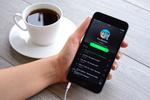 Not long after going public, Spotify may be planning changes to its free subscription tier.
Sources familiar with the matter told Bloomberg that the music-streaming giant is planning to change its free tier to be more like its paid subscription service. The new version of the app will make it easier to use the ad-supported service on mobile devices, according to the report.
An official announcement regarding the planned update is expected in the next few weeks.
The rumore...
More
Shares for the music streaming service began trading on Tuesday
04/04/2018
|
ConsumerAffairs

By Sarah D. Young
Sarah D. Young has been a columnist for a blog ... Read Full Bio→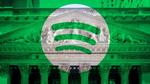 Following its decision to go public via an unconventional direct listing, music streaming service Spotify kicked off trading Tuesday just after 12:30 p.m. ET at $165.90 a share -- up 25.6 percent from a "reference price" of $132.
Share prices dropped as the day went on, ending at $149.01. While early buyers suffered losses on paper, the volatile price swings that many had expected were not seen.
By the end of the session, Spotify's market valuation was $26.5 billion. Inve...
More
Sort By