The personal savings rate held steady
09/30/2016
|
ConsumerAffairs


Consumers saw their incomes rise in August and held on to most of it.
The Commerce Department reports personal incomes edged up $39.3 billion, or 0.2%, last month, with disposable income (DPI) -- what's left after taxes -- also up 0.2%, or $31.9 billion.
Personal consumption expenditures (PCE), on the other hand, rose just $6.2 billion -- less than 0.1%.
The increase in personal income in August primarily reflected pay raises, personal income receipts on assets, and govern...
More
Initial jobless claims inched higher last week
09/29/2016
|
ConsumerAffairs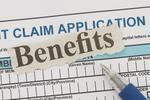 The third and final look at how the nation's economy was doing in the second quarter is a bit brighter than the earlier estimates.
According to the Commerce Department, real gross domestic product (GDP) -- the value of the goods and services produced by the nation's economy -- grew at an annual rate of 1.4%.
An earlier look at how the economy was performing put expansion at an annual rate of 1.1%. This latest estimate is based on more complete source data than was availabl...
More
Sort By