May saw the smallest number of new jobs this year
06/07/2019
|
ConsumerAffairs

By Mark Huffman
Mark Huffman has been a consumer news reporter for ConsumerAffairs ... Read Full Bio→
The nation's economy added 75,000 jobs in May, by far the smallest number this year. At the same time, job totals for both March and April were revised downward. The unemployment rate remains at 3.6 percent.
The government's report basically confirms this week's report from ADP/Moody's which showed that private payrolls increased by only 27,000 last month.
When compared to last year, the job market appears to be cooling considerably. The monthly report from the Bureau of ...
More
Businesses that provide services showed the most hiring activity
05/02/2019
|
ConsumerAffairs

By Mark Huffman
Mark Huffman has been a consumer news reporter for ConsumerAffairs ... Read Full Bio→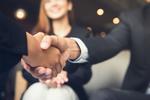 The job market may be much stronger than most economists believed. A new report from ADP and Moody's Analytics shows the U.S. economy added 275,000 private sector jobs in April.
That's the most since July and far exceeded the consensus estimate of 177,000 new jobs. On Friday, the Bureau of Labor Statistics will issue the government's official employment report for April.
The ADP report showed jobs related to services increased the most last month. The business and profess...
More
Sort By