Consumers were also able to fatten their savings accounts
08/29/2016
|
ConsumerAffairs


Following increases the previous month, both personal income and spending were higher in July.
Incomes jumped 0.4%, or $71.6 billion, according to the Bureau of Economic Analysis (BEA), with disposable personal income (DPI) -- what's left after Uncle Sam takes his cut -- up $60.1 billion, or 0.4%.
The increase in personal income last month came largely from advances in wages and salaries and personal current transfer receipts.
Personal consumption expenditures (PCE), or co...
More
Corporate profits took a hit
08/26/2016
|
ConsumerAffairs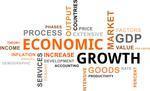 The U.S. economy continued to plod along in the second quarter.
The Commerce Department's second look at real gross domestic product -- the value of the goods and services produced by the nation's economy -- put expansion at an annual rate of 1.1%. While that's down 0.1% from the "advance" estimate released last month, it is a bit of an improvement from the first-quarter growth rate of 0.8%.
This latest economic snapshot is based on more complete source data than were ava...
More
Sort By