What does a residential service contract cover?
Protect your home's appliances and systems



Written by

Edited by
Find Home Warranties, Service Plans near you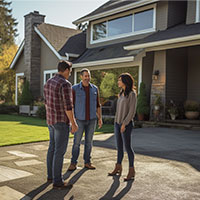 A residential service contract helps protect your wallet from high repair bills when things go wrong around the house. These plans cover the cost of repairing and replacing appliances and systems in a household that can break down from wear and tear.
You'll pay a monthly premium and a service fee when you file a claim, and the company will take care of the rest. Take a look at how these contracts work and if they make sense for your situation and budget.
---
Key insights
Service contracts cover common appliances and systems like HVAC, electrical and plumbing systems, refrigerators, ovens, washers and dryers.
Residential service contracts often don't cover items with pre-existing conditions or poor maintenance.
These contracts typically need to be renewed on a yearly basis.
How does a residential service contract work?
When you sign up for a residential service contract, you pay an annual or monthly fee for coverage. Most companies provide several plans that either cover appliances-only, systems-only or a combination of the two. Then, if a covered item breaks down, the provider will send a contractor to diagnose and fix the issue — with the provider footing the bill.
Residential service contracts cover a variety of items, including HVAC, electrical and plumbing systems, kitchen appliances, washers and dryers.
Don't confuse a residential service contract with homeowners insurance. While homeowners insurance is generally for big disasters like fires, storms or theft, a residential service contract is for the everyday wear and tear on systems and appliances only.
In addition to these common items, nearly every company has add-on items available for coverage. Some of the most common include garage door openers, septic systems, pools and spas, water softeners and well pumps.
To get a repair or replacement, you must file a claim with the company (usually through their website) and pay a deductible. This fee can range from $75 to $125, with some companies giving you the option to choose the fee. The company will then send out a technician from its network to do the repair or make the replacement.
So, is a residential service contract worth it? That's a personal decision based on your home's condition, your comfort with do-it-yourself repairs and your financial situation. If you don't want unexpected repair bills to mess with your budget or you're not the handy type, it might be a smart option. But if you're good at fixing stuff yourself or have money set aside for emergencies, a residential service contract might not be worth the expense.
Residential service contract vs. a home warranty
Residential service contract companies and home warranty companies generally work the same. One difference, though, is who does the repairs.
"There is one company in our market who actually refers to themselves as a residential service contract company, versus a home warranty," said Melissa Zimbelman, a real estate agent and property manager in Nevada. "And the big difference with them is that all of the techs that come out to do the repairs actually work for the company. With most home warranty companies, the repairs are contracted out by the warranty company to local plumbing, electrical and HVAC companies who will come out and do the repairs." 
"This company claims the benefit to their business model is that they better control the repair timelines and level of service you will receive. … The cost seems comparable to traditional home warranty plans offered."
What a residential service contract covers
While each company will vary in what it covers, typically base plans will cover:
Appliances
Built-in microwaves
Dishwashers
Dryers
Garbage disposals
Range/oven/cooktop
Refrigerators
Washers
Systems
Cooling
Heating
Ductwork
Electrical
Plumbing
Water heater
Add-on coverage varies between providers, too, but you'll typically find coverage for swimming pool pumps, hot tubs, well pumps, ceiling fans and garage door openers. You may also find companies that offer add-on services like a yearly HVAC tuneup, re-keying and pest control.
Limits and exclusions
While residential service contracts cover a lot of items around the home, they do have some limits. Most importantly, residential service contracts don't cover repairing or replacing items that had problems before you signed up for your plan, known as a pre-existing condition. There's often a 30-day waiting period before you can file a claim with a company to prevent claims on pre-existing problems.
Most companies require that you keep appliances and systems well maintained, or the company may deny a claim. "The fact that your items must be properly maintained has been a sticking point for many homeowners," says Angel Conlin, the chief insurance officer at Kin Insurance. To avoid a denied claim, keep records and invoices of all the repairs and maintenance work for each item.
Plans can also have caps on how much of a repair or replacement is covered. For example, your plan may only cover the replacement of a refrigerator that costs $2,000. If your current fridge costs $3,000, you may have to pay the difference out of pocket — or settle for a cheaper option.
Some other items that may be excluded from a plan include:
Cosmetic or nonmechanical defects
Some outdoor appliances, like an outdoor kitchen
HVAC systems that are too small for the home they were installed in
Commercial appliances
» COMPARE: What does a home warranty cover?
Residential service contract costs
There are several fees associated with residential service contracts. First, there is the annual fee to sign up for a plan. This usually ranges from $264 to $1,425 annually, depending on the plan you choose. Many companies will let you pay out the annual fee in monthly payments.
Next, there's the deductible. A deductible must be paid before service work can begin, and this fee typically ranges from $75 to $150. Your deductible can be lower or higher, depending on the annual fee you choose.
Finally, there are out-of-pocket costs that you may run into, depending on the policy caps in your plan. In most cases, your plan should cover the full cost to repair an item in your home, but a cap on how much the company pays for replacements may leave you with additional costs.
What are the benefits of a residential service contract?
According to Conlin, first-time buyers with no home maintenance experience, those buying an older house or owners with older appliances will benefit most from residential service contracts. This is because you don't need to worry about repairing or paying out of pocket for appliances and systems that break down unexpectedly.
Another perk is that you don't need to find a service technician. The company finds one for you and schedules the appointment. This can be helpful if you're new to the area and don't have a list of reliable contractors.
What are the drawbacks?
Not everyone will benefit from a residential service contract. They can be an extra expense to worry about, and you may not feel the benefits if you don't make any claims throughout the year. For some, making that financial commitment doesn't make sense.
For example, if you're experienced with making repairs around the home, you may save money by doing the work yourself. Or, if you know handymen and contractors in your area who provide quality work at affordable prices, you may not need a service contract.
"Knowing someone you can rely on to do good work fast is often better than the savings these programs can provide," said Tom Nolan, a home improvement specialist and the founder of All Star Home. "A great contractor will guarantee their work and make sure that you're happy with their service, so you can feel more comfortable about the work done on your home."
If you have a brand new home, you probably won't need coverage either since your appliances and systems are new and not likely to break down. Plus, they are probably already under warranty from the builder and manufacturer. If that's the case, a residential service contract will actually exclude coverage for any items under another warranty.
How to choose a residential service contract provider
Before you dive in, there are several aspects to consider:
Cost: How much is the contract, and how does it compare to what you'd normally pay for repairs in a year? If you have a brand-new home with new appliances, you might not need one, but it could be a lifesaver if you're in an older home.
Coverage: Read the fine print. Know what's covered and what isn't. Some contracts offer different tiers of coverage, so pick what suits your needs.
Reputation: Check out reviews and talk to some current customers to see how quick and effective the service is. There's no point in paying for a service that's going to leave you waiting weeks when you need a repair right away.
Exclusions and limitations: Make sure you know what these are so you can stick to the rules. Most companies have sample contracts to view on their website. Thoroughly read through it so you won't be caught off guard and receive denied claims.
Flexibility: Can you choose your own repair service, or do you have to go with the company's own technicians? Does the company contract out the work? This could make a big difference in the quality of service you receive.
FAQ
What's the difference between a residential service contract and homeowners insurance?

A residential service contract and homeowners insurance operate similarly, but they cover different items. With both, you pay a monthly premium for coverage. If you need to file a claim, you'll pay a service fee, or deductible, and the company will cover the cost of the repair or replacement.

However, homeowners insurance covers damage to your home from certain perils, including fire, theft, vandalism, and storms. Both the structure of the house and your personal belongings will be covered. Also, you can get personal liability coverage, which covers your legal responsibility if someone is injured on your property.

With a residential service contract, only systems and appliances are protected. The company also won't pay for secondary damage. For instance, if a pipe leak damages the surrounding floor, the company will only pay to fix the leak — not the floor.

» LEARN: Home warranty vs. home insurance
How long does a residential service contract last?

These contracts are usually renewed on a yearly basis, though some have longer or shorter contract options. If you want to renew your contract, make sure you do so before the year is up. Otherwise, you may have a lapse in coverage.
How do you submit a claim?

Most companies will let you submit a claim on its website or through its customer service phone line. Once you submit your claim, you'll pay a service fee before the provider sends out a contractor.
Is a residential service contract worth it?

It depends on your needs. If you have all new appliances and systems, you may not need one. On the other hand, having a residential service contract can save you from unexpected out-of-pocket repairs and replacements if you have older systems and appliances.

» MORE: Is a home warranty worth it?
Can you cancel service contracts?

Yes, most companies let you cancel at any time and will reimburse you the prorated amount you paid for the plan. You may need to pay a cancellation fee, though. The fee will vary depending on the laws in your area. Check your contract to learn about any fees.
Bottom line
Surprise repairs are part of being a homeowner. Having a residential service contract can save you from costly repairs or replacements of your appliances and systems. It's important to know the limitations and exclusions of a plan before you sign up, though, and always research companies before making the commitment. This will not only save you frustration down the road but can also save you time and money.
---
Article sources

ConsumerAffairs writers primarily rely on government data, industry experts and original research from other reputable publications to inform their work. Specific sources for this article include:
Did you find this article helpful?
|
You're signed up
We'll start sending you the news you need delivered straight to you. We value your privacy. Unsubscribe easily.