What does a home warranty cost a seller?
A sellers home warranty costs between $450 and $600



Written by

Edited by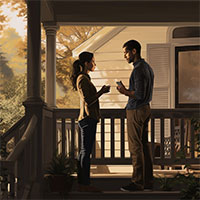 A home warranty is a service contract made between a home seller or owner and a home warranty company. These policies cover service calls for a set period of time to repair or replace common appliances and home systems when they break down due to normal wear and tear. Many home sellers choose to purchase a home warranty when listing their home to be more competitive and provide themselves and potential buyers with peace of mind.
Take a look at what you can expect the cost to be and how a warranty can benefit the sale.
---
Key insights
Offering a home warranty during a house sale can help increase marketability.
Sellers home warranties can usually be transferred to the buyer once the sale is finalized.
A home warranty is a relatively inexpensive method to attract buyers and ensure a trouble-free closing.
What is a sellers home warranty?
Both a sellers and a buyers warranty cover the same basic home systems, such as heating and cooling, plumbing and electrical systems, as well as the most common appliances, like washers and dryers, ranges, refrigerators, built-in microwaves, garbage disposals and dishwashers. The main difference is who pays for the home warranty and how long the coverage lasts.
A limited sellers home warranty, for instance, only covers the time period from when the house is listed to when the transaction closes. However, many sellers choose to purchase a full warranty that can be transferred to the buyer as an added incentive. In some cases, a home warranty company may offer free initial coverage during the listing period if the seller agrees to buy an additional year's protection for the new owner.
» LEARN: What is a home warranty?
What are the benefits of a home warranty for sellers?
Sellers can benefit in a few big ways from purchasing a home warranty, especially in a competitive housing market. Advantages include:
Covering unanticipated repair or replacement costs during the listing period
Making you more competitive in a buyer's market
Expediting closing timelines after an inspection
Protecting appliances no longer covered by the manufacturer's warranty
Transferring the warranty to the buyer after closing
Adrian Pedraza, a real estate investor with The California Homebuyer who's worked with numerous buyers and sellers, has this advice for his clients: "When selling a home, it's not just about curb appeal — it's about giving peace of mind. A home warranty is that reassuring handshake, promising buyers that major appliances and systems won't spring unexpected costs on them shortly after moving in."
However, buying a home warranty when selling your home won't always be necessary, so consult with your real estate agent first. For instance, if most of your appliances are new and still covered under the original manufacturer's warranty or if you're listing your home in a seller's market, a warranty may be an unnecessary expense.
On the other hand, a home warranty may be just what you need to set yourself apart from other sellers. "In competitive markets, like California, homes with warranties stand out, signaling trust and long-term value to potential buyers," Pedraza said.
What does a sellers home warranty cost?
There are two main costs to consider when pricing out a home warranty: the cost of the plan itself and the cost of service calls. On average, an annual policy costs $40 to $60 a month, while service calls cost between $75 and $150. This fee (sometimes called a deductible) must be paid each time the warranty company sends a contractor to your home to assess a problem.
You can potentially get a free limited sellers warranty if you agree to purchase a one-year buyers warranty after the house sale.
For a seller, there may be even more discounts available from a warranty company. For instance, many companies offer free or discounted limited coverage while your home is listed (typically capped at six months) if you agree to purchase a full-year warranty for the buyer. It's also worth noting that from a seller's perspective, once the policy is transferred, it will be the new homeowner who pays the service call fees. The only cost that lies with the seller is the annual premium.
With all the expenses that come with listing and selling a home, even a $500 plan is only a small portion of what you're spending on improvements, staging, agent fees and closing costs, along with covering the mortgage while the home is listed.
» COMPARE: Best home warranty companies
How to get a sellers home warranty
When selling your home, your real estate agent is your single best resource to discuss the pros and cons of buying a sellers home warranty. This is why you should only work with a reputable, experienced agent whose guidance and advice you can trust. They'll be able to recommend warranty companies they've worked with before and can vouch for. They'll also have insider knowledge about the housing market in your area and can tell you whether a warranty will ultimately be worth it.
Consider following these steps if you're interested in purchasing a home warranty:
Together with your real estate agent, discuss your coverage needs to determine the type of warranty you should choose. You may wish to get a warranty for appliances, one for home systems or a combination warranty.
You'll also need to decide whether to get a limited warranty that ends once you sell your home or purchase an annual policy to be transferred to the new homeowner.
Read reviews and ratings for different warranty companies and ask friends and family for their recommendations if they've used a home warranty in the past.
Obtain quotes and coverage details from at least three warranty companies.
Once you have detailed policy information, compare your options. Remember to read the fine print, including exclusions and coverage limits, then decide on a plan.
If you plan to transfer the warranty over to the new owner, make sure you understand what this process entails and communicate this to potential buyers.
FAQ
What is the difference between a buyers and sellers home warranty?

In terms of coverage, there's no real difference between a buyers and sellers home warranty. Both cover the cost of repair or replacement for the home systems and appliances included in your plan, minus the service fee. The only real difference between the two is who pays for the warranty. If a seller offers a warranty along with the home, they'll pay the yearly premium, but the new owner will ultimately be the one who pays the service fees.

» COMPARISON: Buyers vs. sellers home warranty
How long does a home warranty last?

Nearly all home warranties are valid for a 12-month period, after which the policyholder can choose whether or not to renew. The only exception to this would be a sellers limited warranty, which only provides coverage for the time the home is listed until closing.

» LEARN: Home warranty renewal: what to do when your home warranty expires
Are home warranties transferable?

Yes. In almost all cases, if you purchase a full home warranty (meaning 12 months of coverage) while listing your home, this can be transferred over to the buyer as soon as you've closed. That said, you should always double-check the language of your contract to see if there are any fees associated with the transfer. It's also a good idea to notify your warranty company ahead of time if you plan on transferring.
Can I include the home warranty as part of the closing costs?

A home warranty can certainly be included in the closing costs, but this isn't always the case. Sometimes, the real estate agent may purchase a home warranty for their client as a thank-you gift. In other cases, the buyer may choose to purchase a warranty themselves after the sale goes through.
Bottom line
A sellers home warranty is a useful tool that can incentivize buyers. It can also provide the buyer peace of mind knowing that, at least for the first year they own their new home, the major systems and appliances are covered. It can also help reduce stress for the seller since any issues that come up during the listing period will be repaired or replaced easily.
Discuss the benefits of buying a sellers warranty with your real estate agent to decide whether it's right for you.
Did you find this article helpful?
|
You're signed up
We'll start sending you the news you need delivered straight to you. We value your privacy. Unsubscribe easily.