One Hour Heating & Air Conditioning
Consumer Complaints and Reviews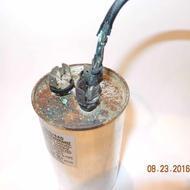 July 21, 2016 Repair: "Bad Capacitor" in the air handler – replaced. Installer also inspected compressor unit outside, hooked up gauges, checked wiring and coolant pressure; removed fan from top of unit and washed out leaves with garden hose and sold me a maintenance contract. Upon entering the house I wrote two checks, one for the amount of the repair in the amount of $161.00, and another for the maintenance contract in the amount of $245.57. When the technician called the office, he put his supervisor on the speakerphone and I was told the maintenance contract was actually $50 more. I refused and was bombarded with numbers so I said take the $245.57 check and apply it to the contract. I complained to Home Warranty of America and received a check for $44.16 for overpayment on contract. Definitely proving bait and Switch on the part of One Hour Air Conditioning and Heating.
August 8, 2016 First inspection of the AC unit by One Hour Air Conditioning and Heating for Home Warranty of America for the maintenance contract. Technician hooked up gauges and checked capacitors with a clamp-on ammeter and checked coolant pressure in the compressor unit outside. No trouble found other than fan motor bearings. This is the second visit by One Hour and it was only 18 days after the initial visit.
August 21, 2016 only 18 days after the inspection and 31 days after previous visit. Two "bad capacitors, probably a voltage surge." If the unit was inspected thoroughly on July 21, 2016 or August 8, 2016 this should have been found. The problem was not a voltage surge. It was a loosely fitting spade clip on one of the capacitors causing arcing every time the unit started up. Burned insulation at the capacitor connection of the wire and the green tarnish which would require extended exposure to develop. From the looks of it, this capacitor is not very old, still shiny. I have various sensitive electronics in my home and nothing else was damaged. A circuit breaker would have been tripped on a surge large enough to do this type of damage. I requested a full refund from Home Warranty and received it. I requested a refund from One Hour Air conditioning in Atlantic Beach and have not received one or heard from them. Do not trust this company.

Technician came for regular tune up. My system was working fine before tune up. After completed tune up technician saying electrodes is not firing. So need to replace. I asked to technician to replace electrodes. He saying company doesn't have part. Parts will come next working day. I have to reschedule with customer service. Company will charge another $50 for return trip + parts and another labor charge. We were without hot and heat for two days. It is ridiculous. Very bad experience.

I had a few other quotes and these people were the only ones that right away, saw the issues and knew what to do whereas with the others, I had to point things out. Also, One Hour looked at the recommended equipment and said that the best practice is to match the manufacturer of the heater and the tonnage. The others were pushing Lennox and I guess as they wanted to keep the price down, the recommended lower tonnage than my heater. One Hour put in the right manufacturer and size! Nice guys too. They offered all sorts of financing options. Took their time with me.

If I could give this company a negative five (-5) I would. Mick, the owner, is a no good street-thug who should be put out of business for his unconscionable and unlawful business practices. These guys have a street-gang mentality, and they will try and physically harm you if you have a disagreement with them over money and the work they do. Point being, their employees are barely qualified to do the work they are doing and they don't pay for any damages they do to your home, like any legitimate and professional company would.
And, these guys will try to physically harm you. If you refuse to pay them, on account damages were done by this company to your home, Mick will send out low-level enforcers to your home to who will try and physically rough you up to get full payment from you. One Hour Heat and Air employee Mr. Lonnie ** is one of Mick's low-level enforcers. While Mr. ** is quite inadequate in a physical confrontation, by any 'real-man' measure, Mr. ** will, regardless, attack you, as he is a total nut job. Mr. ** is not a 'smart guy' so keep that in mind, as he is unaware that what he does is illegal. By sending out Mr. ** to your door the owner Mick is essentially attempting to create, upon payment, a tacit waiver of any damage claim by the home owner. Mr. ** is a thug who comes to your home, refuses to leave when ordered to exit your property, and then physically attacks you in your home if you refuse to pay him.
Beware! These guys will come to your home usually on a Friday (Pay Day) and try and force you to pay them money at your door if you have any dispute with them over the work they've done and payment. They will never voluntarily pay for the damages they do to your home. They will call you and shout, threaten, and lie to you to try and intimidate you into paying them as well. Also, they have this burglary thing down to a pretty decent science, so make sure you have cameras rolling on these guys at all times because they will physically attack you and then claim you attacked them. And, Mr. **, after he attacks a home owner, presses criminal charges against the home owner for assault. These guys are low-life, dirt bags that should be avoided entirely.

I have some refrigeration experience and since my home A/C was cycling I was pretty sure it was low on Freon. I have the gauges but not the Freon used in this system. So my fiance called One Hour Heating & Air because she had good experiences with them in Daytona. When the technician arrived he quoted me $1350.00 to clean the system before he could diagnose the problem. I in no uncertain terms and without profanity told him to leave my house. I will not recommend anyone use the Mayport Fl One Hour Heating & Air.
How do I know I can trust these reviews about One Hour Heating & Air Conditioning?
633,951 reviews on ConsumerAffairs are verified.
We require contact information to ensure our reviewers are real.
We use intelligent software that helps us maintain the integrity of reviews.
Our moderators read all reviews to verify quality and helpfulness.
For more information about reviews on ConsumerAffairs.com please visit our FAQ.

Long story short, we purchased a Goodman 2 1/2 ton central unit with heat pump back in 2006. We later, much later, learned it was a known defective designed unit, from One Hour Heat and Air in Nashville. We had constant issues with the unit over the next 9 years. Then back in December of 2016 we spent $750 with One Hour Heat and Air and they assured us all was fixed. The next month, (Jan) we received the worst electric bill of our 21 years in our home. Our electric bill was double our highest electric bill ever. Our unit had ran all month on emergency heat mode without us knowing it. One hour Heat and Air would not return our calls and they refused to help us with our horrendous electric bill. They will take your money and lead you along, but if they make a mistake it's all on you. Buyer Beware!

This company didn't fix my heat. The technician told me to buy some space heaters. After getting a second opinion, my heat was fixed. This company has pressure sales and tactics. They sold me a maintenance package that I was told I could cancel at ANYTIME! Now they want a lot of money... but I won't give them anything.

I purchased a complete heating/air system from One Hour five years ago. The system is junk. Within five years most every part needs to be replaced. Not only do the service people who come to house not know what they're doing, but the parent company, One Hour, refuses to let the original contractor service our equipment. This is crazy. We purchased a $10k system from one contractor... The parent company decided we MUST use a different contractor for service, located 45 minutes away. Now we have no recourse. And the repairs that One Hour makes, like fixing a freon leak, need to be done repeatedly, like every three months. This company is NOT good. Stay away.

Service was requested and done, but air filters were never delivered. After 3 calls I requested a refund and was told my warranty would be canceled because I purchased them someplace else and I was charged a restocking fee for items I never received.

ConsumerAffairs Research Team
The ConsumerAffairs Research Team believes everyone deserves to make smart decisions. We aim to provide readers with the most up-to-date information available about today's consumer products and services.
One Hour Heating and Air Conditioning offers HVAC installation and repair services throughout the United States.
On-time guarantee: If a repair person is one minute or more late, the company offers free service to make up for the lateness.
UWIN endorsed contractors: All contractors are endorsed by UWIN, which means they have passed drug tests and background checks.
Technicians held to high standards: Technicians are expected to behave professionally; if a consumer complains about technician behavior, the company pays for the service itself.
Technicians clean up after themselves: Technicians are expected to clean up their work area and leave the consumer's home in the same condition it was when they arrived.
Offers in-depth product reviews: Product reviews can help users determine which HVAC products and services to order.
Best for Landlords and people with health problems.
One Hour Heating & Air Conditioning Company Profile
Company Name:

One Hour Heating & Air Conditioning

Address:

516 Running Pump Road

City:

Lancaster

State/Province:

PA

Postal Code:

17601

Country:

United States

Website:

http://www.onehourairhelp.com/