Does a home warranty cover plumbing?
A standard home warranty covers most plumbing systems



Written by

Edited by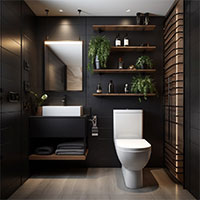 Almost all home warranties cover interior plumbing as one of the major home systems, though each policy will come with exclusions and rules about how this coverage can be used. Typically, plumbing coverage includes the cost to repair or replace pipes and plumbing fixtures in the home, but it excludes most outdoor fixtures like pools or well pumps unless you elect to add them on.
Additionally, your warranty will likely only cover the cost to replace the damaged plumbing components but may not cover water damage to the surrounding area. Take a look at some more important insights about plumbing coverage.
---
Key insights
Most interior plumbing systems are covered by a standard home warranty.
Damage due to misuse or natural disasters may not be covered.
Performing regular maintenance is the best thing you can do to prevent plumbing problems before they occur.
What plumbing issues do home warranties cover?
A home warranty is a service contract for your home that repairs or replaces certain appliances and systems in exchange for a monthly premium and non-refundable service fee (sometimes called a deductible). Warranties can usually be purchased as an appliance-only, system-only or combination plan. Plumbing systems, like electrical and HVAC, will almost always be included in a system-only or combination policy, though plans will differ from company to company.
Since each home warranty will vary slightly, you should always check the details of the policy first to ensure your coverage needs are met. However, there are several plumbing repairs that the majority of policies will cover, including:
Pipe leaks
Water lines (usually to the edge of your home's foundation)
Stoppages
Drain lines
Faucets
Hot water heaters
Toilet blockages and components
Bathtub cleanouts
Showers and tubs
Valves
Home warranties only cover damage due to normal wear and tear, and a claim request may be denied for other causes. You will also have to pay the one-time service fee regardless of whether the repair is ultimately covered under your policy. To ensure you're covered, you may need to prove the damage was not due to neglect and that you've been regularly maintaining these systems or components.
» LEARN: What does a home warranty cover?
What plumbing issues aren't covered?
Although most basic plumbing issues are covered by your warranty, each policy will include exclusions and limitations. Since warranties only cover issues that occur due to "normal wear and tear," anything that lies outside this will not be eligible for repair or replacement under your policy.
This includes damage due to neglect, misuse, incorrect installation or natural disasters. Additionally, any damage that occurred before your warranty went into effect won't be covered — this is considered a preexisting condition.
Add-ons
There are several plumbing components that are rarely included in a standard plan but may be offered for an additional charge. For instance, most basic policies exclude septic tanks, sump pumps, well pumps, spas, pools, lawn sprinklers, guest house plumbing and clogs in the sewer line that lie beyond your home's foundation.
In many cases, you can elect to purchase a more comprehensive plan that includes these extended coverage options.
Exclusions
All warranties come with exclusions on covered components. For example, frozen pipes that burst because they weren't properly insulated or pipes that broke due to overgrown tree roots or other foreign objects will not be eligible for repair. This means for any plumbing component covered under your policy, you need to keep all records of installation, repairs and maintenance that clearly show the damage was not due to homeowner error or neglect. Documentation is crucial to ensure your plan covers what it's supposed to.
Many plans don't cover sewer lines outside your home's main foundation.
Coverage limits
Lastly, all policies have coverage limits that apply to individual appliances. For instance, your warranty may have a certain dollar cap for a hot water heater and another for repairing water lines. Other companies may set a blanket coverage limit that applies to all appliances. If the needed repair or replacement exceeds this, you may end up paying out of pocket.
» LEARN: Is a home warranty worth it?
Home warranty vs. home insurance
Nearly all homeowners who take out a mortgage to pay for their home are required to carry homeowners insurance. In general, a homeowners insurance policy covers property damage to the structure of your home or your belongings inside the home due to an accident or catastrophe.
In terms of plumbing, this means a standard homeowners plan would cover accidental damage, such as a frozen pipe bursting and flooding your basement or an overflowing toilet that soaks and ruins your bathroom floor.
However, since most of these policies only cover the structure of your home, they may not pay to repair or replace your appliances. So, although your insurance policy may cover the cost to repair the damage done by the leaky pipe, it may not pay to replace the pipe itself.
| | Home warranty | Home insurance |
| --- | --- | --- |
| Coverage | Repairs and replacements for appliances and major systems | Damages to and loss of your house's structure and personal property; liability |
| Costs | $450-$1,400 per year | $846-$1,654 per year |
| Claims accepted | If failure is caused by normal wear and tear | If damage is caused by natural disasters or accidents |
| Requirement | Always optional | Mandatory with mortgage |
Septic system home warranty coverage
Although many homes use a septic system to treat wastewater, this will not be part of a standard home warranty, even though it's a major component of the home's plumbing system. Even so, most home warranty companies offer septic system coverage as an add-on, which you will have to pay extra for.
When adding on optional coverage like this, pay attention to the fine print in your policy to make sure all the key components of your septic system are covered, such as jet pumps, aerobic pumps, the septic tank itself and sewer lines.
How to prevent plumbing problems
Even if you have a home warranty, this doesn't take away your responsibility as a homeowner to properly maintain your plumbing system to prevent problems from arising in the first place.
Jimmy Hiller, the CEO of Hiller Plumbing, Heating, Cooling, and Electrical, which serves Tennessee, Kentucky, Alabama and Florida, has been in the plumbing business since 1990. He advises all his customers to keep an eye out for common problems. For example, he recommends regularly checking for leaks in toilets, in pipes and under appliances like dishwashers, washing machines or refrigerators that have automatic ice makers.
For homeowners with septic systems, regular maintenance, in addition to implementing water-saving practices, is key to avoiding bigger issues. Hiller points out that "conserving water is crucial when you have a septic system. You can do this by using water-saving fixtures and appliances, which reduce the strain on your septic system."
Additionally, homeowners can prevent plumbing problems in the following ways:
Insulate exposed pipes and those near exterior walls if you live in a colder area.
Be mindful of what you put down drains or in your garbage disposal. Avoid putting food waste like oil and grease, coffee grounds or rice in your kitchen drain and only flush toilet paper.
Drain and flush your water heater every one to two years to clear out sediment.
Use a drain cover in your shower to catch hair.
Don't wait to address problems. Contact a professional right away to prevent a small issue from turning into a large one.
Hiller reminds his customers that "staying proactive with home maintenance can help prevent unexpected plumbing problems in the first place." Even if you have a home warranty, by following a few simple guidelines, you can extend the life of your plumbing system and save money in the long run.
» PREVENT LEAKS: Best water leak detectors
How to choose a home warranty for plumbing systems
Because all home warranties cover basic plumbing services, you'll have your choice from a number of companies. Always work with an established home warranty company with a proven track record and ensure your home's plumbing needs are included in your policy. Below are some tips for choosing the best warranty for plumbing systems:
Ask friends and neighbors about their experiences and recommendations for warranty companies.
Read online reviews and ratings from reputable outlets.
Make sure you understand your home's plumbing system. You don't want to pay for a comprehensive plan that includes coverage for a pool or other components if you won't end up using it. On the other hand, if you have special plumbing needs (for example, an irrigation system for your lawn) and you want this covered, you'll need to find a warranty company that offers this option.
If you've just purchased a new home and want to buy a warranty for it, consult with your real estate agent to get recommendations for companies they've worked with before. Your agent will also have a good understanding of the plumbing components in your home and can help evaluate different plans to ensure you have good coverage.
Get quotes from at least three different warrant companies and compare coverage details before choosing one to sign a contract with.
» COMPARE: Best home warranty for plumbing
FAQ
Are plumbing problems caused by natural disasters or neglect covered?

In most cases, problems due to homeowner neglect or natural disasters will not be covered by your home warranty. That said, although damage caused by a natural disaster like a storm or hurricane isn't covered by a warranty, it will likely be covered by your homeowners insurance policy.
Is home warranty coverage for plumbing worth it?

Because so many home systems and appliances are covered under a home warranty in addition to plumbing, purchasing one can often be a wise investment. A standard warranty will cost anywhere from $450 to $600 a year, and a major plumbing project without coverage can cost well over this.

Additionally, if you own an older home, aren't especially handy or don't have a lot of savings to pay for unexpected repairs, you may find a home warranty gives you peace of mind and allows you to better plan for future expenses.
What else does a home warranty typically cover?

A home warranty covers appliances, home systems or both, depending on the level of coverage you need. Common covered appliances include refrigerators, ranges, washers and dryers, garbage disposals, built-in microwaves and garage door openers.

Major home systems include heating, air conditioning, electrical, ductwork and ceiling fans. Home warranties also offer optional coverage for pools, spas, septic systems, guest units, roof leak repair and water softeners.
Bottom line
Plumbing is one of the most important systems in your home, and if elements of it fail, you'll not only face a major disruption — you could also be left paying hundreds to thousands of dollars to fix it.
Regular maintenance and preventive care can do a lot to minimize the extent of plumbing issues, but a responsible homeowner should also consider other tools to keep costs down. Ultimately, a home warranty is worth considering since it covers most of the common plumbing repairs and replacements in a home.
---
Article sources

ConsumerAffairs writers primarily rely on government data, industry experts and original research from other reputable publications to inform their work. Specific sources for this article include:

California Department of Insurance, " Home Protection Contracts ," Accessed Oct. 17, 2023.
Did you find this article helpful?
|
You're signed up
We'll start sending you the news you need delivered straight to you. We value your privacy. Unsubscribe easily.