Cost to replace a glass stovetop
Most of the cost will be for the appliance



Written by

Edited by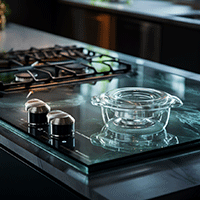 Whether your glass stovetop has a large crack in it or it's just nearing the end of its life span, a replacement can cost several hundred dollars. We spoke to a bunch of repair technicians around the country, who said the average cost to replace a glass stovetop can range from $200 to $1,000.
The costs can vary depending on the model of your stove, type and what the glass is made of. Do-it-yourself versus pro installation can change the cost — most technicians said the labor can range from $125 to $200.
Learn more about what can affect the cost and what you can expect to pay for a replacement.
---
Key insights
Replacing a stovetop can cost $200 to $1,000, depending on the brand of stove, glass quality, size and labor costs in your area.
If the glass is cracked, your only option is to replace the stovetop — not repair it.
Home warranties cover stovetops, which can help lower the cost of a replacement.
What affects the cost to replace a glass stovetop?
When it comes to replacing an appliance, there is never a clear-cut answer. "Actually, when it comes to the cost of replacing a glass stovetop, there are some factors that can affect the overall price. This includes the type or brand of stove, the glass quality, size, labor cost, warranty coverage and finally, the local market rates," said Alvin C. Pullins, a home and improvement expert with the online resource Nerd In The House.
"There are many other factors, but these are the most important ones that really influence the cost of replacing your glass stovetop."
Number of burners
The number of burners can change the price but won't have a significant effect. The difference between four and five burners can change the price by around $10 to $20. However, your replacement stovetop will have the same burners as your old one (unless you're looking for a big upgrade), so you can't really downgrade to save money.
Type of glass
Although they're more expensive, induction stovetops are more efficient and heat up cookware faster than gas and electric stoves.
The glass quality and whether the stove uses tempered or ceramic glass can affect the price, according to Pullins. Since ceramic is the stronger option, it's probably not surprising that it's more expensive. While tempered glass replacement tops cost around $200 to $350, ceramic stove replacements range from $300 to $750.
Whether you have an electric smooth top or an induction stovetop can change the price. Induction stovetops are somewhat more expensive. Replacement glass cooktops range from around $250 to $350, while induction stovetops range from $400 to over $1,000.
Brand
"High-end brands and specialized models have more expensive replacement parts, which increase the cost," said Pullins. Higher-end brands may have ceramic tops and controls (buttons or knobs) built into the glass. Here are some examples of brands and prices.
| Brand | Cost range |
| --- | --- |
| Bosch | $1,200-$2,000 |
| Frigidaire | $600-$700 |
| KitchenAid | $550-$1,100 |
| Maytag | $500-$1,300 |
Labor
Repair technicians can cost $50 to $150 an hour. "The labor costs for installation can vary depending on the complexity of the job and the specific technician's rates," said Pullins. They can also vary depending on where you live. To get a good idea of prices to expect, get estimates from several different repair technicians in your area.
» COMPARE: Best ranges, ovens and stoves
Glass stovetop repair vs. replacement
With most appliances, it makes sense to repair the item when you can, which is often much cheaper than replacing it altogether. However, repairs aren't much of an option when it comes to glass stovetops.
If your glass stovetop has a crack or chip, the outcome isn't good. The stovetop can't be repaired — you'll have to replace the entire appliance. If it's just scratched, however, you may want to try a glass stovetop scratch removal kit. You can get these for $12 to $20.
Keep in mind that it's not safe to cook with a cracked stovetop, so don't ignore the issue. To prevent cracks, avoid placing heavy cookware on the stove, pick up pots to move them instead of sliding them and keep the bottom of pots and pans clean.
» LEARN: Gas vs. electric appliances
DIY vs. professional installation
If you're handy with tools, you may want to try to do the replacement yourself. It can save you money on labor, and you won't have to wait for a technician to show up. You'll need to make sure the stove's power is turned off at the breaker. From there, in many cases, you just take out a few screws, pull out the old cooktop, slide the new one in and secure it with screws.
Of course, some stovetops can be more complicated, depending on the features, like built-in knobs. Even so, there are many instructional videos online that can guide you through the process.
Going with a professional may be a better idea if you're not into do-it-yourself or just don't have the time. You'll pay more for labor, but you'll know that the job is done right.
How to maintain a glass stovetop
Regular maintenance can extend the life of your stove and even improve its performance. Here's how to keep that glass stovetop sparkling and efficient:
Wipe down after cooking. When the stove cools down after you use it, wipe it with a damp cloth. This prevents buildup and makes deeper cleaning easier.
Use the right cookware. Stick to flat, smooth-bottomed pots and pans to prevent scratches. If you have an induction stovetop, make sure the cookware is safe to use on this type of stove.
Avoid sliding cookware. Lift pots and pans rather than sliding them across the glass surface to avoid scratches.
Avoid copper and enameled pots. They can cause damage to the stovetop. Stainless steel is a good alternative.
Use a glass cleaner. Use a cleaner specifically designed for glass stovetops. Apply the cleaner and wipe it off with a soft cloth.
Use a scraper. For stubborn, burnt-on debris, soak the spot with a cleaner, wait a few minutes and use a scraper tool with a plastic blade to scrape off the gunk.
Polish. After cleaning, you can use a glass stovetop polish to give it an extra shine. This also adds a protective layer to the glass.
FAQ
How long does it take to replace a glass stovetop?

Unlike a lot of other appliances, replacing a glass stovetop isn't too difficult. It is a simple process that can take under an hour.
How long does a glass stovetop last?

"The life span of a glass stovetop depends on the usage, maintenance and the quality of the appliance. On average, a glass stovetop can last between 10 to 15 years or more," said Pullins. "However, you can extend its life span by regular cleaning and avoiding heavy impacts."
Can you still cook with a cracked glass stovetop?

No, there is a chance of electrocution, even with small cracks. Since you won't be able to repair the stovetop, replace it immediately.
Can I use cast iron on a glass range?

Yes, as long as you place it gently on the stovetop and don't slide it across the surface.
Do home warranties cover cooktops?

Typically, yes, home warranties cover cooktops. Most of the components should be covered, but it's always best to check your agreement for any exclusions. "If your stove is under warranty this can significantly reduce replacement costs," said Pullins.

Janice from Mississippi, one of our reviewers, had a good experience getting her stovetop replaced. "My stovetop was cracked and the self-cleaning feature of the oven was not working," she said. "The technician who came was prompt. He gave me the estimate then AHS [American Home Shield] sent me a text saying it would cost more to fix the stove than if I got a new one so I got a replacement cost."

» RESEARCH: Is an appliance extended warranty worth it?
Bottom line
Replacing your glass stovetop is easy to tackle, but it can cost you hundreds of dollars. The bulk of the cost will come from the appliance itself rather than the labor. Most technicians can replace the stovetop in under an hour. The best way to save money is to do a DIY replacement. But, if you have a home warranty, you could be covered for a repair or replacement for just the cost of your service call fee.
---
Article sources

ConsumerAffairs writers primarily rely on government data, industry experts and original research from other reputable publications to inform their work. Specific sources for this article include:
Did you find this article helpful?
|
You're signed up
We'll start sending you the news you need delivered straight to you. We value your privacy. Unsubscribe easily.